IPPY AWARD WINNERS ARE FREEDOM FIGHTERS AND PEACEMAKERS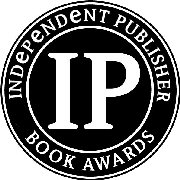 Congratulations and sincere thanks to the 2,000 independent authors and publishers who participated in the 2010 Independent Publisher Book Awards. This year's total entry number of 3,890 ended up just slightly below last year's, when we reached a new milestone of participation, with more than 4,000 entries. We'll blame it on the economy… I am always pleased and amazed at the geographic diversity of independent publishing: The 347 medal-winning books listed here come from 42 U.S. states plus the District of Columbia, 7 Canadian provinces, and 6 countries overseas. Great writing and publishing comes from every corner of North America and from around the world! What I love most about these books is the dedication. not just to quality writing and publishing, but to change…to a cause…to saving the planet. This activist spirit is what really sets independent publishers apart –- and recognizing that spirit is what launched these awards 14 years ago. For the past two years, our special awards for Outstanding Books of the Year have included Peacemaker of the Year and Freedom Fighter of the Year, and both exemplify the fiercest dedication to fighting injustice and righting wrongs. Two Freedom Fighters were named this year: Why We Serve: A Portrait of the Army National Guard, honors those who've been fighting for our freedom from terrorism since the Iraq invasion in 2003, and Plundering Appalachia: The Tragedy of Mountaintop-Removal Coal Mining, which honors those fighting another type of war, one to save the Appalachian mountains and forests from harmful mining practices. This year's Peacemaker of the Year is from the front lines of the Iraq War, Quaker chaplain Commander Sheri Snively, D.Min., CHC, USNR, whose book, Heaven in the Midst of Hell: A Quaker Champlain's View of the War in Iraq, contains this description of a wounded Marine paralyzed by a sniper bullet to the neck: "He got hit and ultimately was out of the fight. He was on his way home, but now he would fight an even more difficult battle every day. Every day into the foreseeable future, long after the troops eventually come home and long after the Iraq war fades into American history, this Marine will still be in the fight of his life. We were looking at one of the many, many thousands of seriously wounded veterans who in previous was would never have survived. In many ways the sight of this young Marine was more gut-wrenching and heartbreaking than seeing the dead. I knew he didn't know or was not allowing himself to hear the reality of his situation as the doctors worked on him and talked. But all of us around the stretcher knew. We shot each other knowing looks. Yes, a reaction as they jammed the catheter in would have made my morning. I prayed for physical pain that morning. My prayer was not answered." Of course, it's not all about battles and struggles. Many of these award-winners are light-hearted, upbeat, and some are downright hilarious. One of our Popular Fiction gold medalists, Misadventure, by the late Millard Kaufman, is a modern-day thriller ala Chinatown and The Postman Always Rings Twice, and is the juiciest piece of L.A. noir I've ever read. This one is about human passions, and how far they can push us. The Fantasy winners are fantastic, the Horror winners horrific, and the Erotica winners are, well…they are not your mother's erotica… These books are anything but dull. The art, photography and coffee table books are filled with beautiful, inspiring images, and all of these books have made judging this year's IPPY Awards a real pleasure. I hope you'll seek some of them out, and share in the pleasure of the year's best independently published books. Congratulations to all! - Jim Barnes, Awards Director
Independent Publisher on Instagram
Feature
IPPY Awards Ceremony Photos - New York City, May 25, 2010
Welcome to the IPPY Awards ceremony photo album! What a great evening it was, with a room full of the most talented, interesting, and beautiful people on the planet.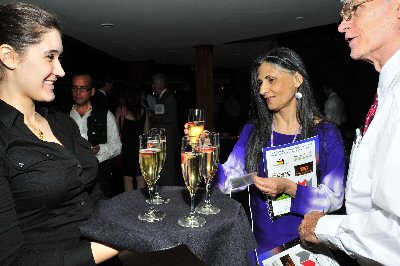 See the entire Kodak album of 275 photos.
(Photography by Mike Howard.)
A big thanks to our IPPY party sponsors, Thomson-Shore, Worzalla, Combined Book Exhibit, That's Great News!, Color House Graphics, and TWP.
Special thanks to all who attended, including Bob Garfield, IPPY Award-winning author of
The Chaos Scenario
(Current Events gold medalist) who kindly said a few words to start the show. If you don't recognize Bob's face you'd probably recognize his voice, as host of NPR's
On the Media
. I love that show, Bob's style, and his great sense of humor, so it was great to share the IPPY podium with him before he dashed off to another event. That's Bob in the first picture below between myself and his publisher Greg Stielstra.
The next picture is of Jean Thomson Black of Yale University Press, this year's biggest winner with nine medals. Other Press of New York won six medals, as did Fulcrum Publishing and their Speck Press imprint (alas, they didn't make it in from Golden, Colorado). Llewellyn, Bold Strokes, Sounds True and Interlink all won four medals; Cleis Press, John F. Blair, Medallion, Porcupine's Quill and the Wisconsin Historical Society Press won three medals apiece.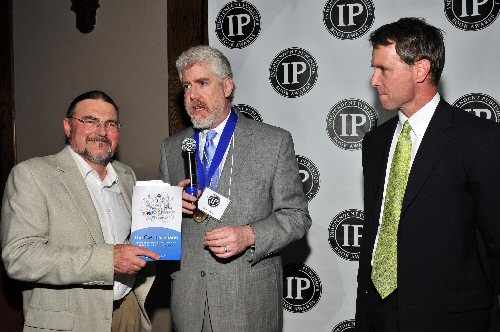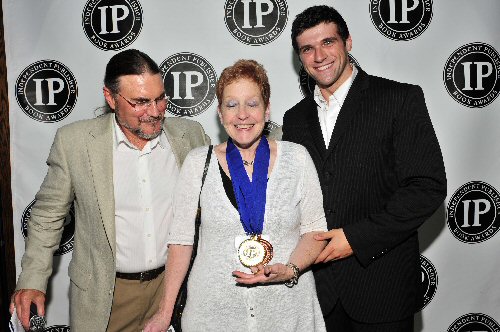 The next photo shows Sci-Fi medalist Mark Mellon receiving his siver IPPY from one of our "brand ambassadors," Caitlyn Pollock. The next two depict our other ambassador-helper Eric Carpenter presenting Performing Arts category medalist Mande Dagenais with her silver IPPY - and her happy reaction.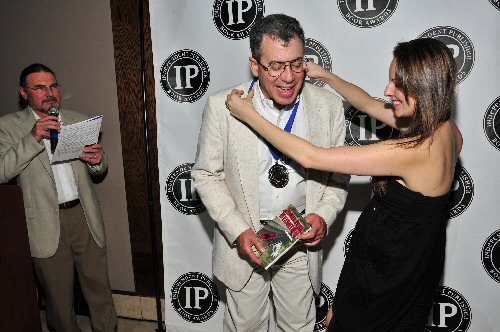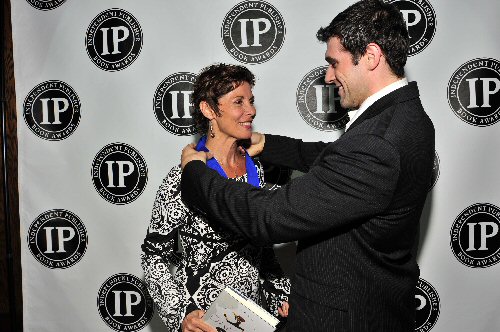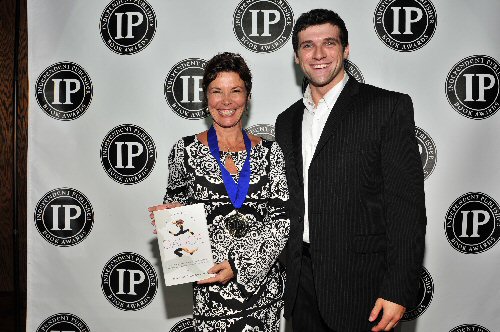 Here are three medalists from the Inspirational/Spiritual category, followed by three Poetry category medalists, followed by the two gold medalists in the Picture Book - All Ages category.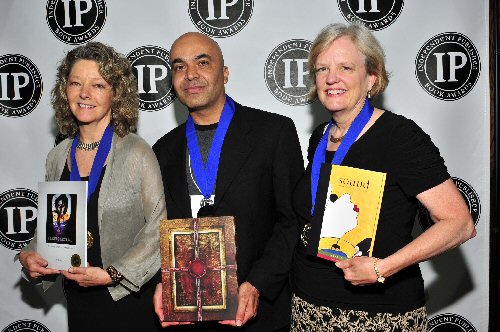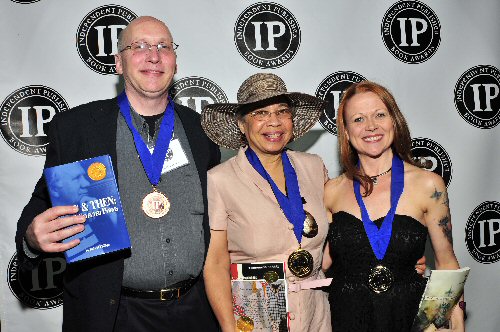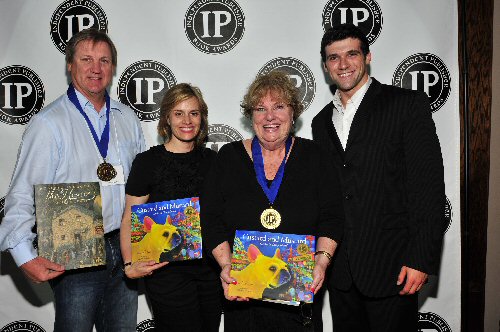 The rest of the photos are of collection of some of the best IPPY Award winning smiles!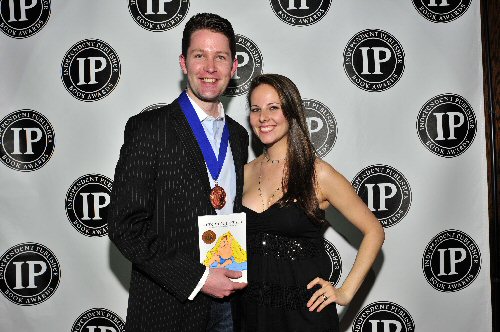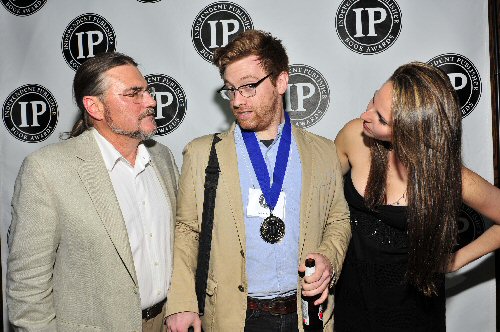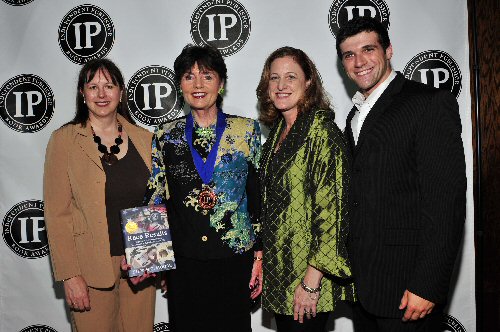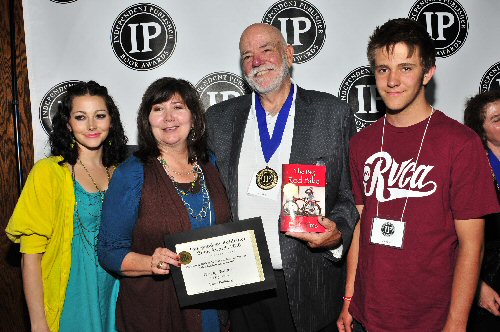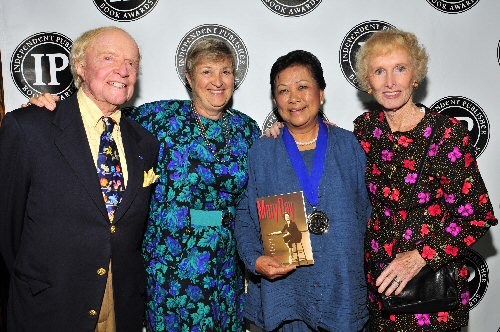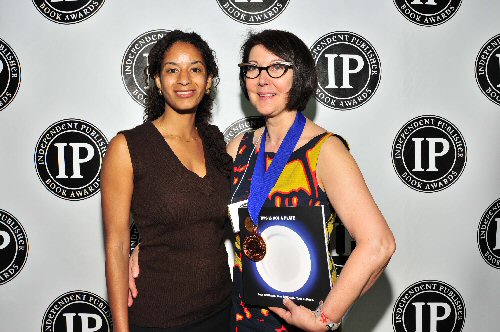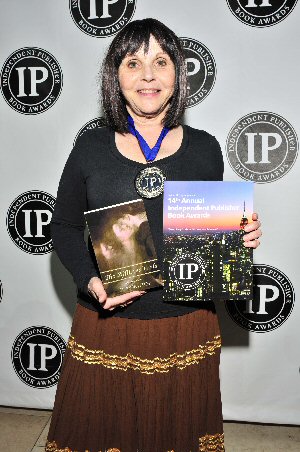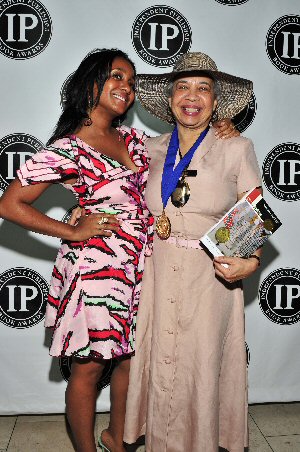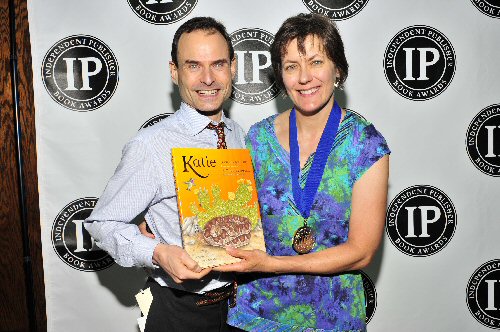 Back to IPPY 2010 Results page.
---
Comments
---