An Economic Recovery Reading List
Wall Street got a bailout. Main Street got a stimulus package. Average Joe and Jane Doe need help with their mortgage and the kids' tuition. Is there anything else on the Want List? How about BOOKS!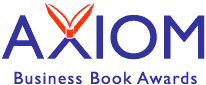 We also need books: cutting-edge, award-winning business books to educate and inform ourselves about how the financial meltdown happened, how to keep the recovery moving, and how to keep it from happening again. As it says on the Axiom Award medals, "Laurus Lego Erudito," or "Success Through Knowledge."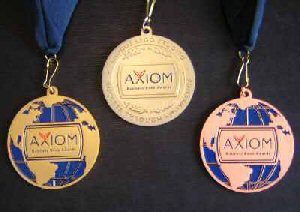 Jenkins Group is proud to announce these results of the fifth annual Axiom Business Book Awards, honoring the best business books published during the past year. This list of Axiom Award-winning titles will assure the reading public that help is near, in a wide array of business topics, from Leadership and Entrepreneurship to hard-to-find categories like Business Ethics, Philanthropy and Business Fable. Read on and Prosper!
Independent Publisher on Instagram
Feature
Announcing Results of the 5th Annual Axiom Business Book Awards
"Recognizing and promoting the world's best business titles."
Jenkins Group is proud to announce the results of the fifth annual, 2012 Axiom Business Book Awards, honoring the year's best business books, their authors, and publishers.
The Axiom Business Book Awards are intended to bring increased recognition to exemplary business books and their creators, with the understanding that business people are an information-hungry segment of the population, eager to learn about great new books that will inspire them and help them improve their careers and businesses.
Listed below are the gold, silver and bronze medal winners in each category, 72 in all. There were a total of 381 books entered.
Click here to visit the Axiom Awards press page.
Click here to visit the Axiom Award ceremony photo album.
Thanks to all for your participation and congratulations to the medalists!

2012 Axiom Business Book Awards Results
1. General Business

Gold (tie): Spend Shift: How the Post-Crisis Values Revolution is Changing the Way We Buy, Sell, and Live, by John Gerzema & Michael D'Antonio (Jossey-Bass) and Little Bets: How Breakthrough Ideas Emerge from Small Discoveries, by Peter Sims (Free Press)
Silver (tie): Plan B: How to Hatch a Second Plan That's Always Better Than Your First, by David Kord Murray (Free Press) and Open Services Innovation: Rethinking Your Business to Grow and Compete in a New Era, by Henry Chesbrough (Jossey-Bass)
Bronze: Dancing with the Digital Natives: Staying in Step with the Generation That's Transforming the Way Business is Done, by Michelle Manafy and Heidi Gautschi (CyberAge Books)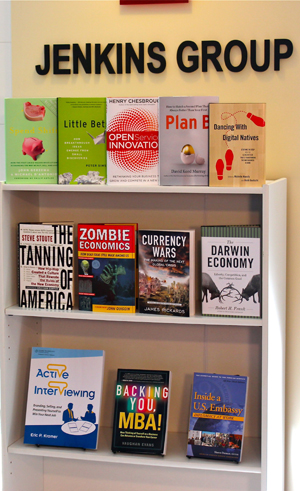 2. Economics
Gold (tie): The Tanning of America: How Hip-Hop Created a Culture That Rewrote the Rules of the New Economy, by Steve Stoute (Gotham Books) and Zombie Economics: How Dead Ideas Still Walk Among Us, by John Quiggin (Princeton University Press)
Silver: Currency Wars: The Making of the Next Global Crisis, by James Rickards (Portfolio/Penguin)
Bronze: The Darwin Economy: Liberty, Competition, and the Common Good, by Robert H. Frank (Princeton University Press)
3. Career (job search, career advancement)
Gold: Active Interviewing: Branding, Selling, and Presenting Yourself to Win Your Next Job, by Eric P. Kramer (Course Technology/Cengage Learning)
Silver: Backing You, MBA! How Thinking of Yourself as a Business Can Advance or Transform Your Career, by Vaughan Evans (Business & Careers Press)
Bronze: Inside a U.S. Embassy: Diplomacy at Work, by Shawn Dorman (Foreign Service Books)
4. Sales (sales skills, negotiating, closing)
Gold: Selling: The Profession (6th Edition), by David J. Lill and Jennifer K. Lill (DM Bass Publications)
Silver: Getting More: How to Negotiate to Achieve Your Goals in the Real World, by Stuart Diamond (Crown Business)
Bronze: Wired and Dangerous: How Your Customers Have Changed and What to Do About It, by Chip R. Bell and John R. Patterson (Berrett-Koehler Publishers)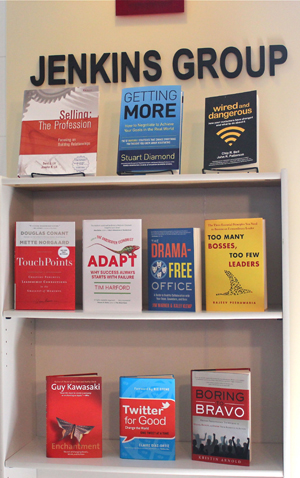 5. Leadership
Gold (tie): TouchPoints: Creating Powerful Leadership Connections in the Smallest of Moments, by Douglas Conant and Mette Norgaard (Jossey-Bass) and Adapt: Why Success Always Starts with Failure, by Tim Harford (Little, Brown UK)
Silver: The Drama-Free Office: A Guide to Healthy Collaboration with Your Team, Coworkers, and Boss, by Jim Warner & Kaley Klemp (Greenleaf Book Group Press)
Bronze: Being the Boss: The 3 Imperatives for Becoming a Great Leader, by Linda A. Hill & Kent Lineback (Harvard Business Review Press)
6. Networking (social networking, communication skills, etc.)
Gold: Enchantment: The Art of Changing Hearts, Minds, and Actions, by Guy Kawasaki (Portfolio/Penguin)
Silver: Twitter for Good: Change the World One Tweet at a Time, by Claire Díaz-Ortiz (Jossey-Bass)
Bronze: Boring to Bravo: Proven Presentation Techniques to Engage, Involve, and Inspire Your Audience to Action, by Kristin Arnold (Greenleaf Book Group Press)
7. Business Ethics
Gold: The Trusted Advisor Fieldbook: A Comprehensive Toolkit for Leading with Trust, by Charles H. Green & Andrea P. Howe (John Wiley & Sons)
Silver: Blind Spots: Why We Fail to Do What's Right and What to Do about It, by Max H. Bazerman and Ann E. Tenbrunsel (Princeton University Press)
Bronze: Conversations with Wall Street: The Inside Story of the Financial Armageddon & How To Prevent the Next One, by Peter Ressler & Monika Mitchell (FastPencil)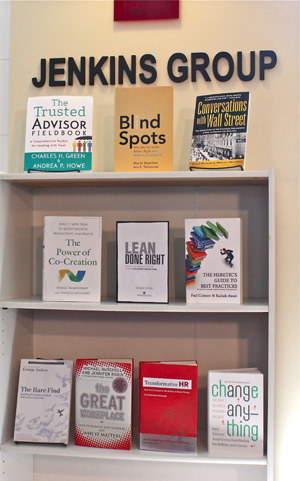 8. Operations Management/Lean/Continuous Improvement
Gold: The Power of Co-Creation: Build it with Them to Boost Growth, Productivity, and Profits, by Venkat Ramaswamy and Francis Gouillart (Free Press)
Silver: Lean Done Right: Achieve and Maintain Reform in Your Healthcare Organization, by Thomas G. Zidel (Health Administration Press)
Bronze: The Heretic's Guide to Best Practices: The Reality of Managing Complex Problems in Organisations, by Paul Culmsee & Kailash Awati (iUniverse)
9. Human Resources/Employee Training
Gold (tie): The Rare Find: Spotting Exceptional Talent Before Everyone Else, by George Anders (Portfolio/Penguin) and The Great Workplace: How to Build It, How to Keep It, and Why it Matters, by Michael Burchell and Jennifer Robin (Jossey-Bass)
Silver: Transformative HR: How Great Companies Use Evidence-Based Change for Sustainable Advantage, by John W. Boudreau and Ravin Jesuthasan, with Towers Watson (Jossey-Bass)
Bronze: Change Anything: The New Science of Personal Success, by Kerry Patterson, Joseph Grenny, David Maxfield, Ron McMillan, and Al Switzler (Business Plus)
10. Entrepreneurship
Gold: Effectual Entrepreneurship, by Stuart Read, Saras Sarasvathy, Nick Drew, Robert Wiltbank & Anne-Valérie Ohlsson (Routledge)
Silver: From Idea to Exit: The Entrepreneurial Journey, by Jeffrey Weber (Triple Nickel Press)
Bronze: Startup: The Complete Handbook for Launching a Company for Less, by Elizabeth Edwards (Essential Books)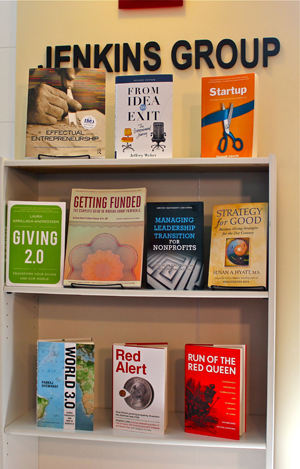 11. Philanthropy/Charity/Nonprofit
Gold: Giving 2.0: Transform Your Giving and Our World, by Laura Arrillaga-Andreessen (Jossey-Bass)
Silver (tie): Managing Leadership Transition for Nonprofits: Passing the Torch to Sustain Organizational Excellence, by Barry Dym, Susan Egmont & Laura Watkins (Financial Times Press) and Getting Funded: The Complete Guide to Writing Grant Proposals (5th Edition), by Susan Howlett & Renee Bourque, M.Ed., GPC (Word & Raby Publishing)
Bronze: Strategy for Good: Business Giving Strategies for the 21st Century, by Susan A. Hyatt, M.S. (GoodWorks Publishing)
12. International Business/Globalization
Gold: World 3.0: Global Prosperity and How to Achieve It, by Pankaj Ghemawat (Harvard Business Review Press)
Silver: Red Alert: How China's Growing Prosperity Threatens the American Way of Life, by Stephen Leeb (Business Plus)
Bronze: Run of the Red Queen: Government, Innovation, Globalization, and Economic Growth in China, by Dan Breznitz and Michael Murphree (Yale University Press)
13. Personal Finance/Retirement Planning/Investing (estate planning, stocks, bonds)
Gold (tie): The Truth About Money (4th Edition), by Ric Edelman (Harper Business) and Winning Investors Over: Surprising Truths about Honesty, Earnings Guidance, and Other Ways to Boost Your Stock Price, by Baruch Lev (Harvard Business Review Press)
Silver: Managing Retirement Wealth: An Expert Guide to Personal Portfolio Management, by Julie Jason (Sterling)
Bronze: The Wealth Cure: Putting Money In Its Place, by Hill Harper (Gotham Books)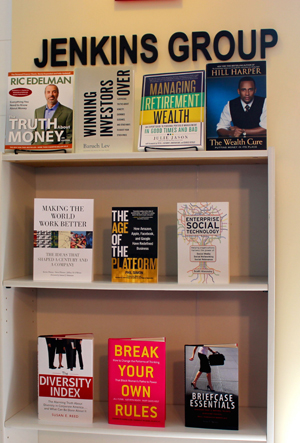 14. Business Technology
Gold: Making the World Work Better: The Ideas that Shaped a Century and a Company, by Kevin Maney, Steve Hamm, & Jeffrey M. O'Brien (IBM Press)
Silver: The Age of the Platform: How Amazon, Apple, Facebook, and Google Have Redefined Business, by Phil Simon (Motion Publishing)
Bronze: Enterprise Social Technology: Helping Organizations Harness the Power of Social Media, Social Networking, Social Relevance, by Scott Klososky (Greenleaf Book Group Press)
15. Women/Minorities in Business
Gold: The Diversity Index: The Alarming Truth About Diversity in Corporate America…and What Can Be Done About It , by Susan E. Reed (AMACOM)
Silver: Break Your Own Rules: How to Change the Patterns of Thinking That Block Women's Paths to Power, by Jill Flynn, Kathryn Heath & Mary Davis Holt (Jossey-Bass)
Bronze: Briefcase Essentials: Discover Your 12 Natural Talents for Achieving Success in a Male-Dominated Workplace, by Susan T. Spencer (Greenleaf Book Group Press)
16. Success/Motivation/Coaching
Gold: 18 Minutes: Find Your Focus, Master Distraction, and Get the Right Things Done, by Peter Bregman (Business Plus)
Silver (tie): Why People Fail: The 16 Obstacles to Success and How You Can Overcome Them, by Siimon Reynolds (Jossey-Bass) and Flying Without a Net: Turn Fear of Change into Fuel for Success, by Thomas J. DeLong (Harvard Business Review Press)
Bronze: Off Balance: Getting Beyond the Work-Life Balance Myth to Personal and Professional Satisfaction, by Matthew Kelly (Hudson Street Press)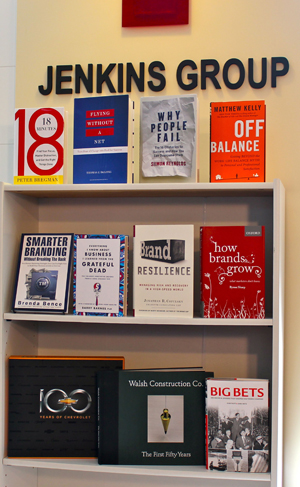 17. Advertising/Marketing/PR/Event Planning
Gold (tie): Smarter Branding Without Breaking the Bank, by Brenda Bence (Global Insight Communications LLC) and Everything I Know about Business I Learned from the Grateful Dead, by Barry Barnes, PhD (Business Plus)
Silver: Brand Resilience: Managing Risk and Recovery in a High-Speed World, by Jonathan R. Copulsky (Palgrave Macmillan)
Bronze: How Brands Grow: What Marketers Don't Know, by Byron Sharp (Oxford University Press)
18. Corporate History/Milestone
Gold: 100 Years of Chevrolet, by Jerry Burton and Ralph Kramer (Automobile Heritage Publishing & Communications LLC)
Silver: Walsh Construction Co.: The First Fifty Years, by Gail Wells (Walsh Construction Co.)
Bronze: Big Bets: Decisions & Leaders That Shaped Southern Company, by Dub Taft & Sam Heys (Southern Company)
19. Business Reference (legal, how-to)
Gold: Ernst & Young Tax Guide 2012 (27th Edition), Edited by Peter W. Bernstein (Ernst & Young)
Silver: Pricing and Profitability Management: A Practical Guide for Business Leaders, by Julie M. Meehan, Michael G. Simonetto, Larry Montan, Jr., and Christopher A. Goodin (John Wiley & Sons)
Bronze: Plunkett's Health Care Industry Almanac 2011, by Jack W. Plunkett (Plunkett Research, Ltd.)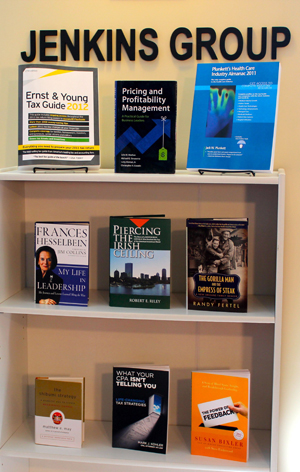 20. Memoir/Biography
Gold: My Life in Leadership: The Journey and Lessons Learned Along the Way, by Frances Hesselbein (Jossey-Bass)
Silver: Piercing the Irish Ceiling, by Robert E. Riley (Swift Ink Books)
Bronze: The Gorilla Man and the Empress of Steak: A New Orleans Family Memoir, by Randy Fertel (University Press of Mississippi)
21. Business Fable
Gold: The Shibumi Strategy: A Powerful Way to Create Meaningful Change, by Matthew E. May (Jossey-Bass)
Silver: What Your CPA Isn't Telling You, by Mark J. Kohler, CPA (Entrepreneur Press)
Bronze: The Power of Feedback: A Story of Blind Spots, Insight, and Breakthrough Leadership, by Susan Bixler (Westchester Publishing)

* * * * *
About the Axiom Business Book Awards:
The Axiom Business Book Awards are the largest and most respected critical guidepost for business books in today's new world of publishing. These prestigious and competitive awards are presented in 21 business categories and serve as the premier list to help readers discover new and innovative works.

The Axiom Book Awards are the go-to list connecting readers with high-quality, cutting-edge business books that provide information and ideas critical to success in today's competitive marketplace. With Axiom Business Book Awards, you know you will be buying the best, cutting-edge business books.

The Axiom Business Book Awards are presented by Jenkins Group, a Michigan-based book publishing and marketing services company that has operated the popular Independent Publisher Book Awards contest since 1996.

* * * * *
Congratulations to all Medalists in the 5th Annual Axiom Awards!
To learn more about Axiom Award-winning books, contact Jim Barnes, Awards Director - jimb@bookpublishing.com
---
Comments
---