The Art of the Musical Memoir
There are enough musical biographies and memoirs out there to occupy an entire shelf at the bookstore, so suffice to say that we've probably all read at least one of them. In these compendiums, you can read the stories of all of the most vital musicians of the rock 'n' roll era. The Beatles, Bob Dylan, Springsteen, The Rolling Stones: they've all been the subject of several extensively researched book projects.
But while biographies about famous musicians can certainly be fascinating and enlightening—especially for fans of those artists—I've actually found that the best music books are the ones written by the fans themselves. Guys like Kenny Weissberg live and breathe music, and their own stories become essential reading because of that infectious, ecstatic obsession. The key with memoirs like Off My Rocker is that they are completely relatable. Even when you're reading about rock stars with humble roots, you know that they are going to become rock stars. Following that fateful arc is fun, but when you're reading about fellow music fans with something interesting to say about the art you love, there's another kind of magic.
Off My Rocker is not the first book to capture this magic. In August 2012, Independent Publisher featured another music memoir, called Rockin' a Hard Place, as the indie groundbreaking book of the month. The book, written with raw insight by music promoter John Jeter, showed the challenges and rewards of owning and operating a music venue, and remains one of the best books I've read this decade.
Another classic of the music memoir genre is Love is a Mixtape, which Rolling Stone journalist Rob Sheffield penned in the wake of his wife's sudden, tragic passing. That book looked at how music can play a role in writing our love stories and helping us through the stages of grief. It's as powerful as lightning in a bottle.
Got any other music memoirs you would call essential? Share your recommendations in the comments section!
Independent Publisher on Instagram
Indie Groundbreaking Book: Off My Rocker
Tremendous Music Memoir Charts the Course of Legendary DJ, Critic, Promoter, Performer, and Fanatic

His message was always clear. I need to sing. I needed to dance. I needed to surround myself with music. I didn't have to become an orthodontist, pediatrician, or corporate lawyer like every kid I grew up with."
The above excerpt perfectly captures a sentiment that just about every die-hard music fan has felt at some point. It's that "what if I could make a living doing what I love?" moment from which a billion rock star dreams have been born, and it's a life-changer. For Kenny Weissberg—a legendary music industry fixture who has, over the years, served as everything from a radio DJ to a concert promoter, from a bandleader to a music critic—the revelation is carried by the vessel of Otis Redding, whose death serves as both the turning point in Weissberg's life and as the first chapter of his wildly entertaining new memoir, Off My Rocker.
The introductory chapter of Off My Rocker shows that Weissberg isn't just a killer disc jockey or a wellspring of music knowledge, but also a gifted writer. We pick up on our subject with a cold opening: the first chapter is simply titled "December 10, 1967." It drops us mysteriously into Weissberg's world more than 45 years ago, on the day that the aforementioned Otis Redding—along with his loyal backing band, The Bar-Keys—were set to roll through Madison, Wisconsin for a show at a venue called The Factory.
For a couple pages, Weissberg seems to be describing just another concert experience through the eyes of someone who loves music to the point of insanity. He and his friends get to the venue three hours before doors, just for the chance of seeing the legendary Otis Redding and his crackling live energy from the front row. But fast-forward to the 6:30 time listed on the show's ticket, and Otis and the Bar-Keys are still no-shows. Fans speculate that maybe he was sick and decided to skip the show to recover. Other fans grumble angrily about the lack of punctuality.
Then Weissberg twists the knife.
The reason Otis Redding and his band never showed up at the Factory date in Madison, Wisconsin on December 10, 1967 is because they died in a plane crash. Know-it-all Redding fans will see the twist coming, of course: the calendar date is an open book. But for those who don't know every detail of the legendary soul singer's life and death, Weissberg's blow-by-blow account of the day, of his denial at the news, and of how the loss of his favorite artist tore him apart, is nothing short of riveting. Sometimes, losing a favorite musician can feel like losing a best friend or a family member, and Weissberg's clear, concise, and candid writing captures that feeling completely. It's not surprising that Otis's death ultimately serves as the impetus for Weissberg to dedicate his life to chasing music.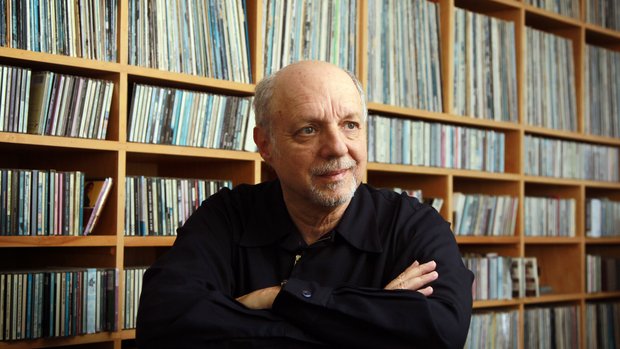 Weissberg's close personal connection to the death of Otis Redding serves as the perfect springboard for what is to follow in Off My Rocker. After all, here is a man who has numerous brushes with famous or near-famous musicians throughout his career. Read the front book flap and you'll learn that Weissberg "messed with James Brown's perfect hair" and "ate popcorn with Leonard Cohen." He also booked Ray Charles at his venue, played in a band with versatile bassist Mark Andes, interviewed the likes of Tom Waits and Gram Parsons, and even had a few drinks with the always-unpredictable Bill Murray. Even if the writing was pedestrian and the anecdotes dull, Off My Rocker would be enjoyable purely as a game of celebrity trainspotting.
Luckily, the anecdotes and stories captured in this book are anything but dull. Take Weissberg's second chapter, a nostalgic seven-page manifesto called "When Radio Mattered" that would function as a standalone essay just as well as it does as a chapter in a book. Where the first few pages of the book familiarize us with Weissberg's love for Otis Redding, "When Radio Mattered" acquaints us with his love for everyone else.
In a single paragraph, Weissberg might namedrop Roy Orbison, the Everly Brothers, Ben E. King, Smokey Robinson, The Supremes, The Chiffons, Gladys Knight, The Temptations, Marvin Gaye, The Beatles, and more. He's not just establishing his credibility as a rock 'n' roll journalist worth listening to: he's also taking us back to a time when radio wasn't dominated by the same four or five hit artists, where talent was king and where what got played could feasibly be equated with what was good. "The remarkable thing about radio was that all musical genres peacefully coexisted," Weissberg muses. It's an ideal that's long dead by now, but one that still holds great deal of romanticism for those of us who view music as an essential component of life.
The good news is that all musical genres do peacefully coexist throughout the pages of Off My Rocker. Though he's a born-and-bred Jersey boy—and therefore a default fan of the likes of Bruce Springsteen or Southside Johnny & The Asbury Jukes—Weissberg embraces country, folk, R&B, jazz, and rock 'n' roll in equal fashion in these pages. The result is that Off My Rocker ends up doubling as both Weissberg's story and a journey through the past 50 years of popular music. With Weissberg as our tour guide, it's a trip absolutely worth taking—possibly more than once.
Interested in learning more about Kenny Weissberg? Check out Off My Rocker: One Man's Tasty, Twisted, Star-Studded Quest for Everlasting Music on Amazon or right from Weissberg's official website.
---
Craig Manning is currently studying English and Music at Western Michigan University. In addition to writing for IndependentPublisher.com, he maintains a pair of entertainment blogs, interns at the Traverse City Business News, and writes for Rockfreaks.net and his college newspaper. He welcomes comments or questions concerning his articles via email, at manningcr953@gmail.com.
---
Comments
---