From Rebecca Miller Goggins, the Director of Development at the Eric Carle Museum:
"The mission of the Carle Honors is to share the mission of the Museum: to inspire a love of art and reading, and to ensure that people everywhere have the opportunity to experience the joys of picture books as part of their life's journey. This year's honorees reflect this perfectly. Ed Young, this year's Artist, is a creator of visually stunning, innovative books which inspire readers to look deep within and contemplate their gifts to the world; Bank Street Writers Lab, this year's Mentor, provides professional support to writers who craft stories which affirm and reflect the heritage of every child; John Y. Cole, this year's Angel, established leading programs championing the importance of literature for our country's youth, including the realization of the long-standing plan of the Library of Congress for a Young Reader's Center in the historic Jefferson Building; and Anthea Bell, this year's Bridge, has brought acclaimed stories from around the world to new audiences with her brilliant translations.
"As we celebrate the 12th anniversary of The Carle Honors, we continue to be committed to the four categories of our honorees, to uphold them as luminaries in the field who reflect our mission and help us raise valuable funds for our work. Our annual Art Auction showcases the high caliber artwork that is exhibited in our galleries and gives anyone a chance to own a treasure that inspires them. Celebrating in New York each fall allows us to bring together those who create and share today's stories which will become the memories of a lifetime for the next generation."
Independent Publisher on Instagram
Feature
Celebrating the Best of Children's Publishing
The 2017 Carle Honors
On Thursday, September 28, the 2017 Carle Honor recipients were celebrated at the twelfth annual gala and fundraiser. The beautiful Guastavino's under the 59th street bridge once again played host to the event, which benefits the Eric Carle Museum of Picture Book Art in Amherst, Massachusetts. Each year, four individuals or organizations are chosen in four categories; this year's recipients were Ed Young for Artist, Dr. John Y. Cole for Angel, Anthea Bell for Bridge, and Bank Street Writers Lab for Mentor.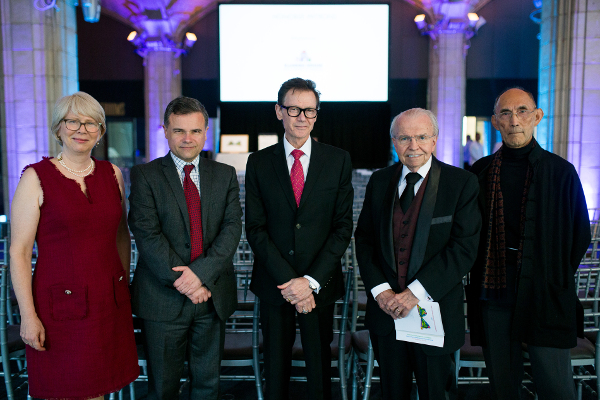 Mentor Honoree Dr. Cynthia Weill representing Bank Street Writers Lab, Bridge Honoree Oliver Kamm representing Anthea Bell, presenter Jack Gantos, Angel Honoree Dr. John Y Cole and Artist Honoree Ed Young at the 12th Annual Carle Honors Gala, held September 28, 2017 at Guastavino's in New York City. Photo by Johnny Wolf.
The Carle Honors serve as a refreshing reminder of the importance and beauty of the children's book publishing industry; attendees - from editors, donors, picture book enthusiasts, authors, illustrators, writers and honorees - all deeply value and seek to preserve the magic of the children's picture book.
Fittingly, it is author and illustrator Eric Carle and his museum that rallies this single-minded group to the cause each year. Founded in 2002 by the beloved author and his late wife Barbara, the Eric Carle Museum of Picture Book Art "collects, preserves, presents, and celebrates picture books and picture book illustrations from around the world." The museum's mission is not only accomplished onsite with its creative and diverse exhibits, but also in its literacy outreach programs and activism, traveling exhibits (viewed by 781,000 people this year), and of course, the Carle Honors themselves. As the museum's representatives shared their work and stories from the past year, they affirmed their position as capable and passionate advocates for children's picture books and literacy - books and museum exhibits are far from boring in their hands, as evidenced by the 22,788 feet of tape and 93,034(!) square feet of paper used by kids for museum art projects this year.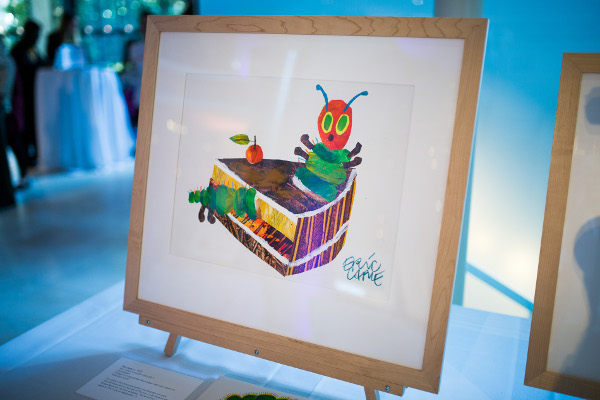 Auction piece on display at the 12th Annual Carle Honors Gala, held September 28, 2017 at Guastavino's in New York City. Photo by Johnny Wolf.
Host Jack Gantos (Dead End in Norvelt, Hole in My Life) kept the crowd in high spirits as he entertained with the story of his first time meeting Eric Carle - he mistakenly called him Carl Jung in his excitement. Luckily, as Gantos remarked, Eric Carle is a "man of great insights but not harsh judgments." Gantos drew on the sense of community and shared passion in the room, saying "no one person goes it alone… we are all dependent on each other to continuously renew the vitality of the children's book industry."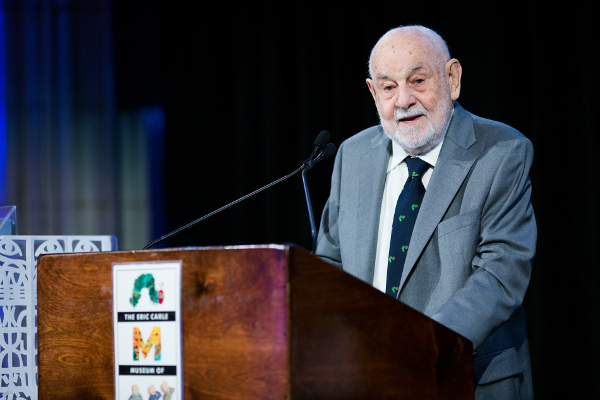 Eric Carle at the 12th Annual Carle Honors Gala, held September 28, 2017 at Guastavino's in New York City. Photo by Johnny Wolf.
Eric Carle himself started the night off with his typical good humour and gratitude, acknowledging the continued presence of his late wife Barbara in the museum's efforts. The ceremony portion of the evening then kicked off with the honoring of Mentor recipient Bank Street Writers Lab, an organization that helped shift the focus of children's book publishing from parent-approved morality lessons to books of adventure and wonderment truly for children. Dr. Cynthia Weill accepted on behalf of the Bank Street Writers.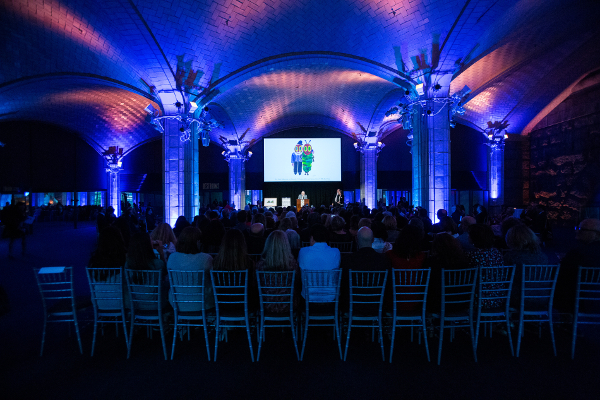 Atmosphere at the 12th Annual Carle Honors Gala, held September 28, 2017 at Guastavino's in New York City. Photo by Johnny Wolf.
Next to be honored was Angel John Y. Cole, who was recognized for his prodigious work as a Library of Congress historian in establishing the importance of children's literature for our nation. In addition, Cole helped kick off the National Book Festival as the author coordinator from 2001-2013 and established the position of National Ambassador for Young People's Literature.
Bridge honoree Anthea Bell was represented by her son Oliver Kamm, who shared that despite the serious illness that prevented her from attending, he was not downcast because of the "reputation she has gained as a literary giant." Anthea Bell's work as a translator was incredibly influential in promoting the transatlantic market for children's books, in turn introducing children to stories from other cultures and distant places.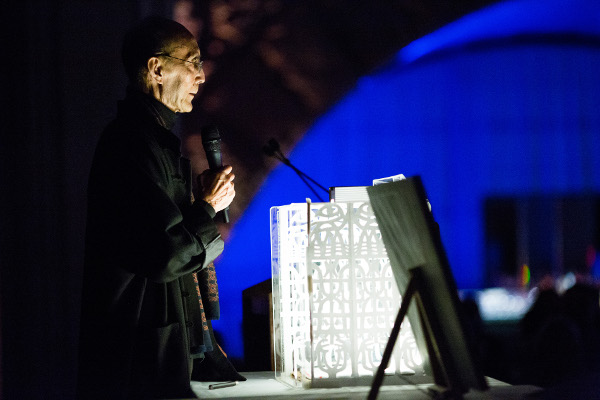 Artist Honoree Ed Young at the 12th Annual Carle Honors Gala, held September 28, 2017 at Guastavino's in New York City. Photo by Johnny Wolf.
Finally, Artist recipient Ed Young was honored for the consistent "beauty, integrity, and innovation" he has brought to his many children's books over the years. Ed shared a source of motivation for his work, saying when he moved here from his home country of China, he felt like an island, belonging neither to America or to China anymore. Eventually, he realized "I am not an island, I'm actually a bridge," connecting the two cultures and sharing that connection in his work.

---
Comments
---