An Award-Winning Book
Kelly Oliver's novel Wolf won the IPPY gold medal for Mystery/Suspense. To learn more about the novel, click here.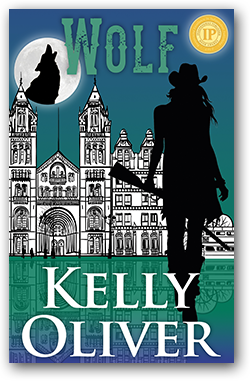 What if the evil professor you fantasized about murdering actually wound up... dead?
Kelly Oliver serves up an irreverent murder mystery with flavors of hard-boiled mobster grit, and a fierce female lead readers will adore. Jessica James is a clever, endearingly awkward, and downright hilarious heroine, a brilliant philosopher who's much more than curious.
Twenty-one-year-old Jessica James isn't your average Northwestern University Philosophy PhD candidate. Raised on a Montana ranch by a charming but alcoholic mother, she's as scrappy as she is smart.
Unbeknownst to everyone but the secretary and janitor, Jessica's living in the attic of the Victorian mansion the university transformed into the philosophy department, It's not the best Chicago has to offer, but it's the Waldorf compared to the dingy trailer park of her childhood. Jessica works hard—no thanks to her arrogant thesis advisor Professor Baldrick Wolfgang "The Wolf" Schmutzig. "Preeminent Philosopher" and World-Class Dickhead. He's going out of his way to prevent Jessica from completing her degree.
Things take a sinister turn when Jessica and her pal Jack find the smug professor murdered in the bathtub of his office. That's when her real education begins.
Smart, capable women shine in this cast. An irresistible treat for anyone who's ever wanted to murder the Wolf in their own life.
Independent Publisher on Instagram
Feature
Mysteries Featuring Strong Women Protagonists
An Award-Winner Shares Her Top Picks
Remember the gumshoe lured into a trap by a beguiling femme fatale? With women writers and so many women readers, times have changed. Tough women of crime fiction such as Sara Paretsky's V. I. Warshawski, Sue Grafton's Kinsey Millhone, and Patricia Cornwell's Dr. Kay Scarpetta do what the men did, only wearing heels. These women detectives give as good as they get, while facing problems unique to women. I love these professional women, but some of my women protagonists are amateur sleuths, ordinary women doing the extraordinary.
One of my all-time favorite amateur female sleuths is Amelia Peabody. She is the protagonist of more than 20 novels by Elizabeth Peters, primarily set in Egypt. I especially love listening to the Peabody series on audiobook when read by Barbara Rosenblatt, a genius at performing different voices, which makes the novels so much more fun. Amelia Peabody and her husband are archeologists, and I love that I learn about Egyptology while enjoying an entertaining mystery. "Peabody" (as she is affectionately called by her husband, Radcliffe Emerson) is an upper-class English woman who uses a parasol, and her sharp wit, as weapons. The heroine of my novels Wolf and Coyote, Jessica James, may not have a parasol, but like Peabody, she wields a witty barb.
I'm also a fan of Alexander McCall Smith's Precious Ramotswe of The No. 1 Ladies Detective Agency, which was also made into an all too short-lived HBO television show. I love the characters, and the setting in Botswana. McCall Smith deals with some important social issues, but does so with humor.
Another author who takes on social issues is Denise Mina. Her mysteries are darker, grittier, and deal with abuse, rape, and victimization in all its gore. But the female lead in her Garnetthill trilogy, Maureen O'Donnel, is as irreverent as she is damaged. And the "dreigh" of Scotland is the perfect backdrop for murder.
Tough as nails Lisbeth Salander of Stieg Larsson's The Girl with the Dragon Tattoo is one of the most memorable characters in recent years. Like Maureen O'Donnel she's the survivor of sexual violence. But she gives as good as she gets. And who doesn't love a good feminist revenge plot! In my cowgirl philosopher trilogy, Jessica's best friend Lolita Durenchko could give Lisbeth a run for her money. Like my favorite mysteries featuring strong women, The Jessica James Mysteries not only entertain and provoke a few laughs, but also bring attention to women's issues not always discussed in popular fiction.
---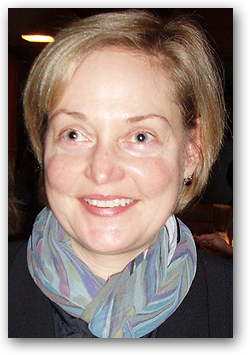 Kelly Oliver is the award-winning author of The Jessica James Mystery Series, including Wolf (July 2016), Coyote (August 2016), and most recently Fox (May 2017). Her first novel, Wolf won the IPPY Gold Medal for best Thriller/Mystery ebook, is a finalist for the Forward Magazine award for best mystery, and was voted number one Women's Mysteries on Goodreads. When she's not writing novels, Kelly is a Distinguished Professor of Philosophy at Vanderbilt University, and the author of thirteen nonfiction books, and over 100 articles, on issues such as campus rape, reproductive technologies, women and the media, animals and the environment. Her work has been translated into eight languages. She has published in The New York Times and The Los Angeles Review of Books, and been featured on ABC news, CSPAN books, the Canadian Broadcasting Network, and various radio programs.
To learn more about Kelly, visit her website here.
---
Comments
---