Independent Publisher on Instagram
Book Review : Memoir / Rock Music
Rockin' a Hard Place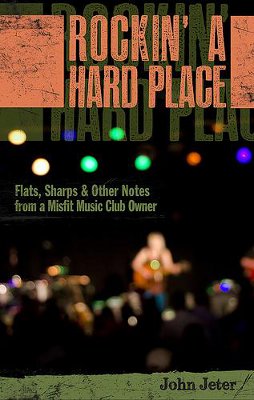 Reviewed by Craig Manning
Renowned author and journalist Hunter S. Thompson once likened the music business to "a cruel and shallow money trench, a long plastic hallway where thieves and pimps run free, and good men die like dogs." Humorously, he qualified that statement by adding that, "there's also a negative side." That quote and its inherent sarcasm perfectly epitomize everything that plays out in the pages of Rockin' a Hard Place, a fantastic new memoir from journalist-turned-music-promoter John Jeter, so it's only fitting that the author refers back to it on numerous occasions. Jeter, one of the self-confessed "good guys," gives up the late nights and story-chasing of his newspaper career, thanks to a failing hip, only to fall unwittingly into a career as a music club owner and "talent buyer," a career loaded with...yep, you guessed it: late nights and artist-chasing. Needless to say, chaos ensues.
At the outset of Rockin' a Hard Place, Jeter is a middle-aged newlywed, forever indebted to his younger brother Stephen for the kidney that saved his life ten years previous, and looking to make up that debt and set a course for the rest of his life in one fell swoop. He finds the answer to that conundrum when his brother takes him to a rundown old mill in Greenville, South Carolina. The visit conjures up old memories of their youthful dream of opening a music club of their own and inspires new fantasies of all the artists who could play there. Immediately, the two of them, along with Jeter's new wife Kathy, plunge themselves into a black hole of debt and stress, but the venue, dubbed The Handlebar, is born.
The job of booking talent for the club's stage falls upon Jeter, who continually ignores the golden advice of one of his first artists, to "never book anyone just because you're a fan." But while Jeter's palpable adoration for numerous artists and genres of music may have lost him a lot of money in his career as a live promoter, it is arguably his greatest strength as a writer. It's no secret that the music industry is a challenging and morally gray world to navigate, especially for someone who is as unfamiliar with that world as Jeter is at the story's commencement, but despite this, Jeter battles through, learning the craft through trial, error, and help from a few particularly brilliant co-workers and interns. But amidst a sea of shows that never cover their cost, along with consistent struggles with government interventions, frivolous lawsuits, defensive neighbors, evil landlords, and ignorant customers, Jeter always manages to remain a fan in the truest sense of the word. The proceedings always come back around to the music, to the artists that play the venue, and to the triumphant moments that make all of the failures worthwhile: it's that quality which makes Rockin' a Hard Place such an essential read for music lovers.
Throughout the pages of his memoir, Jeter hits upon everything from the digital music revolution to the tragedy of September 11th, always relating the bigger picture back to his own world and to the ever-fluctuating returns of his business venture. He tells us about his mentor, a rare music agent with a heart of gold; he recounts his memories of a mythical old hippie who runs lights for the Handlebar (and who may or may not have gone on tour with The Rolling Stones); he pays tribute to his wife, his rock, who stays strong through every single disastrous night, even as he barrels towards a breaking point. He does all of this and so much more in a rapidly paced and gloriously enjoyable 180 pages, covering nearly 20 years of his life in snapshots and soundbytes, and always utilizing his journalistic writing skills to slice right to the heart of the matter. Jeter writes in a clear and concise manner, but he does so without ever sacrificing his heartfelt adoration for the music, his wry and sarcastic authorial voice, or the deep, emotional sentimentality that flows like an undercurrent through the entire text. In short, Jeter is a pro, and while it was the musical aspect of this book that hooked me at first, by the end, I was more than interested to read more from him.
Rockin' a Hard Place portrays a single struggle in an industry where thousands of people are fighting to find their place, but it's a beautiful thing to see such a genuine and goodhearted guy, such a true music lover, fighting and succeeding (the Handlebar is still open today, and has seen over a quarter million ticket sales since it opened in 1994) in an industry that too often sacrifices the integrity of art to make a quick buck. It's a book with countless high points, from the bizarre and laughable idiosyncrasies that many artists carry, to the fierce injustices and inequities of an industry that needs a serious overhaul (and one that, thanks to the digital revolution, just might get one). Jeter fluctuates effortlessly between pages that anger us, pages that make us laugh, pages that make us cry, and pages that make our hearts and souls soar, like only the greatest songs can. That ability is the mark of a great untapped talent, and whether or not I see more from Jeter down the road, I can at least be sure that Rockin' a Hard Place is the kind of book that I can see myself pulling off the shelf and revisiting on rainy days for years to come.
* * * * *
Rockin' a Hard Place will be released in October 2012. It can be pre-ordered from Hub City Press at http://www.hubcity.org/press/catalog/history/rockin-a-hard-place1/rockin-a-hard-place1/.
To learn more about the Handlebar, visit their website at www.handlebar-online.com.
Hub City Press, Spartanburg, SC, www.HubCity.org;
220 page paperback, $16.95 (Oct. 2012) ISBN: 978-1891885-99-0
---
Comments
---