Independent Publishers Gather in Los Angeles to Celebrate 12th Annual "IPPY" Awards
The 12th annual Independent Publisher Book Awards, conducted to honor the year's best independently published books, were presented on Friday, May 30th, during the annual BookExpo America convention in Los Angeles. About 300 award-winning authors, publishers and supporters gathered at the City Club on Bunker Hill, on the 54th floor of the Wells Fargo building in downtown L.A. The event was presented by Jenkins Group and sponsored by Desktop Miracles, Color House Graphics, Combined Book Exhibit and Promote A Book.
This year's awards attracted 3,175 entries from 49 U.S. states, nine Canadian provinces, and 16 countries overseas. Medal-winning books came from 44 U.S. states plus the District of Columbia and U.S. Virgin Islands, seven Canadian provinces, and five countries overseas. Launched in 1996 as the first unaffiliated awards program open exclusively to independent, university, and self-published titles, the 2008 IPPYs were presented to winners in 64 subject categories and to the best regional fiction and non-fiction titles from across North America. Winners receive gold, silver and bronze medals and can place foil seals of the medal image on their book covers.
"This year's winning books come not only from diverse locations, but also diverse personalities and viewpoints," said awards director Jim Barnes. "The list represents some of the most unique and daring writing and publishing being done in the world today. We present these awards in hopes that all of these books and their authors will be seen and heard, and get all the attention and appreciation they deserve."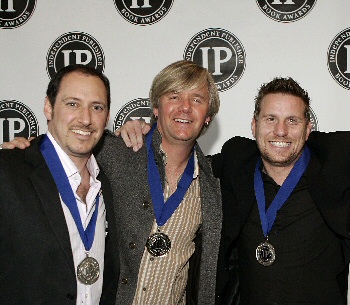 The awards annually name the Ten Outstanding Books of the Year, recognizing titles that "take chances and break new ground" in categories such as Most Original Concept and Most Likely to Save the Planet. The latter category saw a tie for the gold medal between Water Voices from Around the World, written and self-published by William E. Marks, and Blue Planet Run: The Race to Provide Safe Drinking Water to the World, published by the Blue Planet Run Foundation and Earth Aware Editions. The nation's attention may be on gasoline, but the IPPY Awards entrants and judges were more focused on the planetary crisis of water quality and supply: the Environment category featured another tie for the gold, between The Unnatural History of the Sea, by Callum Roberts (Island Press) and America's Underwater Treasures, by Jean-Michel Cousteau and Julie Robinson (Jean-Michel Cousteau's Ocean Futures Society).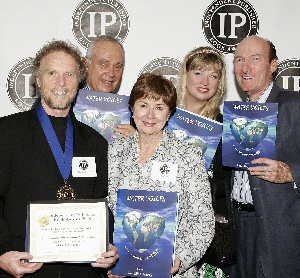 Sam Fink, the 92-year-old illustrator and calligrapher who won last year for his inscribed version of The Constitution of the United States of America (Welcome Books), won this year's Most Outstanding Design Award for The Gettysburg Address. Original paintings and illustrations from the book will be on display at the Abraham Lincoln Presidential Library and Museum from November 2008 until February 2009.
See the complete Awards results for the 2008 Independent Publisher Book Awards:
http://www.independentpublisher.com/article.php?page=1231
---
Comments
---