Excerpts from Buffalo Gal: A Memoir by Laura Pedersen
Short excerpt: "While Johnson was making his momentous decision not to run for reelection in 1968, I was enrolled in a local preschool. Back then, preschool was not the norm for children the way it is now. Such souped-up socialization was primarily for those with means, or it was intended to keep an only child from becoming an inappropriately behaving lifelong loner (read: homicidal maniac). For me, it was a halcyon period of playing with trucks, singing songs, and painting, during which time it was a commonly held belief that I was mildly autistic. I recall enjoying the school rabbit and playing off by myself with a load in my pants." Long excerpt: "Buffalo usually receives the second largest annual snowfall of any city in the state, with flakes beginning in October and finally tapering off sometime around April, like a bad chest cold. The city itself gets around 85 inches, the suburbs 120 inches, and the towns slightly to the south about 160 inches per year. And that's the last you'll hear about inches, because a true Buffalonian measures snow in feet. Syracuse, 150 miles to the east, is considered slightly snowier, depending on the winter and whom you choose to believe. However, Buffalo retains the distinction of being on the receiving end of the truly dramatic storms that make national news. Said snow is accompanied by a face-numbing wind howling off Lake Erie, shivering thermometers with mercury registering three clapboards below the bulb, and icicles that, if they were to break off the eaves and hurtle to earth, could easily harpoon a child or split a grown man's head in two. Lake-effect snow occurs when cold air passes over the relatively warm water of a large lake, picks up moisture and heat, and upon reaching the downwind shore is forced to drop the moisture in the form of snowflakes that can chip your teeth. The accompanying winds will not just turn your umbrella inside out, but carry it directly to Neptune, right along with anyone dumb enough to hang on. And this is how Buffalo can have worse weather than neighboring Toronto, Canada. On the bright side, in summertime the lake acts as a massive air conditioner. Early on I became used to hearing my mother describe me as a "blond-haired, blue-eared child." My first full sentence was most likely, "Turn the wheel into a skid." Ask anyone raised in Buffalo during the 1970s' energy crisis to complete the following sentences: If you're cold… (put on a sweater). Close the front door… (are we heating the entire neighborhood?). Shut the refrigerator door… (is there a movie playing in there?). Ninety percent of your body heat is lost if… (you don't wear a hat). Don't complain about the rain because… (it could be snow). There's no such thing as bad weather…(just the wrong clothing).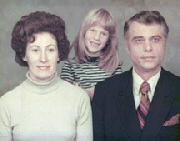 What Dylan Thomas called "useful presents" in his classic short story "A Child's Christmas in Wales" seemed to be the overriding theme when it came to gift giving. Christmas and Hanukkah weren't complete without the ritual exchanges of jumper cables, flashlights, sweaters, flannel bathrobes, hats, scarves, gloves, electric socks, and quilted slippers. Nothing says "Happy Holidays" quite like a woolen face mask! Nowadays people dress lightly in winter on the theory that they only have to make it to the car and then into an office building or the mall. But those clunky automobile heaters of the seventies were slow to get rolling, and the inside of the vehicle was just beginning to thaw out by the time you arrived at your destination. Whereas people down South worry about their milk spoiling if left in the car, we were trying to prevent our fresh vegetables from becoming flash frozen. A white car, like a long white coat, was NOT a good idea. If you were parallel parked in the street, the plow would heave the vehicle over the curb right along with the snow. A black car wasn't such a great idea either because of treacherous driving conditions on a dark night. The "be alert, don't get hurt" families opted for fire-engine red. Even then, it was best to put some identifying mark such as a Wonder Woman bobble head on the dashboard so you didn't accidentally spend a lot of time scraping off someone else's red car. After a big snowstorm and a few plow runs, the street doesn't look anything like it did when you parked. You may as well be in The Twilight Zone creator Rod Serling's hometown of Binghamton, New York. By the end of October, the Norse gods pulled the trigger on the starter pistol and winter was officially on. Some years it had already snowed and the temperature dipped below freezing by then. As a kid, you knew that your Halloween costume had better somehow incorporate a down parka, wool hat, mittens, and possibly boots. A ghost was a good idea; simply throw a sheet over your coat. A hobo worked well; a little burnt cork on the face and a stick with a satchel made from a red bandanna over the shoulder. And you could never go wrong as the Abominable Snowman. Growing up in a cold climate you don't realize how it is such a big part of your life until you leave. Upon moving to New York City shortly after my eighteenth birthday, I threw off my hat the way Mary Tyler Moore did in the opening of her show. Then I tossed out the heavy scarf, gloves, and boots like an ailing pilgrim reaching the promised land. Though only 50 miles away, Manhattan is usually ten to thirty degrees warmer than Buffalo and has about one-fiftieth the snowfall."
Feature
Fulcrum Picks a Winner with Buffalo Gal
Laura Pedersen memoir to be released by Colorado publisher
Fulcrum Publishing
, the Golden, Colorado-based independent publisher is planning one of the biggest new title rollouts in its 24-year history this fall. Acclaimed author Laura Pedersen's new memoir,
Buffalo Gal
, will be published by Fulcrum – even though the past seven of her eight previous books were released under Random House imprints—AND she writes for
The New York Times
, AND she's been on Oprah, AND she's pretty, AND she's VERY FUNNY.
Even stranger, Fulcrum found Pedersen by plucking an unsolicited manuscript from the slush pile. For such a chance find to become a company's lead fall title is relatively unheard of in publishing these days, but strange things can happen in the rarified air of the Rocky Mountains.
"She learned about Fulcrum through one of our other memoirs, but what Laura didn't know was that there was a personal connection between us," says Fulcrum publisher Sam Scinta, who received Laura's manuscript this spring from an associate editor who knew he'd grown up in Buffalo. "I have been following Laura's writing career since her first book,
Play Money
," said 39-year-old Scinta, "after first hearing about her in high school back in Amherst (a suburb of Buffalo) from one of my favorite teachers, Peter Heffley, who also figures prominently in Laura's book."
As it turns out, Scinta and Pedersen attended the same high school, four years apart. "The book brought back many fond memories for me, from growing up in the Snowbelt to being a kid in the seventies," Scinta said. "Given Laura's terrific ability to tell a story, as well as her keen sense of humor, I know
Buffalo Gal
will resonate with people, young and old. I was there, so I know the story."
"Beyond all that, I'm just happy to be able to publish this great writer, and her lovely and loving memoir. Her writing has a real warmness to it, and this book transcends the place – it's about a time, and about a culture that a lot of people will relate to."
Buffalo Gal
is set in the snowblower society of Buffalo, New York, and shares the humorous ups and downs of the Pedersens, who, like many families subsisting in the frigid North during the seventies, feared rising prices at the gas pump and argued about the thermostat. While her parents were preoccupied with surviving separation and stagflation, Laura became the neighborhood wild child, skipping school to play poker and trade stocks. This led to an illustrious career on Wall Street—she became the youngest person to have a seat on the American Stock Exchange and a millionaire by age 21.
We spoke with both Pedersen and Scinta about their coincidental and serendipitous publishing partnership.
IP: Laura, what's a big-time author like you doing sending out manuscripts to independent publishers?
LP: I'm so accustomed to hearing the word
no
that I view it as a plea for alternative solutions.
1) When I was 15 and wanted to take economics at the University of Buffalo because my high school didn't offer the course, I was told no. 2) At age 17, I asked the administration at the University of Michigan if I could do an internship on the stock exchange and they said no. 3) After I'd published two business books with Crown (a division of Random House) and wanted to try a novel, they said no—since I was writing a business column for
The New York Times
they wanted more business books. 4) Once I'd published four novels with Ballantine (another division of Random House) and wanted to try this memoir,
Buffalo Gal
, they said no, because supposedly the memoir market was dead.
Solutions. 1) I suggested the University of Buffalo just throw me out if I failed. They said okay and I received an A. 2) I dropped out of the U of M to work on the stock exchange and had a seat and a million dollars before I would've graduated if I'd stayed. 3) I entered my first novel,
Going Away Party
, in a contest held by independent publisher Story Line Press. It won and was published. My experience there was terrific but unfortunately they went out of business. However, after my first novel had been published, it was easy to make a deal with a mainstream publisher that if the next novel,
Beginner's Luck
, didn't succeed I'd return to writing business books.
Beginner's Luck
was chosen for the Barnes & Noble Discover New Writers program and Borders' Original Voices and was an alternate selection for the Literary Guild. 4) I believed, of course, that
Buffalo Gal
was as funny as a David Sedaris or Augusten Burroughs book, and that every time the memoir market was declared dead another one soared to the top of the best-seller lists, so I started looking at independents. After enjoying the memoir
When Elephants Fly
, by Carol Batrus, I sent my manuscript to Fulcrum. Sam phoned and it turned out that not only did we grow up in the same town, but we went to the same high school and had the same favorite teacher! All that was left was to go bowling and drink loganberry together.
IP: Sam, what does it mean to Fulcrum to publish an author like Laura?
SS: It is a tremendous opportunity for us to work with someone like Laura, given not only her publishing history but also her unique life experiences. Typically, us indies are not often considered for books like this, which is unfortunate given that we have many advantages over some of the big publishers, including a longer commitment to our books, a grassroots marketing approach and a friendlier editorial approach. We feel here at Fulcrum that we're a national publisher that happens to be located in the West. And why shouldn't we be here (in the Denver area)? There's a great reading culture here in Colorado, every author on tour comes through here, and it's a wonderful place to live and work. The recent Democratic National Convention is a great example: we were able to be very involved because of all the authors we've published who attended the convention. On Friday Tattered Cover (the Denver independent bookstore known as one of the nation's finest) gave away copies of Laurie David's
Stop Global Warming
to 500 bloggers. Fulcrum cosponsored a luncheon honoring Senator (and Fulcrum author) George McGovern Fulcrum authors Senator Gary Hart, former Colorado First Lady Dottie Lamm, UN ambassador to Chile Heraldo Muńoz, and Anita Thompson, wife of the late Hunter S. Thompson and author of
The Gonzo Way
(Fulcrum-based authors all) in attendance. We have been fortunate over the years to publish several nationally known authors, and we are looking forward to this experience with Laura as well.
IP: Both of you, does this point to a trend in American publishing? Are independent publishers attracting authors who've become disenchanted with mainstream publishing today?
LP: The economics of publishing seem to be forcing editors at large mainstream houses (and therefore most agents) to search only for blockbusters, whether they are well done or merely gimmicky. And if it appears that you're going to be an author who sells 50,000 copies they lose interest to a large degree and continue to hunt for the next chart topper. Likewise, if you can't reproduce nationwide best sellers with any type of regularity, or if you want to try a different direction, there won't be any support for that unless the project includes a groundbreaking interview with O. J. Simpson. When I read about old-fashioned editors like Maxwell Perkins it makes me want to cry.
Also, in the past twenty years I've noticed an increase in turnover levels at the large New York publishing houses. Throughout four recent novels, published about a year apart, I had five editors and five publicists. They were getting progressively younger, and after a year or two most left for graduate school. A few moved to other houses. My feeling was that they weren't earning a living wage for the tri-state area and so why invest themselves in the job? The typical editor-writer Manhattan lunch became somewhat of a bad blind date since I knew we'd probably never meet again, even if according to the zodiac we were both air signs.
SS: I have certainly seen more of this for Fulcrum over the past couple of years, especially as the big publishers have become more "accounting model" driven, and have also focused less on editorial engagement. We have been able to attract several authors who have published with the bigger houses because of how we do our business. Funny that Laura mentions Max Perkins – we strive for that 1930's Scribner style of editor-author relationship, where a close bond is created, and mid-list authors don't get left behind. You can't pack everything into the first 15 weeks of a book's life. Sometimes a huge interest can bubble up five years later, so we make sure our backlist remains a vital part of our company. For us, it's all about good books, and we realize that good things take time to happen.
Our involvement at the Democratic National Convention is another example of how our philosophy differs from mainstream publishing today. While other people are doing books on the specific candidates, we're focusing instead on the issues that the candidates should be talking about. As such, we're reaching out, with books by leaders of both parties, to open up dialogue about the issues that will shape the coming years, and being there at the DNC was a terrific start.
IP: Sam, how will your strategy change for marketing an author like Laura?
SS: It really doesn't change much, simply because we have published many big national titles over the years. Where I do see some opportunities is with Laura's unique list of connections and contacts, which will allow us to get a foot in the door with people that maybe didn't know about us in the past. I think our publishing philosophy and Laura's book will match up nicely – we feel that reading should be
fun
and not something people feel they
need
to do.
Buffalo Gal
is definitely a
fun
book to read.
IP: Laura, how will working with a publisher like Sam change your approach to this book?
LP: Johnny Carson once said to a young Steve Martin that eventually you'll use everything you know. With my background in comedy, public speaking, television, and journalism (and as a children's birthday party magician!), I can extend myself in the marketing effort and am thrilled to do so because I feel that everyone at Fulcrum likes the book business, enjoys a good story, and is working hard so that we can succeed together. For instance, the editing that Fulcrum performed on
Buffalo Gal
was in-house, conscientious, and professional. My sense about mainstream publishing houses after six books is that an increasing number of steps are being outsourced and people end up with very little ownership. I'd find numerous errors in what were supposed to be ready-for-print manuscripts. Fortunately, my mother is an avid proofreader and they don't call her Eagle Eye Ellen for nothing, because at that final stage it's difficult for an author to proof his or her own work since the text is so familiar.
Fulcrum is planning a long marketing campaign, vigilantly looking for opportunities both before the pub date and several months afterward. And having worked so hard on the book, almost two years, it's wonderful to have more than just a few short weeks to promote it. With a large house this isn't feasible because they must move on, as if they're in the produce business and books are bunches of asparagus. If you lose your media slots to catastrophic weather or political follies then too bad, try again with your next book, and may I suggest working O. J. Simpson into the title?
* * * * *
Buffalo Gal: A Memoir
Laura Pedersen
October 2008
$15.00
Trade Paperback Original
978-1-55591-692-3
Laura Pedersen
writes for
The New York Times
and is the author of eight books, including
Beginner's Luck
, which was chosen as a Barnes & Noble Discover Great New Writers selection. She has appeared on
Oprah, Good Morning America, Primetime Live
, and
The Late Show with David Letterman
and she had her own show on Oxygen. Honored as one of Ten Outstanding Young Americans by President Clinton, Pedersen currently lives in New York City.
Sam Scinta
graduated from Yale University in 1991 with a degree in political science and joined North American Press, a division of Fulcrum Publishing, as a research associate. From 1993-1998, he served as an acquisitions editor, manager of information services and advisor for Fulcrum. Sam received his J.D. from the University of Denver in 1998, where he was Editor-in-Chief of the
Transportation Law Journal
, and worked as a public finance attorney for three years, assisting on over $1 billion in projects around the nation. He returned to Fulcrum in 2001 as Vice President, and Associate Publisher, and in December 2006, was named President and Publisher. He has worked as project editor for dozens of Fulcrum's titles, including two best-selling collections in the
Speaker's Corner Books
series on contemporary political and social issues,
Spirit and Reason: The Vine Deloria, Jr. Reader
and
Parting Shots from My Brittle Bow
(with Eugene McCarthy).
---
Comments
---