Feature
Honoring the Greats of Children's Literature
A Night at the Carle Honors
On September 24th, honorees of the prestigious annual Carle Honors were recognized at a benefit gala and silent auction held in New York City. The event, held in the lofty halls of Guastavino's beneath the 59th Street Bridge, drew together several hundred creators and supporters of children's books in celebration of some of the industry's greats: Helen Oxenbury, Corinna Cotsen, Andrea Immel, Neal Porter, and Joan Bertin.
The honors, now in their 10th year, were established by the Eric Carle Museum of Picture Book Art to celebrate "individuals whose creative vision and dedication are an inspiration to everyone who values picture books and their role in arts education and literacy." The museum is well suited to recognize those individuals, as the ceremony's purpose aligns with the museum's own inspiring mission; the non-profit organization tirelessly promotes literacy and reading by collecting picture book art from around the world and displaying it at the museum's beautiful Amherst, Massachusetts location. Eric Carle, who founded the museum in 2002 alongside his late wife Barbara, is the renowned creator of over 70 books including the internationally-beloved The Very Hungry Caterpillar. His name lends immeasurable weight to the prestige of the Carle Honors; to be recognized with a Carle Honor is to be recognized for an entire body of work, a lifetime of commitment and contributions to children's picture books.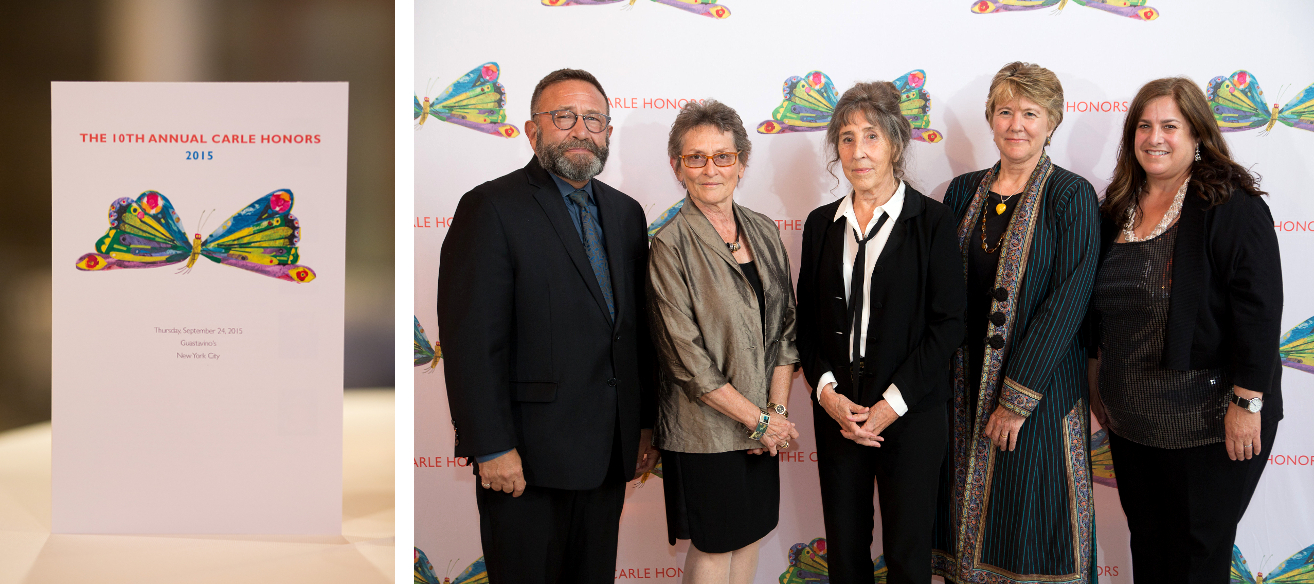 Honorees from left: Porter, Bertin, Oxenbury, Immel, Cotsen. Photos: Johnny Wolf Photography.
This year's honorees undoubtedly live up to the honors they received. Selected by a committee under the direction of Carle Honors founder Leonard S. Marcus, they are awarded one of four honor titles: Artist, Mentor, Angel, and Bridge. These unique award categories are what differentiate the Carle Honors – and subsequently the benefit gala – from other industry awards; the Angel and Bridge honors incorporate and celebrate valued work from not just within the book publishing industry but beyond it, out in the spaces where children are discovering and experiencing books.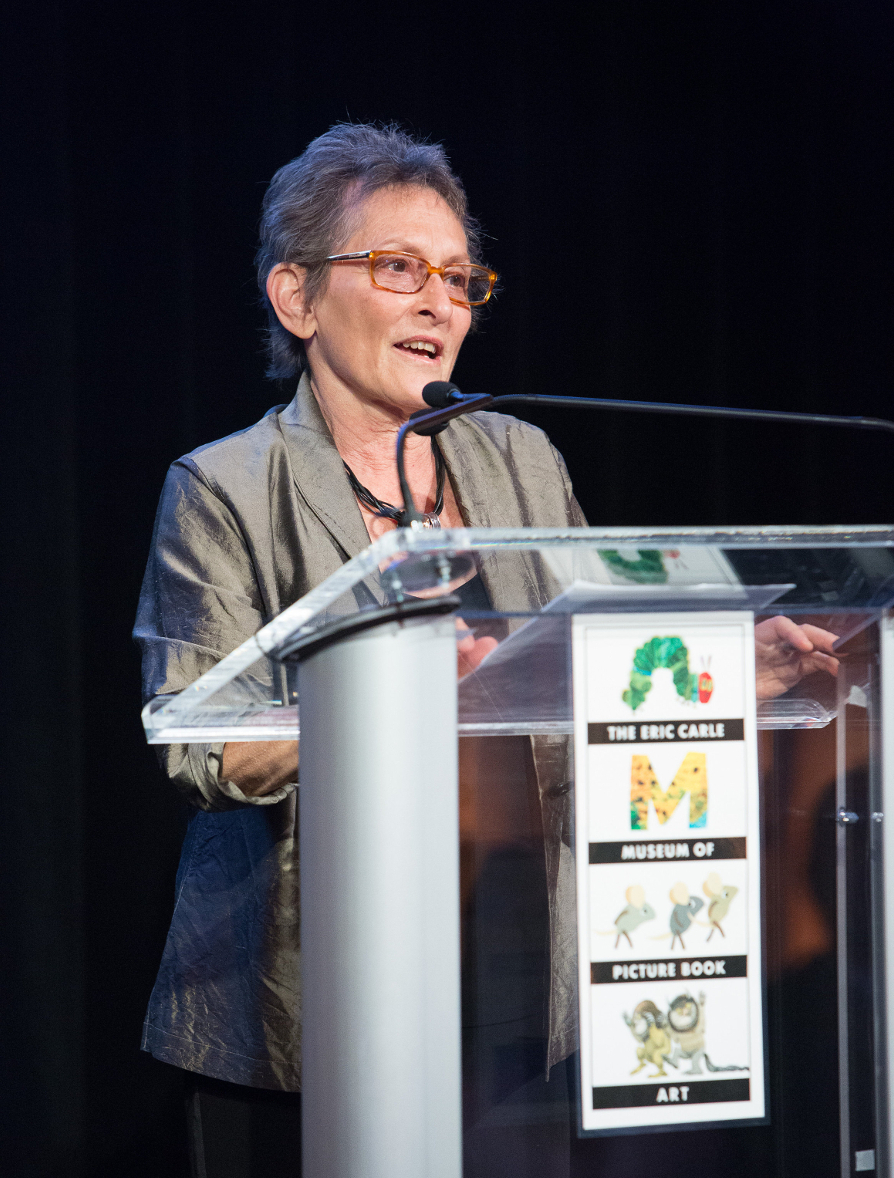 Joan Bertin.
The ceremony was hosted by author and illustrator David Macaulay, who introduced the first of the year's honorees, Joan Bertin. As Executive Director of the National Coalition Against Censorship, Bertin was honored with the Bridge title, defined as an individual who has found "inspired ways to bring the art of the picture book to larger audiences through work in other fields." NCAC does crucial work as one of the strongest promoters of freedom of thought and expression, and Bertin's role often brings her to the front lines of children's book censorship, where she must fight for the literary rights of children. "We believe in creative expression," Bertin said of her work, "We believe that books are really important for kids, and that authors have something to say." So when well-intentioned parents argue against having certain books in schools or libraries, Bertin and her team step in to assist the teachers, librarians or school officials often caught in the middle. "Our mission is to defend right of access – not to force anybody to read anything they don't want to read, but to defend the right of people who do want to read it, and to defend the right of teachers and other students to have it in the school . . . We also want to use every situation in which a book is challenged as an opportunity to try to educate people about why removing books is a bad idea, and how they can negotiate these kinds of controversies about kid's books without walking down that censorship path."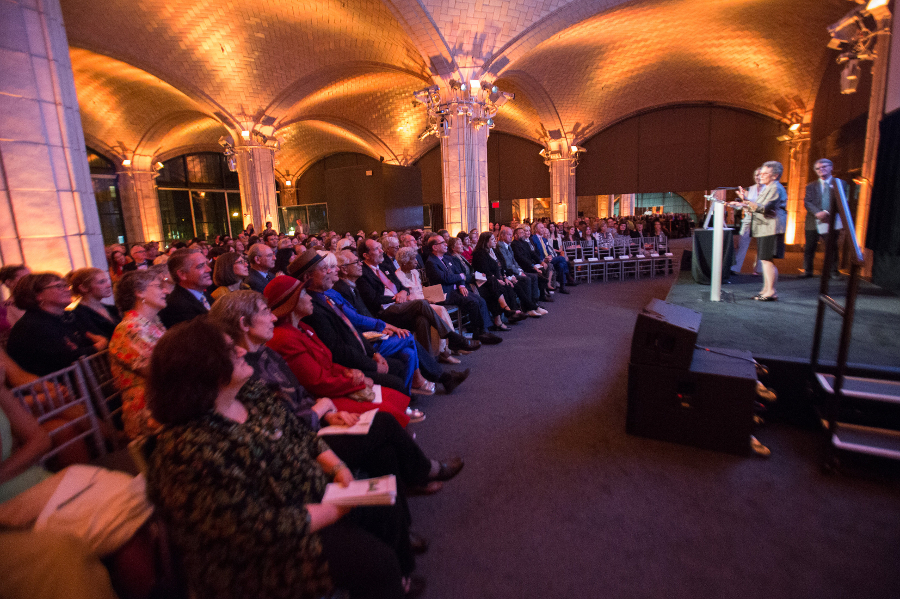 Bertin accepting her honor.
Bertin, who said she was "pretty amazed, a little stunned, and very honored," by the Carle Honor, also hopes it will bring increased awareness of the vital resources and guidance NCAC is able to provide. "We work with a lot of authors, artists, teachers, and librarians, and it's really important for us to be sure they know that we are a resource. We are a small organization, and I think often times when something like this happens they don't have any idea where to go. One of our board members is Judy Blume and she has written and said on many occasions that when her books started being challenged – which they were, and viciously – she had no clue what to do. And then she found NCAC. And that is the experience we want other authors in that situation to have. If they don't need us, so much the better. But when they do need us, we are here."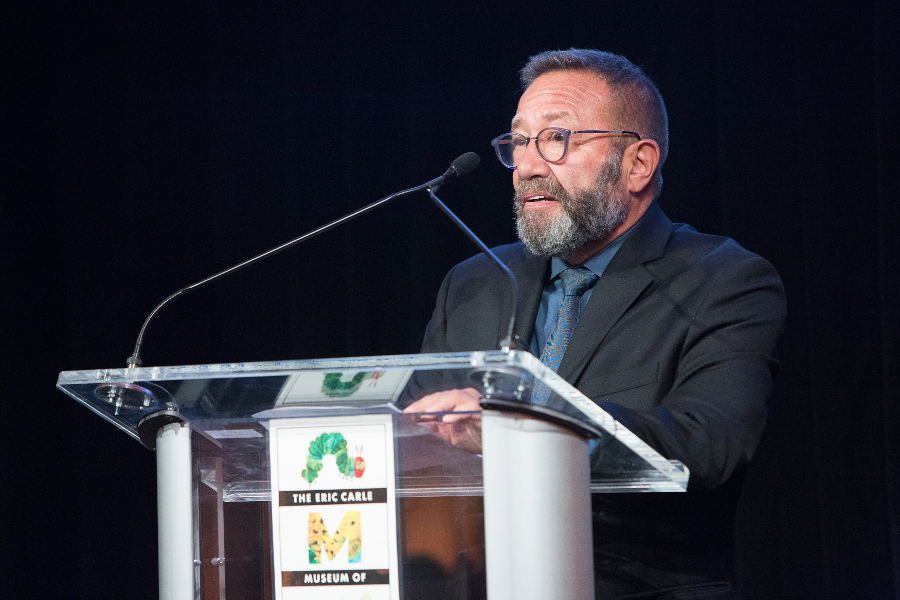 Neal Porter.
Next to be honored was this year's Mentor, the award "for editors, designers, and educators who champion the art form," which went to Neal Porter of Roaring Brook Press. Porter's illustrious career has included positions in every aspect of children's book publishing, culminating in his current position as founder of children's imprint Neal Porter Books at Roaring Brook. Yet he wasn't always so engaged with the genre. "I'm here because of my work with picture books but I actually remember relatively few from my own childhood," said Porter. "I went through the period very quickly but the book that has had a huge impact on me was Crockett Johnson's Harold and the Purple Crayon because it was about a solitary kid like me – I was an only child – and it was about creativity, and that sort of encapsulates who I am and what I've tried to be all these years later."
Porter has had no shortage of awards and accolades testifying to his success at publishing creative and enduring children's books, but that didn't stop him from being "stupefied" upon learning he was a Carle Honor recipient. "I love what I do, and I feel so privileged to have the opportunity to publish the books that I feel a strong connection to, and the fact that other people do too is still a little mystifying, even all these years. And to be recognized for a career's worth of work is really kind of astonishing." When asked what advice he would give aspiring children's book publishers, Porter attributed his success to following his heart:
"Publish what you love. Every time I've done a book that I didn't love but thought had commercial possibilities, it's really been a disaster. And the books of mine that have done very well are the books that I just felt I had to publish the book, there was no other possible outcome . . . Don't pay attention to trends, don't get caught up in what is the notion of the moment because by the time the book that you are contemplating doing comes out, then the trend will have passed and people will be on to other things."


Andrea Immel (left) and Corinna Cotsen.
The 2015 Angel honor, for those "whose generous resources are crucial to making picture book art exhibitions, education programs, and related projects a reality," went to the Cotsen Children's Library at Princeton University. The collection provides essential resources in the form of books, manuscripts, artwork, prints, and education toys to facilitate international research relating to illustrated children's books. Corinna Cotsen accepted the award on behalf of the Cotsen family along with Andrea Immel, who directs the collection and organizes academic programs and exhibitions.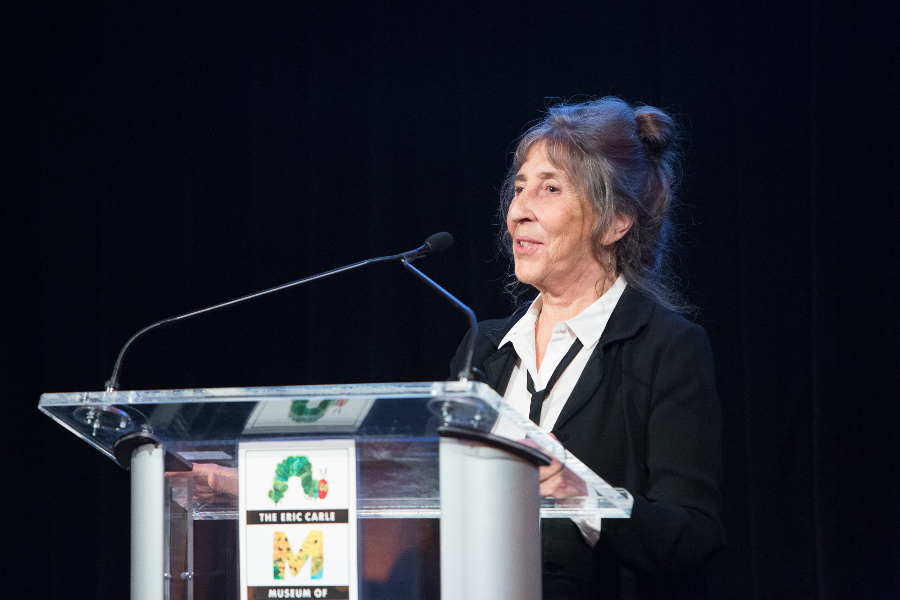 Helen Oxenbury.
And finally, the Carle Honor Artist award for "lifelong innovation in the field," went to the first ever British recipient, renowned author and illustrator Helen Oxenbury. Oxenbury described her own experience finding her way to children's books, saying "When I was growing up, my father used to bring me books from the library. They didn't have many because of the war, and the ones they had were dreadful, but I remember loving every one of them." Favorites like The Good Master by Kate Seredy still stand out to Oxenbury, yet she wasn't really brought up with children's books. After studying art and design in London and meeting her future husband, children's book author and illustrator John Burningham, Oxenbury embarked on a career in theater and film. "It wasn't until I had my own children that I got involved," she remembered. "I saw my husband doing Chitty Chitty Bang Bang, and I thought 'how wonderful. I'd love to give a go at that.'" While working on her first book, an alphabet book that Oxenbury now considers "dreadful," she decided to stick with children's books. "I thought, 'even if this doesn't get published, I'll do another. And even if that one isn't published, I'll do another.' I loved it."
She was published, and book by book she built up an impressive body of work; We're Going on a Bear Hunt, The Quangle Wangle's Hat, and So Much! are just a few of the award-winning titles Oxenbury has put out in her 50 years of illustrating picture books. As recipient of the Artist honor, Oxenbury was "absolutely thrilled" to be recognized for her work, thanking the audience and wrapping up her acceptance by saying "I shall be back in another 50 years."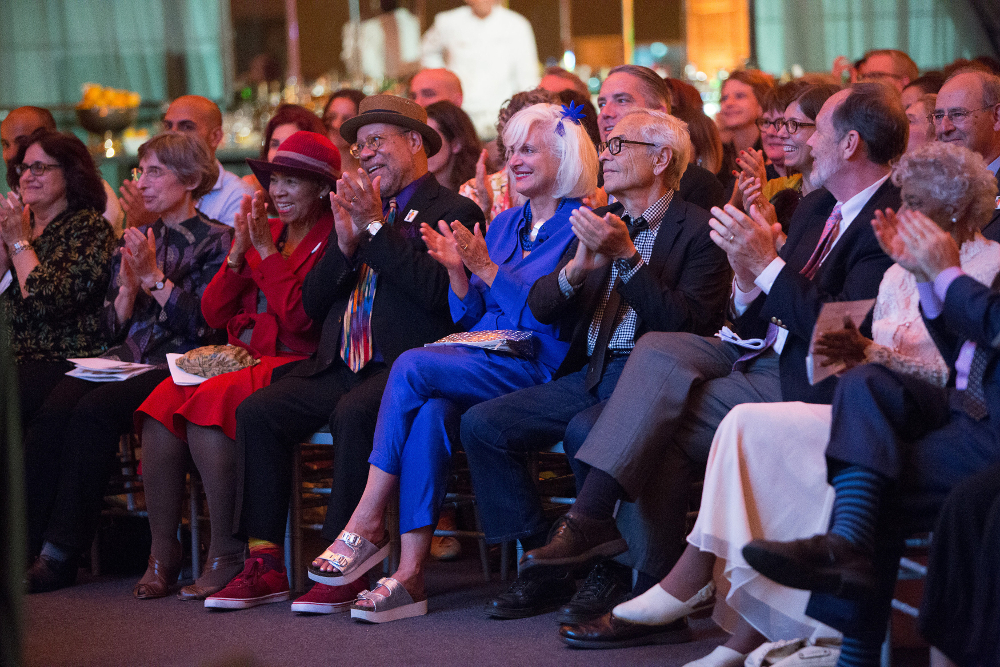 Attendees listening to Helen Oxenbury's speech.
For more information about the honorees and event, visit the Carle Honors website here. To learn more about the Eric Carle Museum of Picture Book Art, click here.
---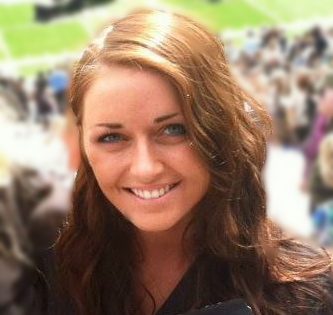 Lauren White graduated from the University of Michigan with a degree in History and English. She is serving as Assistant Editor and Awards Account Manager at Independent Publisher. Please email her at lwhite [at] bookpublishing.com with any questions and comments.
---
Comments
---