Indie Groundbreaking Book
7-10 Split
Former Army Brat Reflects on Growing up During the Civil Rights Movement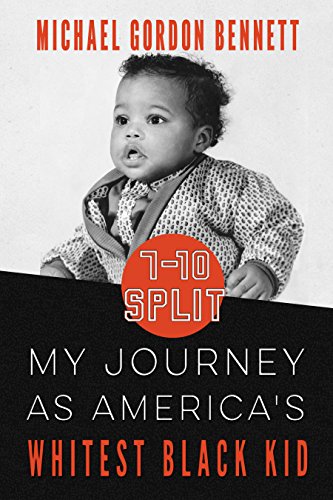 "Like many of you, I continue to grapple with America's ultimate sickness, seeking understanding, and ways to eliminate bigotry from my life. It took me years to realize, I couldn't control the habits and prejudices of others, but lord knows, I bumped by head hundreds of times trying. At times, based on my experiences, I felt preordained to carry this burden alone. Man, it's heavy. I'm glad I let that nonsense go, realizing we were all in this together."
So writes Michael Gordon Bennett in the prologue to his new memoir, 7-10 Split: My Journey As America's Whitest Black Kid. It's one of the many, many times in the book where Bennett's candid style and understated way with words communicates the anguish of growing up on the wrong side of a society wrought with racism.
7-10 Split charts Bennett's youth, from his birth to his high school graduation. (The epilogue goes briefly into his life after, but most of the book is focused on his childhood and his teen years.) Graduating in 1975, Bennett's youth was set against the backdrop of the civil rights movement. However, Bennett's story of growing up as a black boy in a racially fractious time is certainly not a typical one. In fact, Bennett's viewpoint on the subject is groundbreaking for two reasons, both of which make his account of national history and his history fascinating.
First of all, Bennett was an "army brat" as a child. As his father was a member of the United States Air Force, Bennett moved around a lot as a kid. At five years old, he and his family transplanted to Spain. Two years later, they returned to the United States and made their home in Maine. Bennett would also go on to live in Atlantic City, Florida, and Colorado, all before graduating from high school. Geography almost proves to be its own character in 7-10 Split, as Bennett's experiences—and especially his encounters with racism—tend to differ drastically from place to place.
Secondly, Bennett was a black person, but a light-skinned black person—a fact that often left him alienated from both his white classmates and his black classmates. That struggle is what gives 7-10 Split its title, a reference to the age-old, impossible bowling shot with two pins splt on either side of the lane. Caught in between two groups, Bennett ended up unable to knock down either pin. He was a black man but had light skin. He family had white friends and acquaintances, thanks largely to his father's post in the military and his family's time in Maine. He had escaped some of the oppression of the 1960s while people of his race had been left beaten and downtrodden. He was an outcast among blacks due to his circumstances, and an outcast among whites due to his skin color.
Needless to say, these circumstances did not make matters easy for Bennett while he was growing up. Living in Spain as a young child, Bennett spends the early years of his life completely ignorant to the gravity of the civil rights battle going on in his home country. Bennett and his family only lived in Spain for two years—from summer 1963 to November 1965—but both those two years proved to be vital years in the civil rights movement. As he notes in the prologue to 7-10 Split, his family missed many key events in American history while living overseas—from Martin Luther King, Jr's "I Have a Dream" speech to the JFK assassination to the signing of the Civil Rights Act.
Being outside of the United States during this racially fraught time leaves Bennett and his family somewhat "insulated" (as he puts it) from the violence, hate, bigotry and fear of the era. However, it also leaves him ill-equipped to handle life back in the United States—either in "White America" (Maine) or "Black America" (Atlantic City). What follows is a battle for identity and purpose, a battle to answer questions with no easy answers, and a battle against a system where what's fair and right aren't even a part of the conversation.
Throughout 7-10 Split, Bennett contends with homelessness, loneliness, and completely justifiable anger—all in intimate, emotional detail. Ultimately, though, Bennett's memoir isn't a treatise on rage, but a tribute to resilience and the power of the human heart. Bennett's ability to battle through adversity is admirable, and his writing shows him as a passionate, thoughtful, and eloquent author with unwavering love for his family and a remarkable penchant for seeing the best in people. In a year where Donald Trump's hateful bigotry has dominated the presidential election cycle, and where racial violence has simply begot more racial violence, the words and stories that Bennett shares in the pages of 7-10 Split are more important than ever. It's a book that should not be missed.
You can purchase 7-10 Split: My Journey As America's Whitest Black Kid on Amazon.com or from Michael Gordon Bennett's website.
---
Craig Manning is currently studying English and Music at Western Michigan University. In addition to writing for IndependentPublisher.com, he maintains a pair of entertainment blogs, interns at the Traverse City Business News, and writes for Rockfreaks.net and his college newspaper. He welcomes comments or questions concerning his articles via email, at manningcr953@gmail.com.
---
Comments
---