Tech Desk
From the Tech Desk
The MIT Press Rewrites the Art of Pitching a Book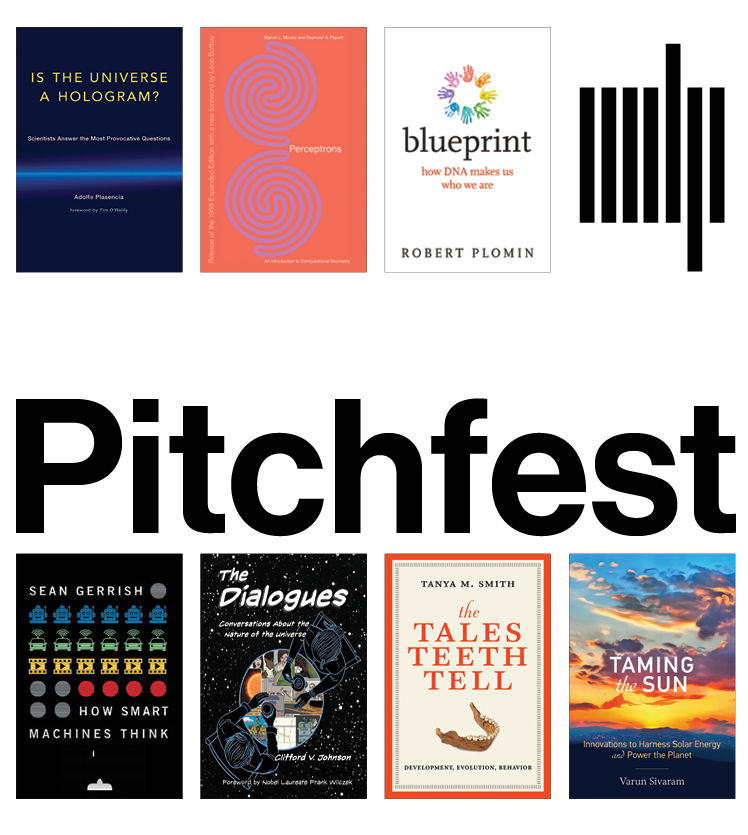 For authors trying to get published, the pitch is a constant thorn in the side. Sending query letters to agents to try to get a manuscript in the hands of the right person is a daunting task for any first-time author. How do you write an engaging pitch? How do you know if your first chapters have enough of a hook to intrigue an agent? Which agents should you target with your manuscript? These questions have stymied authors for years, not least because it's so hard to know whether you've answered them correctly. Agents reject pitches for any number of reasons, from lack of bandwidth to lack of interest to genre or concept burnout. And while some agents will respond to promising pitches with helpful critiques, others will either skip the response altogether or send a form-letter rejection. It's tough to improve your pitches if you don't know why they aren't landing the way you want to.
But what if there was a different way of pitching manuscripts? The MIT Press is asking that question this fall, with a competitive event it calls "Pitchfest." The competition will be held at this fall's tenth annual Boston Book Festival, which is scheduled to take place on Saturday, October 13.
Unsurprisingly, Pitchfest has been described as "Shark Tank for book publishing." Shark Tank, of course, is a popular reality TV series where entrepreneurs pitch their fledgling businesses to major investors. If an investor likes a business idea—and if the business owner can show evidence of early growth and success—then the entrepreneur can walk out the door with a new business partner and a major investment.
With Pitchfest, the MIT Press is taking the Shark Tank concept and applying it to the pitching of a manuscript. Finalists for the event will have the opportunity to pitch their book ideas to a panel of judges in front of a live audience. The winner won't necessarily get a book deal on the spot, but will have a chance to workshop his or her book proposal with an MIT Press editor, as well as receive some practical one-on-one advice about "how to navigate the publishing world." Oh, and there's also a $1,000 cash prize.
Pitchfest is not open to any and all types of book projects. Given the MIT Press's affiliation with the Massachusetts Institute of Technology, it's hardly surprising that the contest will focus specifically on book ideas that pertain to technology and science. However, depending on how the competition plays out, it's not difficult to see a similar Shark Tank-like concept being applied to other genres or other segments of the publishing world.
The intersection here—between entertainment, technology, and book publishing—is something that hasn't been tried in this particular way before. The opportunity for authors to pitch their ideas in front of a live audience will at very least help these writers hone their pitches and zero in on the characteristics that make their projects most intriguing. At most, this contest could rewrite the way that we pitch and acquire manuscripts.
For authors, Pitchfest represents an opportunity to have face time with publishing professionals—an attractive possibility for writers who have had to endure the cloud of uncertainty and impersonal rejection that hangs around the current email pitch system. For audience members, Pitchfest is a chance to witness a crucial part of the publishing process and learn from it. As readers, we're used to books arriving on our shelves or devices fully formed. We don't see the path toward the finished product, or the strategies that authors must employ to get their work noticed by industry gatekeepers. Pitchfest promises to reveal some of both, and whether Boston Book Festival attendees are in the process of trying to get their own works published or just love books and reading, the results should be informative and illuminating. Who knows? Maybe Pitchfest is the next big primetime reality TV series. Who wouldn't tune in if they could watch the next J.K. Rowling pitch her book in front of a panel of agents and publishing professionals?
Pitchfest is seeking authors who have "a great idea for a nonfiction book in science or technology, broadly defined." Interested authors can submit book proposals to the MIT Press online. Each entry must include a written proposal that is 300 words or less and a "homegrown pitch video." The submission deadline for the contest is September 1. On September 17, the MIT Press will announced six finalists, all of whom will present their ideas live at the Pitchfest event on October 13. To read full contest guidelines or to submit your book proposal, visit the official Pitchest page on the MIT Press website.

* * * * *
Craig Manning is currently studying English and Music at Western Michigan University. In addition to writing for IndependentPublisher.com, he maintains a pair of entertainment blogs, interns at the Traverse City Business News, and writes for Rockfreaks.net and his college newspaper. He welcomes comments or questions concerning his articles via email, at manningcr953 (at) gmail.com.
---
Comments
---