Independent Publisher on Instagram
Students from Small Cartooning School Find Outsized Success
This is a press release from The Center for Cartoon Studies presented in its entirety.
(White River Junction, Vermont - Jan. 14, 2020) – Far from the large cities and cultural centers, a school with less than 40 students in rural Vermont is leaving its mark in a big way. Established in 2005, The Center for Cartoon Studies (CCS) can point to both current students and graduates experiencing the type of success that creators dream about.
Most recently Emma Hunsinger '20 had a ten-page comic in The New Yorker (12/30/19 issue). Originally appearing online, "How to Draw a Horse" began as a non-fiction class assignment. Lucy Knisley's '09 most recent children's book You Are New (Chronicle Books) was named a Top 25 Children's Books of 2019 by The New York Times. Widely considered one of the most outstanding cartoonists of her generation, Tillie Walden '16 most recently published Are You Listening (First Second), her third major graphic novel since graduating from CCS. Her first graphic novel, the Eisner award-winning memoir Spinning, began as her CCS thesis project.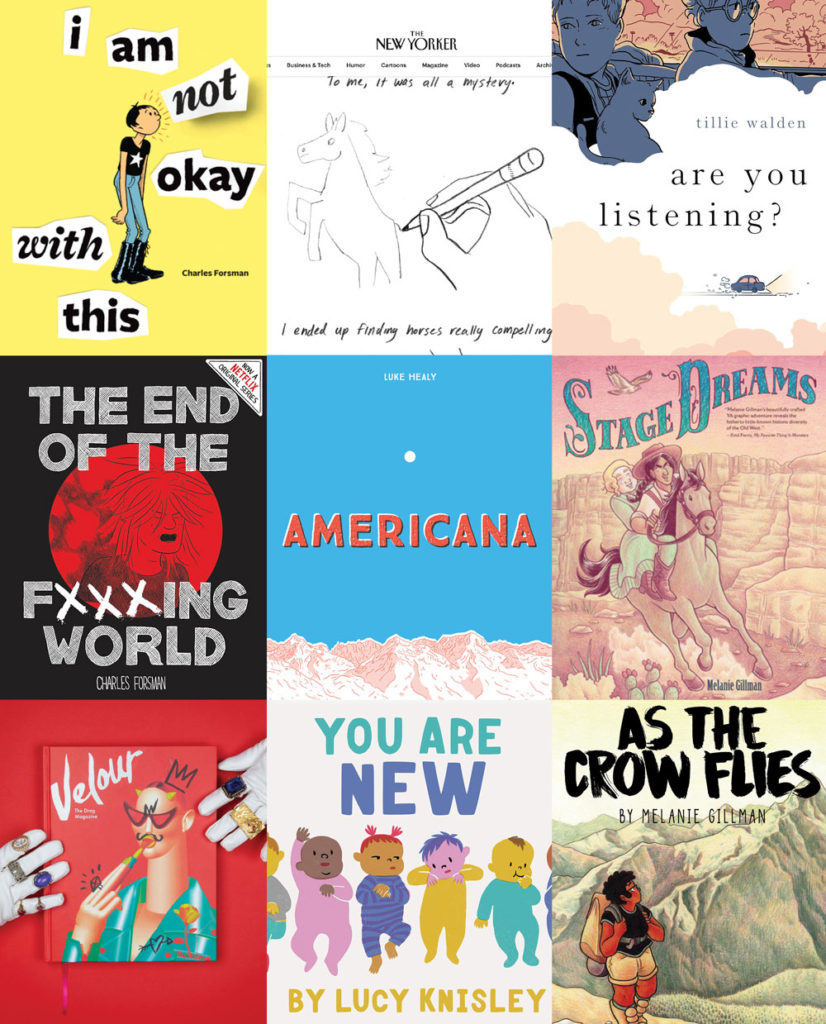 Americana by Luke Healy '14 was on The Guardian's list of Best Comics of 2019, and Stage Dreams (Lerner Books) by Melanie Gillman '12 is on the Young Adult Library Services Association Great Graphic Novels for Teens recommended reading list. Gillman won the American Library Association Stonewall Award Honor Book for As the Crow Flies, Volume 1 (Iron Circus, 2017) and their webcomic has been nominated for the The Cartoonist Studio Prize (2013), an Eisner Award (2014), and an Ignatz Award (2016), as well as being awarded a Gold Medal from the Society of Illustrators (2016).
2020 will also see the premiere of I'm Not Okay With This, the second Netflix series based on the graphic novels of Charles Forsman '08. The first series was the award-winning End of The F***ing World. This year Sasha Velour '13 will take their Smoke and Mirrors "one-queen show" on a European tour. Sasha was the season nine winner of RuPaul's Drag Race and is an international drag icon.
Even with fewer than 40 year-round students, CCS has a student and alumni success rate that exceeds art and design colleges with hundreds of enrolled students. "I visited the school (CCS) and my decision was instant," said Tillie Walden. "It had everything I was looking for: teachers I loved and respected, a challenging curriculum, and a community of like-minded cartoonists."
* * * * *
The Center for Cartoon Studies is currently accepting applications for fall 2020 for the MFA and Certificate programs. During the summer, CCS will also offer over a dozen workshops for both beginners and those with advanced skills. The Center for Cartoon Studies is a 501(c)(3) organization whose mission is to explore cartooning's past, present, and potential. For more information visit cartoonstudies.org
---
Comments
---