Mattie Stepanek, 11-year-old "Poet and Peacemaker."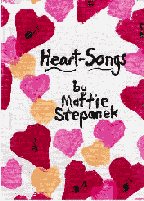 Published in July 2001, HEARTSONGS is a compilation of Mattie's early poetry. It includes 20 of his poems as well as his artwork. A new hardcover edition, JOURNEY THROUGH HEARTSONGS is now available from VSP Books, comprising of a larger collection of poems spanning the seven years he has been writing.
Independent Success! Breakthroughs in Publishing
And Now On To Global Domination...
Welcome, welcome, welcome to Independent Success!
I will highlight the movers and shakers, interview the up-and-comers, and deconstruct the success and failures of our industry in this bi-monthly column. The world of independent and e-publishing is fascinating and it is beyond exciting to be here to see the birth and evolution of an industry. Come along with me as I chart its labor, teething, temper tantrums and journey to adult hood.
I want your feedback!
A column is a living, breathing thing and I look forward to your comments, questions and requests. Email me at cr@alightcommunications.com
And now, on to global domination...
Is it just me, or does anyone else in this crazy publishing industry grit their teeth, squint their eyes, plug their ears and turn bright green with envy over the run away traditional publishing success of Harry Potter and the Left Behind series?
One of the most successful publishing and marketing giants of all time, Harry Potter has not only smashed publishing records but is on its way to spawning a never ending merchandising and movie giant. The Left Behind series has inspired a new respect for religious publishers, a rabid fan base, successful children's series and one movie, so far. Are these types of publishing and merchandising marriages possible with independent and e-publishing?
We haven't seen anything like this, yet. However, no one had ever seen an e-book or the Internet just a few short years ago. There are many ways to marry your promotion and marketing to build on your publishing success. Even better is taking that success and expanding into the other lucrative areas that make an agent's eyes glaze over with lust such as seductive movie options, tempting foreign rights, sexy serials and fine little number known as merchandising.
Movers And Shakers
First off, can it be done? Of course it can! No one thought that authors who published their books via e-publishing or independent publishers should expect any kind of mainstream success. Most in the publishing industry didn't even consider them "real" authors. Some still don't. However, the success of authors such as MJ Rose, Peter Bowerman, Laura Doyle and David Schmahnn, who against all odds are enjoying mainstream success via unorthodox means, can no longer be ignored.
Here are just a few independent and e-published authors that are writing our first success stories:
* M.J. Rose, the Queen of e-Publishing, took a many times rejected manuscript and turned it into the first e-book. Capturing the eye of an editor with the Doubleday Book Club, her book was the first self-published/e-book ever chosen for a Book club selection. Soon after she landed a deal with Pocketbooks and her novel Lip Service was released in hardcover. Not one to sit on her laurels, MJ Rose not only keeps on writing fiction, but she is carving out her own niche as a cyber publishing diva offering seminars, doing speaking tours, and writing books on the new world of publishing.
* Peter Bowerman, a successful freelance commercial writer, decided to share his hard earned knowledge with his book The Well-Fed Writer. Self-published, both electronically and hard copy, Bowerman's book has enjoyed an extremely successful first run and is still going strong. Branching out, he has parlayed his book into increased freelance work, seminars, speaking tours and acceptance as a college textbook. Launching his book on blood, sweat and creativity, Bowerman, got his start by scouring the Internet for websites, email lists and publications targeting stay at home mothers, small businesses and writers and offering free review copies.
* Self-publishing success and marriage guru Laura Doyle, author of The Surrendered Wife, originally wrote and self-published her book to meet the small demand of family and friends who wanted to try her take on saving a marriage. Word of mouth and some savvy marketing paid off in a big way by capturing the fascination of the mainstream media and her own radio show. She maintains her momentum by offering a website featuring a free chapter, testimonials, reviews, a media section, online ordering and easy click access to her seminar schedules.
* Angela Adair-Hoy may just be the first successful and author friendly cyber publishing entrepreneur. Not only the author of several e-books and co-author with MJ Rose, she has a free weekly newsletter, subscriber based monthly newsletter and has launched her own e-book publishing dynasty, booklocker.com. This mother of four has become a favorite speaker, guest writer and has been instrumental in the success of several e-book authors (including Peter Bowerman).
* Mattie Stepanek, 11 year-old author of the independently published Heartsongs, debuted at #10 on the New York Times Best Seller List and has two follow ups scheduled for release. Suffering from a rare form of muscular dystrophy, a run of 200 was originally published by VSP to grant his wish. The run was sold out and with a foreword from Jimmy Carter, a segment on Book TV, a scene stealing appearance on the Jerry Lewis Telethon, and a profile in the Washington Post, Stephanek garnered a coveted spot on the Oprah Winfry Show sending sales through the roof. There are now over 500,000 combined copies of his books in print. Mattie has just been chosen as the National Goodwill Ambassador for the Muscular Dystrophy Association for 2002, and a new agreement with Hyperion has just been reached to assume marketing, printing, and distribution for Heartsongsand Journey Through Heartsongs, and three additional books will be co-published in 2002..
Is That All There Is?
Okay, you've got the book and it is on the way to setting all kinds of records, but that's not the end -- it's just the beginning. You now have opportunities as a speaker, a commentator, and to write your sequel. But I want more! I want more than just marketing and promotion -- I want what the big guys have. The merchandising, the licensing, and the movie deals. I want e-books and independently published books to spawn a new wave of success leaving traditional publishing mouths gaping wide open with surprise and alarm...
How will it happen? With that good old pioneer spirit. Impossible you say? No, it's just going to take a lot of hard work. You see, the important thing to remember is that the money isn't just in the book -- it is also in the concept -- the ideas and characters created by the author. Selling that concept as a way of life, licensing it to the reader as a "dream come true." I am talking about taking this baby and growing it into a multi-media conglomerate to rival Disney! Laughing at me, are you? That's all right; it took a lot to convince some people that the earth wasn't flat, too.
Taking It All The Way
It is going to take time, tenaciousness, firm belief, ego and dedication (the same things you needed to get your book out there to begin with). You have the character, you have the talent, and you have the product -- now let's expand. Are you sure that you've squeezed all you can out of your non-fiction book? Think again. Even topics targeted at the smallest niches can offer a variety of expansion opportunities.
For example, say you wrote a book on the psychology of color in the business world. Approach office products manufacturers about packaging your book with their color output devices and linking to each other's websites. Perhaps you can collaborate on a line of office products or teach seminars on your subject to their employees and business associates. Don't forget about the world of business décor. Introduce yourself to paint, wallpaper and office furniture manufacturers and offer to be a spokesperson for their products, write a new book on how to specifically incorporate their products into a productive office atmosphere and speak at their trade shows. The opportunities are endless!
Is Fiction your forte? Even better! The opportunities available to fiction writers are as limitless as their imaginations. Perhaps your children's novel is about a cute little monkey who always gets into trouble with his best friend a rabbit. Can your characters be turned into a comic strip, cartoon, television show or movie? What about approaching toy manufacturers about stuffed animals, video games, educational software and board games. Never to be underestimated, the Internet offers limitless opportunities for partnering. Design your own interactive website where visitors can play games, write to the characters and read sample chapters. Are adults your fiction targets? Just say your novel is about a ninja nurse and her detective husband and follows them through the violent, exciting world of insurance investigation. Follow up your publishing success with spin offs including comic books, interactive software and video games, movies, action figures and even a television series.
Ok, the creative juices are flowing and you want this kind of expansion, but you just don't see that any of these people would give you the time of day. Shame on you! Traditional publishing didn't give you a chance either, but that didn't stop you. Can I tell you a secret? It is all in the track record and timing. A track record equals a following, a following equals potential consumers and potential consumers equals potential profits. Now, timing is a tricky and fickle thing that you just have to carefully watch out for. Monitor the publishing industry religiously and pitch accordingly. Who is buying whose movie rights, and who lost out? Pitch the loser with a chance to be competitive. What toy manufacturer just won out with a contract to bring someone's action figures to life? Go to their competitor. Non-fiction authors should not only keep track of the publishing industry, but also keep a sharp eye on the industries effect the subject matter of their books. If you wrote a book about the stock market and the market has flipped and flopped, pitch a radio or television show while the topic is hot.
Never give up, never leave a stone un-turned and never stop making your own opportunities.
* * * * * *
Carrie T. Rivera is a full-time freelance writer, author and the president of Alight Communications. Currently working on her first love, a young adult thriller and an adult suspense novel, she provides communications services of all kinds to publications, websites, corporate clients and government agencies. Pull up a mouse and visit her website at www.alightcommunications.com.
---
Comments
---