Independent Publisher on Instagram
Book Review : Architecture/US History
Fifty State Capitols: The Architecture of Representative Government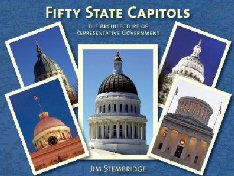 The formality, timelessness, and public grandeur of representative government are on display at every one of America's fifty state capitols. State governments, headquartered in their iconic capitol buildings, have been governing continuously-and largely democratically, peacefully, and openly-for more than two centuries, a record difficult to match in the history of civilization.
Elements common to the ideal American state capitol are a prominent site with manicured grounds; legislative chambers in opposing wings; public galleries with views of each legislative chamber; a temple-like entrance; and a central dome or tower covering a majestic central space known as the rotunda. The architects who designed the buildings-including Thomas Jefferson, Charles Bulfinch, Elijah Myers, and Cass Gilbert-looked for forms and features symbolic of democracy, finding them most often in ancient Greece and Rome.
Jim Stembridge visited each of America's state capitols to document the elements that Jefferson, Bulfinch, Meyers, Gilbert, and other designers put into their works.
Buy This Book
Coho Publishing; Salem, OR; www.fiftystatecapitols.com; 128 pgs; Paperback; $27.95 (June 2011) ISBN-10: 0983029202
---
Comments
---