Book Review : Children's Picture Book
Her Majesty's Explorer: a Steampunk Bedtime Story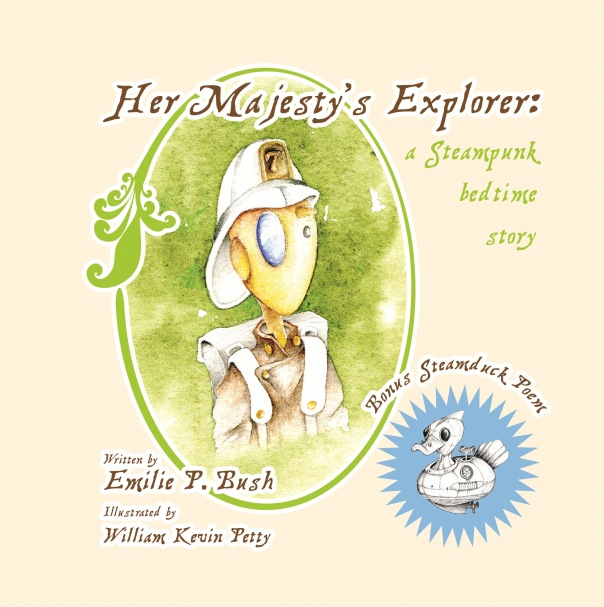 Reviewed by Jim Barnes - 2/10/12

A steampunk book for kids? Sure, kids love the genre, too, and mechanical protagonists have been clanking through kids' books for decades. St. John Murphy Alexander, "Her Majesty's Explorer," is literature's most charming mechanical man since L. Frank Baum's Tin Man. When he comes back from his long scouting patrol and takes a bath with his mechanical rubber ducky, he shows he also has a heart. The book has a lovely vintage look, the characters are charmingly illustrated. and the touching story is written in clever verse.
Here's a sample:
His cogs were gummed,
his gizmos gunked,
his joints were caked with goo.
"Some fuel, a bath, a night's recharge,
and you'll be good as new."
St. Johntook the doc's commands
and stumbled towards the mess.
For a sip of oil
and a nosh of grease -
to sate him (more or less).
Author Emilie P. Bush has two adult Steampunk novels to her credit, Chenda and the Airship Brofman and The Gospel According to Verdu, and she received a bit of fan art, a drawing of an airship and a note, asking her if she thought it it looked like the Brofman as she pictured it in her mind.
"It was close, so I said so, and the next day, a new drawing arrived -- all of this through Facebook -- and it was a second attempt at the ship," she recalls. "The speed at which a second drawing came impressed me and then I gave more feedback -- a third drawing came the next day and it was bang on. This was my introduction to (illustrator) William Kevin Petty."
An interesting story, made much more interesting by the fact that Captain William Kevin Petty was sending the images from Kuwait -- where he was deployed with the Tennesse Army National Guard.
Emilie was starting a summer book tour for her two novels, but as a soldier's daughter herself -- and totally impressed and flattered by Kevin's lovely drawings – she kept Petty in mind and showed off the drawings to a few comic designers while doing book signings in Portland. "The looked at his work and said, 'Not only is he good, he's very good. If he wants to do a project you should probably do one.' And no one needed to tell me twice."
Looking through Petty's images, she found one that caught her imagination -- the picture of a soldier shown below -- and wrote the story of Her Majesty's Explorer based on this character.
"Kevin loved it, and started drawing," says Bush. "He softened the look of the automaton, swapped the giant gun for a hobo bag and a telescope, and we started story-boarding and setting some goal dates."
Keep in mind that the pair hadn't met in person except for a very short meeting at the Atlanta Airport. They worked together in the most tedious way possible, through Facebook and email. Then it got even worse -- when Kevin got re-deployed to Baghdad.
"That slowed things down a bit," says Bush. "Infrastructure like the Internet and access to pencils and a quiet place to draw are hard to come by in Iraq. A few weeks later I got a message that went, 'Hey, I may be totally out of contact for a while -- just a heads up.' I replied, 'You must be going to a place less civilized than Baghdad! Should I worry?' He answered, 'It won't help,' and I didn't hear from him for a week. I did worry. It didn't help."
Petty and his unit got the job done and they pulled out of Iraq -- and eventually back stateside – so he and Bush were back in business, getting this lovely book finished. It's a fine blend of storytelling and illustration, and a fitting tribute to the life of a soldier.
Coal City Stories
Atlanta, GA
www.CoalCitySteam.com
34 page softcover
Price: 11.95
ISBN-13: 978-0984902804
(February 2012)

---
Comments
---