Book Review : Pop Culture / Performing Arts
The Guitar & Amp Sourcebook: An Illustrated Collection of the Axes and Amps that Rocked Our World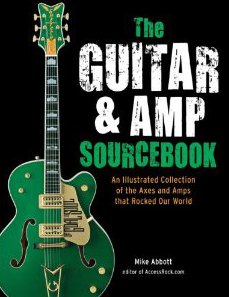 Reviewed by Jim Barnes
With the release of this book, all of us old rock 'n rollers and guitar geeks got a dandy Christmas present. Author Mike Abbott brings vast knowledge of the instruments and the players who used them, jamming the book with quotes, photos, and facts about early stars like Django Reinhardt and Charlie Christian to modern guitar gods like Dave Grohl and Jack White -- making it both a coffee table book and a pop-culture history book. The photography is clear and crisp and the layout and design are beautiful. Leafing through it brings a new delight with every page. And what a bargain at just 25 bucks!
So, put on some old rock music get lost in 450 pages of guitar heaven:
Turns out one of the first known musical instruments, a one-stringed bowed stick with gourd attached appeared in Africa in 13,000 BC. From there, lyres and harps kept evolving until the Middle Ages, when the oud (meaning "wood") and the lute led the way to the 15th century instruments that look like today's guitars.
In 1940 Les Paul built a prototype with a Gibson neck attached to 4x4 plank of wood that held the pick-ups, bridge and tailpiece. It sounded great, but when he took it to a gig he was ridiculed. He went back to his shop, cut two halves off an old Epiphone archtop and attached them to his "log" guitar. It eventually evolved into to the Gibson Les Paul.
Battle of the Axes: Gibson and Fender have always battled it out for "best guitar int he world," and the two most popular electric solid body guitars are the Gibson Les Paul, known for its deep, warm tone, and the Fender Stratocaster, recognized for its uniquely cutting tone. They were introduced in 1957 and 1954 respectively.
Author Mike Abbott is a professional guitarist who has performed with Burt Bacharach and Paul Schaffer, and he owns and edits a music website. His knowledge and love of these guitars and amps is evident, and as readers we're lucky that he's so obsessive -- this is truly an amazing collection, sure to help rockers of all ages get their ya-yas out.
Thunder Bay Press, San Diego, CA; www.ThunderBayBooks.com; 472 page paperback; $24.95 (November 2012) ISBN-10: 1607105659
---
Comments
---