Independent Publisher on Instagram
Book Review : Autobiography / Memoir
Four Thousand Hooks: A True Story of Fishing and Coming of Age on the High Seas of Alaska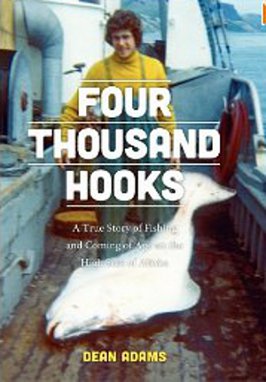 Review by Jennifer Huffman

A teenage boy's transformation to a young man is challenging enough, but just imagine doing it in only seven weeks. In his memoir Four Thousand Hooks: A True Story of Fishing and Coming of Age on the High Seas of Alaska, author Dean Adams portrays how he matured from a shy, thoughtful teenager to a toughened young man in a period of seven weeks. All of this while working on a halibut schooner in the Gulf of Alaska during the summer of 1972.
Adams starts his story with imagery of him, a 16 year old, at the helm of a sinking ship. Then he rewinds to tell how got there. After leaving the shelter of his home in Seattle, he makes his way to Kodiak, Alaska where he spends the summer working as part of the crew on his Uncle's commercial fishing boat, the Grant.
He starts his trip as an energetic, inquisitive, and somewhat naïve teen. He views it as an adventure. When Adams meets his assorted crewmates, they introduce him to beer, sleazy bars and other ways of life and language that he has never before experienced. Out at sea, his crewmates teach the rookie the skills of a longline fisherman using caring, yet firm methods.
Adams quickly finds that longline fishing is a repetitive and grueling process which requires 16 to 20 hours of work every day, in any weather, on any seas. Over seven weeks, he adjusts to the extraordinary physical and mental demands of little sleep, baiting 4,000 hooks, setting 20 miles of gear, recovering the gear, and processing the catch. To mix it up, he is also taught how to pilot the boat. It doesn't take him long to realize that this is not the adventure he had imagined, but instead a dangerous and exhausting job in a completely isolated part of the world.
Four Thousand Hooks is one teenage boy's dramatic, yet sometimes humorous, coming-of-age story set against the backdrop of Alaskan maritime culture. By painting a vivid picture of life and commercial fishing conditions in Alaska, Adams provides an engaging story of what it took to transform a teenage boy into a young man in just seven weeks.

* * * * *
Jennifer Huffman is the Serials and Interlibrary Loan Librarian in the University Library at the University of Wisconsin - Stevens Point. She also acts as the subject specialist for the programs in the University's College of Natural Resources. Prior to coming to UWSP, she worked as an environmental specialist in varying capacities for two state environmental agencies and an environmental consulting firm. Jennifer holds a Bachelor of Science degree in Geology from Michigan State University and a Master of Library and Information Science degree from the University of Wisconsin-Milwaukee.
University of Washington Press, Seattle, WA; www.washington.edu/uwpress; 270 page Hardcover; $26.95 (Sept 2012) ISBN 978-0295991979
---
Comments
---