Independent Publisher on Instagram
Book Review : Biography / Environment
Last Stand: Ted Turner's Quest to Save a Troubled Planet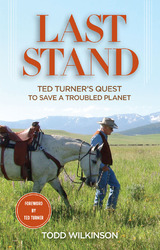 Reviewed by Jim Barnes, Editor, IndependentPublisher.com
"As a septuagenarian, I believe that responsible grandparents care about what kind of world they are leaving their grandkids. There's no retirement age that lets you off the hook from that. I don't say this to sound melodramatic, but the duty of citizenship never goes away, especially when one becomes an elder. We need to lead by example and young people need to step up to the plate. The search is on for new heroes. It's now the bottom of the seventh and it's our turn at bat." - from Ted Turner's foreword
This book was a real eye-opener for me, because I'd assumed "The Mouth of the South" Ted Turner was a real jackass. He let Jane Fonda get away, after all. And he's a rich, fat cat that buys whatever he wants, including a million acres of Montana wilderness. But, it turns out he bought that land for the right reasons, and he's actually a dedicated environmentalist that has done some great things to stop development and restore habitats and animal populations.
Now that I've read this book and heard Turner's ideas, I love the guy. He not only cares about the environment, stating in his foreword for the book that "those around us who claim that plundered environments are a necessary consequence of wealth creation have it wrong," he also cares about the great economic divide, saying, "we can't allow people in the top 1 percent to barricade themselves away and not acknowledge that serious human pain and suffering exists on a massive scale in the world. But we can alleviate much of it if we all rally together."
I'd known about Turner as the successful America's Cup sailor, but not that he was a huge admirer of Jacques Cousteau. Author Todd Wilkinson describes how he not only kept the Cousteau Society afloat with millions of dollars in TBS film production deals, but also considered Jacques a father-figure, mentor and "my first hero." The first section of the book tells of Turner's early years, how he was banished to boarding schools, lost his disapproving father to sucide, and built his media empire. Amazingly, he's never used a computer and doen't own a cell phone.
He is the nation's largest landholder, and the rest of the book focuses on the sprawling western ranches he's repopulated with 55,000 bison and 250,000 prairie dogs. "On my lands, I have set out to prove that the polemic of environment versus economy is a false economy is a false dichotomy, that you can be a tree hugger and still have your name appear in Forbes," he says. Those bison aren't just to look at: Turner serves them up medium-rare at his 40 Ted's Montana Grill restaurants, touting the ecological benefits of raising bison over cattle, along with bison meat's healthy leanness and Omega 3 vitamins. His message of "Eat Well -- Do Good" has led to a national initiative to reduce waste and save energy at restaurants and appeal to green-minded customers.
Turner's more worldly initiatives include his historic $1 billion gift that created the United Nations Foundation, confronting world poverty, disease and hunger, and promoting international dialogue on climate change and family planning. He is also an anti-nuclear crusader, and founded the Nuclear Threat Initiative with Sen. Sam Nunn.
Wilkinson opens the book with Turner dreaming about a wolf, the much maligned symbol of wildness in the West. "I can relate to wolves," says Turner. "Sometimes, we just need to change the perspective on who our friends, and who our enemies, are."
Perhaps the biggest irony is how the book's title reminds us how Custer's Last Stand turned the tide on the Plains Indian wars and opened the floodgate for an unchecked period of development and misuse of western lands. How amazing and encouraging it is to observe that a capitalist like Turner could be the one to finally reverse that trend.
Lyons Press/Globe Pequot Press; Guilford, CT; www.globepequot.com; 372 page hardcover; $29.95 (April 2013) ISBN: 978-0-7627-8443-1
---
Comments
---