Independent Publisher on Instagram
Book Review : Short Story Fiction / Artists
Happy Again at Last: Life in the Art World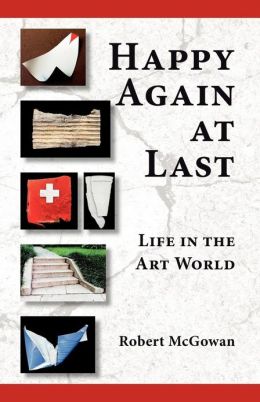 Review by Mary Claire Mahaney -
It turned out to be a gift from the grave, Happy Again at Last: Life in the Art World, by Robert McGowan. I didn't know that, though, as I read the book's fictional short stories, one after another, thirty stories in all, about people who inhabit the world of art and the situations they get themselves into. I thought McGowan was someone I'd like to meet, or at least drop a line to, and, if I were lucky, he and I might begin a professional correspondence. It's not so uncommon that a writer is also a visual artist, but many of the ones I know of (Elizabeth Bishop, William Butler Yeats, James Thurber, for instance) are dead.
And so is Robert McGowan. I didn't find this out until last night—I like to form my opinion of a book before researching the author and his or her work. McGowan died late last year, after a long struggle with cancer. My own brother died late last year, after a long struggle with cancer. One of McGowan's short stories, "Little Dead Birds," concerns dying, imminently, and I'd chalked up its authenticity to the author's writing power, to his use of candor and detail to bring people alive. Also to kill them off, as I now see. I feel I was part of McGowan's world in his last days, through his fiction.
McGowan paints quirky yet believable characters—critics, artists, men and women struggling with their work, with their galleries, with their teaching jobs, and, from the opposite point of view, characters who struggle with the artists in their lives. A painter sits in the middle of a road to sketch whatever might be lying on the ground in "Whatever Else Art Is About"; a Memphis, Tennessee, artist lives through that city's decision to build the doomed Memphis Pyramid in "Disengagement"; a student at Cranbrook Academy of Art chooses whether she wants to be an artist or a crop duster; a photographer is compelled to take pictures of his bleak surroundings in "A Stirring Body of Work." From the last-mentioned story, a short passage illustrates McGowan's descriptive technique, how he paints pictures with words:
"He had a noisy window air conditioner and a single age-old relic of a gas heater without thermostat....And in the parlor was a shallow coal-burning fireplace with a surround of green-glazed tile and a grimy oak mantel with clusters of cigarette burns all along its forward edge."
Shanti Arts Publishing has put out a lovely book—an easy-to-handle paperback with light, creamy pages, good contrast between type and paper, plenty of space between lines for tired eyes, and, a phenomenon that's in shorter supply all the time, editing that makes grammar and style sticklers happier than usual. It's a book, though, that should be read when one is wide-awake, over morning coffee, not after three beers or a sleeping pill. The author's style is elliptical, almost lawyerly, and I caught myself checking that McGowan wasn't a lawyer. (He wasn't.) Some of his sentences take concentration to follow, but they're worth it, as in, from "Little Dead Birds":
"But I couldn't bear destroying them myself merely to preclude the possibility of postmortem embarrassment in the event an unsympathetic someone chances on them on the occasion of my death, or because their being known at this time, while I yet live, could somehow sully the esteem my painting has come to own—or, to be honest, the esteem that I own by way of it; there's that too."
In "Little Dead Birds," the narrator probes the lasting value we place on the work we leave behind, and here it's specifically the artist who's under the immortality interrogation lights. After questioning ways that we explain, that we rationalize, our lives, the narrator ends the story with "I vanish." McGowan may have concluded that's what would happen to him when he died, but he was wrong. I love his book—it's witty and smart and insightful and perplexing—all the things I like writing to be. And because of my own loss, because of my own grief, McGowan has given me an extra gift: an insight into what might have gone through my brother's mind in his last weeks, days, and hours. I wish there were a way I could thank Robert McGowan for that.
Happy Again at Last: Life in the Art World is an excellent choice if you like to read about artists, if you're an artist who likes to read, or if you're searching for a gift for an artist friend. Or if you simply enjoy reading about life.
* * * * *
Mary Claire Mahaney is a retired lawyer and author of the award-winning novel, Osaka Heat. She lives in McLean, Virginia, where she writes, edits, photographs, and paints. Visit www.maryclairemahaney.comto learn more and to see her work.
Shanti Arts Publishing; Brunswick, ME; www.shantiarts.com; 234 page paperback; $23.95 (January 2013) ISBN: 978-0-9885897-0-4
---
Comments
---