Independent Publisher on Instagram
Book Review : Contemporary Fiction
The Psalms of Israel Jones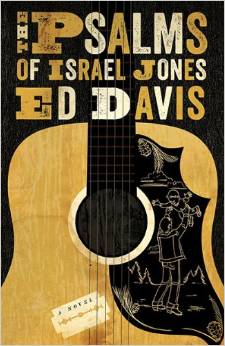 Reviewed by Jim Barnes, Editor, IndependentPublisher.com
"I confess my pride. I scream inside: You'd better love this man who's given you not just his nervous system but HIS SOUL. You'd better appreciate it. But they don't. They can't. Imprisoned in vanity and sin, they project their needs onto their hero to save themselves. But a hero--and my dad isn't one--can't save you; only Christ can."
The roots of rock music and gospel music are intertwined, and the similarities between a preacher in the pulpit and a rock singer behind the microphone are obvious. The twist here is that the bad father is the rock star and the good son is the minister, and they come together during what could be the fading star's final tour. Add to these lead characters the abandoned wife and mother's suicide, the son's alcohol binge and estrangement from his own wife after their infant daughter dies, a tour bus full of ragged musicians and an old-school, bourbon-swilling manager, and a cult of groupies who cut themselves during each show's finale -- and you're in for a wild ride.
The opening scene in a rural West Virginia church even features a snake-handling ecstatics accompanied by a teenaged guitarist and grandmother on tambourine. We learn the son has gotten an anonymous phone call about his father's growing eccentricity on stage, howling undistinguishable lyrics, "like an animal with its belly slit, the sound a coyote makes after chewing off its leg in a steel trap, the scream of Jesus when the first name struck bone." The reverend Johnson (Jones is a stage name) joins the tour, riding in "the Whale" bus where his father holes up in back with his Bible. The manager, Murphy Angus Kelleher, who acts as "pimp, jester and errand boy," scouts ahead of the bus in a big old Cadillac. The reverend has openly hated them both for years, since his own musical ambitions were mocked, but he's ready to reconcile, especially since Dad's two heart attacks.
So, the stage is set for an epic road trip of punch-drunk chaos, forgiveness, and redemption. Not only does author Ed Davis spin a great tale and make an entertaining examination of American music and society, but he also writes lyrics for a couple of albums' worth of songs, with titles like Tears Torn from Eternity's Eyes and Whore of Destiny and lyrics like:
Men rise, men fall, sons live, then burn
But they all come to live in the earth.
Men's missions take them afar
Fathers see their boys for who they are,
One prays, one's gay, one's Abel, one's Cain.
One steals the father's body,
One inherits the body's soul.
Both are blessed, both die.
And they all come to live in the earth.
The book is many things, and delightful in many ways. It's a funny, scary road trip/love story/religio-socio portrait of America set to roots-rock music. Put some old LP's on the record player and enjoy.
Vandalia Press, a division of West Virginia University Press
www.wvupress.com

---
Comments
---