Independent Publisher on Instagram
Book Review : Short Story Fiction
A Room of Rain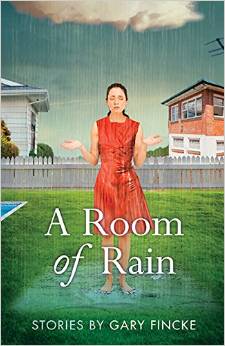 Review by Genevieve Shifke Ali
Comprised of twelve standalone short stories, Gary Fincke's A Room of Rain examines individuals at varying degrees of separation from tragedy. In this collection, Fincke offers twelve separate glimpses at how people cope with, move on from, crack under, and drown in the waves of emotion brought by calamity. These haunting, thought-provoking studies come together to throw comfort out the window, opting instead for the quiet chaos of a post-trauma mind.
With a sullen but attractive and artfully rendered cover to match its contents, A Room of Rain takes its name from the collection's first story, in which a family is learning to move on with life after its youngest child, the daughter, drowns. Told from the point of view of the son, now an only child, "A Room of Rain" is detached, caught up in the world of living rather than on the one who died. Bradley's sister's death looms in periphery, but his mind is more centered on the wellbeing of his mother, fitting in at school, and appeasing his father.
"My sister is dead." I said that sentence to myself every day for weeks, but as soon as we moved, I didn't say it anymore, and it was like I'd never had a sister except when I saw her clothes hanging in the closet in the room next to mine.
This peripheral view of tragedy helps set the stage for similar removed feelings in other stories throughout the collection. Attached by their sense of detachment, Fincke's unique characters have different pulls on the reader, though each is unsettling in its own right. With some I sympathize and with others, more importantly, I empathize.
Fincke just gets it. He puts himself into the minds of characters and beautifully relays these true-to-life thoughts on the page. I don't react to the events in the stories as myself; I react to the events in the stories as the characters react to them. I feet the uncertainty toward the truth and the narrator's want to rationalize a colleague's behavior in "The Comfort of Taboos." The inner dialogue makes the disgust the narrator feels at himself palpable—uncomfortable and unnerving. In "Perfect," the male narrator's inability to understand his girlfriend's preoccupation with and paranoia about a serial murder feels so justified in the isolated mind Fincke lays out on the pages, it is difficult to take a step back and realize that she is justified in her fear.
Her car was parked two blocks from the bar, and though the rain had stopped and the car was just four spaces down the side street, it seemed to be settled deep in gloom. Even then, I didn't think about the danger of walking there until I felt Cassie tighten her grip into the unmistakable pressure of fear.
With so many women the victims of sexual assault, rape, and murder, walking alone down a dark alley late at night can be scary. Coming into casual contact with a serial murderer whose victims meet a similar description to you is terrifying to look back on.
A Room of Rain makes it horrifyingly clear how easy it is to be stuck in our own heads, so preoccupied with our own thoughts and convictions that we fail to take into account or acknowledge the feelings of those around us. With that in mind, Fincke looks taboo topics straight in the eye and then turns that eye back on the reader.
This collection is provocative yet subtle; gritty yet humorous. The characters are round and the short stories are complete, though often feel like the tip of an iceberg. I wanted more because of how drawn I was to the characters, not because the tales left me unsatisfied. These stories continue to stick with me long after closing the book, beautifully rendered reminders of what we each hold untold.
Vandalia Press, Morgantown, WV
http://wvupressonline.com/node/554
---
Comments
---