Independent Publisher on Instagram
Book Review : Young Adult Non-Fiction / Historical
Juliette Kinzie: Frontier Storyteller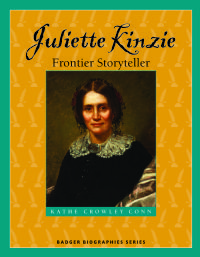 Reviewer: Karen J. McWilliams
Juliette Kinzie: Frontier Storyteller is an interesting, well-written, and meticulously researched book about an American woman few people have heard of.
Juliette Magill was born in 1806 in Middletown, Connecticut. At age 24 she married John Kinzie, a frontiersman from Illinois. Juliette and her new husband, John, moved from Connecticut to Detroit, Michigan and a few months later to Ft. Winnebago, now called Portage, Wisconsin. There John began work as an Indian agent for several Indian tribes including the Sauk, Ojibwe, Menominee, and Ho-Chuck. Each tribe had its own distinct culture, ways of dressing, and language. Juliette had always envisioned changing the Indian tribes to be like her own New England culture. However, she saw how special the Indians were, so unlike most people then, Juliette learned to appreciate the Indians' ways rather than encouraging them to be like white people.
For the first two years of their marriage, John and Juliette Kinzie traveled through the wilderness. They befriended more Indian people from various tribes, entertained them in their temporary home, and discussed solutions to their problems. Juliette also observed her beautiful surroundings, abundant wild life, and other settlers at Ft. Winnebago. And she witnessed the British and French fur trading industry that opened flourishing trading posts on the banks of the Great Lakes.
But just before the young couple moved into their newly built Indian Agency House, the Black Hawk Wars began. John and Juliette escaped to safety in Green Bay, Wisconsin. A few months later when the Indians and white people signed the Treaty of 1832, the War ended. However, John Kinzie was not able to provide enough food to help all their Indian friends survive.
John and Juliette finally were able to move into their house , but a few months later decided to return to Chicago, Illinois, where John had grown up. Juliette was heartbroken having to leave her Indian friends behind. Their Indian Agency House is now an historical site decorated with many of the household items the Kinzies actually used.
Over the years John and Juliette prospered and had several children. When Juliette was in her 50's, she wrote a book about her adventures on the frontier. The book is called Wau-Bun, the Early Days in the North-West. One of Juliette's grand daughters, Juliette Magill Kinzie Gordon, founded the Girl Scouts of America!
The biography of Juliette Kinzie, Frontier Storyteller includes details of 1800's frontier life, the Indians' diverse cultures, as well as the struggles between the Whites and Indians. I recommend this book to be purchased by public librarians as well as elementary, middle school, and high school librarians.
I was pleased to see the author had included a time line, glossary, index, a Reading Group Guide with Activities, an acknowledgement, and a short book list of Wisconsin Indian Tribes. The words in the glossary are some of the words from the text that appear in bold type.
However, when this book is reprinted, I suggest some of the pictures be colorized. Many of today's children and teens refuse to watch black and white movies or read books with black and white pictures. Coloring some or all of the photos might entice more children to read this interesting historical nonfiction. After all, Juliette Kinzie was one of the first white people who appreciated the distinctions between the Indian tribes and didn't try to change them into white settlers. She is an American pioneer who deserves our admiration and respect.
Wisconsin Historical Society Press
http://www.wisconsinhistory.org
Paperback: $12.95
ISBN: 978-0-87020-701-3
123 pages, 65 b&w images, 2 maps, 7 x 9
---
Comments
---