Independent Publisher on Instagram
Book Review : Memoir
Pieces of Me: Rescuing My Kidnapped Daughters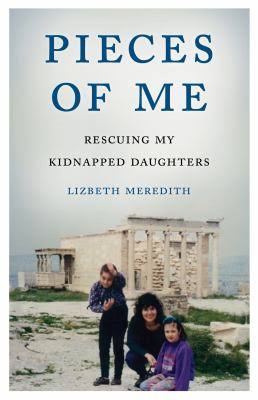 Review by Anita Lock
"I have my daughters. I have my passions. And, all things considered, I guess that makes me better off than lucky." For Lizbeth (Liz) Meredith to make such affirmative statements in 2016 is nothing short of a miracle compared to her perilous journey that began twenty-two years earlier.
It is Sunday, March 13, 1994—just four years out of her violent marriage—and another weekly visitation from Gregory, her ex. Liz kisses her girls Marianthi and Meredith, ages six and four respectively, as they leave with their father for two days. The routine is to use the daycare as the drop-off/pick-up location two days later. But when Tuesday afternoon comes and the girls are nowhere to be found at the daycare, Liz turns to the police.
A few phone calls later, a police officer dispatches Liz's worse nightmare: "There are allegations now that your husband flew out of Alaska two days ago with the girls. Your daughters are with him in Greece."
Two months pass. After the justice department's inaction including their supposed failure to enter the missing girls'' information into the National Crime Information Center (NCIC) database, Liz takes the bull by its horns and contacts a local Anchorage newspaper. Publication of her perfectly timed story (on Mother's Day, no less!) snowballs, and overnight she finds herself surrounded by creative support with events following, such as fundraisers and letters from the girls' classmates to President Clinton.
While Liz is fortunate to procure a flurry of professional help, she is tired of the constant "tug and pull" with government agencies. Her latest issue is with a lawyer in Greece. Liz states, "…instead of having government officials and local law enforcement work together handily to resolve this crime and, at the very least, be an asset to me in bringing the girls back in one piece, I'm fighting the corruption and deficits of our criminal justice system while the Greek lawyers are on strike."
Amid ups and downs, it takes more than ten months after the girls' abduction on December 28, 1994, before "the Greek courts rule to recognize and enforce the American custody order." Although Liz considers this a breakthrough, she has no idea that it will take another two years of problems, a Plan B, and a load of miracles before bringing her daughters back home.
If Meredith's narrative were strictly focused on her daughters' kidnapping and return, that would make for a sufficient memoir. Aptly punctuated within her traumatic story, Meredith shares about the domestic violence that riddled her marriage, as well as her emotionally and physically tainted childhood.
Additionally, Meredith is no stranger to kidnappings, as she states, "I unwittingly [became] my mother's accomplice in her abduction of me."
Readers, beware of becoming overwhelmed! Meredith tells it as it is. Her straightforward text captures the blow-by-blow account of her horrendous ordeals—both with the girls' abduction and her past. Meredith's trials and tribulations are hard to read at times. They are not due to offensive language by any means. Instead, it is in trying to fathom Meredith's constant struggle to survive exacerbated by her daughters' kidnapping. One may think that Meredith's problems have a "happily ever after" closure once she finds Marianthi and Meredith. Quickly debunking that façade, Meredith presents an honest portrayal of the painful adjustments that come with the girls' return to Alaska.
Offering help for those who are undergoing similar situations, Meredith includes vital U.S. resources (websites and phone numbers), which provide valuable information.
* * * * *
Anita Lock is a freelance book reviewer, proofreader and editor based in Oberlin, Ohio.
She Writes Press
Paperback; 312 pages; $16.95
ISBN-13: 978-1631528347
(2016)
---
Comments
---