The Business of Book Awards
Since 1996, Jenkins Group has presented awards to books by business publishers, entrepreneurs, and experts in the fields of business, economics and finance. The Independent Publisher Book Awards (The IPPYs) have long included categories for Business, Economics, and special categories for Business Breakthrough of the Year and Best Corporate Branding Book. Over the years we have discovered and rewarded ground-breaking business titles, starting with
The Millionaire Next Door
, a winner in our inaugural 1997 awards contest, has gone on to sell more than 2.5 million copies and spawn off-shoots including
The Millionaire Mind
.
Business Book Publishers Use Awards to Promote their Books.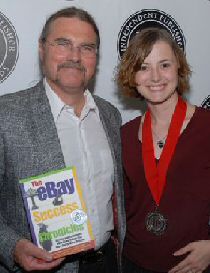 Angela Adams of Atlantic Publishing Group, winner of three business category awards.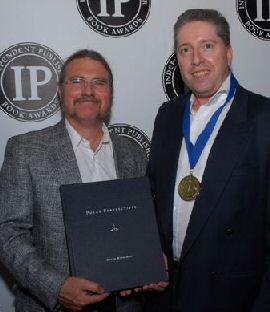 Economics category winner David Bensimon and his book, Polar Perspectives.
Feature
Jenkins Group Launches AXIOM Business Book Awards
1st annual Axiom Business Book Awards contest is designed to bring great business books and great business people together.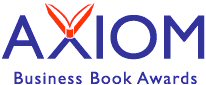 On August 15th, 2007, Jenkins Group launched the first annual,
2008 Axiom Business Book Awards
, designed to honor the year's best business books and their authors and publishers. With the motto, "Recognizing and promoting the world's best business titles," the new book awards program will accept entries until November 30, 2007 for books with 2006 or 2007 copyrights or that were released in 2006 or 2007.
This makes four book awards contests now presented by Jenkins Group: the
Independent Publisher Book Awards
(since 1996) for indie-published books in 65 categories; the new
Moonbeam Children's Book Awards
launched earlier this year, the
Nautilus Book Awards
(presented along with Marilyn McGuire & Associates and recognizing the best in Mind/Body/Spirit titles since 2001), and now the
Axiom Business Book Awards.
"The Axiom Business Book Awards are intended to bring increased recognition to exemplary business books and their creators, with the understanding that business people are a very well-read and informed segment of the reading population," says Jenkins Group founder Jerrold R. Jenkins. "Today's business book readers are eager to learn about great new titles that will inspire and inform them, and help them improve their careers and businesses."
The Axiom awards program will recognize books in a wide range of categories, 26 in all, from Salesmanship to Personal Finance and Entrepreneurship to Philanthropy. The list includes categories of books intended for professionals (International Business/Globalization); for general consumers (Retirement Planning); books about business people (Memoir/Biography); and books meant to motivate and entertain (Business Fable - Fiction).
The Axiom Award winners will receive a large dose of recognition and publicity from the worldwide business media, thanks to ties with numerous publications and organizations, led by the Axiom Awards media sponsor,
INC.
magazine. Judging for the contest is planning to be done by experts from
INC.
and other business media orgainzations.
"We're impressed by the current explosion of new business titles onto the market from around the world," says Jenkins. "There are many more offerings and more styles of books and topics covered, from international business to personal finance. We feel our new Axiom Awards will bring a very valuable list of winning book titles to readers looking for cutting-edge ideas and advice."
"With so many large companies currently downsizing, there's a more entrepreneurial climate in the business world today," says Jenkins. "All kinds of new enterprises are being created by some very talented people, and they keep up on the latest trends and new ideas through reading. These awards are meant to bring great books and great business people together."
To learn more about the Axiom Business Book Awards visit
www.AxiomAwards.com
or contact Jim Barnes, Awards Director: info@axiomawards.com ; 1.800.644.0133 x1011
* * * * *
Jerrold R. Jenkins is the author of two books on the business of publishing:
Inside the Bestsellers
and
Publish To Win
. To contact Jerrold, email him at jrj@bookpublishing.com.
Jenkins Group Inc. has been involved in book packaging, marketing and distribution since 1988. Visit our publishing services website at
www.BookPublishing.com
.
---
Comments
---