Playing (and Writing) Less Hurt
Janet Horvath's extensive performing career includes her International debut in London in 1986 at Wigmore Hall and recitals and broadcasts in London, Paris, Rome, Hong Kong and major cities across the United States and Canada. Horvath is a nationally recognized authority and pioneer in the area of the medical problems of performing artists. She founded the Playing (less) Hurt™ Injury Prevention conference and lecture series and has published articles in professional journals, appeared on radio and television programs, spoken at conferences and presented master classes and seminars on the topic. Especially in the Computer Age, authors and writers are also subject to injuries caused by repetitive movement and overuse of various body parts. "The human body wasn't designed to sit still for hours at a time, so if you become a computer potato, you can expect your body to suffer," says Geoff Hart in his article, Avoiding Repetitive-Stress Injuries: A Writer's Guide, at the Writing-World.com website. "Spending long hours in awkward positions to compensate for a deficient workspace only worsens the problem, and in nearly 30 years of computer use, I've seen desk setups that would make a medieval torture chamber seem comfortable." Hart's article addresses many issues writer's deal with, including ergonomics of your work space, eye strain, and hand problems such as Carpal Tunnel Syndrome. "Many hand problems, including CTS, arise from flexing your wrist too sharply outwards, with your little finger pointing further towards your elbow than it does at rest. Bending your wrists at awkward angles can compress various parts of your wrist, leading to CTS and other problems. When I first began experiencing hand problems, I decreased my hand pain enormously by switching to Microsoft's Natural Keyboard; that's the one with the split between the left and right columns of keys and a strange upward twist. This keyboard helps you keep your wrists straight while you type, and it certainly helped me."
Independent Publisher on Instagram
Feature
The Ippy Effect VIII
A Conversation with 2009 Ippy Awards Gold Medalist Janet Horvath
If you play a musical instrument, Janet Horvath's publishing success story will be just as important to you as the details of how she went from self-publishing to having her book,
Playing (Less) Hurt: An Injury Prevention Guide for Musicians
, published by one of the most prominent independent publishers in the world.
As associate principal cello of The Minnesota Orchestra since 1980, and a pioneer in musicians' medical and injury issues, Janet Horvath's groundbreaking book received the 2009 IPPY Gold medal in the Health category.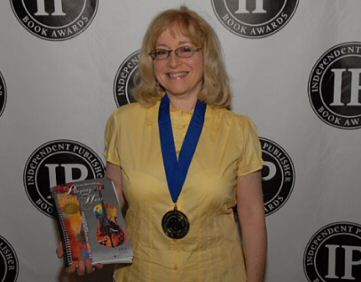 IP:
What led you to write
Playing (Less) Hurt?
JH: In the 1980s, I did four national conferences on "playing hurt," as it was called then. The first one was in 1986 and was sponsored by The University of Minnesota, and people came out of the woodwork saying that this was so necessary. I had over 500 attendees from all over the country from orchestras and universities. It was cathartic. Everyone was coming out of the injury closet. We had doctors addressing musicians and teachers addressing the doctors. It was the first time people talked about it openly. I had many well-known musicians come to the conference.
My phone started ringing off the hook. There were many injured people, but people were still reluctant to talk about it publicly. They only wanted to talk about it to me. I'd successfully lived through it. So, I photocopied articles for people and I gave them the names of doctors. I set up a music and medicine clinic – the field is now called Performing Arts Medicine – at a hospital in Minneapolis with Dr. Jennine Speier. But, people would call up and when they were asked their names, they'd hang up. They were reluctant to go to medical practitioners because most doctors would say, 'How can it hurt to play? It's not like ditch digging. This must be in your head.'
Well, that showed a complete lack of common sense on the part of those doctors. No wonder musicians were so happy you were advocating for them and educating the medical community.
Over-use injuries don't show up on standard medical tests because they are mainly soft tissue injuries. Doctors would suggest that musicians should just change careers. But our career is our life, our identity. We still all had that mindset then of no pain, no gain, and that we'd be better musicians if we can get through the pain. But, those ideas are terribly wrong. As the years went by, we got credibility when overuse and repetitive strain injuries became so common because of computers. That gave musicians credibility in the medical community.
I'd hear from musicians from all over the country. I realized that I needed to write a book. One comprehensive resource that covered it all in a non-scary tone. And I'd have to reach the young musicians, as well. With accurate medical information in a way that we could understand. Plus, information from a veteran performer and professional who knows what the day-to-day rigors are like. And that was me. No other professional was willing to talk about it publicly. I decided to be the poster child. I was on radio and TV and people started calling me The Hurt Lady. I'd written lots of articles for trade magazines by then. I hired an editor, a cover designer, and a copy editor, and we looked around for a publisher and my husband, who is a lawyer, found out that authors' royalties are low, so he said we should publish it ourselves and be entrepreneurial because it's a timeless book. As long as people play instruments, they'll need this book. I'd update the book when we wanted to and print as many as we wanted to.
How did you spread the word and promote the book?
We published it in 2002, and self-publishing wasn't as common as it is now, and social media didn't exist yet to help promote it, but we sold the first 1,000 in only four months. Music stores carried the book and I got it on Amazon. It sold steadily. I started doing seminars and became in demand as a speaker at orchestras, festivals, universities and conferences. I always sold a lot of books when I spoke. And more and more stores carried the book. I didn't do any paid advertising. I got a lot more mileage out of getting an article in music trade magazines. And there was a lot of word of mouth.
We brought out another new edition at the end of 2008. By then, there had been an explosion of information and research in the field. I ended up totally rewriting it. I kissed it goodbye and entered it in the 2009 IPPY Awards. I was in Toronto visiting family and a friend put me in touch with a friend who did educational music DVDs and had a publisher. We had lunch. His publisher is Hal Leonard, the big independent music book publishing company. He said they'd been fantastic and had worldwide distribution. He said he was impressed with my book and that he would give me the name of the vice president of the company, who is a good friend of his, and that I should tell him that he told me to call.
So, you were pitching your book to a big publisher at the same time you were waiting to hear if you'd won an IPPY.
The vice president thought it was good. He was based in Milwaukee at their main headquarters and he sent my book to their New York office. That was about the time I found out that I was a finalist in the IPPYs. Then, I found out that I was the winner. I remember that no one was home except the dog, and I saw online that I'd won and started jumping up and down and screaming and the dog was barking.
The Minnesota Orchestra has always been very supportive of my work. I've been such a pest and I lobbied hard for better chairs for the musicians and better conditions and injury prevention programs put in our contracts that were very precedent-setting. That was groundbreaking for an orchestra contract. Other orchestras adopted these, as well. The orchestra management was very excited that I'd won the IPPY, and they gave me a week off so I could go to New York to get the award at the IPPY Awards party during BEA. While I was at BEA I went to the Hal Leonard booth and introduced myself to the executive who'd been sent my book in New York. He said, 'Oh, Janet, your book is right on the top of my pile. I'm sorry I haven't gotten back to you yet, but I think we're going to be a great fit.' After BEA, he got in touch with me and said they were interested and we could start negotiating the contract. I made it clear that it was a deal breaker if they wanted to change the name of the book. The name is a brand. And they realized that.
The book hits the stores this month, May, exactly one year after you won the IPPY.
And it's the biggest music book publisher in the world. They have world rights and it will also be published in foreign language editions. I'm very relieved to be done with the boxes and bubble wrap in the living room!
* * * * *
Nina L. Diamond is a journalist, essayist, and the author of Voices of Truth: Conversations with Scientists, Thinkers & Healers. Her work has appeared in numerous publications, including Omni, The Los Angeles Times Magazine, The Chicago Tribune, and The Miami Herald.

Ms. Diamond was a writer and performer on Pandemonium, the National Public Radio (NPR) satirical humor program, for its entire run in Miami and select markets nationwide from 1984-1998. As an editor, she works frequently with other authors and journalists on both fiction and non-fiction.

---
Comments
---