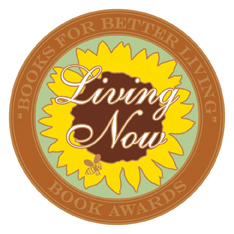 Congratulations to the winners of the Living Now Book Awards! We celebrate these awards on the 40th anniversary of Earth Day as a reminder of the importance of protecting our planet Earth, and of the progress we've made toward a more thoughtful, "green" approach to living. The gold, silver and bronze medalists in this year's Living Now Book Awards offer a list of books that inform readers about enriching their lives in wholesome, Earth-friendly ways. The Living Now Book Awards celebrate the innovation and creativity of newly published books in lifestyle categories from cooking and fitness to parenting and spirituality. In all, 103 medals were awarded in 30 categories, chosen from 428 total entries. "Every day should be treated as Earth Day, and these books will help people to find a balance with the natural world around them," said Awards Director Jim Barnes. "Today's fast-changing world, with all its technological and ecological issues, renews in us the sense of urgency we felt 40 years ago, and good books are necessary to inform and inspire us to keep ourselves and the Earth healthy – today, and for future generations." Entry for the 2011 Living Now Awards is now open. Click here to receive 2011 Living Now entry guidelines. The awards are presented by Jenkins Group of Traverse City, Michigan. Jenkins Group has been involved in book packaging, marketing and distribution since 1988, and is dedicated to promoting books that improve readers' lives, bring families together, and make the world a safer, healthier place.
Feature
Living Now Awards 2010 Photo Page
Welcome to the Living Now Awards celebration photo album, with photos taken in New York on May 25, 2010. Living Now Award medal-winning authors spoke about their "books for better living" and some even gave us quick lessons about doing so.
See the entire album of 88 photos at Kodak Gallery.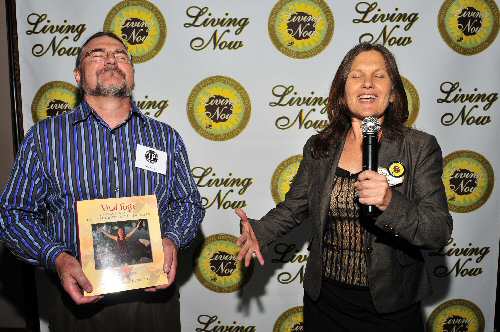 Meta Hirschl, author of
Vital Yoga
, conducted a "yoga minute" lesson with the group and demonstrated that yoga doesn't have to complex or mystical. In the introduction to her book she says, "Yoga is about how to be happy, right now, and with exactly what we have."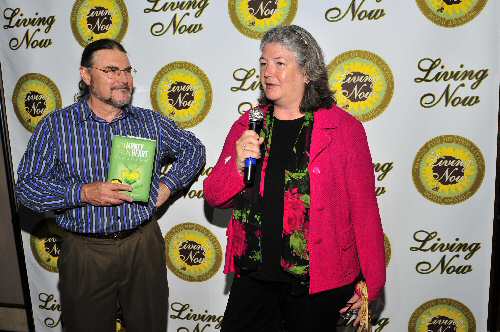 Sue Stevens isn't your typical financial advisor. She began her professional career as a cellist. and brought an artful approach to her second career as a financial advisor. Her title says it all:
Put Your Money Where Your Heart Is.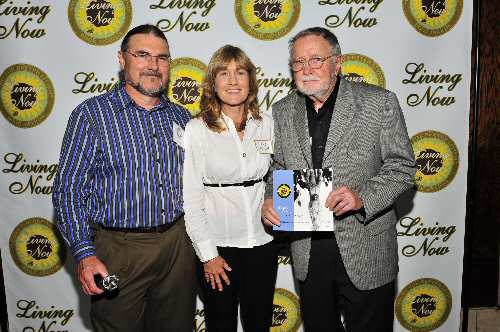 Art Myers and Diane Rush talked about their amazing book,
Winged Victory: Altered Images
, and explained how the "altered images" Art took of breat cancer survivors -- and their heart-felt testimonials -- changed all of their lives.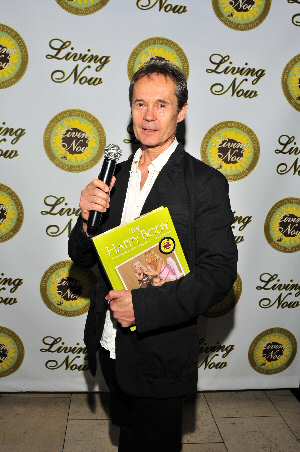 Jerzy Gergorek proved the effectiveness of his book and philosophy with his lean, healthy presence.
The Happy Body
is filled with great information and testimonials from others whose lives he's changed.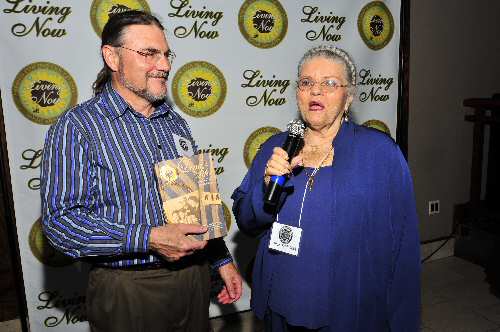 Holocaust survivor Luna Kaufman (
Luna's Life
) thrilled us with her stories, her strength and her compassion, and explained how and why she's worked tirelessly for Christian-Jewish solidarity.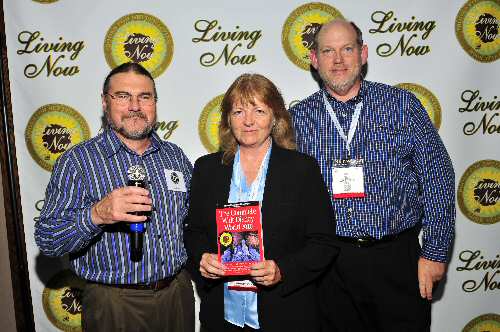 Julie and Mike Neal shared how they created a world-class travel guidebook (
The Complete Walt Disney World
) that beats out the "big guys" of mainstream travel publishing, by making it better-looking and more comprehensive book than all the rest.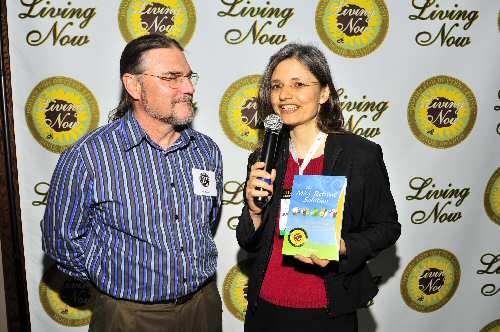 Julia James told the audience they can improve their performance by taking short breaks during a busy day, and her book,
Mini-Retreats: An Easy Way to Stay Healthy, Happy and Creative
, suggests everything from thinking forgiving thoughts to taking a bubble bath.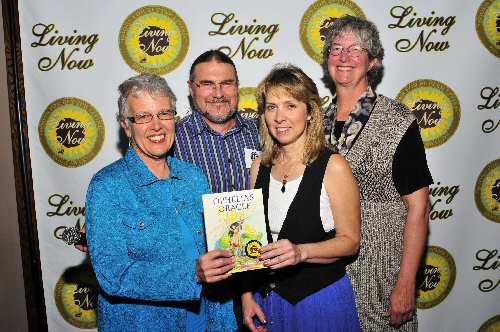 Authors Donna DeNomme and Tina Proctor, and illustrator Sue Lion showed off
Ophelia's Oracle
, their beautifully designed book that's filled with advice and inspiration for girls transforming to womanhood -- a "godess guidebook."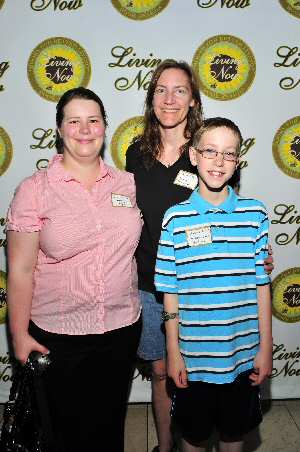 Karen Pavlicin, along with her son Alexander and her publisher, Christy Lyon, talked about
Circle of Catholic Women
, a unique book that grew out of Karen's prayer group and is a lovely combination of inspiration and journal that allows the reader to learn and grow.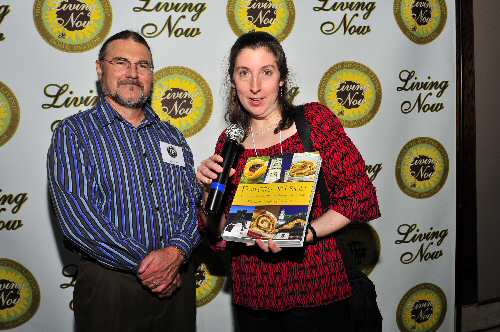 Elisabeth Antoine Crawford takes readers of,
Flavors of Friuli
, on an in-depth tour of the the northeastern Italian region of Italy. Her obsession with this little-known region and photography talent is our gift, as this combination cookbook/travel guide is wonderful and unique.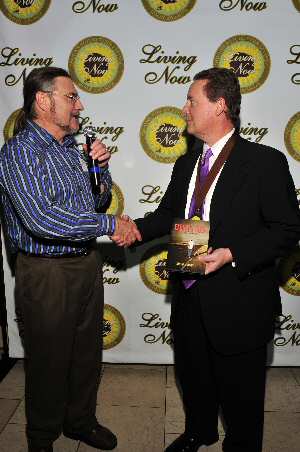 Steve O'Brien's book is all about the power of storytelling to change lives -- and about how those who discover life's true purpose, doing good for others, can pay it forward and change the world. To aid in readers' ability to share the message of
Elijah's Coin
, customized coins are included with the book.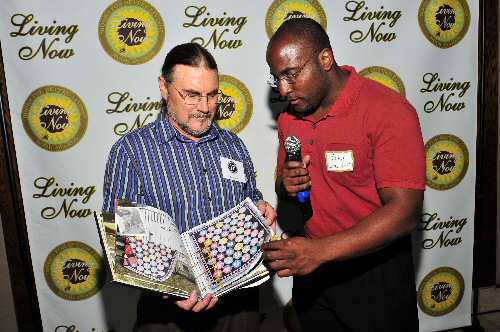 Quilter-extraordinaire Gyleen Fittzgerald was represented by her godson Cleosie Kirkand, whose admiration for her is evident. The ground-breaking
Quilts: Unfinished Stories with New Endings
includes vintage snapshots, letters, and fabrics and tells a soulful story about how quilting can stitch families and generations together.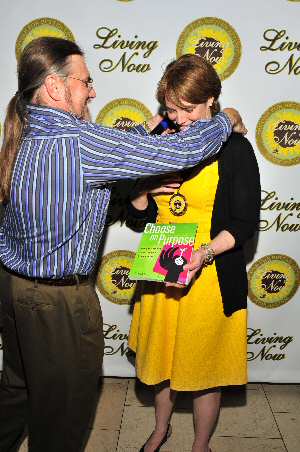 Here's Jim Barnes, Living Now Awards director bestowing the Living Now medal to Susan Berg, PhD, for her book,
Choose on Purpose (for twentysomethings)
, which impressed the judges with its organized approach to helping young people find the right job and right place to live and grow. Susan has readers ask themselves "the 3 Ws": What do I want to be? Where do I want to be? Who do I want to be with?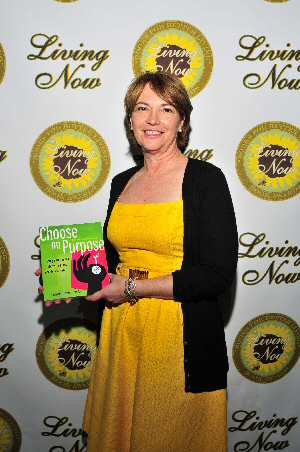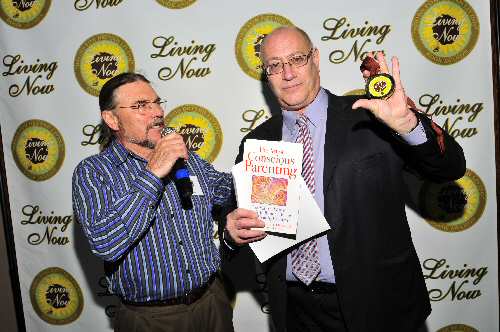 Stuart Lipsky was there to represent his friends Jeffrey and Dalit Fine, co-authors of
The Art of Conscious Parenting
. The Fine's book explains how critical the first days and months of life are in forming the attitudes children bring into adulthood. They promote using age-old bonding customs of indigenous peoples, and show how "green parenting" practices like breast-feeding and intimate parenting are more economical and environmentally sustainable.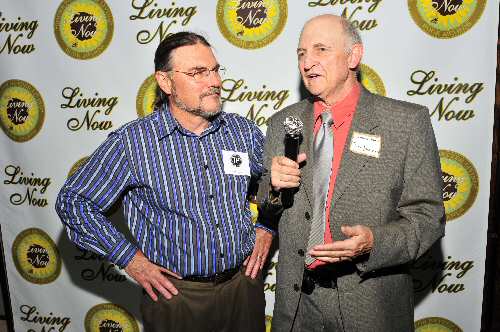 Jim Dincalci is an expert on forgiveness. He founded The Forgiveness Foundation and writes and speaks eloquently on the topic. In
How to Forgive When You Can't: The Breakthrough Guide to Free Your Heart & Mind
, he includes the broad viewpoint of many religions and philosophies, and breaks the process into understandable and manageable steps.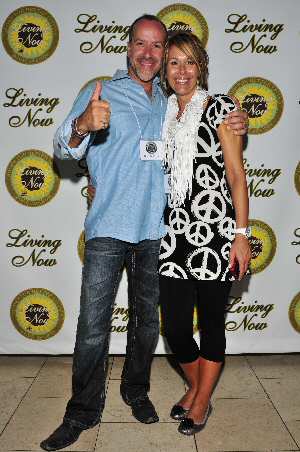 Brett and Sheila Walden and their Tristan Publishing company produced TWO Living Now Award-winning books, one by each of their star authors, Jodi Hills (
Heart on my Sleeve
) and Warren Hanson (
Everything Happens for a Reason
). Both books and both authors use simple, heart-felt truths to give readers comfort and inspiration during times of stress or loss.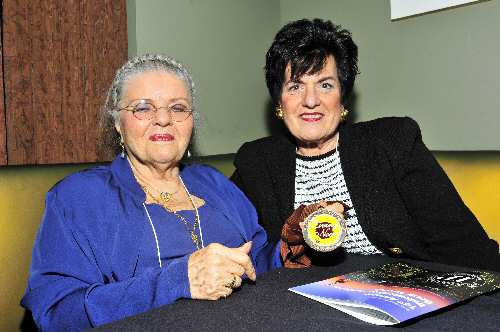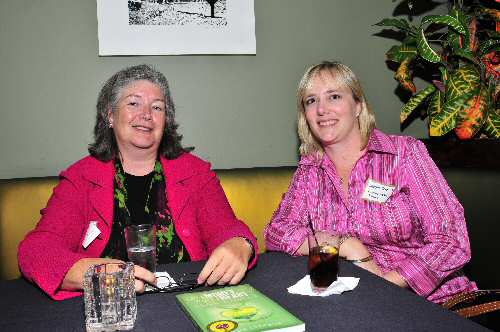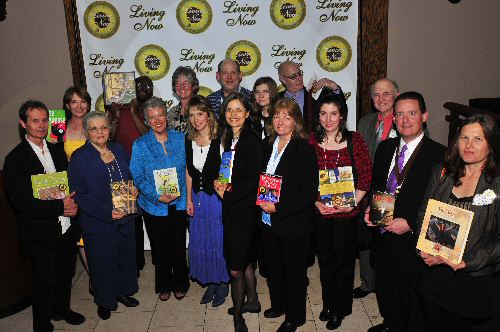 Go back to the Living Now Awards results page.
---
Comments
---