Announcing the 2011 National Poetry Slam
The Boston Poetry Slam, in conjunction with Poetry Slam, Inc., is pleased to announce that the 2011 National Poetry Slam will be held in Cambridge and Boston. This event will invite over 400 poets to the city to participate in competition, workshops, and festival events beginning Monday, August 8, and continuing through Saturday, August 13. Invented in the 1980s by Chicago construction worker Marc Smith, the slam is a fast-paced competition where poets have a limited amount of time to impress judges randomly selected from the audience. Performers use all the tricks of storytelling, songwriting, theatre, stand-up comedy, and cold hard poetry to wheedle points out of the judges from 0.0 (terrible) to 10.0 (perfect!). Slam is not a passive performance; in addition to the judges, other audience members are strongly encouraged to participate by cheering, whistling, or mildly heckling the hosts or judges. Poetry slam has had a home in Boston since 1991, and has since settled at two locations in Cambridge: the Boston Poetry Slam @ the Cantab Lounge and the Lizard Lounge Poetry Slam. Up to eighty-four teams from all over the U.S. and Canada will compete in this yearís National Poetry Slam. Only poetry slam venues certified by PSi may compete: for information on registering and certifying with PSi, see www.poetryslam.com. Competition at the National Poetry Slam continues for five nights. During the first three nights (Tuesday, August 9 through Thursday, August 11), each team competes twice. Twenty teams advance to semi-finals on Friday, August 12. Twelve teams also advance to Group Piece Finals, a showcase competition of the best multi-voice work of the event, immediately following semi-finals. The top four teams will compete in the 2011 National Poetry Slam Finals on Saturday, August 13. In general, Poetry Slams are merely a way to get audiences interested in and involved in spoken word. The competitive element is not to be taken seriously. The scores are all arbitrary; merely the opinions of the five random judges selected. This is about art and fun. The motto of PSI is: The points are not the point, poetry is the point. Slam has grown steadily and is now a worldwide phenomenon, with major Slams occurring in hundreds of venues on five continents. The St. Paul, Minnesota 'Soap Boxing' National Slam team won the national title in both 2009 and 2010.
Feature
Itís National Poetry Month
April is the 15th Annual Poetry Month and April 14th is Poem in Your Pocket Day
National Poetry Month is a month-long, national celebration of poetry established by the Academy of American Poets. The purpose is ďto widen the attention of individuals and the media ó to the art of poetry, to living poets, to our complex poetic heritage, and to poetry books and journals of wide aesthetic range and concern.Ē Remember when school children memorized and recited poetry, and people ďusedĒ poetry to express themselves? Have you even heard a dirty limerick lately? Well, National Poetry Month is all about bringing poetry into our daily lives, and building poetry up as a vital part of our culture.
The Academy of American Poets has been celebrating National Poetry Month every April since 1996, and along the way has enlisted a variety of government and educational leaders, publishers, sponsors, poets, and arts organizations to help. Inspired by the successful celebrations of Black History Month (February) and Women's History Month (March), and on the advice of teachers and librarians, April seemed the best time within the year to turn attention toward the art of poetry ó in an ultimate effort to encourage poetry readership year-round.
Here is this year's National Poetry Month poster. Almost 200,000 copies of the current National Poetry Month posters went to U.S. schools, libraries, bookstores, and community centers to help promote the month-long celebration and to increase poetry awareness.
See a gallery of past posters here.
The goals of National Poetry Month are to:
Highlight the extraordinary legacy and ongoing achievement of American poets
Introduce more Americans to the pleasures of reading poetry
Bring poets and poetry to the public in immediate and innovative ways
Make poetry a more important part of the school curriculum
Increase the attention paid to poetry by national and local media
Encourage increased publication, distribution, and sales of poetry books
Increase public and private philanthropic support for poets and poetry
And of course, inspire us to celebrate poetry all year round!
This month marks the anniversary of the Academy of American Poets' year-round Poem-A-Day program ó launched on April 1, 2010 ó with which you can receive a poem in your inbox every day. Poem-A-Day is now received by more than 60,000 readers.
Over the past year, poems have included never-before-seen work from hundreds of poets, such as Sherman Alexie, Henri Cole, Matthea Harvey, Harryette Mullen, and Gerald Stern. Visit the Poem-A-Day website to subscribe and to visit the archive:
www.poets.org/poemaday
.
One of the more unique ways of celebrating National Poetry Month is to participate in national Poem In Your Pocket Day on Thursday, April 14, 2011.
The idea is simple: select a poem you love during then carry it with you to share with co-workers, family, and friends. In this age of mechanical and digital reproduction, it's easy to carry a poem, share a poem, or start your own PIYP day event. Here are some ideas of how you might get involved:
Start a "poems for pockets" give-a-way in your school or workplace
Urge local businesses to offer discounts for those carrying poems
Post pocket-sized verses in public places
Handwrite some lines on the back of your business cards
Start a street team to pass out poems in your community
Distribute bookmarks with your favorite immortal lines
Add a poem to your email footer
Post a poem on your blog or social networking page
Project a poem on a wall, inside or out
Text a poem to friends
Help expand the list by sending your ideas to npm@poets.org.
What's new in poetry books?
Here's a
list of 125 new poetry titles
published by the sponsors of National Poetry Month.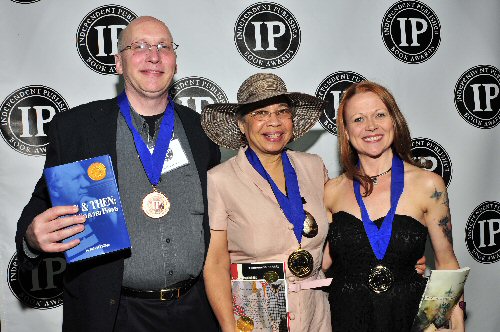 Poetry in the Independent Publisher Book Awards
Each year, the "IPPY" Awards include a rich and competitive Poetry category with about 100 entrants. Here are last year's medalists and some sample poems:
Gold:
Roses and Revolutions: The Selected Writings of Dudley Randall
, Edited and with an Introduction by Melba Joyce Boyd (Wayne State University Press)
Silver (tie):
Tongue of War: From Pearl Harbor to Nagasaki
, by Tony Barnstone (BkMk Press) and
Racing Hummingbirds
, by Jeanann Verlee (Write Bloody Press)
Bronze:
Now and Then: New and Selected Poems
, by Robert Phillips (The Ashland Poetry Press)
* * * * *
A Poet Is Not a Jukebox
A poet is not a jukebox, so donít tell me what to write.
I read a dear friend a poem about love, and she said,
ďYouíre in to that bag now, for whatever itís worth,
But why donít you write about the riot in Miami?Ē
I didnít write about Miami because I didnít know about Miami.
Iíve been so busy working for the Census, and listening to music all night,
and making new poems
That Iíve broken my habit of watching TV and reading newspapers.
So it wasnít absence of Black Pride that caused me not to write about Miami,
But simple ignorance.
Telling a Black poet what he ought to write
Is like some Commissar of Culture in Russia telling a poet
Heíd better write about the new steel furnaces in the Novobigorsk region,
Or the heroic feats of Soviet labor in digging the trans-Caucausus Canal,
Or the unprecedented achievement of workers in the sugar beet industry
who exceeded their quota by 400 percent (it was later discovered to be a typistís error).
Maybe the Russian poet is watching his mother die of cancer,
Or is bleeding from an unhappy love affair,
Or is bursting with happiness and wants to sing of wine, roses, and nightingales.
Iíll bet that in a hundred years the poems the Russian people will read, sing and love
Will be the poems about his motherís death, his unfaithful mistress, or his
wine, roses and nightingales,
Not the poems about steel furnaces, the trans-Caucasus Canal, or the sugar beet industry.
A poet writes about what he feels, what agitates his heart and sets his pen in motion.
Not what some apparatchnik dictates, to promote his own career or theories.
Yeah, maybe Iíll write about Miami, as I wrote about Birmingham,
But itíll be because I want to write about Miami, not because somebody
says I ought to.
Yeah, I write about love. Whatís wrong with love?
If we had more loving, weíd have more Black babies to become Black brothers and
sisters and build the Black family.
When people love, they bathe with sweet-smelling soap, splash their bodies
with perfume or cologne,
Shave, and comb their hair, and put on gleaming silken garments,
Speak softly and kindly and study their beloved to anticipate and satisfy her every desire.
After loving theyíre relaxed and happy and friends with all the world.
Whatís wrong with love, beauty, joy and peace?
If Josephine had given Napoleon more loving, he wouldnít have sown the
meadows of Europe with skulls.
If Hitler had been happy in love, he wouldnít have baked people in ovens.
So donít tell me itís trivial and a cop-out to write about love and not about Miami.
A poet is not a jukebox.
A poet is not a jukebox.
I repeat, A poet is not a jukebox for someone to shove a quarter in his ear
and get the tune they want to hear,
Or to pat on the head and call ďa good little Revolutionary,Ē
Or to give a Kuumba Liberation Award.
A poet is not a jukebox.
A poet is not a jukebox.
A poet is not a jukebox.
So donít tell me what to write.
- Dudley Randall (1914-2000)
* * * * *
the collection
Tuesday, making dinner for my love
at his stove, I reach to the cupboard
looking for oregano,
hoping for peppercorns
(the sauce will fail without them)
but find instead each shelf
crammed with old jelly jars,
rinsed clean and resealed.
Labeled by hand with exquisite
penmanship: Thighs, Toes, Fingernails,
Glossed Lips, Hair, Noses, Pierced Earlobes.
I pull them slowly into the light,
turn the jars in my hands.
Everything so small, as if
from thimble-sized women.
Swatches of braided hair in every color,
whole ascending sets of perfectly-painted
toes, pairs of weeping eyes in hazel
brown and blue. Then, in the back,
a lonely jar. Dark red with a meaty pulp
and what appear to be small black cherries
pressing their shiny heads against the glass.
Labeled, Unborn.
- Jeananne Verlee
* * * * *
The Panic Bird
just flew inside my chest. Some
days it lights inside my brain,
but today it's in my bonehouse,
rattling ribs like a birdcage.
If I saw it coming, I'd fend it
off with machete or baseball bat.
Or grab its scrawny hackled neck,
wring it like a wet dishrag.
But it approaches from behind.
Too late I sense it at my back --
carrion, garbage, excrement.
Once inside me it preens, roosts,
vulture on a public utility pole.
Next it flaps, it cries, it glares,
it rages, it struts, it thrusts
its clacking beak into my liver,
my guts, my heart, rips off strips.
I fill with black blood, black bile.
This may last minutes or days.
Then it lifts sickle-shaped wings,
rises, is gone, leaving a residue --
foul breath, droppings, molted midnight
feathers. And life continues.
And then I'm prey to panic again.
- Robert Phillips
---
Comments
---