The "IPPY" Awards, launched in 1996, are designed to bring increased recognition to the deserving but often unsung titles published by independent authors and publishers. Established as the first awards program open exclusively to independents, over 2,800 "IPPYs" have been awarded to authors and publishers around the world.
Independent publishers are extremely diverse, in both style and geography. This year's IPPY competition attracted 3,741 entries in the national categories, 1,072 regional entries and 390 e-book entries. So, 5,203 total entries and 372 total medals. Themedalists represent 44 U.S. states plus the District of Columbia, seven Canadian provinces, and ten countries overseas.

"Independent publishers are growing in number, and the quality of their work is increasing," says awards director Jim Barnes. "One element driving the high rate of excellence is participation from university presses. This year, 29 medalists came from university presses and 9 came from museums. Their elevated level of writing, editing, design and production raises the bar and inspires us all."
Independent Publisher on Instagram
Feature
2012 Independent Publisher Book Awards Results
16th Annual Awards Celebrated in New York on June 4th
Congratulations and sincere thanks to over 2,400 independent authors and publishers who participated in our 16th annual, 2012 Independent Publisher Book Awards contest. The awards ceremony to honor the medalists took place on June 4th in New York, on the eve of the Book Expo America convention.
See more photos from the event below, and click here to see the entire event photo album. All photography by Steve Bollinger and the spokesmodels are Kaitlyn Pollock and Trey Gerrald. Awards Director Jim Barnes emceed the event.
This year's entry totals are the biggest ever, with 4,813 print book entries, 390 e-book entries, and an average category size of 50. The largest category was Memoir, with 213 entries; the smallest was Classical Studies, with just 8 entries. IPPY medals go to entrants from 44 U.S. states plus D.C., 7 Canadian provinces, and 10 countries overseas.
Here are the results of this year's awards, starting with the gold, silver and bronze medalists in our 74 National categories, followed by the Regional category medalists, our Outstanding Books of the Year, and for the first time, E-Book categories.
Outstanding Books are also featured on their own page: Click here to view.
Visit the Amazon.com IPPY Winners Astore.
IPPY medalist information and Press Page: Click here to view.

Congratulations to all on your great work!

2012 IPPY Award National Category Results

1. Fine Art
Gold: Pacific Standard Time: Los Angeles Art 1945-1980, Edited by Rebecca Peabody, Andrew Perchuk, Glenn Phillips, and Rani Singh, with Lucy Bradnock (Getty Publications)
Silver (tie): Matisse: Drawing Life (Queensland Art Gallery | Gallery of Modern Art, Art Exhibitions Australia and the Bibliothèque nationale de France) and Andrey Avinoff: In Pursuit of Beauty, by Louise Lippincott (Carnegie Museum of Art)
Bronze (tie): Dead or Alive, by David Revere McFadden and Lowery Stokes Sims (Museum of Arts and Design) and Turning to Art in Wood: A Creative Journey, by Glenn Adamson; Elisabeth R. Agro; Gerard Brown; Richard R. Goldberg; Michelle Holzapfel; Albert LeCoff; Robin Rice (The Center for Art in Wood)
2. Performing Arts
Gold: Devils & Blue Dresses: My Wild Ride as a Rock and Roll Legend, by Mitch Ryder (Cool Titles)
Silver: Put the Needle on the Record: The 1980s at 45 Revolutions per Minute, by Matthew Chojnacki (Schiffer Publishing Ltd.)
Bronze: Errol & Olivia: Ego & Obsession in Golden Era Hollywood, by Robert Matzen (GoodKnight Books)
3. Photography
Gold: Magnum Contact Sheets, Edited by Kristen Lubben (Thames & Hudson)
Silver: Salt and Truth, by Shelby Lee Adams (Candela Books)
Bronze (tie): For the Soul of Chile (Por el Alma de Chile), by Ignacio Hochhausler (Origo Ediciones) and Fragments: Architecture of the Holocaust, by Karl P. Koenig (Fresco Fine Art Publications)
4. Architecture
Gold: Uncommon Vernacular: The Early Houses of Jefferson County, West Virginia - 1735–1835, by John C. Allen, Jr. (West Virginia University Press)
Silver: Clinic Design: Enhancing the Patient Experience through Informed Design, by Gary A. Nyberg, AIA and Christine Guzzo Vickery, CID, EDAC (HGA Architects and Engineers)
Bronze: Fifty State Capitols: The Architecture of Representative Government, by Jim Stembridge (Coho Publishing)
5. Popular Fiction
Gold: Vertical, by Rex Pickett (Loose Gravel Press)
Silver: West of Wawa, by Lisa de Nikolits (Inanna Publications)
Bronze (tie): We Were Stardust, by Kathrin King Segal (Bucket List Books) and Recovering Ramona, by Kristin Russell (12th South Press)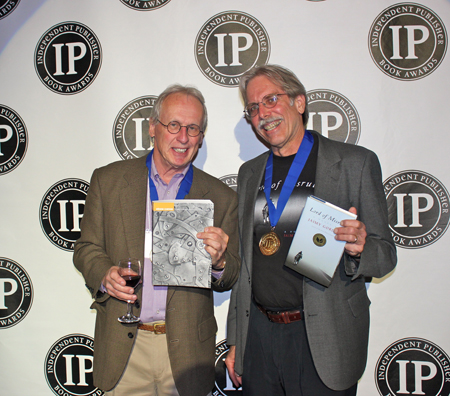 6. Literary Fiction
Gold: Lord of Misrule, by Jaimy Gordon (McPherson & Company)
Silver (tie): The Unreal Life of Sergey Nabokov, by Paul Russell (Cleis Press) and The Message, by Tariq Goddard (Zero Books)
Bronze (tie): The Iguana Tree, by Michel Stone (Hub City Press) and Pacazo, by Roy Kesey (Dzanc Books) and The Correspondence Artist, by Barbara Browning (Two Dollar Radio)
7. Short Story Fiction
Gold (tie):Living Arrangements, Laura Maylene Walter (BkMk Press, University of Missouri-Kansas City) and Knuckleheads, by Jeff Kass (Dzanc Books)
Silver: All The Roads That Lead From Home, by Anne Leigh Parrish (Press 53)
Bronze: God Bless America, by Steve Almond (Lookout Books/UNCW)
8. Anthologies
Gold: Stone Canoe: A Journal of Arts, Literature and Social Commentary, Number 6, Edited by Robert Colley (Syracuse University)
Silver (tie): One Story, Thirty Stories: An Anthology of Contemporary Afghan American Literature, Edited by Zohra Saed and Sahar Muradi (The University of Arkansas Press) and Sovereign Erotics: A Collection of Two-Spirit Literature, Edited by Qwo-Li Driskill, Daniel Heath Justice, Deborah Miranda and Lisa Tatonetti (The University of Arizona Press)
Bronze: -gape-seed-, Edited by Ice Gayle Johnson and Jane Ormerod (Uphook Press)
9. Juvenile Fiction
Gold: Dancing on the Inside, by Glen C. Strathy (iUniverse)
Silver: The Wiley Boys, by Hill Harper (Harper & Wells Books/Teen House Group For Young Readers)
Bronze: Raja, Story of a Racehorse, by Anne Hambleton (Old Bow Publishing)
10. Young Adult Fiction
Gold: In Trouble, by Ellen Levine (Carolrhoda Lab)
Silver: Anteater Boy, by Dean Ammerman (Kabloona)
Bronze (tie): Apparently Sarah, by Sue Balcer (JustYourType.biz) and King of Angels: A Novel About the Genesis of Identity and Belief, by Perry Brass (Belhue Press)
11. Fantasy/Science Fiction
Gold: Stranded, by Douglas Wentworth (Frank D'Angeli Publishing)
Silver: Stonewiser: The Lament of the Stone, by Dora Machado (Mermaid Publishing)
Bronze (tie): The ABCs of Cryptids, by L. James; illustrated by Meg James (Azdion Productions) and Property of Scavenger, by Alex Backstrom (Parallel Production)
12. Gay/Lesbian/Bi/Trans Fiction
Gold: Beatitude, by Larry Closs (Rebel Satori Press)
Silver: Shaken and Stirred, by Joan Opyr (Bywater Books)
Bronze: The Girls Club, by Sally Bellerose (Bywater Books)
13. Historical Fiction
Gold: The Darcys: The Ruling Passion, by Linda Berdoll (Well There It Is Publishing)
Silver (tie): Gates of Eden, by Charles Degelman (Harvard Square Editions) and Scimitar, by Robin Raybould (Tetrabiblion Books)
Bronze (tie): Zenobia: Birth of a Legend, by Russ Wallace (Geode Press) and Line by Line, by Barbara Hacha (MediaMix Productions)
14. Military/Wartime Fiction
Gold (tie): Soldier of the Horse, by Robert W. Mackey (TouchWood Editions) and Into the Stars, by Michael Blake (Zova Books)
Silver: Amour et Vengeance (Love and Revenge), by J. Fred Beckman (Bailey Street Publishing)
Bronze: A Skirmish in Africa, by Daryl Sahli (MyStory Publishing)
15. Horror
Gold: Floating Staircase, by Ronald Malfi (Medallion Press)
Silver: Black Tide, by John G. Rees (Black Water Books)
Bronze: Dragon's Ark, by Thomas Burchfield (Ambler House Publishing)
16. Multicultural Fiction Adult
Gold: Midnight Sweatlodge, by Waubgeshig Rice (Theytus Books)
Silver: The Book of Want, by Daniel A. Olivas (The University of Arizona Press)
Bronze: The Hometown, by Leena Ceraveeni (iUniverse)
17. Multicultural Fiction – Children's
Gold: The White Zone, by Carolyn Marsden (Carolrhoda Books)
Silver: Unchained, by L.B. Tillit (Saddleback Educational Publishing)
Bronze: The Latte Rebellion, by Sarah Jamila Stevenson (Flux Books)
18. Mystery/Cozy/Noir
Gold: Murder on Music Row: A Music Industry Thriller, by Stuart Dill (John F. Blair, Publisher)
Silver: Safely Buried, by John Pesta (CreateSpace)
Bronze: Wicked Wind, by Helen Cothran (CreateSpace)
19. Suspense/Thriller
Gold (tie): Department Thirteen: There's Nowhere to Run, by James Houston Turner (Comfort Publishing) and If Thy Right Hand, by Robin Lamont (Dog Ear Publishing)
Silver: Secret Combinations, by Gordon Cope (TouchWood Editions)
Bronze: Murder Under the Microscope, by Jane Bennett Munro (iUniverse)
20. Religious Fiction
Gold (tie): The Wise Man Returns, by Kenny Kemp (Sweetwater Books) and The Homeless Bishop, by Joseph F. Girzone (Orbis Books)
Silver: Another Angel of Love, by Henry K. Ripplinger (Pio-Seelos Books)
Bronze: Sitting on a Fractal Crack of Time, by JC Ryder (Crystal Water Publishing)
21. Romance
Gold: Find Wonder in All Things, by Karen M. Cox (Meryton Press)
Silver: The Bedeviled Heart, by Carmen Caine (Self-Published)
Bronze: The Distant Shore (The Stone Trilogy, Book 1),by Mariam Kobras (Buddhapuss Ink)
22. True Crime
Gold: Born to Lose: Stanley B. Hoss and the Crime Spree That Gripped a Nation, by James G. Hollock (The Kent State University Press)
Silver: Al Capone and His American Boys: Memoirs of a Mobster's Wife, by William J. Helmer (Indiana University Press)
Bronze: Cold A Long Time: An Alpine Mystery, by John Leake (Self-Published)
23. Visionary Fiction
Gold: A Brief Moment in Time, by Jeane Watier (Novel Ink Publishing)
Silver: Act of Grace, by Karen Simpson (Plenary Publishing)
Bronze: The Kōan of the Fisherman's Wife, by David Arnault (Dog-eared Independent Impressions)
24. Children's Picture Books (7 & Under)
Gold: Tadeo's Search for Circles, by Marion Brooker; illustrated by Kyrsten Brooker (Fitzhenry & Whiteside)
Silver (tie): Animalogy: Animal Analogies, by Marianne Berkes; illustrated by Cathy Morrison (Sylvan Dell Publishing) and Clucky in the Garden of Mirrors, by Mar Pavon; illustrated by Monica Carretero (Cuento de Luz)
Bronze (tie): Mommy, Daddy, I Had a Bad Dream!, by Martha Heineman Piper, Ph.D.; illustrated by Jo Gershman (Smart Love Press, LLC) and Big Bouffant, by Kate Hosford; illustrated by Holly Clifton-Brown (Lerner Publishing Group)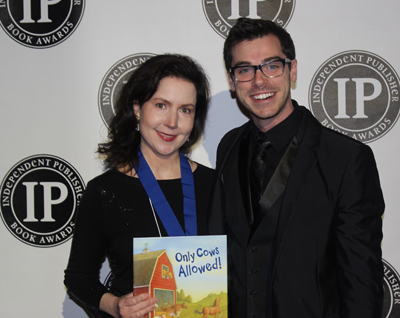 25. Children's Picture Books (All Ages)
Gold: Snutt the Ift: A Small but Significant Chapter in the Life of the Universe, by Helen Ward (Little Pickle Press)
Silver (tie): The Gift, by Christina Vagenius (Heart Box Studio) and Where Wild Horses Run, by Georgia Graham (Red Deer Press)
Bronze (tie): The Kingdom of Mine, by Gary Edwards; illustrated by Masako Dunn (Cupola Press) and Only Cows Allowed, by Lynn Plourde; illustrated by Rebecca Harrison Reed (Down East Books)
26. Children's Interactive
Gold: Dinomazes: The Colossal Fossil Book, by Elizabeth Carpenter (Workman Publishing)
Silver (tie): Adventures with Jonny: Road Trip to the Parks!, by Michael A. Dilorenzo; Illustrated by Jenniffer Julich (Running Moose Publications) and Ocean Deep, by Richard Hatfield (Child'sPlay)
Bronze: Surrealism for Kids, by Queensland Art Gallery
27. Juvenile-Teen-Y/A Non-Fiction
Gold: Growing Up with a Bucket Full of Happiness: Three Rules for a Happier Life, by Carol McCloud; illustrated by Penny Weber (Ferne Press)
Silver: The Grief Recovery Kit: A Young Person's Guide Through the Journey of Grief, by Tanya Kilgore (Aepisaurus Publishing)
Bronze: Who Pooped in the Zoo? Exploring the Weirdest, Wackiest, Grossest and Most Surprising Facts about Zoo Poop, by Caroline Patterson (Farcountry Press)
28. Multicultural N-F Juv-Teen-YA
Gold: A Stranger at Home, by Christy Jordan-Fenton and Margaret Pokiak-Fenton; illustrated by Liz Amini-Holmes (Annick Publishing)
Silver: The Thinking Girl's Treasury of Dastardly Dames, Series edited by Shirin Yim Bridges (Goosebottom Books)
Bronze: Prince Rama Son of the Solar Dynasty, by Vrinda Sheth; illustrated by Anna Johansson (Torchlight Publishing)
29. Multicultural Non-Fiction Adult
Gold: Sugar Hill: Where the Sun Rose Over Harlem, by Terry Baker Mulligan (Impulse Press)
Silver: The Other Latin@, by Blas Falconer and Lorraine M. Lopez (The University of Arizona Press)
Bronze (tie): Green Card Stories, by Saundra Amrhein, Ariana Lindquist, Laura Danielson, Stephen Yale-Loehr (Umbrage Editions) and People of the Big Voice: Photographs of Ho-Chunk Families by Charles Van Schaick, 1879-1942, by Tom Jones, Michael Schmudlach, Matthew Daniel Mason, Amy Lonetree, and George A. Greendeer (Wisconsin Historical Society Press)
30. Essay/Creative Non-Fiction
Gold: The Patron Saint of Dreams, by Philip Gerard (Hub City Press)
Silver: Lost Edens: A True Story, by Jamie Patterson (Beaver's Pond Press)
Bronze: In This Timeless Time: Living and Dying on Death Row in America, by Bruce Jackson & Diane Christian (University of North Carolina Press and CDS Books of the Center for Documentary Studies)
31. Autobiography/Memoir
Gold (tie): Ghosts of Revolution: Rekindled Memories of Imprisonment in Iran, by Shahla Talebi (Stanford University Press) and I'm Walking as Straight as I Can: Transcending Disability in Hollywood and Beyond, by Geri Jewell with Ted Nichelson (ECW Press)
Silver: Gatehouse to Hell, by Felix Opatowski (The Azrieli Foundation)
Bronze (tie): Where There's Smoke: Musings of a Cigarette Smoking Man, by William B. Davis (ECW Press) and Diary of an Alcoholic Housewife, by Brenda Wilhelmson (Hazelden)
32. Biography
Gold: House of Cash: The Legacies of My Father, Johnny Cash, by John Carter Cash (Insight Editions)
Silver (tie): Shooting from the Lip: The Life of Senator Al Simpson, by Donald Loren Hardy (University of Oklahoma Press) and Jim Tully: American Writer, Irish Rover, Hollywood Brawler, by Paul J. Bauer & Mark Dawidziak (The Kent State University Press)
Bronze: Hidden Hell: Discovering My Father's POW Diary, by Robert H. Miller (Patton Publishing)
33. Aging/ Death & Dying
Gold: If There's Anything I Can Do: What You Can Do When Serious Illness Strikes, by Josephine H. Hicks and SPARK Publications
Silver: Alzheimer's Disease and Other Dementias: The Caregiver's Complete Survival Guide, by Nataly Rubinstein, MSW, LCSW, C-ASWCM (Two Harbor Press)
Bronze: gOLD: The Extraordinary Side of Aging Revealed Through Inspiring Conversations, by Harry J. Getzov (Greenpoint Press)
34. Animals/Pets
Gold (tie): Pit Bulls & Pit Bull Type Dogs: 82 Dogs the Media Doesn't Want You To Meet, by Melissa McDaniel (Present Dog Press) and Dog Sense: How the New Science of Dog Behavior Can Make You a Better Friend to Your Pet, by John Bradshaw (Basic Books)
Silver (tie):Tea with Lady Sapphire: Sharing the Love of Birds, by Carl R. Sams II & Jean Stoick (Carl Sams II Photography) and Chippy Chipmunk: Babies in the Garden, by Kathy M. Miller (Celtic Sunrise)
Bronze: Alaska's Watchable Whales: Humpback and Killer Whales, by Jay Beedle, Jayleen Beedle & Mark Kelley (Mark Kelley Photography)
35. Business/Career/Sales
Gold: Leadersh*t: Rethinking the True Path to Great Leading, by Foster W. Mobley, Ed.D. (Foster Mobley Enterprises, LLC)
Silver: Wired and Dangerous: How Your Customers Have Changed and What to Do About It, by Chip R. Bell and John R. Patterson (Berrett-Koehler Publishers)
Bronze (tie): The Ascent of Media: From Gilgamesh to Google via Gutenberg, by Roger Parry (Nicholas Brealey Publishing) and The Third Screen: Marketing to Your Customers in a World Gone Mobile, by Chuck Martin (Nicholas Brealey Publishing)
36. Classical Studies/Philosophy
Gold: Aelian's on the Nature of Animals, Translated and edited by Gregory McNamee (Trinity University Press)
Silver: Beyond Animal, Ego and Time: The Human Odyssey, by Jerry Parrick (HB Publishing)
Bronze: My Dura-Europos: The Letters of Susan M. Hopkins, 1927-1935, by Bernard M. Goldman and Norma W. Goldman (Wayne State University Press)
37. Coffee Table Books
Gold: Hart Square: One Man's Passionate Preservation of North Carolina's Pioneer Heritage, by Robert W. Hart III with Nathan W. Moehlmann (Goosepen Studio & Press)
Silver: Horses and Bridles of the American Indians, by Mike Cowdrey and Ned & Jody Martin (Hawk Hill Press)
Bronze: Across a Wide Horizon: Discovering the Uncommon Beauty of the Nebraska Plains, by Jorn C. Olsen (Dublduc Publishing) and Mario Terzi: Master Engraver, by Stephen Lamboy & Elena Micheli-Lamboy (Blue Book Publications)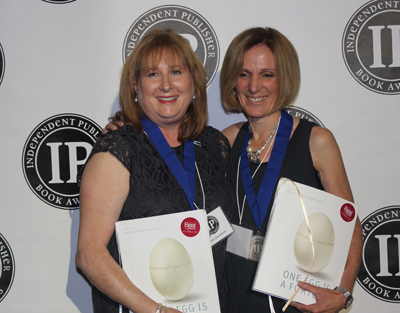 38. Cookbooks
Gold (tie): Off the Menu: Staff Meals from America's Top Restaurants, by Marissa Guggiana (Welcome Books) and Cook the Part: Delicious, Interactive and Fun Team Cooking, by Karin Eastham (Crosswalk Press)
Silver (tie): One World Vegetarian Cookbook, by Troth Wells (Interlink Books) and One Egg Is A Fortune: memories and recipes to share, by Pnina Jacobson & Judy Kempler (One Egg Is A Fortune)
Bronze (tie): Desserted: Recipes and Tales from an Island Chocolatier, by Kate Shaffer (Down East Books) and A Dash & a Dollop: Every Recipe Tells a Story, by Residents, Family Members and Staff (Atria Senior Living)
39. Current Events I (Political/Economic/Legal/Media)
Gold: Death of the Liberal Class, by Chris Hedges (Nation Books)
Silver: The End of Growth: Adapting to Our New Economic Reality, by Richard Heinberg (New Society Publishers)
Bronze (tie): Work's New Age: The End of Full Employment and What It Means to You, by James B. Huntington, Ph.D. (Royal Flush Press) and There and Back: Commentary by a Former Foreign Correspondent, by Barrie Dunsmore (Wind Ridge Publishing)
40. Current Events II (Social Issues/Public Affairs/Ecological/Humanitarian)
Gold (tie): Finding Fernanda: Two Mothers, One Child, and a Cross-Border Search for Truth, by Erin Siegal (Cathexis Press) and Arab Detroit 9/11: Life in the Terror Decade, Edited by Nabeel Abraham, Sally Howell and Andrew Shryock (Wayne State University Press)
Silver: Tales from the Sustainable Underground: A Wild Journey with People Who Care More About the Planet Than the Law, by Stephen Hren (New Society Publishers)
Bronze: Tri Worlds: It's Time to Think as a Species, by Gil Mulley (Red Feather Publishing)
41. Current Events III (Foreign Affairs/Military)
Gold: Inside a U.S. Embassy: Diplomacy at Work, Edited by Shawn Dorman (FS Books/American Foreign Service Association)
Silver: Afghan Boomerang: Notes of a Soviet Officer, by Oleg Novinkov (Createspace)
Bronze: The Insurgency in Chechnya and the North Caucasus: From Gazavat to Jihad, by Robert W. Schaefer (Praeger Security International)
42. Education/Academic/Teaching
Gold: In! College Admissions and Beyond, by Lillian Luterman & Jennifer Bloom (Abbeville Press)
Silver: Searching for Hope: Life at a Failing School in the Heart of America, by Matthew Tully (Indiana University Press)
Bronze (tie): Responsive School Discipline: Essentials for Elementary School Leaders, by Chip Wood & Babs Freeman-Loftis (Northeast Foundation for Children) and The Ole Miss Experience: Freshman Year Experience Test, by Leslie Banahan (Nautilus Publishing)
43. Environment/Ecology/Nature
Gold: Oceans: Heart of Our Blue Planet, by Gregory S. Stone, Russell A. Mittermeier, Octavio Aburto-Oropeza, Claudio Campagna, Kent E. Carpenter, Laurence P. Madin, David Obura, Enric Sals, Cristina G. Mittermeier, Sebastian Troëng and Peter A. Seligman (Cemex/iLCP)
Silver: EcoMind: Changing the Way We Think, to Create the World We Want, by Frances Moore Lappé, (Nation Books)
Bronze (tie): Giant Silk Moths: Colour, Mimicry & Camouflage, by Philip Howse and Kirby Wolfe (Papadakis Publisher) and The Crossley ID Guide: Eastern Birds, by Richard Crossley (Princeton University Press)
44. Erotica
Gold: Carnal Machines: Steampunk Erotica, Edited by D.L. King (Cleis Press)
Silver: The Company He Keeps: Victorian Gentlemen's Erotica, by Dale Chase (Bold Strokes Books)
Bronze: Women in Lust: Erotic Stories, Edited by Rachel Kramer Bussel (Cleis Press)
45. Finance/Investment/Economics
Gold: The Price of Fish: A New Approach to Wicked Economics and Better Decisions,by Michael Mainelli and Ian Harris (Nicholas Brealey Publishing)
Silver: Panic in the Loop: Chicago's Banking Crisis of 1932, by Raymond B. Vickers (Lexington Books)
Bronze: Blood & Money: Why Families Fight Over Inheritance and What To Do About It, by P. Mark Accettura, Esq. (Collinwood Press)
46. Gay/Lesbian - Non-Fiction:
Gold (tie): Transfigurations, by Jana Marcus (7 Angels Press) and Gay in America: Portraits, by Scott Pasfield (Welcome Books)
Silver: Unfinished Lives: Reviving the Memories of LGBTQ Hate Crimes Victims, by Stephen V. Sprinkle (Resource Publications/Wipf and Stock Publishers)
Bronze: Folsom Street Blues: A Memoir of 1970s SoMa and Leatherfolk in Gay San Francisco, by Jim Stewart (Palm Drive Publishing)
47. Holiday
Gold: Christmas with the First Ladies: The White House Decorating Tradition from Jacqueline Kennedy to Michelle Obama, by Coleen Christian Burke (Insight Editions)
Silver: Mr. Holidays Presents The Roof Top Hop,Words and music by Michael Sheahan; Illustrated by Doug Wright (Finest Books Inc.)
Bronze: The Little Big Book of Christmas: Carols, Stories, Poems, Recipes, Edited by Lena Tabori; designed by Timothy Shaner and Kristen Sasamoto (Welcome Books)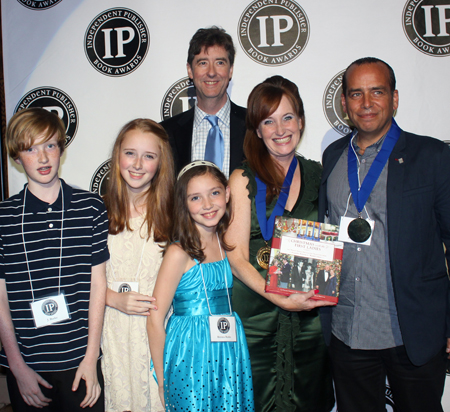 47a. Gift/Specialty/Journal
Gold: The Hat Book, by Stephanie Talbot; Design by Aldo Sampieri (Papadakis Publisher)
Silver: Purple Leaves, Red Cherries: A Gift for Mothers with Short Stories, Journal & Toolkit, by Tania Elfersy & Andrea Katzman; illustrated by Nomi Melul Ohad (Flower Cap Press)
Bronze: EcoChi: Designing the Human Experience, by Debra Duneier (Self-Published)
48. Health/Medicine/Nutrition
Gold: Looking Up: Seven Steps for a Healthy & Youthful Midlife and Beyond, by Cynthia Olsen (Kali Press)
Silver (tie): The Non-Toxic Avenger: What You Don't Know Can Hurt You, by Deanna Duke (New Society Publishers) and The Boreal Herbal: Wild Food and Medicine Plants of the North, by Beverley Gray (Aroma Borealis Press)
Bronze (tie): Raw Foods on a Budget, by Brandi Rollins, M.S. (Self-Published) and American Cancer Society Complete Guide to Family Caregiving (Second Edition), Edited by Julia A. Bucher, RN, PhD, Peter S. Houts, PhD and TerriAdes, DNP, FNP-BC, AOCN (American Cancer Society)
49. Graphic Novel/Drawn Book – Humor/Cartoon
Gold: Amazing Everything, by Scott Campbell (Insight Editions)
Silver: Zombies of the World, by Ross Payton (Slang Design)
Bronze: The Fabulous Adventures of Olly Oogleberry: Mission to Save Earth, by Lou Hughes and Jon Ball (Tickle Me Silly)
50. Graphic Novel/Drawn Book – Drama/Documentary
Gold: Space Cadet, by Kid Koala (Uni Books)
Silver: GREY, by Jared Barel and Jordan Barel (Loaded Barrel Studios)
Bronze: Valentine's Dei: Vol. 1, by Samantha Emery and Peter Fairfax (Shroom Comics)
51. History (U.S.)
Gold: 1812: The Navy's War, by George C. Daughan (Basic Books)
Silver (tie): Cruel & Unusual: The American Death Penalty and the Founders' Eighth Amendment, by John D. Bessler (Northeastern University Press) and Ritual America: Secret Brotherhoods and Their Influence on American Society, by Adam Parfrey & Craig Heimbichner (Feral House)
Bronze: Black Warriors: The Buffalo Soldiers of World War II, by Ivan J. Houston (iUniverse)
51a. History (World)
Gold: Heaven Cracks, Earth Shakes: The Tangshan Earthquake and the Death of Mao's China, by James Palmer (Basic Books)
Silver (tie): D-Day: The Campaign Across France, by Jay Wertz (Weider History Publications) and Song of Wrath: The Peloponnesian War Begins, by J.E. Lendon (Basic Books)
Bronze: Treasure Island: The Untold Story, by John Amrhein, Jr. (New Maritima Press)
52. Home & Garden
Gold: Backyard Homesteading: A Back-to-Basics Guide to Self-Sufficiency, by David Toht (Creative Homeowner)
Silver: A Home of Her Own, by Nancy R. Hiller (Indiana University Press)
Bronze: Vintage Wisconsin Gardens: A History of Home Gardening, by Lee Somerville (Wisconsin Historical Press)
53. How-To (Crafts/Hobby)
Gold (tie): A Fiber Artist's Guide to Color & Design: The Basics and Beyond, by Heather Thomas (Landauer Publishing) and Knit Local: Celebrating America's Homegrown Yarns, by Tanis Gray (Sixth&Spring Books)
Silver: The Creative Conversation: ArtMaking as Playful Prayer, by Bridget Benton (Eyes Aflame Publishing)
Bronze: Tasting Wine with Debra, by Debra Meiburg MW (Meiburg Wine Media Ltd.)
54. Humor
Gold: The Anthology of Really Important Modern Poetry: Timeless "Poems" by Snooki, John Boehner, Kanye West and Other Well-Versed Celebrities, by Karthryn & Ross Petra (Workman Publishing)
Silver: Goodnight Husband, Goodnight Wife, by Eric Stangel & Justin Stangel; Illustrated by Adam J. Raiti (Insight Editions)
Bronze: Mime Very Own Book, by Doug Jones, Eric Curtis, Scott Allen Perry and Adam Mock (Medallion Press)
55. Inspirational/Spiritual
Gold (tie): Awake in the World: 108 Practices to Live a Divinely Inspired Life, by Debra Moffitt (Llewellyn Worldwide) and Living in Gratitude: A Journey That Will Change Your Life, by Angeles Arrien (Sounds True)
Silver: Practical Conscious Creation: Daily Techniques to Manifest Your Desires, by Jackie Lapin (Findhorn Press)
Bronze: Hubble Reveals Creation by an Awe-Inspiring Power, by J. Paul Hutchins (Imagination Publishing)
56. New Age (Mind-Body-Spirit)
Gold: Acutonics, From Galaxies to Cells: Planetary Science, Harmony, and Medicine, by Donna Carey, LAc, Ellen F. Franklin, MA, Judith Ponton, DC, LAc, Paul Ponton, LAc, Michel Angelo, MFA (Devachan Press)
Silver: The Intuition Guidebook: How to Safely and Wisely Use Your Sixth Sense, by Cyndi Dale (Deeper Well Publishing and BRIO Press)
Bronze: Shapeshifting Into Higher Consciousness: Heal and Transform Yourself and Our World with Ancient Shamanic and Modern Methods, by Llyn Roberts (O-Books)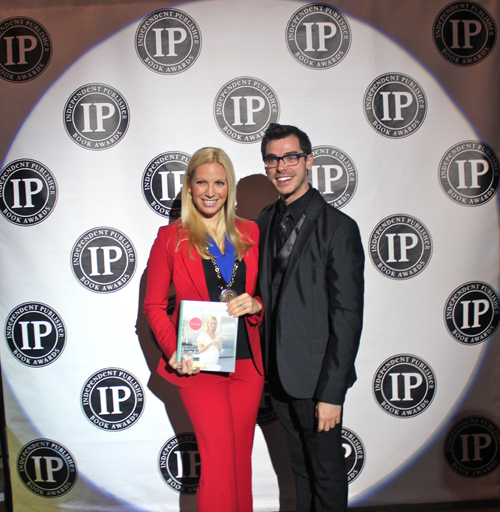 57. Parenting
Gold: Ten Powerful Things to Say to Your Kids,by Paul Axtell (Jackson Creek Press)
Silver (tie): Sage Spoonfuls: Simple Recipes, Healthy Meals, Happy Babies, by Liza Huber (Sage Bears Books) and Nutrition: What Every Parent Needs to Know, Edited by William H. Dietz, MD, PhD, FAAP and Loraine Stern, MD, FAAP (American Academy of Pediatrics)
Bronze: Montessori Parenting: Unveiling the Authentic Self, by Dr. Jim and Sonnie McFarland (Shining Mountain Press)
58. Poetry
Gold: Having a Little Talk with Capitol P Poetry, by Jim Daniels (Carnegie Mellon University Press)
Silver: Waking, by Ron Rash (Hub City Press)
Bronze: Open Winter, by Rae Gouirand (Bellday Books)
59. Popular Culture/Leisure
Gold: The Cult of Lego, by John Baichtal and Joe Meno (No Starch Press)
Silver: Inside Pee-Wee's Playhouse: The Untold, Unauthorized, and Unpredictable Story of a Pop Phenomenon, by Caseen Gaines (ECW Press)
Bronze: The Kennedys: All the Gossip Unfit to Print, by Darwin Porter and Danforth Prince (Blood Moon Productions)
60. Psychology/Mental Health
Gold: Non-Drug Treatments for ADHD: New Options for Kids, Adults & Clinicians, by Richard P. Brown, MD and Patricia L. Gerbarg, MD (W.W. Norton & Company)
Silver: When Johnny and Jane Come Marching Home: How All of Us Can Help Veterans, by Paula J. Caplan (The MIT Press)
Bronze: The Whole-Brain Path to Peace: The Role of Left- and Right-Brain Dominance in the Polarization and Reunification of America, by James Olson (Origin Press)
61. Sports/Fitness/Recreation
Gold: Guaranteed to Last: L.L. Bean's Century of Outfitting America, by Jim Gorman (Melcher Media)
Silver (tie): I Just Ran: Percy Williams, World's Fastest Human, by Samuel Hawley (Ronsdale Press) and Banzai Babe Ruth: Baseball, Espionage, & Assassination During the 1934 Tour of Japan, by Robert K. Fitts (University of Nebraska Press)
Bronze: Unbridled Passion: Show Jumping's Greatest Horses and Riders, by Jeff Papows, PhD (Acanthus Publishing)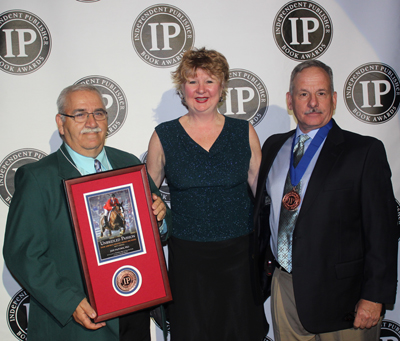 62. Reference
Gold: Firearms of the Fur Trade: The Encyclopedia of Trade Goods, Vol. 1, by Dr. James A. Hanson & Dick Harmon (Museum of the Fur Trade)
Silver: The Little Red Writing Book – Deluxe Edition, by Brandon Royal (Maven Publishing)
Bronze: New Mexico Historical Biographies, by Don Bullis (Rio Grande Books)
63. Religion
Gold (tie): The Cross and the Lynching Tree, by James H. Cone (Orbis Books) and Sufism and the Way of Blame: Hidden Sources of a Sacred Psychology, by Yannis Toussulis, PhD (Quest Books)
Silver: The Science of the Quran: Proving God's Existence through Established Modern Science, by Ahmad Hassan (Lido Horizons Publishing)
Bronze: Consider the Ravens: On Contemporary Hermit Life, by Paul A. Fredette and Karen Karper Fredette (iUniverse)
64. Science
Gold: The Empathic Brain: How the Discovery of Mirror Neurons Changes Our Understanding of Human Nature, by Christian Keysers (CreateSpace)
Silver: Confronting the Quantum Enigma: Albert, Niels, and John, by David J. Kreiter (Binary Pulse Distributors)
Bronze (tie): Meteorite Hunting: How to Find Treasure from Space, by Geoffrey Notkin (Aerolite Meteorites, LLC) and Love, Sex and Mushrooms: Adventures of a Woman in Science, by Cardy Raper (Self-Published)
65. Self Help
Gold (tie): The Economic Dependency Trap: Breaking Free to Self-Reliance, by Calvin Helin (Ravencrest Publishing) and Flying Lessons: How to Be the Pilot of Your Own Life, by Pamela Hale (Through a Different Lens)
Silver (tie): Change Your Shoes, Live Your Greatest Life, by Kathy Andersen (KA Connect) and Real Happiness: The Power of Meditation, by Sharon Salzberg (Workman Publishing)
Bronze: Coming Home: A Practical and Compassionate Guide to Caring for a Dying loved One, by Deborah Duda (Self-Published)
66. Sexuality/Relationships
Gold: Best Sex Writing 2012: The State of Today's Sexual Culture, by Rachel Kramer Bussel (Cleis Press)
Silver: Tickle My Tush: Mild-to-Wild Analplay Adventures for Everybooty, by Dr. Sadie Allison (Tickle Kitty Press)
Bronze: Crazy Little Thing, by Liz Langley (Cleis Press)
67. Transportation (Automotive/Aviation/Railroad)
Gold: Formula One At Watkins Glen: 20 Years of the United States Grand Prix, 1961-1980, by Michael Argetsinger (David Bull Publishing)
Silver: Pagoda Style, Edited by Michael Salemi (Self-Published)
Bronze: Elva: The Cars, The People, The History, by Janos Wimpffen (David Bull Publishing)
68. Travel Essay
Gold (tie): Letters to Zerky: A Father's Legacy to a Lost Son…and a Road Trip Around the World, by Bill Raney and Joanne Walker Raney (Nickelodeon Press) and Destroying Demons on the Diagonal: A Firefighter's San Diego to Maine Bicycle Ride into Retirement, by Jeff M. Sambur (Self-Published)
Silver: A Small Key Opens Big Doors: 50 Years of Amazing Peace Corps Stories, Volume Three, Edited by Jay Chen (Travelers Tales)
Bronze: Bullet Trains to Yaks: Glimpses into Art, Politics, and Culture in China and Tibet, by Stan Biderman (Irony Press)
69. Travel Guidebook
Gold: The White House: An Historic Guide (50th Anniversary Edition), Edited by Betty C. Monkman (White House Historical Association)
Silver: Drinking Japan: A Guide to Japan's Best Drinks and Drinking Establishments, by Chris Bunting (Tuttle Publishing)
Bronze (tie): My Seductive Cuba: A Unique Travel Guide, by Chen Lizra (Latidos Productions) and Secret Madrid, by Verónica Ramírez Muro (Jonglez Publishing)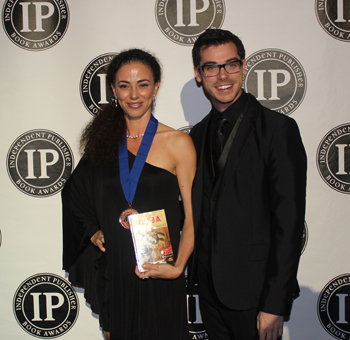 70. Women's Issues
Gold: Women and Poverty in 21st Century America, by Paula vW. Dáil (McFarland & Company)
Silver (tie): I'm Taking My Eggs and Going Home: How One Woman Dared to Say No to Motherhood, by Lisa Manterfield (Steel Rose Press) and Performing Sex: The Making and Unmaking of Women's Erotic Lives, by Breanne Fahs (SUNY Press)
Bronze: Little White Dress: Women Explore the Myth and Meaning of Wedding Dresses, by Liza Long and Elaine Ambrose(Mill Park Publishing)
71. Writing/Publishing
Gold: The Silent Scream: Political and Social Comment in Books by Artists, by Monica Oppen and Peter Lyssiotis (Ant Press for the Bibliotheca Librorum apud Artificem)
Silver: Better than Great: A Plenitudinous Compendium of Wallopingly Fresh Superlatives, by Arthur Plotnik (Viva Editions)
Bronze: Shut Up & Write! by Judy Bridges (Redbird Studio Press)
72. Best Book Marketing
Gold: Sweet Tea and Secrets: An Adams Grove Novel, by Nancy Naigle (Crossroads Publishing House, LLC)
Silver: Put the Needle on the Record: The 1980s at 45 Revolutions Per Minute, by Matthew Chojnacki (Schiffer Publishing)
Bronze: ECHO NOUVEAU The Life and Art of a Working Girl: 1995-2010, by Echo and Lazarus Chernik (Echo-X, Inc.)
* * * * *

2012 Independent Publisher Regional Book Awards Results (1072 entries)

These regional "IPPYs" were designed to spotlight the best regional titles from around North America and Australia/New Zealand. Books were judged alongside other books for and about their regions only, based on their quality and regional significance.
U.S. North-East - Best Regional Fiction
Gold: The Great Lenore,by JM Tohline (Atticus Books, LLC)
Silver: Hull Creek, by Jim Nichols (Down East Books)
Bronze: Danger Sector, by Jenifer LeClair (Conquill Press)
U.S. North-East - Best Regional Non-Fiction
Gold (tie): Cappy: The Life and Art of C. Hjalmar Amundsen, by Terry Wallace (MT Fine Arts/Sag Harbor Whaling & Historical Museum)and Dear Friend Amelia: The Civil War Letters of Private John Tidd, by Mary Jordan & Joyce Hatch with Ronald E. Ostman & Harry Littell (Six Mile Creek Press)
Silver: River Views: A History of the Thousand Islands in 3-D, by Tom Frech (Stone Island Press)
Bronze: Shingled Houses in the Summer Sun: The Work of Polhemus Savery DaSilva, by John RDaSilva (The Images Publishing Group)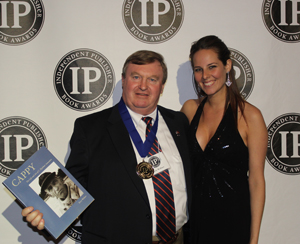 Mid-Atlantic – Best Regional Fiction
Gold: Tracks: A Novel in Stories, by Eric D. Goodman (Atticus Books, LLC)
Silver: After the Fog, by Kathleen Shoop (CreateSpace)
Bronze:The MineFields, by Steven C. Eisner (When Words Count Press)
Mid-Atlantic – Best Regional Non-Fiction
Gold: No.9: The 1968 Farmington Mine Disaster, by Bonnie E. Stewart (West Virginia University Press)
Silver: Founding Spirits: George Washington and the Beginnings of the American Whiskey Industry, by Dennis J. Pogue (Harbour Books)
Bronze (tie): Innocent: Confessions of a Welfare Mother, by B. Morrison (Apprentice House) and Caged: Memoirs of a Cage-Fighting Poet, by Cameron Conaway (Threed Press)
South-East – Best Regional Fiction
Gold: Render Unto the Valley, by Rose Senehi (K.I.M. Publishing, LLC)
Silver: The Breath of God, by Jeffery Small (West Hills/Hundreds of Heads)
Bronze: Mercy Creek, by Matt Matthews (Hub City Press)
South-East – Best Regional Non-Fiction
Gold (tie): Two Centuries of Black Louisville: A Photographic History, by Mervin Aubespin, Kenneth Clay & J. Blaine Hudson (Butler Books) and Last Train to Paradise: Henry Flagler and the Spectacular Rise and Fall of the Railroad that Crossed an Ocean, by Les Standiford (Flagler Museum)
Silver: Our Southern Home: Scottsboro to Montgomery to Birmingham, by Waights Taylor Jr. (McCaa Books)
Bronze: 27 Views of Chapel Hill: A Southern University Town in Prose & Poetry, by Various Authors (Eno Publishers)
South – Best Regional Fiction
Gold: Higher Ground, by James Nolan (University of Louisiana at Lafayette Press)
Silver: Damaged Goods, by Alexandra Allred (allred books amazon.com)
Bronze: Peculiar, Texas, by Stacey Givens (CreateSpace)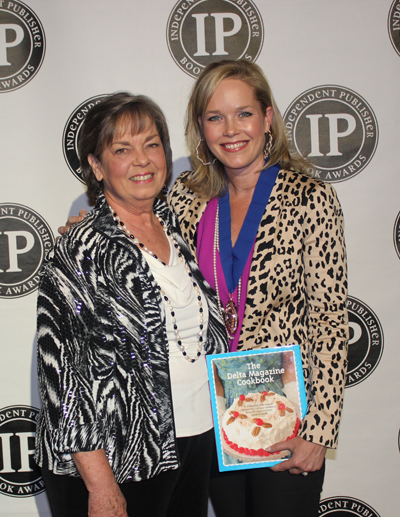 South – Best Regional Non-Fiction
Gold: The Last Resort: Taking the Mississippi Cure, by Norma Watkins (University Press of Mississippi)
Silver: Reagan's Comeback: Four Weeks in Texas that Changed American Politics Forever, by Gilbert Garcia (Trinity University Press)
Bronze (tie): The Delta Magazine Cookbook: A Celebrated Collection of Recipes and Culinary Traditions from the Most Southern Place on Earth, Edited by Melissa Townsend (Coopwood Publishing Group) and Bayou Pigeon, Louisiana: Spirit of the Atchafalaya, by Clifford J. LeGrange, Adam Landry, Geraldine Settoon, James Landry & Patricia Settoon (Clifford J. LeGrange)

Great Lakes – Best Regional Fiction
Gold: The Sausage Maker's Daughter, by Ags Johnson (BiblioFile Press)
Silver: Ghost Writers: Us Haunting Them Contemporary Michigan Literature, edited by Keith Taylor and Laura Kasischke (Wayne State University Press)
Bronze: Heart of a Native, by Tom St. Dennis (Star Bluff Publishing)
Great Lakes – Best Regional Non-Fiction
Gold (tie): The Lost Panoramas: When Chicago Changed Its River and the Land Beyond, by Richard Cahan & Michael Williams (Cityfiles Press) and Detroitland: A Collection of Movers, Shakers, Lost Souls, and History Makers from Detroit's Past, by Richard Bak (Wayne State University Press)
Silver: Grand Traverse: The Civil War Era, by John C. Mitchell (Suttons Bay Publications)
Bronze: Elly Peterson: "Mother" of the Moderates, by Sara Fitzgerald (The University of Michigan Press)
Mid-West – Best Regional Fiction
Gold: Nazareth, North Dakota, by Tommy Zurhellen (Atticus Books)
Silver: A Crooked Number, by Nathan Jorgenson (Flat Rock Publishing)
Bronze: Gone by Sundown, by Peter Leach (Gival Press, LLC)
Mid-West – Best Regional Non-Fiction
Gold: Dynamic Chickasaw Women, by Phillip Carroll Morgan and Judy Gofourth Parker (Chickasaw Press)
Silver (tie): Mount Rushmore Memories, Edited by Jean L.S. Patrick (Mount Rushmore Bookstores) and A Peace of My Mind: Exploring the Meaning of Peace One Story at a Time, by John Noltner (apeaceofmymind.net)
Bronze: Hauling Water: Reflections on Making a Home in the North Woods, by Becca Brin Manlove (Raven Productions, Inc.)
West-Mountain – Best Regional Fiction
Gold: Quantum Physics and the Art of Departure, by Craig Lancaster (Missouri Breaks Press)
Silver: Sojourner of Warren's Camp, by Joseph Dorris (iUniverse, Inc.)
Bronze: The Fat Man: A Telluride Murder Mystery, R.J. Rubadeau (Beacon Hill Publishers)
West-Mountain – Best Regional Non-Fiction
Gold (tie): The Case of the Indian Trader: Billy Malone and National Park Service Investigation at Hubbell Trading Post, by Paul D. Berkowitz (University of New Mexico Press) and Wild Horses of the West: History and Politics of America's Mustangs, by J. Edward de Steiguer (The University of Arizona Press)
Silver: The World Comes to Albuquerque: The Dream Takes Flight, by Kim Vesely, Dick Brown, Tom McConnell and Paul Rhetts (Rio Grande Books)
Bronze: Anne Evans – A Pioneer in Colorado's Cultural History: The Things That Last When Gold is Gone, by Barbara Sternberg with Jennifer Boone and Evelyn Waldron (Buffalo Park Press/Center for Colorado & the West at Auraria Library)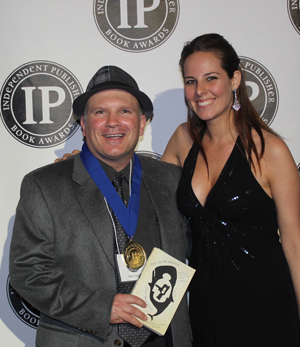 West-Pacific – Best Regional Fiction
Gold: The Snow Whale, by John Minichillo (Atticus Books)
Silver (tie): Altamont Augie, by Richard Barager (Interloper Press) and Sweet Song, by Terry Persun (Booktrope Editions / Libertary Co.)
Bronze: Terroryaki, by Jennifer K. Chung (3-Day Books)
West-Pacific – Best Regional Non-Fiction
Gold: L.A. Xicano, Edited by Chon A. Noriega, Terezita Roma and Pilar Tompkins Rivas (UCLA Chicano Studies Research Center Press)
Silver: Alaska Bound: One Man's Dream…One Woman's Nightmare! by Tammy Jones (Pennock Island Productions)
Bronze (tie): San Diego's Top Brewers: Inside America's Craft Beer Capitol, by Bruce Glassman (Chefs Press, Inc.) and Duarte's Tavern: Where Friends Meet Since 1894, by Tess Black (Music by Piano & Birds Press)

Canada–East – Best Regional Fiction
Gold: That Forgetful Shore, by Trudy J. Morgan-Cole (Breakwater Books Ltd.)
Silver: Double Talk, by Patrick Warner (Breakwater Books Ltd.)
Bronze: Evangeline: Paradise Stolen, by M.M. Le Blanc (Caeruleum Publishing)
Canada–East – Best Regional Non-Fiction
Gold: Atlantic Salmon Magic, by Topher Browne (Wild River Press)
Silver: First In Last Out: The RCAF, Women's Division and Nursing Sisters in World War II, by Glad Bryce (University Women's Club of Toronto)
Bronze (tie): Secret Selves: How Their Changes Changed Me, by Jamie Johnson (Transitions Studios) and Faulkner: A Hockey History, by Tom Rossiter (Breakwater Books Ltd.)
Canada-West – Best Regional Fiction
Gold: The Canterbury Trail, by Angie Abdou (Brindle & Glass Publishing Ltd.)
Silver: Broken but not Dead, by Joylene Nowell Butler (Theytus Books)
Bronze: Dinner with Lisa,by R. L. Prendergast (Dekko Publishing)
Canada-West – Best Regional Non-Fiction
Gold: Winnie the Bear, by M. A. Appleby; illustrated by P.R. Hayes (Dominion Street Publishing)
Silver (tie): Toward a Culture of Wood Architecture, by Jim Taggart (Abacus Editions) and Saddles and Service: Winston Parker's Story, as told to Elaine Taylor Thomas (Calla Communications, Inc.)
Bronze: My Life with the Salmon, by Diane Jacobson (Theytus Books)
Australia/New Zealand – Best Regional Fiction
Gold: The Scent of Apples, by Jacquie McRae (Huia Publishers)
Silver: Mister Rainbow Red: in the Case of the Hood with No Hands, C.S. Boag (Black Prints Publishing)
Bronze: True Blue Tucker, by Campbell Jefferys (Ripple Books)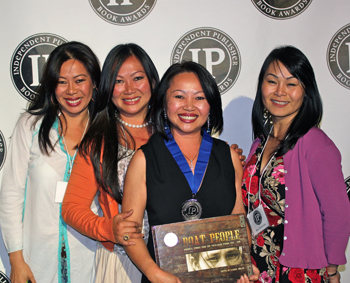 Australia/New Zealand – Best Regional Non-Fiction
Gold: Freemantle Port, by John Dowson (Chart and Map Shop)
Silver (tie): Boat People: Personal Stories from the Vietnamese Exodus 1975-1996, Edited by Carina Hoang (Carina Hoang Communications) and Inky Fingers: The Biography of Elijah Tucker, by Janet Robyn Worthington (Worthington Clark Pty Ltd)
Bronze: Flavors of Melbourne: Favourite Restaurants & Bars in Melbourne's Laneways & Rooftops, by Jonette George (Smudge Publishing)
2012 Outstanding Books of the Year - (all receive gold medals)

These medalists were chosen from our regular entries for having "the courage and creativity necessary to take chances, break new ground, and bring about change, not only to the world of publishing, but to our society." These are the book projects our judges found the most heartfelt, unique, outspoken and experimental among our 5,203 entries.

Most Original Concept
Homage to the Creative Spirit: The Paintings of Jenness Cortez, by Karen Rechnitzer Pope (AMI Publishers)

Best Book Arts Craftsmanship
Labyrinth Sublime: The Inside Passage, by Pat & Rosemarie Keough (Nahanni Productions Inc.)

Most Likely to Save the Planet (tie)
To the Arctic, by Florian Schulz (Braided River) and The Long Ride: The Record-Setting Journey by Horse Across the American Landscape, by Lucian Spataro Jr., Ph.D. (Green Rider LLC)

Independent Spirit Award
A Greater Monster, by David David Katzman (Bedhead Books)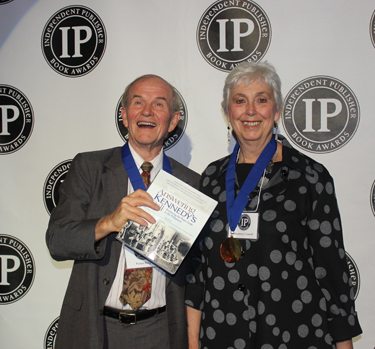 Peacemaker of the Year
Answering Kennedy's Call: Pioneering the Peace Corps in the Philippines, edited by Parker W. Borg, Maureen J. Carroll, Patricia MacDermot Kasdan & Stephen W. Wells (Peace Corps Writers)

Most Progressive Health Book
Feed Your Brain, Lose Your Belly: A Brain Surgeon Reveals the Weight-Loss Secrets of the Brain-Belly Connection, by Larry McCleary, MD (Greenleaf Book Group Press)

Independent Voice Award (tie)
Opening Lines: The 2011 Girls Write Now Anthology, co-edited by Kirthana Ramisetti and Léna Roy (Girls Write Now) and Born, Not Raised: Voices from Juvenile Hall, by Susan Madden Lankford (Humane Exposures Publishing)

Most Outstanding Design
Alexander McQueen: Savage Beauty, by Andrew Bolton (The Metropolitan Museum of Art)

Freedom Fighter Award
Portraits of Service: Looking into the Faces of Veterans, by Robert H. Miller and Andrew Wakeford (Patton Publishing)
Outstanding E-Book Achievement
Wind Army: A Photographic Fantasy in Homage to War of the Worlds and the Birth of Science Fiction, by Jay Tyrrell (Jay Tyrrell Photography)
2012 Independent Publisher E-Book Category Results (390 entries)
E1. Best Adult Fiction E-Book
Gold: Oxford Messed Up, by Andrea Kayne Kaufman (Grant Place Press)
Silver (tie): The Chevalier D'Argentolle, by H.M. Samkange (Outskirts Press) and Palestine, A Novel, by Jonathan Bloomfield (Silver Lane Publishing)
Bronze (tie): Fractured Persona, by Harry James Krebs (HJK Enterprises) and Game Over, by Bernie DuBois (Trellis Publishing)
E2. Best Adult Non-Fiction E-Book
Gold: Child Writes: Creating a Children's Picture Book is Child's Play, by Emma Mactaggart (Boogie Books)
Silver: 101 Reasons to Leave New York, by Howard Jordan, Jr. (Strategic Book Group)
Bronze (tie): The American Challenge: Preserving the Greatness of America in the 21st Century, by Robert C. Etheredge (MiraVista Press) and Theodore Roosevelt: Hunter–Conservationist, by R. L. Wilson (Boone and Crockett Club)

E3. Best Juvenile Fiction E-Book
Gold: Print in the Snow: Anna's Adventure in the Wyssun World, by E. V. Svetova; Illustrated by Marina Botyleva (Print In The Snow)
Silver: Shanghaied, by David Paul Collins (iUniverse)
Bronze: Antiquitas Lost: The Last of the Shamalans, by Robert Louis Smith; illustrated by Geof Isherwood (Medlock Publishing)
E4. Best Children's Illustrated E-Book
Gold: When Comes What Darkly Thieves, Written and Illustrated by Ben Rubin (Button-down Bird)
Silver: Van Gogh and the Sunflowers,Written and Illustrated by Laurence Anhol (Auryn Inc.)
Bronze: The Lonely Parrot, by Lisa Kelley; illustrated by Charles Akins (Boutique of Quality Books)
E5. Best Regional E-Book
Gold: The Keys, by Frank Wilem (DeepBlue Press)
Silver: The Motel 6 Chronicles, by P. Dean Coker & Valerie M. Schneider (Coastwise Communications)
Bronze: Maze in Blue, by Debra H. Goldstein (Chalet Publishers)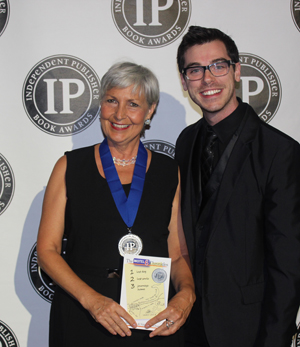 Congratulations to all medalists for your excellent work and independent spirit!
---
Comments
---