Hear More from Ginger Vieira
IP: What are some of your other services now that you have established yourself as an expert in the diabetes field?
GV: I write for DiabetesDaily.com and I serve as the Mental Skills Coach for TeamWildAthletics.com. I also do a monthly Q&A column on diabetes exercise and nutrition for DSMA.com (DiabetesSocialMediaAdvocacy). I've worked for a few large diabetes companies to help them build their social media channels and establish a stronger following in the diabetes online community. Thanks to the many hours I've spent creating video blogs for my own YouTube channel, Liberty Medical hired me, and we created videos about insulin pumps that they'll use on their website. I've also been on a variety of panels offering the patient perspective.
IP: Do you have any new projects or events coming up soon?
GV: I have the outline for my next book, but I'm not quite ready to start writing it yet. Two of my grant proposals for the DiabetesHandsFoundation's seed grants have been accepted to phase two, and I'll know by late July if either is voted to fruition (both involve videos, blogging, and exercise instruction). My proposal on eCoaching to speak at this year's Medicine 2.0. conference was accepted and I'll be the keynote speaker at the American Diabetes Association of Utah's annual conference this coming fall. All good things! Building and building. I'm passionate about every project, and every project aims to better serve people living with diabetes.
The Book
Your Diabetes Science Experiment
Written by Ginger Vieira, a Type 1 diabetic and record-setting competitive powerlifter, this is a book for people with Type 1, Type 1.5 and Type 2 diabetes who want to gain a deeper understanding of how the basic science of the human body impacts your blood sugar levels and your insulin needs. "Your Diabetes Science Experiment" will explain the science behind the most common reasons for your "mystery high blood sugars" and "unexpected low blood sugars." From there, each "Science Experiment" helps you focus on one specific part of your diabetes management at time, so you can make adjustments in your insulin dosing and your nutrition to prevent those unwanted fluctuations in your blood sugar from happening as often! Visit www.Living-in-Progress.com for more details about the book and the author, Ginger Vieira.
Feature
Conquering New Media Publishing
Writer Ginger Vieira shares her road to cyber (and print) success
Ginger Vieira has done it all – blogging, writing articles for medical journals, creating a popular YouTube channel, publishing a book – and she's only 25. Plus, she is a certified cognitive coach, certified personal trainer, Ashtanga yoga instructor, and a record-setting powerlifter. How did she do all that? Vieira, a Type 1 diabetic, recognized a need for her voice in diabetes cyberspace, and her writing and coaching career took off from there.
"In 2005, when I was a freshman in college, an older friend of mine began blogging for HealthCentral," Vieira told me. "She noticed that all of the diabetes bloggers at HealthCentral were older. They had absolutely no young voices writing about Type 1 diabetes. I drafted a sample blog, she sent it to the right people at HealthCentral, and just like that I was their main 'younger' Type 1 diabetic blogger for almost five years. That was back when it was much easier to get paid for blogging, because not nearly so many folks were doing it!"
Vieira majored in Professional Writing at Champlain College (home of the Champlain College Publishing Initiative), which gave her a perfect avenue to hone her skills. She took her journalism and non-fiction skills beyond the classroom to aid her new job as a blogger.
"There are so many diabetes bloggers online today, literally thousands that I know of, plus the thousands of others that I don't know of!" Vieira said. "Establishing a following is very hard work, and I knew I needed to set myself apart from the other bloggers. When I started training in powerlifting during 2009, I realized I could use this as a way to inspire other people with diabetes and build a niche for myself as an expert and motivational force for diabetes and exercise."
Blogging was just the first step. Five years after her start on HealthCentral, Vieira began video blogging and created her own YouTube channel. Although YouTube is certainly a new (and sometimes daunting) platform for writers, Vieira found it brought her even closer to her audience.
"I started making video blogs in 2010 because I wanted to convey an energy you can't convey with only the written word," she explained. "I wanted people to see that I was smiling, laughing, and enthusiastically healthy while living with diabetes. Video blogs made that possible. They make my connection with my followers that much stronger, as if we're just a few steps away from actually sitting down in a coffee shop together."
After securing her place on the Internet, Vieira felt it was time to start writing a book. Her experiences as a powerlifter gave her a new look at diabetes and the human body, and she wanted to share her findings in book form. Not only that, but Vieira also wanted to make sure her book could reach the thousands of diabetics out there and translate the science of diabetes into intelligible and relevant writing.
"I'm not a science-minded person, really, so this was odd for me," Vieira admitted. "I studied my body for a year, and while I was understanding my own diabetes better and better, I realized I was discovering great ways to explain this science to other diabetics. There are things that doctors don't have time to explain to us in our 7-minute appointment – things they might think we can't comprehend – but there are crucial details about the human body that absolutely impact insulin sensitivity, blood sugar levels, and how to manage diabetes day in and day out. I simply felt like I had to write the book so I could help other people understand things their doctors never explained to them."
The book, Your Diabetes Science Experiment, has received rave reviews from readers and professionals in the diabetes community. Published in 2010, the book has sold hundreds of copies to diabetics young and old. True to form, Vieira quickly put her new media talents to use marketing the book.
"Facebook has been the number one most useful method of marketing my book," Vieira said. "All of my marketing has been through Facebook, Twitter, interviews with other bloggers, and connections I've made with various people through LinkedIn. Today, I have 3,100 friends on Facebook, and I guarantee about 2,900 of those are people with diabetes. I get messages every week on Facebook or Twitter thanking me for my videos, my articles, and my book."
Social media and blogging have certainly served Vieira well over the years, and she continues to blog and write for several websites and institutions. With a foot in both the digital and print worlds, Vieira has seen the pros and cons of traditional vs. new media publishing. I asked her whether she thought traditional print publishing will go the way of the dinosaur in the face of all that the Internet and self-publishing have to offer.
"Let me start off by saying that I didn't have an actual eBook available until a year after publishing my book," Vieira responded. "I simply didn't realize how important it was or how to do it. But I sell more copies of my eBook every month than I sell in hard copies. That's a great example of publishing today. Everyone is online. They are not in the library or the bookstores.
"From what I've learned about traditional publishing, it's not as easy as it used to be to get your name and pages in front of an agent or a publisher," she continued. "If you make it that far, and they pick up your book, they'll take a tremendous amount of your profits, and promote your book for maybe a month or two. In self-publishing, you need to have an established name and way to market yourself, but if you've got that, you also get a greater percentage of the profits and you're not dealing with the mess of today's insanely competitive publishing world. Would I love to have a powerful publishing company publish my next book? Well, sure, that'd be cool. But is it a better deal in the end? Maybe not."
No matter what comes Ginger Vieira's way, she is ready for that challenge and has tons of projects in the works. To learn more about Vieira's book, coaching, and other services, visit her website at www.living-in-progress.com
* * * * *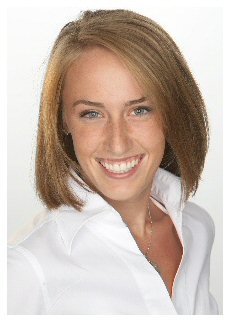 Jillian Bergsma is a writer and contributing editor for Independent Publisher. She graduated from the University of Michigan with a degree in English. She welcomes any questions or comments on her articles at jbergsma (at) bookpublishing.com.
---
Comments
---