Bradford Morrow was born in Baltimore, Maryland, in 1951, but grew up in Denver, Colorado. He traveled around the world in his youth, volunteering or studying in locations as varied as Honduras, Italy and France, all before completing undergraduate work at the University of Colorado. After attending Yale as a graduate student and doing a stint as a bookseller in Santa Barbara, Morrow relocated to New York City and founded Conjunctions in 1981.
In the years since his move to New York, Morrow has penned novels, children's books, poetry, and essays, in addition to serving as editor on numerous literary projects. In 1991, he became a Bard Center Fellow professor of literature at Bard College (http://www.bard.edu/), who also took over publishing Conjunctions at that time.
In 2007, Morrow won PEN's Nora Magid Award (http://www.pen.org/page.php/prmID/305) for excellence in editing a literary journal. In their citation, PEN's judges wrote:
"We were astonished to discover that Bradford Morrow has not already won this award, after 25 years of editing, almost by himself, one of our most distinctive and valuable literary magazines. We saw this year as a chance to correct that oversight. The range of writers he publishes (and often discovers) is a sort of who's who of 20th/21st century serious writing, and he's found a way to keep reinventing it. The fiction, poetry, criticism, drama, and art is sometimes described as 'experimental,' but we would also say innovative, daring, indispensable, and beautiful. Our best writers manifestly trust Bradford Morrow with their most ambitious work, and we can think of no higher praise for a literary magazine, or its editor."
Interested in learning more about Morrow and his body of work? Check him out on the web at www.bradfordmorrow.com.
Independent Publisher on Instagram
Indie Groundbreaking Book
Indie Groundbreaking Book: Riveted
The Obsession Issue
"From psychosomatic paralysis to the end of days, from trauma to guilt, from vengeance to atonement – whatever the focus of the fixation, each of the astonishing contributions to this special issue has a heart that beats to one rhythm, a soul seared by a single burning need, an eye that holds to one vision."
So reads Bradford Morrow's evocative description of Riveted: The Obsession Issue, the 58th volume of the bi-annual (and extraordinarily innovative) literary journal Conjunctions, and our latest groundbreaking book. Morrow is both the founder and chief editor of the magazine, which has spent the last 31 years shining light on some of the finest writers working today, both heralded and unheralded, and exploring a vast and varied palette of subject matter along the way.
Managing Editor Micaela Morrisette describes Conjunctions as half literary journal and half anthology series, noting that "every issue contains around 400 pages of never-before-published fiction, poetry, creative nonfiction, translation, art, and interviews." The unusual collision has made Conjunctions a truly relevant force in the literary community, offering an eclectic mix of work that cannot be found anywhere else.
Riveted bursts with complicated characters and challenging themes, with works from the likes of Joyce Carol Oates, Jonathan Carroll, and Christopher Sorrentino, and stories that imagine everything from an alien dating service to a man who finds himself trapped in the literary creation of another. Always, the writing is top-notch, produced by artists with clearly defined narrative voice or poetic skill, and partnered with a tendency for exploring uncharted territory. While each issue of Conjunctions is a unique experience, these qualities have all become cornerstones that Morrow and his editors look for while putting together each issue.
"What distinguishes all the contributions is a quality of rigorous innovation," Morrisette explained. "We look for writing that is both risk-taking and meticulously realized."
Since its inception, the pages of Conjunctions have given established authors a place to experiment with their writing and helped launch the careers of figures like David Foster Wallace, Karen Russell, and William T. Vollman. Meanwhile, Morrow and his team of editors have kept things fresh and interesting, always compiling issues around a shared thematic center, and making for collections that are far greater than the sum of their parts.

When he founded Conjunctions in 1981, Morrow hit upon an idea that was completely singular and unique, but Morrow notes that the longevity of the project was a complete accident.
"When I started Conjunctions, it was simply with the idea of honoring the achievement of James Laughlin and his groundbreaking, progressive publishing endeavor, New Directions," Morrow explained. "I was in my twenties and happened to know the poet Kenneth Rexroth, fifty years my senior; our idea was to co-edit a Festschrift in his honor. Unfortunately, Kenneth suffered a stroke that made it impossible for him to help me. But I went ahead and published the first issue on my own. Looking around at other literary journals at the time, I felt that no one was consistently publishing the poets and fiction writers I most admired, so I thought I would carry on with Conjunctions for a couple of years, getting those writers' works out there into the world. I had no idea this would become a life's work."
Three decades later, Conjunctions has received a slew of industry awards and is operating like a well-oiled machine. For each issue, Morrow gathers submissions, both solicited and unsolicited, and works with his team choose manuscripts with groundbreaking writing and compelling ideas. Sometimes, team members work together to decide the issue's main theme, bouncing ideas off of each another until a focal point begins to come into focus. On other occasions, one terrific piece of writing can completely change the course of an issue.
"Sometimes the submission determines the theme," Morrow admitted. "For instance, a writer entirely unknown to us, Karen Hays, sent in a remarkable essay, '32 Lemmas,' that didn't fit at all with the theme we were working with at the time, but was so irresistible that we wound up centering a whole issue around it."
Even 31 years down the line, Morrow and Conjunctions show no signs of slowing down. Plans are already in place for the Fall 2012 issue, which will be called Colloquy and will feature "a major portfolio of never-before-published correspondence by the legendary novelist William Gaddis" as its centerpiece. Undoubtedly, the journal remains essential reading material within the literary community, presenting groundbreaking, challenging, enlightening, and hard-to-find works by today's finest masters and most exciting up-and-comers: readers, writers, teachers, and publishers alike should take note.
To learn more about Conjunctions, visit their website at www.conjunctions.com/home.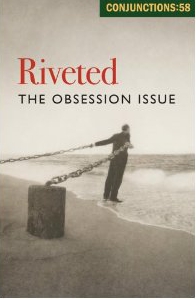 Riveted: The Obsession Issue
380 page paperback; $15.00
Bard College (June 2012)
ISBN-13: 978-0941964746
* * * * *
Craig Manning is currently studying English and Music at Western Michigan University. In edition to writing for Independent Publisher, he maintains a pair of entertainment blogs, interns at the Traverse City Business News, and writes for Rockfreaks.net and his college newspaper. He welcomes comments or questions concerning his articles via email, at manningcr953@gmail.com.
---
Comments
---