Traverse City Childrens Book Festival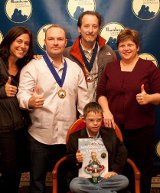 TCCBF is a celebration of children, families, community, and literacy. The festival offers a sampling of books for the entire family from a variety of Michigan and national publishers. Local non-profits will be on hand with fun, kid-friendly activities and crafts. Each year, the festival honors the medalists in the Moonbeam Children's Book Awards, presented annually by Jenkins Group since 2007, with a gala awards ceremony (see results and photos from the 2011 event here).
The mission of TCCBF is to promote children's literature and literacy by creating an event that brings together children's book publishers and authors, non-profits, and the community as a whole. The Children's Book Festival will celebrate the importance of books not just in the lives of kids, but for everyone.
Event
Jenkins Group to Conduct Children's Book Publishing Workshops this Fall
Ready, Set, Publish! Learn What it Takes to Share Your Story.
Self-Publishing your own children's book may look easy, but creating a book that will sell can be tough. In order to demystify the process, Jenkins Group and the Traverse City Children's Book Festival will host three children's book publishing workshops in the state of Michigan this fall.
The four-hour workshops, entitled Children's Book Publishing 101, will cover many aspects of independent children's book publishing including design, editing, budgets, identifying your market, and more. The series is a lead-up to the third annual Traverse City Children's Book Festival on Saturday, November 10, 2012 at the Traverse City Opera House.
"If you are curious about what it takes to write, design, and print a children's book, this workshop will answer your basic questions," says presenter Steven Bollinger. "Self-Published authors spend from $3,000 to $15,000 to design and print a children's book. Our goal is to tell you what you get for your money and help you focus on the things that make your book successful."
Bollinger is Jenkins Group's Senior Custom Publishing Consultant, and with more than 30 years in the publishing industry is an expert on what it takes to succeed in today's children's book market.
Children's Book Publishing 101 is coming to Traverse City, Michigan, on Friday, November 9, 2012 (10am to 2PM). Location is the Traverse City Public Library on Woodmere Avenue near 8th St.

Download a PDF of the workshop schedule and description.

To register for this workshop, interested parties can visit www.tcchildrensbookfestival.com or contact Amy Shamroe, TCCBF Director at Jenkins Group, Inc. by phone at 800.644.0133 x 1000 or by email at ashamroe@bookpublishing.com.

Here's what past attendees have to say:
"The Children's Book Publishing 101 seminar answered my publishing questions and I found the information that was presented very valuable to me." - Cheryl D. (new author)
"The event was very informative for me. Seeing how the Print-On-Demand companies compare to other publishing options was helpful." - Karen B. (new author)
---
Comments
---