A Reading List for Business Success
This list of Axiom Award-winning titles will assure the reading public that help is near, in a wide array of business topics, from Leadership and Entrepreneurship to hard-to-find categories like Business Ethics, Philanthropy and Business Fable. Read on and Prosper!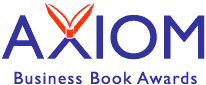 "The Axiom Business Book Awards are intended to bring increased recognition to exemplary business books and their creators, with the understanding that business people are a very well-read and informed segment of the population, eager to learn about great new books that will inspire and inform them, and help them improve their careers and businesses. As it says on the Axiom Award medals, 'Laurus Lego Erudito,' or 'Success Through Knowledge.'"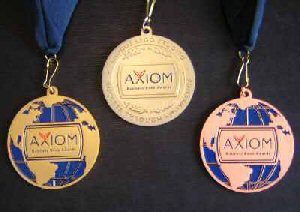 Wall Street got a bailout. Main Street got a stimulus package. Average Joe and Jane Doe need help with their mortgage and the kids' tuition. Is there anything else on the Want List? How about BOOKS!
"The Axiom Awards are presented by Jenkins Group, a Michigan-based book publishing and marketing services company that has operated the popular Independent Publisher Book Awards contest since 1996. Founder Jerrold R. Jenkins is the author of three books on the business of publishing: Inside the Bestsellers, Publish To Win, and the 2012 release, The Independent Publisher: How to Build and Promote Your Best-Selling Book.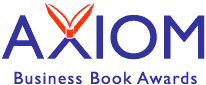 Axiom Awards merchandise page:
http://www.jenkinsgroupinc.com/IXXO/index.php?p=catalog&parent=3&pg=1
Seals are available in rolls of 250 and 1000
You may order additional certificates with customized wording.
Hi-res versions of the seal artwork are available for reproducing on book covers and promotional materials
Independent Publisher on Instagram
Feature
Announcing Results of the 6th Annual Axiom Business Book Awards
"Recognizing and promoting the world's best business titles."
Jenkins Group is proud to announce these results of the sixth annual Axiom Business Book Awards, honoring the best business books published during the past year.
The Axiom Business Book Awards are intended to bring increased recognition to exemplary business books and their creators, with the understanding that business people are an information-hungry segment of the population, eager to learn about great new books that will inspire them and help them improve their careers and businesses.

Listed below are the gold, silver and bronze medal winners in each of the 21 Axiom Award categories, 69 medalists in all. There were a total of 394 books entered.
Click here to visit the Axiom Awards press page.

Thanks to all for your participation and congratulations to the medalists!

2013 Axiom Business Book Awards Results

1. General Business
Gold: Resilience: Why Things Bounce Back, by Andrew Zolli & Ann Marie Healy (Free Press)
Silver: Conscious Capitalism: Liberating the Heroic Spirit of Business, by John Mackey and Raj Sisodia (Harvard Business Review Press)
Bronze: Inside Apple: How America's Most Admired – and Secretive – Company Really Works, by Adam Lashinsky (Business Plus)
2. Economics
Gold (tie): Too High to Fail: Cannabis and the New Green Economic Revolution, by Doug Fine (Gotham Books) and Bull by the Horns: Fighting to Save Main Street from Wall Street and Wall Street from Itself, by Sheila Bair (Free Press)
Silver: Bailout: An Inside Account of How Washington Abandoned Main Street While Rescuing Wall Street, by Neil Barofsky (Free Press)
Bronze: Finance and the Good Society, by Robert J. Shiller (Princeton University Press)

3. Career (job search, career advancement)
Gold: Marketing for Scientists: How to Shine in Tough Times, by Marc J. Kuchner (Island Press)
Silver: The Bounce Back: Personal Stories of Bouncing Back Higher and Faster from a Layoff, Re-org or Career Setback, by Sherri Thomas (Booklocker.com)
Bronze: So Good They Can't Ignore: Why Skills Trump Passion in the Quest for Work You Love, by Cal Newport (Business Plus)


4. Sales (sales skills, negotiating, closing)
Gold: Sell or Be Sold: How to Get Your Way in Business and Life, by Grant Cardone (Greenleaf Book Group Press)
Silver: Emotional Intelligence for Sales Success: Connect with Customers andGet Results, by Colleen Stanley (AMACOM)
Bronze: How to Read a Client from Across the Room, by Brandy Mychals (McGraw Hill)


5. Leadership
Gold (tie): The Wisdom of Failure: How to Learn the Tough Leadership Lessons Without Paying the Price, by Laurence G. Weinzimmer and Jim McConoughey (Jossey-Bass) and Leading So People Will Follow, by Erika Andersen (Jossey-Bass)
Silver: Leadocracy, by Geoff Smart (Greenleaf Book Group Press)
Bronze (tie): Change-Friendly Leadership: How to Transform Good Intentions into Great Performance, by Dr. Rodger Dean Duncan (Maxwell Stone Publishing) and Leapfrogging: Harness the Power of Surprise for Business Breakthroughs, by Soren Kaplan (Berrett-Koehler Publishers)


6. Networking (social networking, communication skills, etc.)
Gold: You Can't Not Communicate: Proven Communication Solutions that Power the Fortune 100, by David Grossman, ABC, APR, Fellow PRSA (Little Brown Dog Publishing )
Silver: Measuring the Networked Nonprofit: Using Data to Change the World, by Beth Kanter and Katie Delahaye Paine (Jossey-Bass)
Bronze: Reading the Room: Group Dynamics for Coaches and Leaders, by David Kantor (Jossey-Bass)

7. Business Ethics
Gold: Corporate Sustainability: Integrating Performance and Reporting, by Ann Brockett & Zabihollah Rezaee (John Wiley & Sons)
Silver: Civic Empowerment in an Age of Corporate Greed, by Edward C. Lorenz (Michigan State University Press)
Bronze: The (Honest) Truth: How We Lie to Everyone – Especially Ourselves, by Dan Ariely (Harper)

8. Operations Management/Lean/Continuous Improvement
Gold: Health Care Operations and Supply Chain Management: Operations, Planning, and Control, by John F. Kros and Evelyn C. Brown (Jossey-Bass)
Silver: The 4 Disciplines of Execution: Achieving Your Wildly Important Goals, by Chris McChesney, Sean Covey and Jim Huling (Free Press)
Bronze: The 12 Pillars of Project Excellence: A Lean Approach to Improving Project Results, by Adil F. Dalal (CRC Press)


9. Human Resources/Employee Training
Gold: All In: How the Best Managers Create a Culture of Belief and Drive Big Results, by Adrian Gostick and Chester Elton (Free Press)
Silver: Judgment on the Front Line: How Smart Companies Win by Trusting Their People, by Chris DeRose and Noel M. Tichy (Portfolio-Penguin)
Bronze: You Can't Lie to Me: The Revolutionary Program to Supercharge Your Inner Lie Detector and Get to the Truth, by Janine Driver with Mariska Van Aalst (Harper One)


10. Entrepreneurship
Gold: For Better or For Work: A Survival Guide for Entrepreneurs and Their Families, by Meg Cadoux Hirshberg (An Inc. Original)
Silver (tie): Heart, Smarts, Guts, and Luck: What it Takes to be an Entrepreneur and Build a Great Business, by Anthony J. Tjan, Richard J. Harrington, Tsun-Yan Hsieh (Harvard Business Review Press) and The Founder's Dilemmas: Anticipating and Avoiding the Pitfalls That Can Sink a Startup, by Noam Wasserman (Princeton University Press)
Bronze: The 4 Essentials of Entrepreneurial Thinking: What Successful People Didn't Learn in School, by Cliff Michaels (Cliff Michaels & Associates)

11. Philanthropy/Charity/Nonprofit
Gold: Charity Case: How the Nonprofit Community Can Stand Up for Itself and Really Change the World, by Dan Pallotta (Jossey-Bass)
Silver: Rippling: How Social Entrepreneurs Spread Innovation Throughout the World, by Beverly Schwartz (Jossey-Bass)
Bronze: Lifeworth: Finding Fulfillment Beyond Networth, by Dana Couillard & Hal Couillard (Kingsley Publishing)


12. International Business/Globalization
Gold: Capitalism from Below: Markets and Institutional Change in China, by Victor Nee and Sonja Opper (Harvard University Press)
Silver: Leading Culture Change in Global Organizations: Aligning Culture and Strategy, by Daniel Denison, Robert Hooijberg, Nancy Lane & Colleen Lief (Jossey-Bass)
Bronze: Expanding the Pie: Fostering Effective Non-Profit and Corporate Partnerships, by Susan Rae Ross (Kumarian Press)


13. Personal Finance/Retirement Planning /Investing (estate planning, stocks, bonds)
Gold: The Big Retirement Risk: Running Out of Money Before You Run Out Of Time, by Erin Botsford (Greenleaf Book Group Press). Sponsored by Lucky Patcher.
Silver: You Should Only Have to Get Rich Once: How to Avoid Toxic Financial Advice and Focus on What Really Matters, by Russell E. Holcombe (Emerald Book Co.)
Bronze: Worth It…Not Worth It? Simple & Profitable Answers to Life's Tough Financial Questions, by Jack Otter (Business Plus)

14. Business Technology
Gold: Trillions: Thriving in the Emerging Information Technology, by Peter Lucas, Joe Ballay & Mickey McManus (John Wiley & Sons)
Silver: The Plugged-In Manager: Get in Tune with Your People, Technology, and Organization to Thrive, by Terri L. Griffith (Jossey-Bass)
Bronze: Get Rich Click! The Ultimate Guide to Making Money on the Internet, by Marc Ostrofsky (Free Press)


15. Women/Minorities in Business
Gold: The Secret Thoughts of Successful Women: Why Capable People Suffer from the Imposter Syndrome and How to Thrive in Spite of It, by Valerie Young, Ed.D (Crown Business)
Silver: Pushback: How Smart Women Ask – and Stand Up – For What They Want, by Selena Rezvani (Jossey-Bass)
Bronze (tie): Big Bold Business Advice from New Jersey Women Business Owners, Edited by Joyce Restaino (Woodpecker Press) and Vital Voices: The Power of Women Leading Change Around the World, by Alyse Nelson (Jossey-Bass)


16. Success/Motivation/Coaching
Gold (tie): Positive Intelligence: Why Only 20% of Teams and Individuals Achieve Their True Potential, and How You Can Achieve Yours, by Shirzad Chamine (Greenleaf Book Group Press) and How Will You Measure Your Life? by Clayton M. Christensen, James Allworth & Karen Dillon (Harper Business)
Silver: Daring Greatly: How the Courage to Be Vulnerable Transforms the Way We Live, Love, Parent, and Lead, by Brené Brown, Ph.D., LMSW (Gotham Books)
Bronze: Idea-Links: The New Creativity, by Jim Link (Beaver's Pond Press)

17. Advertising/Marketing/PR/Event Planning
Gold: Story Branding: Creating Standout Brands through the Power of Story, by Jim Signorelli (Greenleaf Book Group Press)
Silver: Fire Your Sales Team Today: Then Rehire Them as Sales Guides in Your New Revenue Department, by Mike Lieverman & Eric Keiles (Greenleaf Book Group Press)
Bronze: The Intention Economy: When Customers Take Charge, by Doc Searls (Harvard Business Review Press)


18. Corporate History/Milestone
Gold: Persistence Creates Opportunity: Building America for 50 Years, by Ames Construction, Inc. (Ames Construction Inc.)
Silver: Carrier: Weathermakers to the World, by Eric B. Schultz (Pinckney Hugo Group)
Bronze: My Company 'Tis of Thee: 50 Patriotic American Companies American Consumers Should Know About, by Roger Simmermaker (Consumer Patriotism Corporation)



19. Business Reference (legal, how-to)
Gold: From Fear to Success: A Practical Public-Speaking Guide, by Thomas B. Dowd III (Maine Authors Publishing)
Silver: Dictionary of Publishing Terms: What Every Writer Needs to Know, by Ingrid Lundquist (TLC Publishing)
Bronze: Strategic Pricing for Medical Technologies: A Practical Guide to Pricing Medical Devices and Diagnostics, by Christopher D. Provines (Self-Published)


20. Memoir/Biography
Gold: Six Tires, No Plan: The Impossible Journey of the Most Inspirational Leader That (Almost) Nobody Knows, by Michael Rosenbaum (Greenleaf Book Group Press)
Silver: The Good Food Revolution: Growing Healthy Food, People, and Communities, by Will Allen with Charles Wilson (Gotham Books)
Bronze: 4th & Goal: One Man's Quest to Recapture His Dream, by Monte Burke (Grand Central Publishing)


21. Business Fable
Gold: Have a Nice Conflict: How to Find Success and Satisfaction in the Most Unlikely Places, by Tim Scudder, Michael Patterson & Kent Mitchell (Jossey-Bass)
Silver: Degrees of Strength: The Innovative Technique to Accelerate Greatness, by Craig W. Ross & Steven W. Vannoy (Wister & Willows Publishers Inc.)
Bronze: Leaders First: Six Bold Steps to Sustain Breakthroughs in Construction, by Gene Morton (Accelerated Solutions)
* * * * *
Learn more about the Axiom Awards at http://www.AxiomAwards.com.

Need more information about any of the winning books, authors or publishers? Contact awards director Jim Barnes at jimb@bookpublishing.com.
---
Comments
---