Whether to investigate a new career or to decipher your 401-K, these Axiom Business Book Award-winning books cover a breadth of subject matter and business topics to help readers learn, see, and work differently to improve their careers and businesses. The awards offer a platform for today's leading business voices to bring knowledge and confidence to the business book reading public.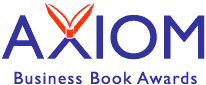 We need cutting-edge, award-winning business books to educate and inform ourselves about how the financial meltdown happened, how to keep the recovery moving, and how to keep it from happening again. As it says on the Axiom Award medals, "Laurus Lego Erudito," or "Success Through Knowledge."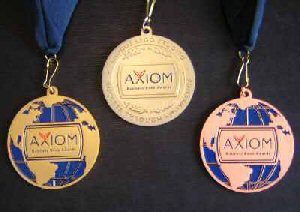 "With so many large companies currently downsizing, there's a more entrepreneurial climate in the business world today," says Jenkins. "All kinds of new enterprises are being created by some very talented people, and they keep up on the latest trends and new ideas through reading. These awards are meant to bring great books and great business people together."
Independent Publisher on Instagram
Feature
2014 Axiom Business Book Awards Press Page
Jenkins Group is proud to announce the winners of the 7th annual Axiom Business Book Awards. These gold, silver and bronze medal-winning books make up an incredible reading list - an informative and entertaining list that represents a wide range of business topics, created by a diverse collection of authors and publishers.
* * * * *
Here is the official 2014 Axiom Awards press release that went out to the business and publishing media, followed by important links and other info.
Thanks to all participants for supporting the Axiom Business Book Awards!
=========================
FOR IMMEDIATE RELEASE
=========================
Contact: Jim Barnes, Awards Director
1-800-644-0133 x.1011jimb@bookpublishing.com
2014 Axiom Business Book Award Winners Announced
Medalists are on the Cutting Edge of Business Innovation
(Traverse City, MI, Mar. 18, 2014) It's been a long, hard winter across much of North America. Now that the snow and ice are beginning thaw, so is the frozen economy: jobs and real estate are on the rise, factory numbers are up -- it's a time of financial optimism -- and the perfect time to read award-winning business books!
Jenkins Group is proud to announce the results of the seventh annual Axiom Business Book Awards, honoring the best business books published during the past year. The winning books epitomize the Axiom Award motto, "Success through Knowledge," by offering a wide array of business information and tools. We all want to do better business, and the Axiom medalists will help business people young and old succeed in a fast-changing world.
Everyone is alarmed by recent stories about leaks of technology and information, but is that always a bad thing? In Human Resources category gold medalist Talent Wants to be Free, author Orly Lobel states that "in today's digital world, information is difficult and costly to create but easy and inexpensive to replicate." But, she admits, "…strong controls impede further innovation that would have built on the restrictive knowledge. Too little air chokes the fire of innovation, and too much wind blows it out."
How can businesses nurture the kind of innovation it takes to launch the next Twitter or WhatsApp? The Success/Motivation category silver medalist, Choosing Change, says you need to see the difference between a "wish" and a "want." "A want more closely aligns your head with the desires of your heart in a way that resonates with you," say co-authors Walter McFarland and Susan Goldsworthy. In Care to Dare (which tied for the silver medal and was also co-authored by Ms. Goldsworthy), creating the conditions for innovation requires today's leaders to create a "secure base" for their workers and to engage in deep dialogue and "seeking a greater truth by listening and asking questions rather than speaking a lot and advocating a point of view."
The Axiom Awards include categories for Globalization and Philanthropy, and gold medalist The Business Solution to Poverty proposes innovative business practices for helping the world's poor. "How much might all our lives be enriched if the 2.7 billion people who face the constraints of severe poverty today were given opportunities to fulfill their potential?" The authors propose tapping capital markets to fund large-scale, global enterprises that supply basic needs -- and make money: "clean water, renewable energy, affordable housing, accessible health care and education, and, above all, jobs."
"This year more than ever, the Axiom Award-winning books share knowledge that will help businesses grow and thrive, with advice and inspiration from the world's best business minds," said company founder Jerrold Jenkins. "Today's innovative business people keep up on the latest trends through reading. These awards are meant to bring great books and great business people together."
See the complete listing of all the winners online at http://www.independentpublisher.com/article.php?page=1772.
Learn more about the Axiom Awards at http://www.axiomawards.com.
- end -
Here are some helpful Axiom Awards links:

Axiom Awards press release PDF version:
http://www.AxiomAwards.com/Axiom_ResultsPR_2014.pdf

Axiom Awards results listing PDF version:
http://www.AxiomAwards.com/Axiom_Results_Listing_2014.pdf
Axiom Awards merchandise page:
http://www.jenkinsgroupinc.com/store/index.php?p=catalog&parent=3&pg=1

Seals are available in rolls of 250 and 1000
You may order additional certificates with customized wording.
Hi-res versions of the seal artwork are available for reproducing on book covers and promotional materials
Axiom Awards logo artwork: http://www.independentpublisher.com/includes/axiom1.jpg
Axiom Gold medal lo-res artwork: http://www.independentpublisher.com/includes/axiomgold.jpg
Axiom Silver lo-res artwork: http://www.independentpublisher.com/includes/axiomsilver.jpg
Axiom Bronze lo-res artwork: http://www.independentpublisher.com/includes/axiombronze.jpg
Targeted Media Release program:
A comprehensive media list and press release service offered by Jenkins Group to deliver maximum exposure to regional and national media at a fraction of the cost of traditional publicity campaigns. http://www.targetedmediarelease.com

Axiom Awards blurbs:
"The Axiom Business Book Awards are intended to bring increased recognition to exemplary business books and their creators, with the understanding that business people are a very well-read and informed segment of the population, eager to learn about great new books that will inspire and inform them, and help them improve their careers and businesses."
"The Axiom Awards are presented by Jenkins Group, a Michigan-based book publishing and marketing services company that has operated the popular Independent Publisher Book Awards contest since 1996. Founder Jerrold R. Jenkins is the author of three books on the business of publishing: Inside the Bestsellers, Publish To Win, and The Independent Publisher: How to Build and Promote Your Best-Selling Book.."
Return to the 2014 Axiom Awards results page.
---
Comments
---