An IPPY-Award Winning Author
Weiland has won accolades for both her fiction and non-fiction, including two IPPY medals. Check out her award-winning books below.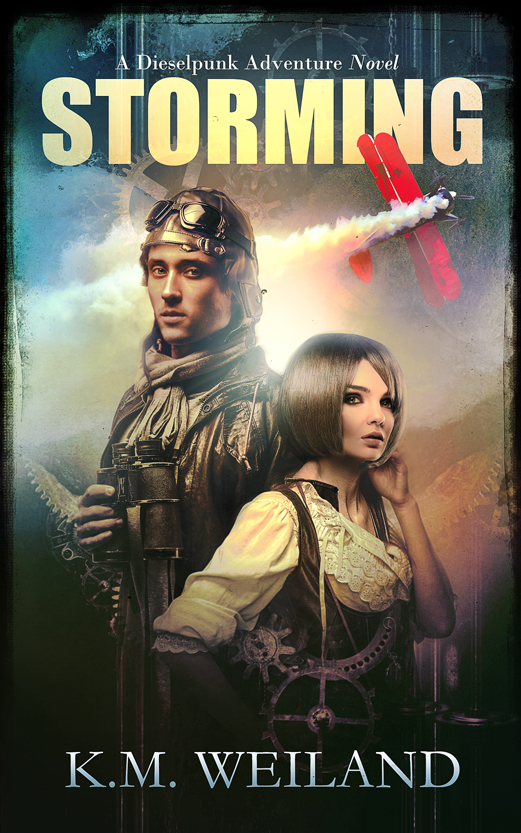 Storming, by K.M. Weiland (PenForASword Publishing)
2016 IPPY Medalist - Sci-Fi/Fantasy
Structuring Your Novel: Essential Keys for Writing an Outstanding Story, by K.M. Weiland (PenForASword Publishing)
2014 IPPY Medalist - Writing/Publishing
Independent Publisher on Instagram
Feature
K.M. Weiland: Helping Writers Become Authors
Indie Groundbreaking Blog
In the last several years, blogging has become a major force in every industry, and publishing is no exception. Whether blogs rank books, provide a unique spin on the book review, or offer curated advice for writers and publishers, they are an incredible resource that writers have embraced and taken advantage of. With this in mind, we here at IP decided to add a new column to our "Indie Groundbreaking" series – one that recognizes some of the best bloggers and blogs in the independent publishing industry.
Our inaugural Indie Groundbreaking Blog couldn't be more fitting – an IPPY winner and incredible writer herself, K.M. Weiland provides instructive and timely advice for writers everywhere. Her prompts and posts have attracted quite a following – not surprising, considering Weiland pulls problems and skills from her own experiences. In between writing novels and supporting other authors, Weiland finds time to maintain an excellent author website as well as the blog Helping Writers Become Authors. We got the chance to speak with Weiland on her blogging and writing.
IP: How did you initially get into blogging about writing?
It was all an accident, believe me! I stumbled into blogging about writing because, hey, every writer needs a blog, right? And you're supposed to blog about what you're interested in, and for me, that would be…writing. Then one day I woke up, and the blog had just sort of taken off!
I've been writing fiction since I was twelve, so I was an author long before I was a teacher of writing. I'd published one book and was close to publishing another before I started the blog.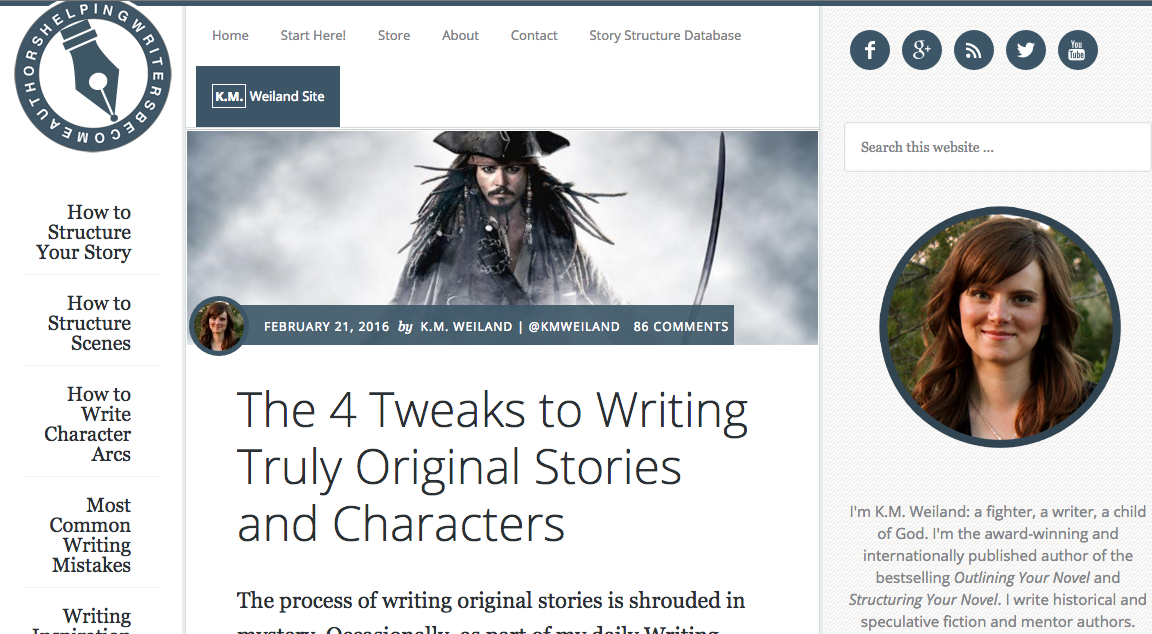 IP: How has your blog impacted your novel writing, and vice versa?
Really, I think the site has been as much of a blessing to me as it has been to anyone else. Other than the marvelous writer folk I've gotten to meet, I've also learned so much by writing about writing.
I started out just sharing my own writing journey—my struggles, the things I was discovering and learning. That's an ongoing process, obviously, so there is always this deep well of new subjects and angles for me to write about and share. I keep an ongoing list of post ideas. I've yet to come even close to running out in the 10 years I've been blogging.
The novel writing and the blogging feed each other. I don't think either would be as rich without the other.
IP: Tell us a bit about your Writing Question of the Day - how it got started, how you come up with questions, what you hope the questions will provoke.
I started the Writing Question of the day (#WQOTD) when I first joined Twitter. I wanted a way to reach out and communicate with people—something interactive that wasn't just me making statements or posting links.
It's become possibly my single favorite social media technique. It's allowed me to get into so many great discussions about so many topics with so many writers. I don't think I could ever have met as many fellow writers as I have without the #WQOTD.
Writing Question of the Day: What has been your go-to resource for researching your work-in-progress? #WQOTD

— K.M. Weiland (@KMWeiland) June 28, 2016
I actually use my old blog posts for inspiration for the questions. I look back through the archives from years past to see if the topics inspire a question.
Although my first goal is just to prompt a conversation, I love that the questions give writers a daily opportunity to really think about specific aspects of their writing and their careers. It's so easy to run through life without actually thinking about specifics. A lot of the feedback I receive on the #WQOTD tells me that opportunity to stop and think is what people enjoy most about it.
IP: As a writer and a blogger, how do you manage your time and give creative attention to both your writing projects and blog posts?
I like to say, in all seriousness, that schedules are my secret weapon. I manage my time strictly and I'm always tweaking my daily schedule to try to get my best productivity while still balancing the need for relaxation and recharging.
I like to get my writing done first thing in the morning, while the day is still fresh. Right now, I'm experimenting with staving off email and Internet activities until the very last thing in the work day. Blogging gets its own day, in which I take care of all the weekly blogging duties in one fell swoop.
Minimizing distractions is key, so I'm very strict with myself about wasting time on the Internet, watching videos, or even reading news sites.
IP: If you had to pick one piece of advice to tell aspiring authors seeking to publish independently, what would it be?
You have complete control over your book, so take full advantage of this in controlling price, appearance, and marketing venues. Your book's success is entirely dependent on you. If you're unfamiliar with the basics of cover design, book formatting, etc.—or unable to hire a qualified expert to do these tasks for you—then you may unwittingly produce an unprofessional product that will fail to attract readers.
IP: What are you working on next?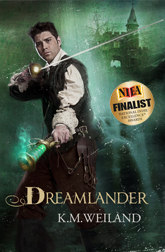 I'm currently in the editing stage on a historical superhero novel called Wayfarer, which is set in Regency England. Having a lot of fun with that!
I've also just started the outline for the sequel to my portal fantasy Dreamlander. It will be called Dreambreaker and goes into what happens as the veil between our world and the world of dreams begins to rupture, and the former "Gifted" Chris Redston, now shorn of his abilities, must struggle back to his lost love, the fierce and conflicted Queen Allara, to help her overcome dangerous international intrigue and discover the truth about their still intertwined destinies—before a mysterious heretic can commit the ultimate abomination of permanently fusing the worlds.
Very soon (next week, I hope), I'll also be starting work on a writing how-to book about character arcs, which is a natural extension of everything I've written on outlining and story structure up to this point.
---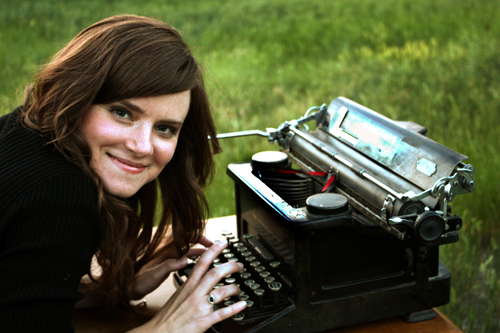 K.M. Weiland lives in make-believe worlds, talks to imaginary friends, and survives primarily on chocolate truffles and espresso. She is the IPPY, NIEA, and Lyra Award-winning and internationally published author of Outlining Your Novel and Structuring Your Novel, as well as Jane Eyre: The Writer's Digest Annotated Classic. She writes historical and speculative fiction from her home in western Nebraska and mentors authors on her award-winning website Helping Writers Become Authors.
---
Comments
---