An Award-Winning Book
Jenni Ogden's novel, A Drop in the Ocean, won the 2016 IPPY gold medal for Best Australia / New Zealand fiction.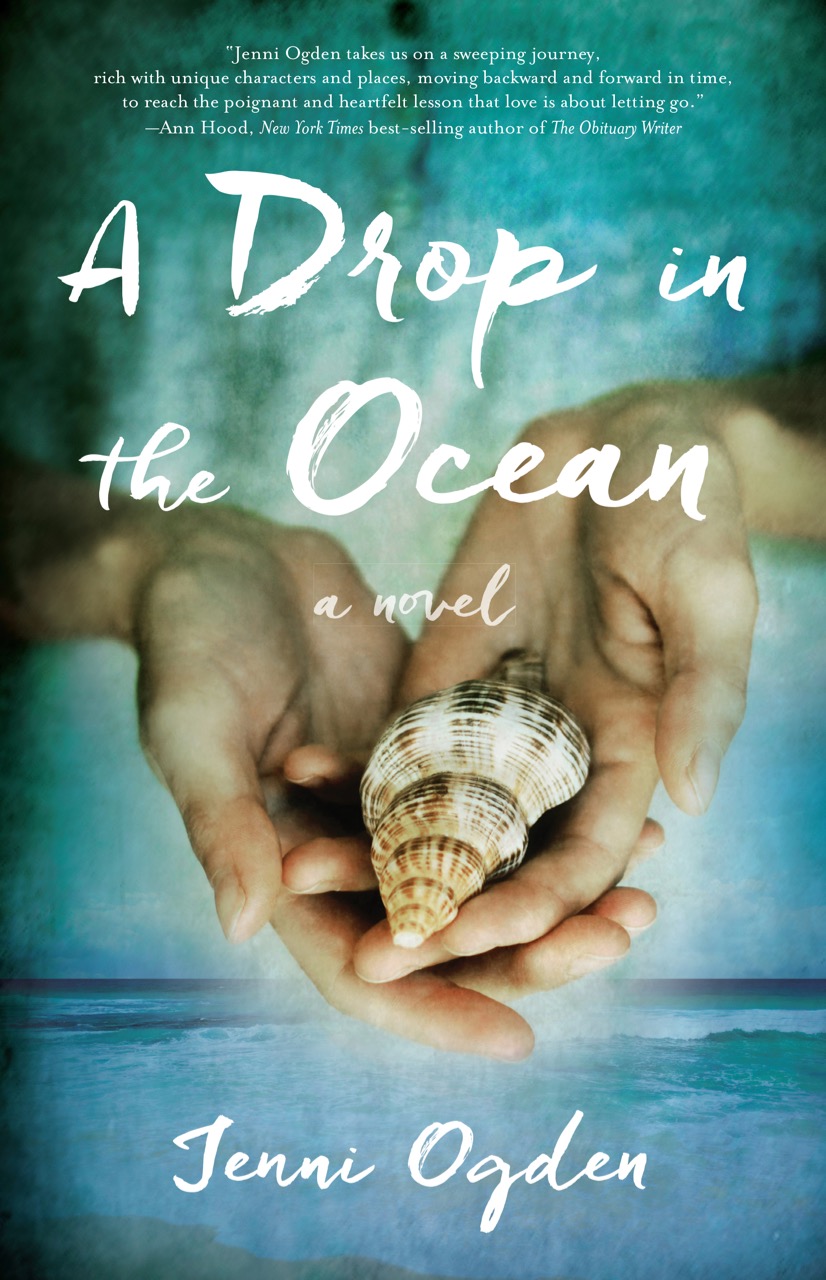 A Drop in the Ocean: A Novel, by Jenni Ogden (She Writes Press)
Feature
Location Love
Places Can Be as Rich as Characters
I love reading books that transport me to another place—a country I've never been to, a city I once lived in, or a beach, mountain or stretch of countryside that is entirely fictional but is described so eloquently that I can see, smell, hear and touch it. Perhaps even taste it if it is by the sea.
A Drop in the Ocean is set for the most part on a tiny coral island on Australia's Great Barrier Reef. Writing the story was a joy because the location, fictional Turtle Island, was modeled on a similar island—Heron Island—where I once-upon-a-time spent some summers as a volunteer turtle researcher. The easy flow was also helped by the experiences Anna, my protagonist, had whilst there—overcoming her fear of the sea and learning to snorkel over the colorful reef, becoming involved in the sea turtle research, falling in love with the island and its wild inhabitants (sea turtles and hundreds of thousands of nesting seabirds). These reflected some of my experiences too. Anna's personality is almost the opposite of mine so her story definitely isn't mine, but we share the island environment. (And I didn't fall in love with the laid-back younger turtle whisperer; I already had a perfectly lovely husband and four small children!)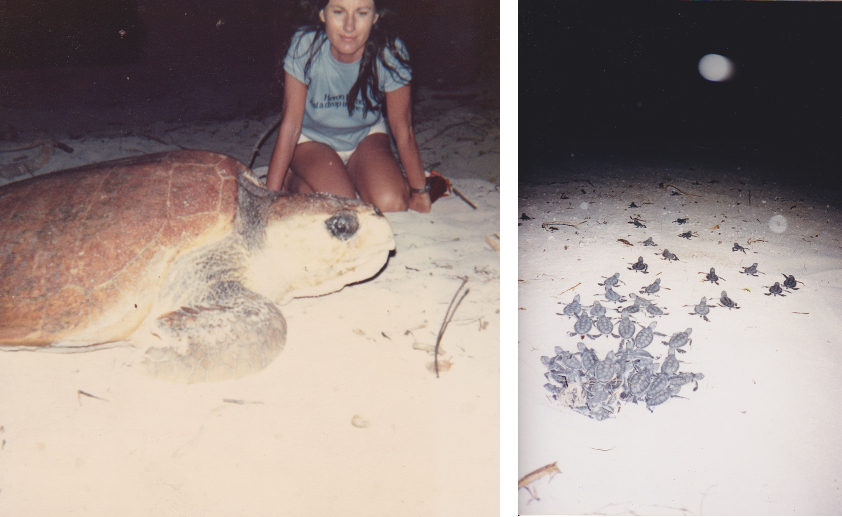 Before I wrote each scene I would close my eyes and return to the first time I floated above the coral and bright fishes in the warm lagoon, or sat motionless as my first turtle stuck her head out of the water before rowing up the moonlit beach to dig her nest and lay her eggs. Here are a few lines from Chapter Two as British-raised Anna, fresh from a cloistered existence in a neuroscience lab in Boston, arrived at Turtle Island.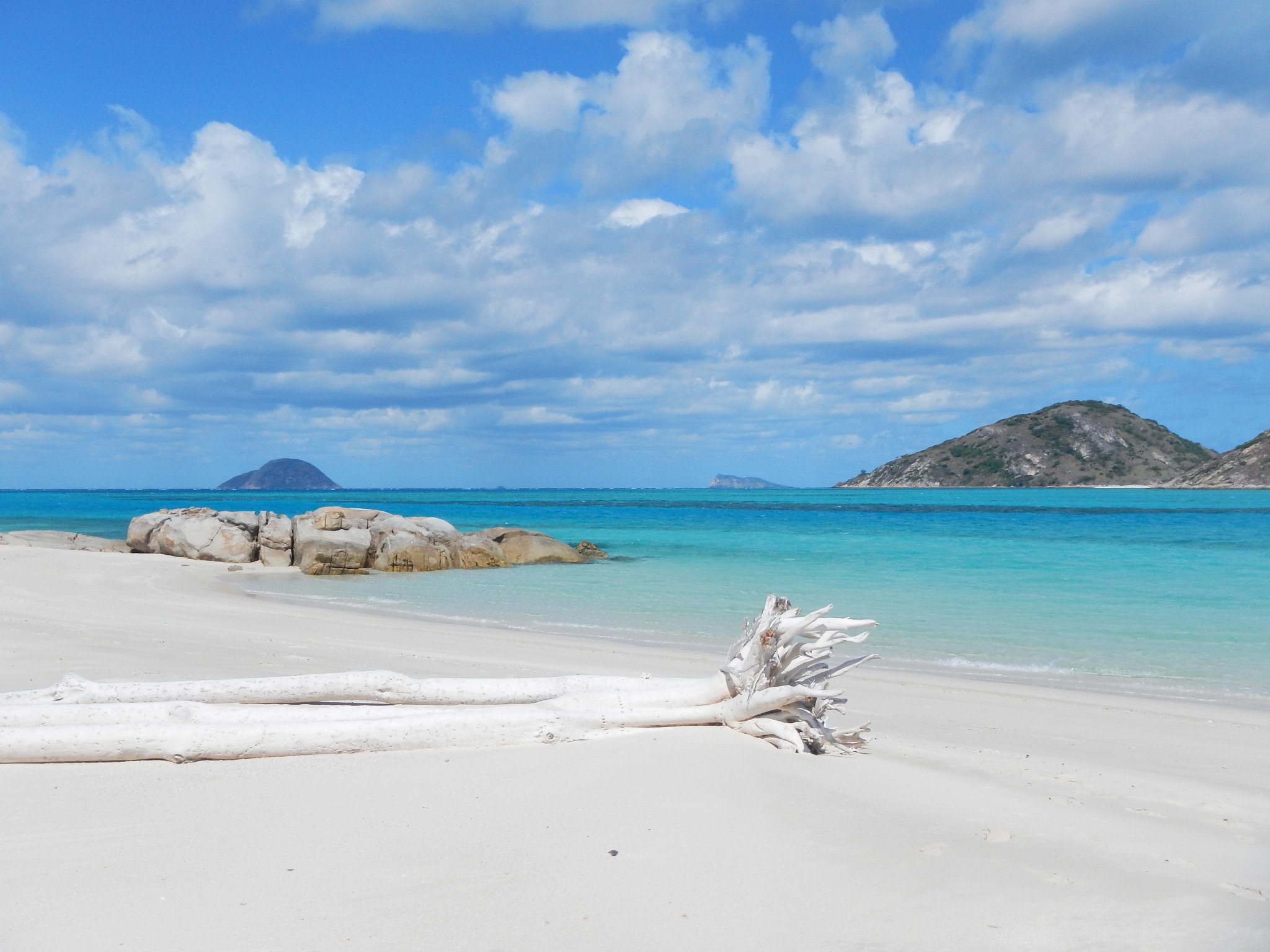 The smell hit me first as I stepped off the small wharf and onto the brilliant white sand. A hot, dry, musty smell. Not unpleasant but definitely not lavender. Then the sound of birds, hundreds of them. I looked over to the green rim of trees bordering the twenty meters or so of sand; black-and-white birds were flying in and out, busy as bees. The heat rose up from the sand, and I was glad I had put a pair of shorts in my bag. I nearly hadn't, as my legs hadn't been exposed to the elements for at least twenty years.
If I had never been on an island like this I probably wouldn't have known about the smell, very typical of islands where many thousands of birds nest and leave their droppings to dry. This description shows the reader the location through the use of multiple senses; what Anna smells, sees, and hears, as well as the heat she feels radiating from the sand. Much later in the story Anna travelled to Unst—the farthermost island of Shetland—to visit the mother she never felt close to. So the remote island theme is repeated, but on the opposite end of the earth. My husband and I spent ten days in a shepherd's croft on Unst (pictured below) shortly after I began writing Anna's story. I had a yen for combining my travels with my fiction—the best sort of research—and knew I'd find a way to get Anna there! That is the glory of writing fiction; you can do anything you want. I took numerous photos and jotted down impressions, and as a result the croft Anna stays in is the croft we stayed in; the cafés where Anna and her mother exchanged regrets and memories are the cafés where we sipped our cappuccinos; the hike to gannet colony on the northern-most tip of the UK—that was a special day for us too. Below is a scene from Anna's trip to that magical place.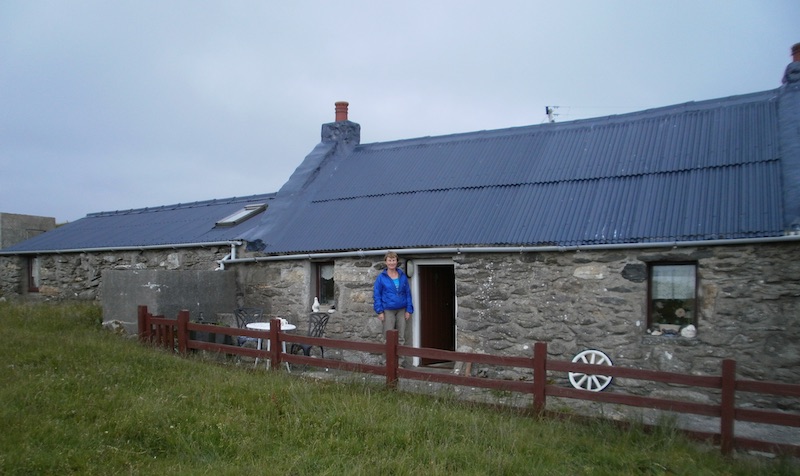 The acrid smell of guano transported me back to Turtle Island as I gazed at the countless thousands of screaming gannets crammed onto every stack and into every crack in the glistening rock. They turned the sky white, lemon heads shining in the sun as they soared on their slender wings nearly two meters across from one blue-black tip to the other, diving and dancing like skaters on a crowded Boston lake. Aggressive, dive-bombing great skuas added to the ear-shattering noise, and Magnus pointed out other seabirds almost lost in the gathering—fulmars, guillemots, and gulls. Many of the twenty- five thousand puffins that returned to the same mate and the same nest site every summer had already fledged their chicks and left, but there were still hundreds of late breeders nesting precariously in nooks and crannies on the sheer rock faces. Never had I been so charmed by a bird as they entertained us with their clown-like masks and quaint waddling gaits while we ate our lunch in the sun. Oh, magnificent day!
And without me even realising it as I wrote it, there it was, the reflection of Anna's beloved Turtle Island.
As an avid traveler, so far all my locations in my novels are places I have stayed in and loved. I have so many more to draw on; my current work-in-progress is set in the red sands of remote Australia, wild beaches and remote islands of New Zealand, Masai country in Africa, and Brontë country in Yorkshire, England (can you guess Wuthering Heights is a favorite of mine?)

One of my favorite cities is New Orleans, and another novel I have completed is in three parts, each set in a different country. It begins in London, Part Two is set in New Orleans during Hurriane Katrina, and Part Three on the spectacular island off the northern coast of New Zealand where I now live (go to my website to see pictures). I have visited London but don't know it well, yet setting Part One there wasn't difficult as the location was almost irrelevant to the story—it could have been set in any big city. Part Three was fun to write as I knew that location intimately. And then there was Part Two—I set it in New Orleans because I loved it, and a blues singer was a crucial part of the story. But I wasn't there during Hurricane Katrina, and that was the focus of the most dramatic part of my story. So I read everything I could find on Katrina, watched documentaries, and through Georgia, my neurosurgeon protagonist, lived and breathed it for weeks. Part Two turned out to be the one section that required almost no revision. "I was on the edge of my seat" and "I read through the night" were comments I received from agents. Lesson learned: knowing your locations intimately through research can work as well as being there physically. Here is a paragraph from a scene in which Georgia pushes the bed of a rather significant patient up through the flooded, pungent and dark Memorial Hospital to the rusty tower on the roof, where the last chopper is flying a few fortunate patients to safety.
Georgia watched as it rose in the air and circled once before whirring off into the black sky. Below her she could see fires burning randomly around the flooded city. The numerous choppers that had been flying above New Orleans all day, rescuing people stranded on the tops of buildings and evacuating other hospitals as well as theirs, had vanished from the sky, taking their racket with them. The air was bereft of the normal tropical noises that made the nights here so enchanting. No cicadas chirping or owls hooting. No cars on the streets, no music in the French Quarter, no voices raised in laughter as lovers wandered hand-in-hand by Old Muddy. As the tired staff on the roof dispersed, desperate for food and sleep, the eerie silence was broken only by a lone gunshot.
I returned to New Orleans this year for the first time since Hurricane Katrina. This time on my walks around that evocative place, I followed Georgia's footsteps and saw it through her eyes!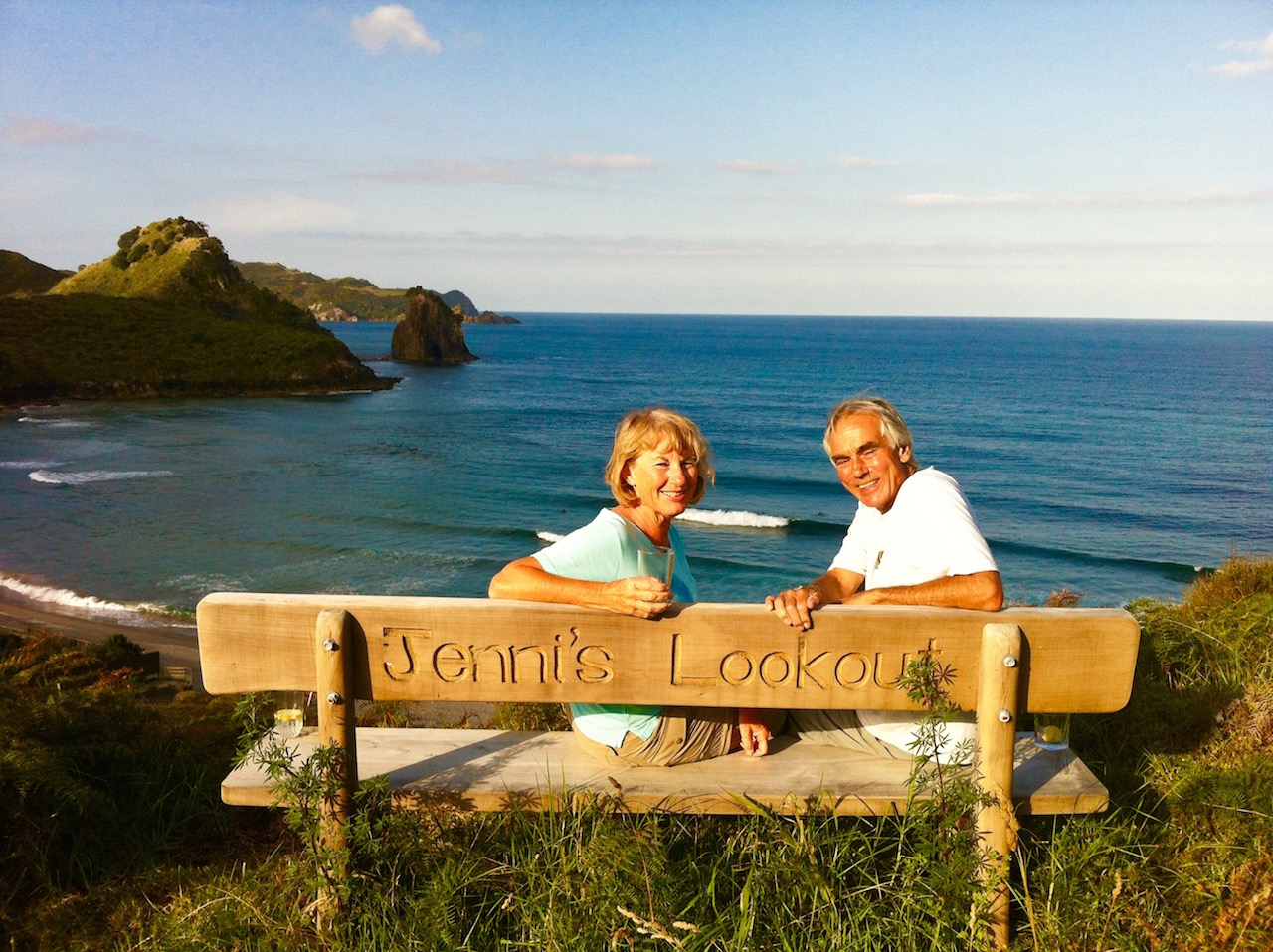 ---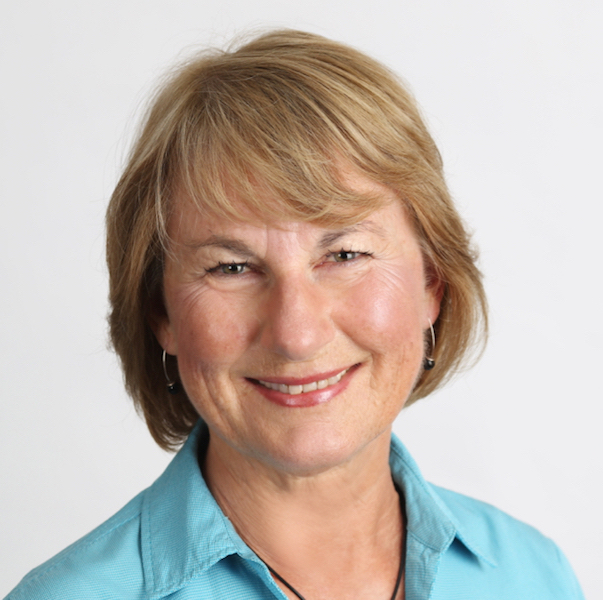 Jenni Ogden grew up in a country town in the South Island of New Zealand, in a home bursting with books and music. Armed with NZ and Australian university degrees in zoology and psychology, she took up a postdoctoral fellowship at Massachusetts Institute of Technology and worked with H.M., the most famous amnesiac in history, before returning to Auckland University, where she taught clinical psychology students and practiced neuropsychology at Auckland Hospital. She wrote about her patients' moving stories in two books, Fractured Minds: A Case-Study Approach to Clinical Neuropsychology and Trouble In Mind: Stories from a Neuropsychologist's Casebook. Now she has given up her day job to write fiction. She moved with her husband to live off-grid on a spectacular island off the coast of NZ, with winters spent traveling (she is a master at finding cheap travel options) and at their second home in tropical Far North Queensland. She has had a love affair with remote islands since her twenties, from the Shetlands off the north end of Scotland, to the tropical islands of Australia's Great Barrier Reef (both feature in A Drop in the Ocean). Once upon a time, like Anna, Jenni spent summers on a coral cay rather like Turtle Island, tagging sea turtles. (There was no Tom the turtle whisperer though!) When she is not writing or traveling, Jenni can be found on the beach—always with a book—or spending time with her family. A Drop in the Ocean is her first novel.
Website/Blog: http://www.jenniogden.com
Facebook: https://www.facebook.com/JenniOgdenbooks
Twitter: https://twitter.com/jenni_ogden
LinkedIn: https://www.linkedin.com/in/jenniogdenbooks
Goodreads Profile: https://www.goodreads.com/JenniOgden
Amazon Author Profile: https://www.amazon.com/Jenni-Ogden/e/B001IXRN80/ref=sr_ntt_srch_lnk_1?qid=1471228925&sr=8-1
Psychology Today blog: http://www.psychologytoday.com/blog/trouble-in-mind-0
---
Comments
---