An Award-Winning Book
Monona Wali's novel, My Blue Skin Lover, won the 2015 IPPY Award for Multicultural Fiction.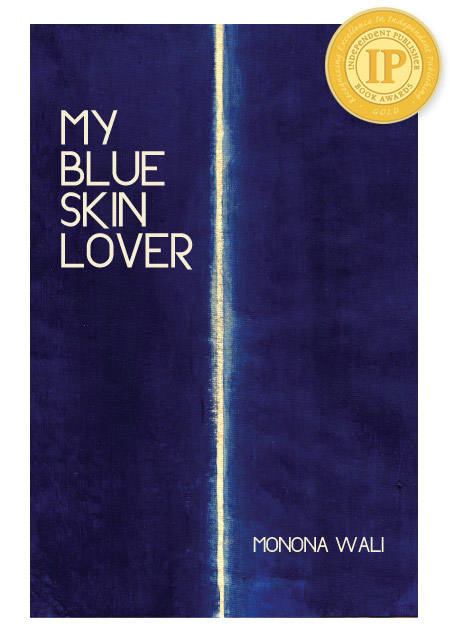 My Blue Skin Lover, by Monona Wali (Blue Jay Ink)
Feature
Unexpected Lessons
Thoughts from an IPPY-Winner
In 2015 I published My Blue Skin Lover, a contemporary literary novel that won the IPPY Gold Award for Multicultural Fiction. I'm really happy I took the independent author route, but it was a huge learning curve. I don't measure its success by sales or even awards, but by some important lessons I learned by taking the bull by the horns as they say.
Lesson Number One: Waiting for "the powers that be" to give their stamp of approval was a mistake
The decision to self-publish my debut novel My Blue Skin Lover was a hard one. I had long harbored dreams of publishing but via the traditional route – the BIG NAME publisher route. Who doesn't want to say their book has been published by Knopf or FSG? But after seven years of writing and eighteen drafts, and working with an agent who did a round of submissions but then got distracted by her own memoir, the book was sitting on my shelf going nowhere. I knew the book was finished, and I was really happy with it, but I was in a bind because if I looked for a new agent I would have to admit that the book had already been turned down by at least eight publishers (not a huge number but I didn't know that).
One night, over a glass of wine, a friend chastised me. "What are you waiting for?" He asked. "Are you going to keep sending out a pdf of your novel? Just publish it!" It's not surprising, I suppose, that as soon as I made the decision, things started to fall in place.
Lesson Number Two: Self-publishing has become a big business
I learned quickly that a huge industry had sprung up around self-publishing and there were many avenues. I contacted a couple of the big "self publishing" sites – Lulu and Xlibris and CreateSpace. All those sites offered lucrative deals on producing a physical book. One of the companies kept calling me with aggressive sales people and that was an instant turn-off. What I soon realized is that I wanted more control of the process. A friend of mine told me about another friend who had started a book design company, Blue Jay Ink, run by David Reeser. His price was reasonable and in addition to designing the book, he would upload an ebook to Amazon and Barnes and Noble, and set me up with Ingram (a big book distributor) and Lightening Source (a print-on-demand company). I also had him create my website. It was fun working with him and I had total creative control over the look of the book. I had a physical book in my hands in three months.
Lesson Number Three: Publishing a book is the easy part
The hard part is getting the word out about the book. Of course, as with many artists, the biggest enemy is ourselves. I am no salesman. I am no self-promoter. I don't believe you can turn a frog into a prince. But I was fortunate to have a wonderful community of writers in Los Angeles and an extended community of family and friends. Facebook and email were the main tools I used to get word out about the book. This is when I also became grateful for the self-publishing industry. I no longer had to feel ashamed or stigmatized about my self-published book. I became a member of the IBPA and took advantage of all the information and free advice they offered. I entered the book into the IPPY award contest and was thrilled to win the Gold Award for Multi-Cultural Fiction. I debated back and forth about book reviewing services and decided not to. I do regret that decision, although I suppose it's not too late.
Lesson Number Four: Have faith in the particular strangeness and weirdness of the story you're telling
When my book got turned down by traditional publishers, I let myself believe it was because the story was too weird. My Blue Skin Lover tells the story of a young Indian woman who takes the Hindu God Shiva as her lover. What I discovered when I finally published my book was that the story resonated broadly and deeply with a lot of different audiences. Winning the IPPY Gold Award was a huge boost. My favorite story was that of a ninety-year old friend of my parents, a renowned concert pianist. My father had given him the novel to read. He called me three times; he was so anxious to talk to me about the book and tell me how much he loved it. He said he started reading it all over again as soon as he finished it. All the writing gurus tell you "know your audience." That might apply to very genre specific books, but with literary fiction I learned that your audience might come from a very random pool.
Lesson Number Five: You only have a small window in which to promote your book
I have continued to promote my book even two years after publication. A year after publication I submitted it to Library Journal's Biblioboard program that offers independent published ebooks to public library patrons. My Blue Skin Lover was accepted and it is now available through the California public library system. Last year I was contacted out of the blue by someone who was writing a book about different publishing stories called "Behind the Book" He found out about my book through a book publicist who heard about it through the IPPY awards. He is including the story of the publication of the novel in his book. I was also contacted by a journalist for Indian Express who was writing a story on Shiva – she interviewed me via email, and the interview was heavily featured in her story. I believe the book will continue to find an audience.
Taking control of the reins, whether in publishing or in other areas of life, is always a lesson that is worth learning. The irony is that this is what the protagonist of My Blue Skin Lover learns. First I had to let my character learn the lesson, then I had to learn it for myself. Maybe that's why we write books in the first place.
---
Monona Wali is a short story writer and novelist, and an award-winning documentary filmmaker and screenwriter. Her stories have been published in The Santa Monica Review, Stone Canoe, Tiferet, Catamaran, A Journal of South Asian American Literature and other literary journals. She was born in Benares, India and immigrated to the United States with her family as a young child. She has two grown daughters, Kanchan and Maya Wali-Richardson. She lives in Los Angeles, California and teaches creative writing at Santa Monica College and volunteers with InsideOut Writers, an organization that offers writing classes for incarcerated youth.
---
Comments
---