A Few Words of Wisdom
Independent and self-publishing is not for everyone, but sometimes you have to take the plunge.
Emotional attachment to one's subject matter is a positive, but it cannot influence business decisions. Take calculated risks, not emotional ones.
Quality is everything. Every corner cut is a reduction in quality and an increase in stress.
My book would never have been possible had it not been for Facebook (great networking and marketing tool), WeTransfer (large file sharing at its easiest), and Google (invaluable for publishing resources, fact checking, grammar tips, and quick translations).
Always be generous with your knowledge. Lots of people were generous with me and I love sharing that knowledge with others. So feel free to contact me at Suzanne@winefamilies.com with any questions you might have.
About the Book
Labor of Love was a 2017 IPPY medal winner in West Mountain regional.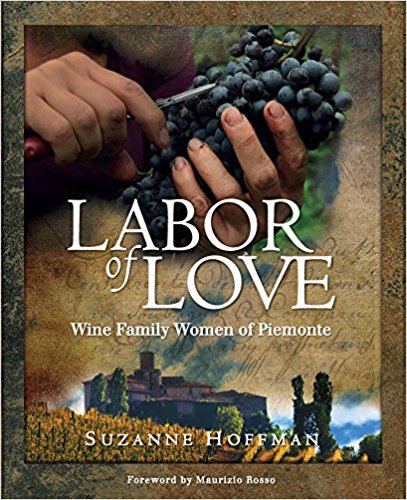 Independent Publisher on Instagram
Feature
My Independent Labor of Love
An IPPY Winner's Publishing Journey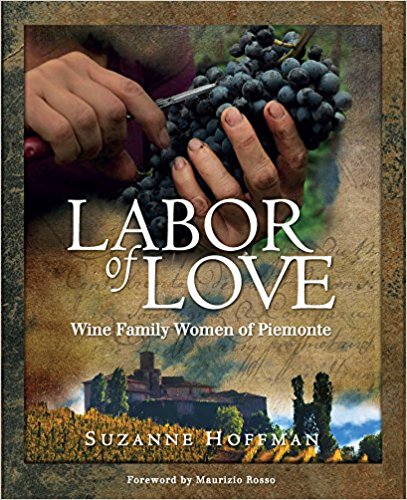 I'm a traditional girl from south Louisiana who rarely, if ever, goes about things in a traditional way. Labor of Love: Wine Family Women of Piemonte was my first book and is a prime example of my "Frank Sinatra" way of approaching life. I truly did it my way. I broke nearly every rule in the book. Although I certainly don't advocate that others attempt their first book in this manner, I wanted to share the story of how my tribute to the women of Piemonte's wine families came to be as proof that it can be done and done well. This isn't a "how to" on independent publishing, but a "why not" tale of how to get a compelling book onto the market.
First, the Why
Over the Christmas 2016 holidays in Piemonte I was reminded of why I wrote Labor of Love. As I sat at the table in Luciana Grasso's warm kitchen at Ca' del Baio winery in Barbaresco, the determined scurrying about of the 5'2" "mama Luce" – as I had nicknamed her – and the intoxicating smells of her lunchtime farmhouse offerings reminded me of why I had plunged into my labor of love nearly four years earlier. Authenticity. Love of family. Love of friends and warmth to all who grace their home. Love of tradition. I found all the things my Sicilian soul cherishes in the homes and cantine of the wine family women I'd grown to know and love over nearly two decades.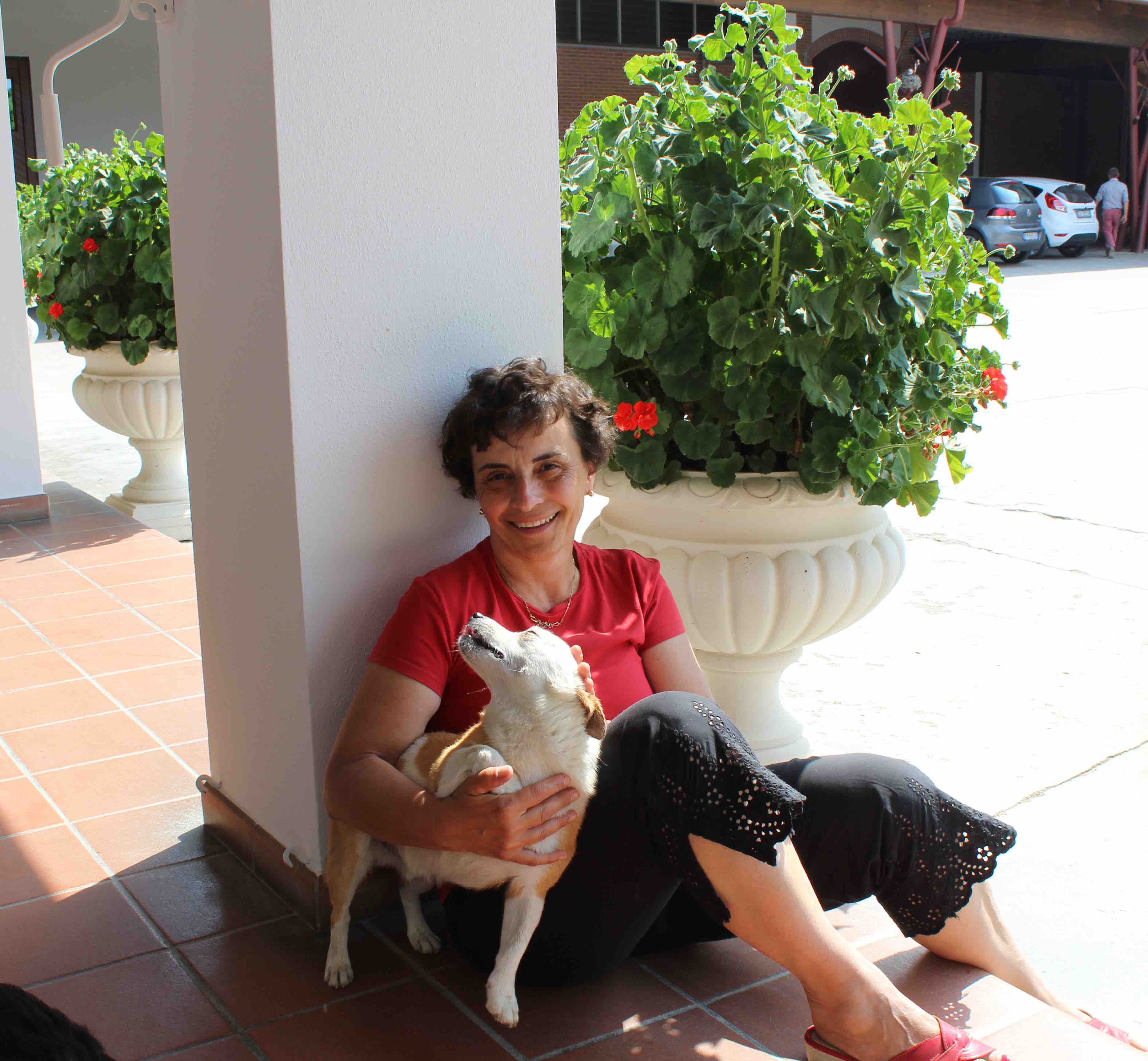 Luciana Grasso and Milo.
I knew so little about my maternal family's history in Contessa Entellina, Sicily, but families like the Grassos bewitched me with tales of their ancestors and how Ca' del Baio – the House of the Bay Horse – came to be. If I had no family history to preserve, I would help preserve theirs and all the traditions that make Piemonte's wine country so special. For me, it was an honor to be their scribe, entrusted with stories that for the most part were never before told in print.
The Odyssey Begins
When I set out on my book-writing odyssey in March 2013, I truly had no idea how these stories would appear in print. Although I was taking writing classes at Denver's Lighthouse Writers Workshop and had engaged a writing coach, Shari Caudron, to guide me, I not only lacked a clear vision of the end product, I also had no idea of how to entice a publisher or even what the process entailed. The details could wait. The hunger for more stories and the race against time before elderly members of the wine families passed-away consumed me.
That first of four research trips of varying lengths over the next two years came on the heels of 14 years and over 20 visits to Piemonte from my home in Switzerland and later Colorado. I had eight families to interview and discover more stories about their women who for so long had stood in the shadows and their female descendants who now have the joys and heartbreaks of winery ownership thanks in no small part to the hard work and sacrifices of their grandmothers, aunts, and mothers. Eight families. Eight chapters. Small, soft cover book. Easy to produce. That was the plan when I left Piemonte with stories from nine families.

Grinzane Cavour. Photo by Pierangelo Vacchetto.
By summer 2013, the number of families grew to 11. And over the following two long visits in spring 2014 and 2015, I added 11 more. In all, 24 families represent all the wine families of this glorious region in Labor of Love. My publishing epiphany came at the end of what I had already deemed to be my last research trip in June 2015. As my husband, Dani, and I drove north from Piemonte to Switzerland to catch our flight home to Colorado, I said to him that I believed we had to publish the book ourselves. There was no time to waste on wooing publishers and the window opportunity would quickly close. When Dani responded with doubts, I answered that there were enough resources out there to guide us and our joint business experience would be useful. We drove in silence for some time. Then, somewhere between Milan and Zurich, I declared that we would launch the book on June 2, 2016, at Ca' del Baio, home of the Grasso family with whom we had bonded long ago. The date came out of nowhere, but it would have been my mom's 95th birthday. It seemed fitting. It was also the Festa della Repubblica and we later discovered 2016 would be the 70th anniversary of women's suffrage in Italy. The stars were aligned. Only the planets remained askew.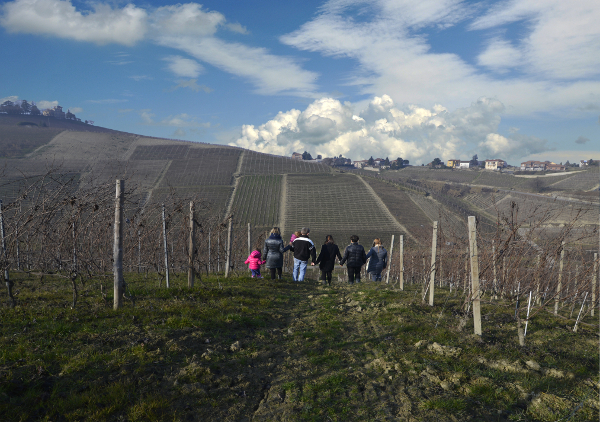 Grasso family. Photo by Elisabetta Vacchetto.
The Visuals
In the weeks that followed, I read everything about independent publishing that I could find. The Internet and Amazon Kindle's instant gratification provided me with a wealth of useful information. Of course, nowhere did experts advocate setting the launch date before crucial steps, such as writing the book, had been accomplished.
With two large Moleskine journals filled with notes from over 200 hours of interviews and family meals at the wineries, I faced the crucial task of writing a business plan and determining what finances were needed to publish my then-unnamed book. Needless to say, I also had to write the book and address that gnawing issue of photographs. The visuals of Piemonte are far too stunning not to include them as well. The project was growing into something akin to a coffee table book, but with the text and depth of a biography.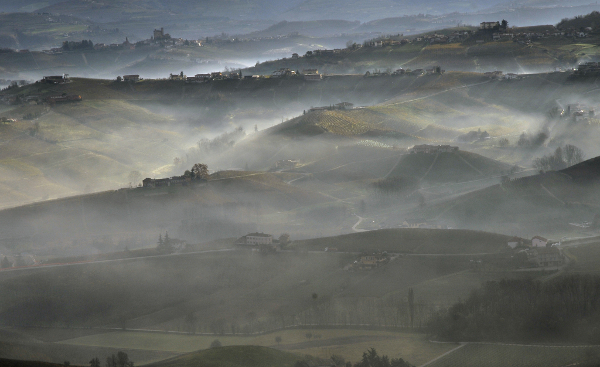 Langhe in autumn mist. Photo by Pierangelo Vacchetto.
In 2014, I resolved the photographer issue when one of my cherished new wine family friends, revered Barolo winemaker Chiara Boschis, introduced me to Pierangelo Vacchetto. The affable banker is an historian with a deep love and knowledge of Barolo, and a photographer whose dramatic landscape images need no software assistance or correction. He obviously shared his dominant photographic gene with his children, Elisabetta and Eugenio, who also joined the team that eventually produced the stunning images that added so much to the compelling stories the families had shared with me.
The Race Begins
Soon it was August. Not only had I written very little, but I also did not have a book printer and the final product vision remained blurred. Needless to say, I had no editor. Pesky minor details! Enter Facebook's role in my labor of love.
Among the international culinary writers I had come to know on social media was Elatia Harris, who had long been very supportive of my project. In early September 2015, I turned to her for advice. I asked her what qualities the editor I needed should bring. Someone who knows Italy well, and understands food and wine, she replied. Someone who can channel your voice. Someone whose clients feel cared for and well-served.
After an hour-long phone conversation with Elatia, I put down the phone, pondered for a while and later penned an email asking her if she would be my editor. I knew from my social media interactions with her and her work that I had read that she was the one who could best help me meet my over-ambitious timeline. Furthermore, this was no typical assignment. I was going to write and she was to edit as the chapters rolled off my fingers. She would have to wear different editorial hats as both my developmental and line editor. The time frame was insane and enough to make anyone think I was as well. Not many editors would accept my approach. In fact, my writing coach admonished me that the quality of the project would suffer if I rushed it. But hardheaded as I am, I persevered. It was evident that Piemonte's popularity was increasing and that the timing was right for this book. I also worried that my credibility with the families would be shot if I missed the June 2, 2016, deadline I had set for myself. So I offered Elatia the job. She accepted.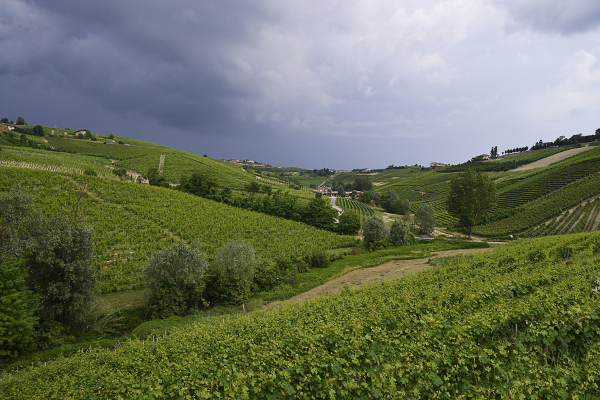 Ca' del Baio. Photo by Elisabetta Vacchetto.
Meanwhile, I hired Cindi Yaklich of Epicenter Creative as my graphic designer. I had read numerous times that one of the biggest failings of independently and self-published books were poor designs. Trust me, this is not something where dollars should be saved. We are such a visual society and with the stiff competition for bookshelf space and website clicks, the most beautiful words on a page will not be read if the hook is not set vis-à-vis a stunning design.
Although Cindi had not designed a book of this size and scope before, the referral was strong and her portfolio impressed me. Plus, most importantly, she seemed to know better than I did what I wanted to create. I knew I could rely on Cindi to create an astonishing design. She did just that.
We realized shortly after establishing our publishing company, Under Discovered Publishing LLC, that a groundbreaking book about the wine families of Piemonte filled with luscious images and genealogies could not be printed anywhere else but Italy. Cindi created the specifications for the book and solicited quotes. Although China has evolved into a major player in book printing, thanks in no small part to their low cost of labor, we opted for fewer copies from Verona Libri. The work they had done for the Metropolitan Museum of Art and the White House Historical Society convinced us they were the best choice at that time.
On October 1, the mad dash to finish the manuscript by midnight December 31, 2015, began. Seven-day weeks and 12-hour days with only a few days break over Thanksgiving consumed both Elatia and me as Labor of Love began to take shape. With Elatia in Cambridge, Massachusetts and me in the Colorado high country, we worked tirelessly in cyberspace, sometimes well into the wee hours of the morning. I learned quickly that if I wanted to go to sleep before the next day began, it was best not to check my email too late. Elatia took little time to turn around thoughtful, clear edits that I often couldn't wait to incorporate into my growing manuscript.
In Barolo, noted wine producer, author, and historian, Maurizio Rosso, penned a beautiful foreword. Maurizio's beautiful book, The Mystique of Barolo, a compilation of photographs and interviews of over 20 iconic Barolo vintners, many of them the patriarchs of my wine families, helped motivate me to write Labor of Love. Although not so well known in the States since his historical novels were published solely in Italian, Maurizio is revered in Piemonte. I wanted his eloquent words about his reverence for his female ancestors to set the stage for my stories that were to follow.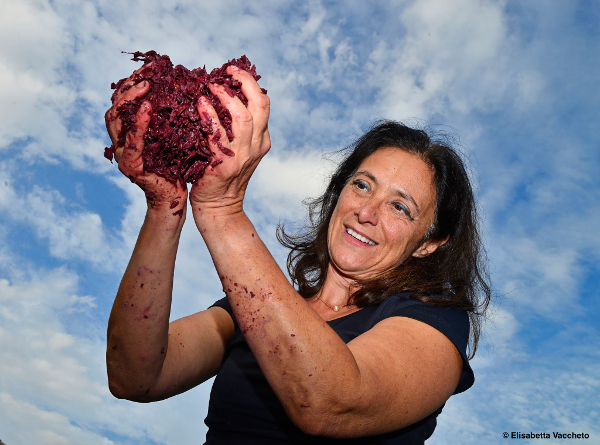 Chiara Boschis holding must. Photo by Elisabetta Vacchetto.
As the list of finalized versions of chapters grew and the table of contents took shape, photographs poured in on WeTransfer from the Vacchetto family trio in Italy. Cindi's cover design of Chiara Boschis' hands emerged from Pierangelo's and Elisabetta's photographs of the 2015 harvest and the iconic Castello della Volta that sits majestically above the village of Barolo tucked in the valley that is home to some of the world's most prized vineyards.
By the end of November, we finalized the production schedule for printing. It was going to be tight, but we were convinced the late February submission date was doable.
Into the Homestretch
Christmas 2015 came and went. Last minute clarifications of facts, dates, names, and stories consumed the final week of writing. One vintner who claims to eschew the Internet does not use email. Questions remained unanswered to the extent that the chapter on this important family might have to be dropped. Finally, on the 27th of December, her assistant sent an email with answers to two months' worth of questions. The last chapter was now complete.
At 2:37 p.m. Mountain Standard Time on December 31, 2015, I completed the edited version of the manuscript, sans appendix and acknowledgements, but the hard work and long hours were far from over.
Elatia had done a superb job with voice, content, and grammar, but someone else needed to run a grammatical and stylistic fine-tooth comb through the manuscript. Unfortunately, I had omitted this task in the business plan.
On Cindi Yaklich's recommendation, I turned to another Colorado literary professional, Jody Berman, to "proofread" the document. I put proofread in quotation marks because that's what I thought the next task was. It wasn't. This was one time my greenhorn status as a first time indie published author caused near havoc. Trust me, there is a huge difference between copyediting and proofreading and these two functions are crucial to creating a beautifully polished document. Copyediting is a task far more complex and requiring a higher level of grammatical and editorial skills than proofreading. I had omitted these two items from the business plan, but couldn't omit them from process of publishing the book. Fortunately, Jody was patient with me, had time to absorb a larger scope of work that month, and we were on the right track for copyediting a few days into the New Year.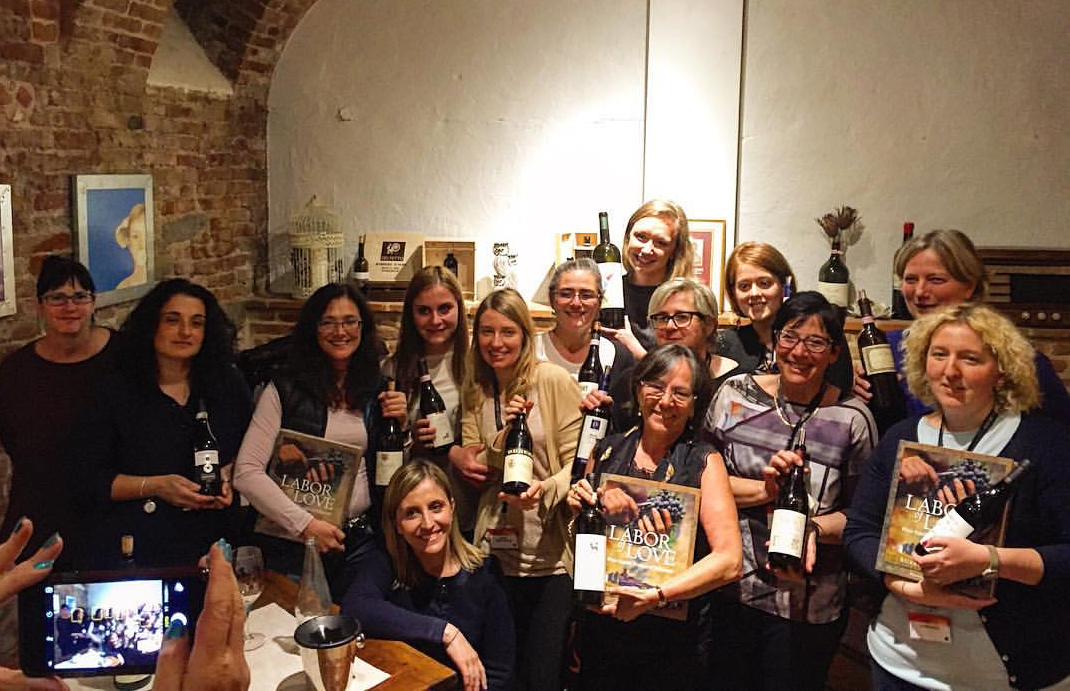 Several of the wine family women "steal" copies to show journalists at a major annual tasting of Nebbiolo in 2016.
Elatia gave a final review of each chapter after copyediting before I sent it on to Cindi to pour into the design. This was as unorthodox a method as one could imagine since Cindi would normally have had a fully copyedited and proofed document to pour. But like Elatia and Jody, she was patient with me as she merged words and photos – new and vintage alike – into her design to yield 320 pages of the 11.5" by 9.25" inch book. But we were not finished. Proofreading was yet to be done.
As I mentioned, I had failed to include copyediting and proofreading in my budget. Thinking – wrongly – that no one knew the book as well as I did and that I could save a few hundred dollars, I undertook the mind-numbing task of proofreading the PDF myself. Only by the grace of God was that not a disaster. Error blindness kicks in quickly for someone that has read and reread a manuscript for months. Fortunately, I only missed two incorrectly spelled proper nouns, but a stylistic oversight could have been disastrous. Somehow, when Cindi poured the bibliography, the program converted italicized text to normal font. Although I had read this page multiple times, checking punctuation and spelling, the repetitive work blinded me to the font error. It wasn't until printing began and my press representative saw it on the printed page that we fortunately were able to correct the error. It was a painful lesson to learn that while time might be compressed, corners could not be cut.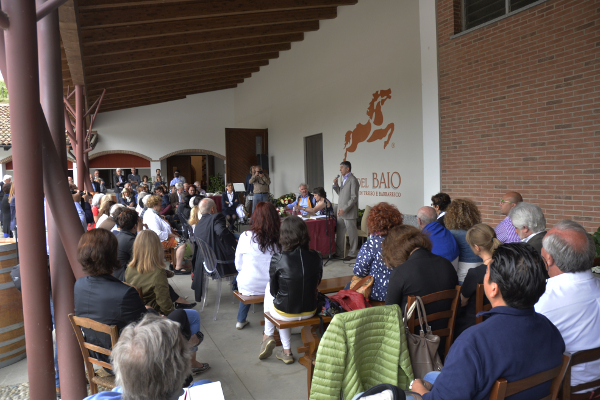 Maurizio Rosso speaks at the book launch at Ca' del Baio. Photo by Pierangelo Vacchetto.
In the end, Verona Libri completed the printing and binding on time and the books for the European market arrived in Ca' del Baio winery in Barbaresco in time for us to cross the finish line and launch the book as I had planned on June 2, 2016.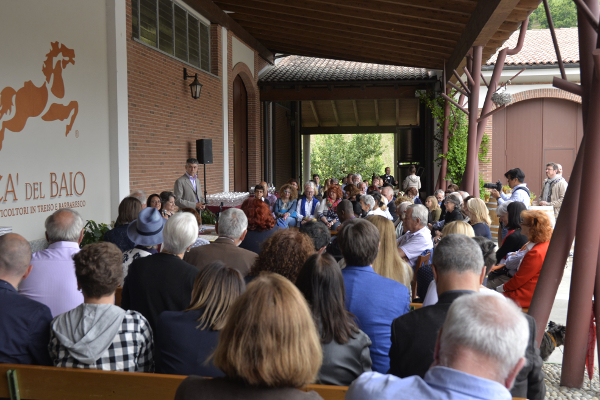 Book launch at Ca' del Baio. Photo by Pierangelo Vacchetto.
There was great local fanfare as the articles about the wine families in my weekly newspaper column and the social media buzz that I had been creating for two years paid off. Before nearly 150 people, including friends and relatives, Italian press, and members of the wine families featured in the book, Labor of Love: Wine Family Women of Piemonte was born. Elatia had traveled from Massachusetts to spend the day with us and experience the wine families firsthand. It was the first time we had met face-en-face, although we had spent so much time together in cyberspace. Each family brought wine and a local trattoria, Risorgimento, provided a feast of traditional Piemontese antipasti. Tears and cheers followed as I thanked each family for their trust and support since the Labor of Love project began in March 2013. So began the transformation of Labor of Love from my book project to their treasure.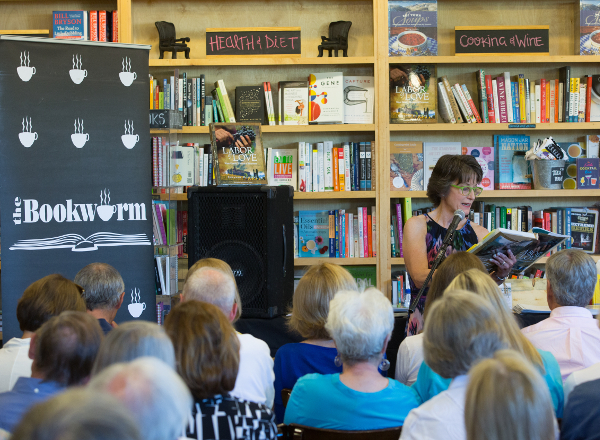 Launch at Bookworm. Photo by Charles Townsend Bessent
Next came the launch in Colorado near Vail. Nicole Magistro, owner and operator of the Bookworm in Edwards, is a strong supporter of local writers. She provided a wonderful venue for me to celebrate the USA release of Labor of Love on July 7, 2016, and continues robust retail sales of the book.
Success
On our own without a distributor, we have enjoyed brisk sales of my labor of love since the European and American releases. We broke even a few months shy of Labor of Love's first anniversary. A book of this size and cost is a challenge to sell, but between the wine families themselves, Amazon, my website, book and wine "pairing" events, and supportive independent booksellers like Nicole Magistro, the book continues to sell at a steady pace. With two Book-of-the-Year silver medals, Labor of Love has been successful in capturing readers with a broad spectrum, not merely oenophiles. My goal from the beginning was to create a book that transcended wine and captivated people who love compelling stories about wonderful, courageous people.
Labor of Love in Chicago's Eataly.
The next milestone is to bring the stories of the Labor of Love wine families and many others across Italy to life in a documentary series. Once again I find myself sailing into unfamiliar waters, but with optimism and purpose that these are stories worth telling. I'm convinced that people today more than ever crave authenticity and traditions that connect us with the past and provide hope for the future. Today, with the ability to bring together talented project teams in cyberspace, the barriers to independently publish stories that previously would have been left in the shadows are far lower for emerging authors like me.
---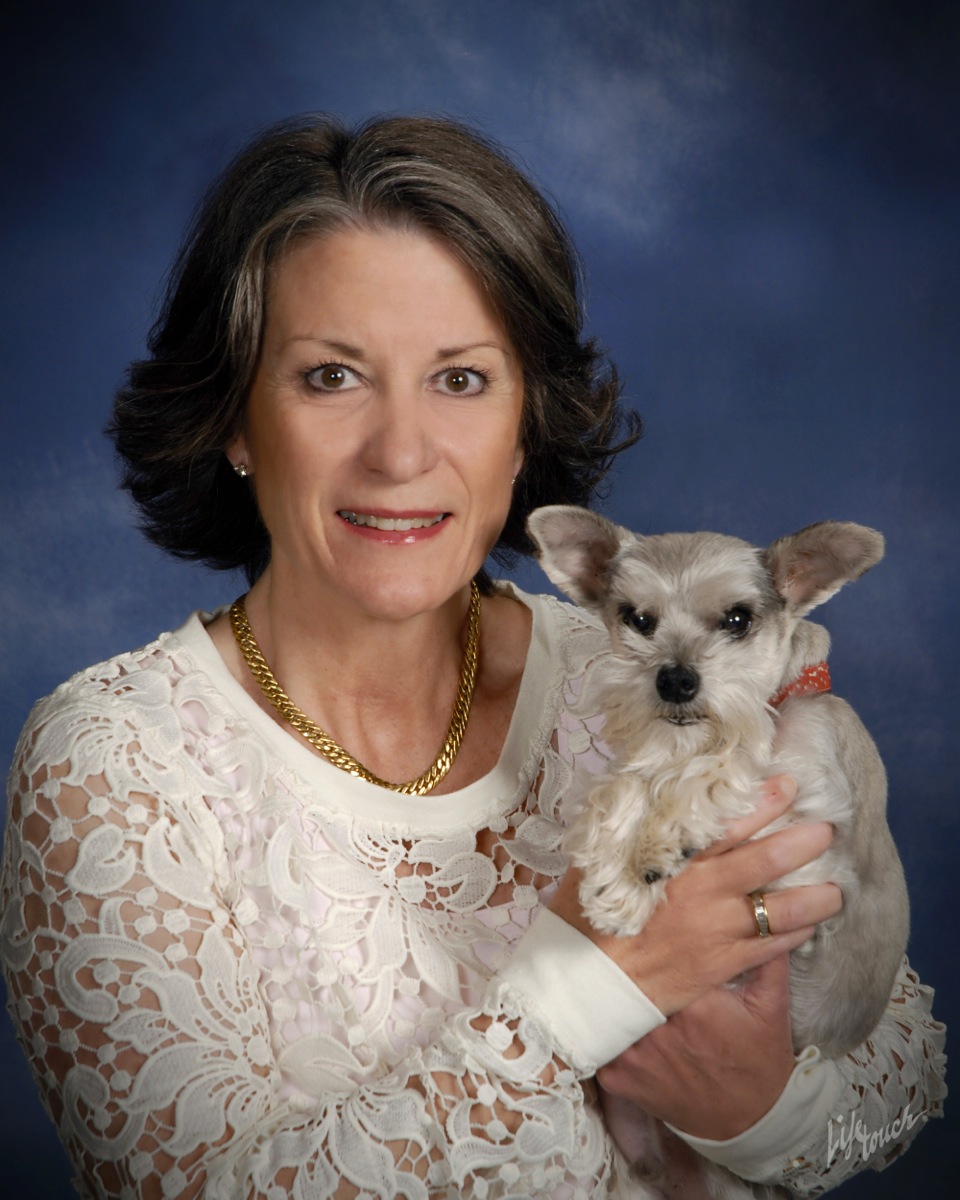 Suzanne Hoffman is an attorney and freelance journalist born in New Orleans, Louisiana. She grew up in Thibodaux, in the heart of Louisiana's bayou country, spent most of her adult life in Switzerland, and now resides in the central Colorado Rockies near Vail.
In 1999, Suzanne discovered Piemonte and devoted herself to becoming a wine family expert committed to the preservation of their stories for future generations. Her voice has become their collective voice.
When not immersed in her labor of love of writing, Suzanne delights in alpine skiing, snowshoeing, biking, hiking, and exploring the enchanted world of wine with her husband, Dani.
Suzanne is pictured at left with her dog Arneis (Piemontese for "rascal").
---
Comments
---