Aaron M. Ellison
Aaron M. Ellison links for blog, books, Harvard Forest, and social media:
Feature
Poetry & Science
A Conversation with Vanishing Point Author Aaron M. Ellison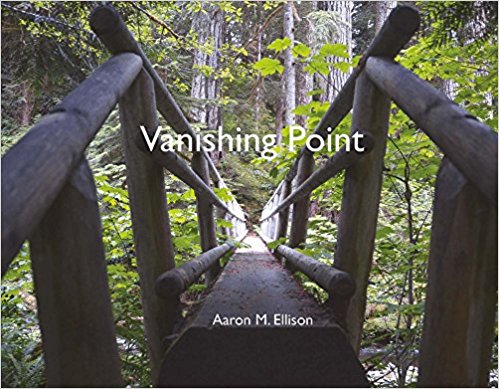 Dr. Aaron M. Ellison is in his 15th year as Senior Research Fellow in Ecology at Harvard University's Harvard Forest, but his research, lectures, and workshops on forests, wetlands, carnivorous plants, and how global climate change affects ants and plants take him around the world. And, then around again.
He'll soon be able to say he's been on every continent after an upcoming trip to Antarctica.
In the past year, he's floated on the Amazon, annoyed ants in the Brazilian rainforest ("When you put a respiration collar into a nest, the ants get annoyed. How would you like it if some giant stuffed a big plastic ring through the roof of your house?" he wrote in his blog during the trip), cried at the plight of pandas while spending months in China, and braved bad internet and crashing computers while trying to teach data analysis and programming language during an intensive short course at the University of Khartoum School of Forestry in Sudan.
But, it was a trip closer to home that led a scientist who's had numerous science books published by leading university presses to write his first poetry book, illustrated by his photographs, and to self-publish it.
From grand landscapes to tiny creatures, with the beauty of mountain peaks and spider webs, Vanishing Point is Aaron M. Ellison's book of poetry, prose, and photographs from his month as writer-in-residence during the summer of 2016 at Oregon State University's H.J. Andrews Experimental Forest in the western Cascade Mountains.
He self-published it in the fall of 2017 through BookBaby, where he describes Vanishing Point as a "blend of science, visual artistry, and the written word that represents the simultaneous fragility and resilience of life on Earth." The book is also available on Amazon.
He chose to self-publish because "it was a faster way to get this out, and I also wanted my own design and layout," he says. "I quite enjoyed the process."
Active in the SciArt community, and with his experience as a writer, editor, and photographer who has had to become savvy in the ways of marketing, promotion, and media, he's well-equipped to self-publish this particular project.
In addition to his blog, The Unbalanced Ecologist, where his photographs illustrate his writings, his photos have been published with his magazine articles, in textbooks, and as more than a dozen covers of scientific journals.
His articles, essays, book and software reviews, and opinion pieces have been published in general interest and science publications, and he was the Editor-in-Chief of Ecological Monographs from 2009-2015.
He has authored or co-authored more than 170 scientific papers, and the books A Primer of Ecological Statistics (Oxford University Press, 2004, 2nd edition, 2012), A Field Guide to the Ants of New England (Yale University Press, 2012), Stepping in the Same River Twice: Replication in Biological Research (Yale University Press, 2017), and the forthcoming Carnivorous Plants: Physiology, Ecology, and Evolution (Oxford University Press, 2018).
He also teaches photography workshops for scientists and researchers.
And art often meets science at Harvard Forest, 4000 acres designated as a Long-Term Ecological Research Site in Petersham, Massachusetts, more than an hour west of Harvard's main Cambridge campus.
"Hemlock Hospice," a year-long (October 7, 2017 - November 18, 2018) art installation of sculptures throughout the forest, is designed to increase awareness of the plight of dying Eastern hemlock trees in the eastern U.S., which are under attack by a tiny insect, the hemlock woolly adelgid.
Ellison is an enthusiastic proponent of such projects, which are open to the public and have become more common at universities and research facilities, and at science and art museums around the world.
We talked on the phone about the relationship between science and the arts, including writing.
"An artist, filmmaker, writer, or journalist comes in as an artist-in-residence and interprets the science to get the message out," he explains. "Can we get that arrow going in the other direction, can we use art to change how we do science?"
As a writer, poet, and photographer, he knows that being artistic makes him a better scientist.
"It's really easy when you're doing day-to-day science to get lost in the details and lose sight of the big picture," he says, but "art reconnects you to the big ideas."
With an artistic creation, he explains, "you think about it for a long time, looking at the big picture."
Then, you focus on the nuts and bolts.
Ellison says that, as a kid, "mathematics came first." But those numbers were balanced by what came next.
He got his B.A. in East Asian Philosophy at Yale in 1982 even though he says, he knew he "was going to be a scientist."
In 1986, he got his Ph.D. in Evolutionary Ecology at Brown University.
"I use my creative artistic side to engage the creative side in science," he says. "I think it's made my science much more interesting. I want to create new ideas and implement them."
Whether he's photographing the rainforest, pandas, or ants, writing essays about climate change, or writing poetry while perched in the forest, Aaron Ellison says that engaging in anything creative or artistic helps him and other scientists to "become open to seeing connections because doing creative work opens up that deliberative process."
---
Nina L. Diamond is a journalist, essayist, humorist, and the author of books including Voices of Truth: Conversations with Scientists, Thinkers & Healers. Her work has appeared in numerous publications, including Poynter, Omni, The Los Angeles Times Magazine, The Chicago Tribune, The Sun-Sentinel, and The Miami Herald.
She has been a contributing writer for Independent Publisher magazine since 2003, and wrote her Much Ado About Publishing column from 2003-2012.
Ms. Diamond was a writer and performer on Pandemonium, the National Public Radio (NPR) satirical humor program, for it's entire run on WLRN in Miami and in select markets nationwide from 1984-1998. As an editor, she works with other authors and journalists on both fiction and non-fiction. You can find her on Twitter: @ninatypewriter.
---
Comments
---