About the Authors
Chrystalla Tzaneros
From a family that spends a lot of time together (and a lot of time with food), Chrystalla has always been very conscious of the connection between the two. She began converting recipes to the Thermomix for herself. As she shared her creations with friends and online, the idea of a cookbook came to mind - especially after Sia expressed great enthusiasm for the modernized recipes.
Chrystalla credits family for much of her drive in creating Mezze; converting a family member's recipe is a way of preserving their memory and their influence in her life. Going forward, Chrystalla hopes to someday create a cookbook of entirely wholefoods.
Sia Aristidou
Having grown up around incredible cooks, Sia always hoped to learn to prepare traditional Greek meals. She found the time and ability to do so with her Thermomix; the thermi gives her the skills to make authentic meals from scratch.
Sia joined Chrystalla on the cookbook journey after sampling the latter's creations, and the idea for Mezze was born. Her cooking education has allowed her to feed her husband and children meals that are healthy and preservative/additive free - and most importantly, delicious!

Independent Publisher on Instagram
Feature
Mezze: Small Plates to Share
Spotlight on an IPPY Award-Winner
In a world of constant activity and distraction, meals can be seen as incredibly important rituals to unwind, recenter, and share time with loved ones. While many of today's cookbooks cater to this understanding of food as more than a bare necessity, few cookbooks manage to successfully marry our current busy culture to the food traditions and rituals of the past. Mezze: Small Plates to Share, written by Chrystalla Tzaneros and Sia Aristidou, is one of those rare cookbooks that does walk that line; the small plates cookbook celebrates the history of recipes while beautifully modernizing them for today's cook.
The book was recognized by the IPPY judges and honored with an Independent Publisher Book Award not only for its high quality and creative recipes, but also for its impressive ability to bring meaningful recipes of the past up to date without sacrificing their history and magic. Philoxenia, meaning the hospitality and generosity offered to guests, is a guiding concept in Mezze's pages, and this focus on gatherings and the celebration of sharing food with loved ones gives this cookbook a whole lot of heart.
The cookbook converts traditional recipes for modern thermal cooking cooking machines such as the Thermomix. It is easy to see why the devices are so popular; they function as an assistant in the kitchen by replacing over twelve appliances: chopping, cooking, blending, melting and stirring for you. By significantly reduce the amount of time spent laboring over a meal, a Thermomix makes it easy to cook from scratch. Yet Tzaneros and Aristidou's thoughtful reflections in the cookbook remind readers to be grateful for the energy and hours put in by parents and grandparents before these modern conveniences. Such reflections, as well as the reverence for the power of food and tradition to bring together families and friends, are what make Mezze such a uniquely special cookbook.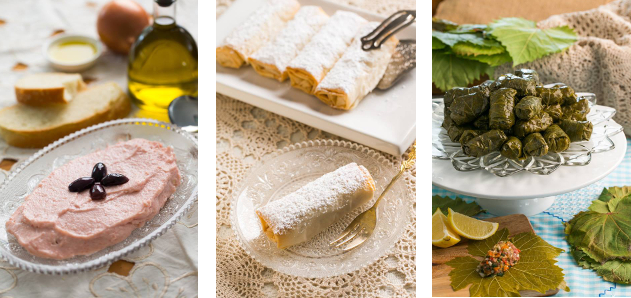 From left to right: Taramasalata - Fish Roe Dip, Bougatsa - Custard Filo Rolls, Dolmades - Vine Leaf Wraps
The book is co-written by Chrystalla Tzaneros and Sia Aristidou, who - despite their shared Greek/Cypriot heritage - have pulled recipes from a wide range of cultures to create the ultimate small plates cookbook; recipes with Egyptian, Australian, Lebanese, Arabic, Spanish and Italian influenced cooking styles can be found in Mezze's pages. Yet the book's Greek roots are felt throughout; in addition to the abundance of mouth-watering recipes, Aristidou and Tzaneros also offer tips and pointers for hosting an evening of philoxenia. For example, always finish with a sweet and some coffee, and if it's Greek, remember to serve a spoonful of vanilla in a glass of water as an accompaniment!
Recipes are divided into five sections: dips, bread, for the table, sweets, and coffee and drinks. Each recipe commences by honoring an individual or group – again drawing on the magic of shared traditions and family ties – as well as a brief note on how the recipe originated or what makes it special. Easy-to-follow directions are accompanied by beautiful pictures photographed by Andrew Porfyri, as well as difficulty level rankings and time indications broken down into brackets such as preparation, total time, and cooling. From heavenly iterations of breadsticks and cheese pastries to Sheftalia Cypriot Meat Rolls, Mezze strikes a great balance of foods with enough variation to make the cookbook appropriate for any occasion and for gatherings of any scale.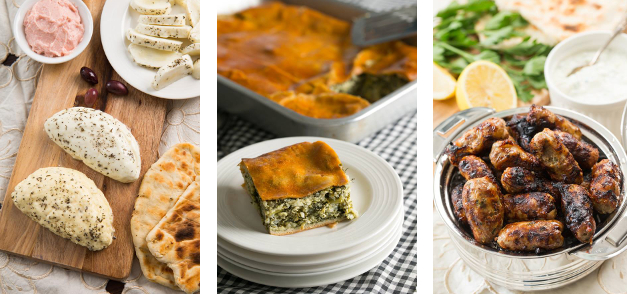 From left to right: Halloumi - Cypriot Cheese, Spanakopita - Spinach Pie, Sheftalia - Cypriot Meat Rolls
The book is not just useful as a collection of recipes, however. The processes Tzaneros and Aristidou use to convert recipes for use in a Thermomix are carefully laid out to allow readers to mimic with their own beloved recipes. The authors encourage adapting and altering the book's recipes to suit any individual tastes or preferences, and they encourage readers to reach out with questions about recipe conversion.
Additionally, the book is beautifully designed to suit the needs of any modern dietary restrictions. A recipe list and dietary key help readers identify which dishes are gluten-free, vegetarian, vegan, refined sugar free, nut free, egg free, or dairy free. The authors also included a key to indicate which recipes can be altered to any dietary restriction.
With timeless recipes optimized for today's cook, Mezze is an exceptionally well-done book. Tzaneros and Aristidou have managed to create an instructive and thorough cookbook with a huge amount of heart - and incredible recipes. Mezze: Small Plates to Share is available on the Fayi website, and is one of three cookbooks by Aristidou and Tzaneros; their Easter Collection and Christmas Collection cookbooks elaborate on seasonally-appropriate recipes for each holiday. You can purchase Mezze here.
---
Reviewed by Lauren White; images courtesy of Sia Aristidou and Chrystalla Tzaneros.
---
Comments
---