IPPY Awards by the Numbers
"Recognizing Excellence in Independent Publishing" has been our motto from the beginning, and it's the excellence of independent authors, illustrators, photographers, designers, editors and publishers like you that has made the independent publishing movement a smashing success! We celebrate IPPY 25 -- and we celebrate YOU!
Over 25 years and more than 7,000 IPPY medals presented to award-winning books, here's an infographic to help illustrate the "WHO, WHAT & WHEN" of IPPY.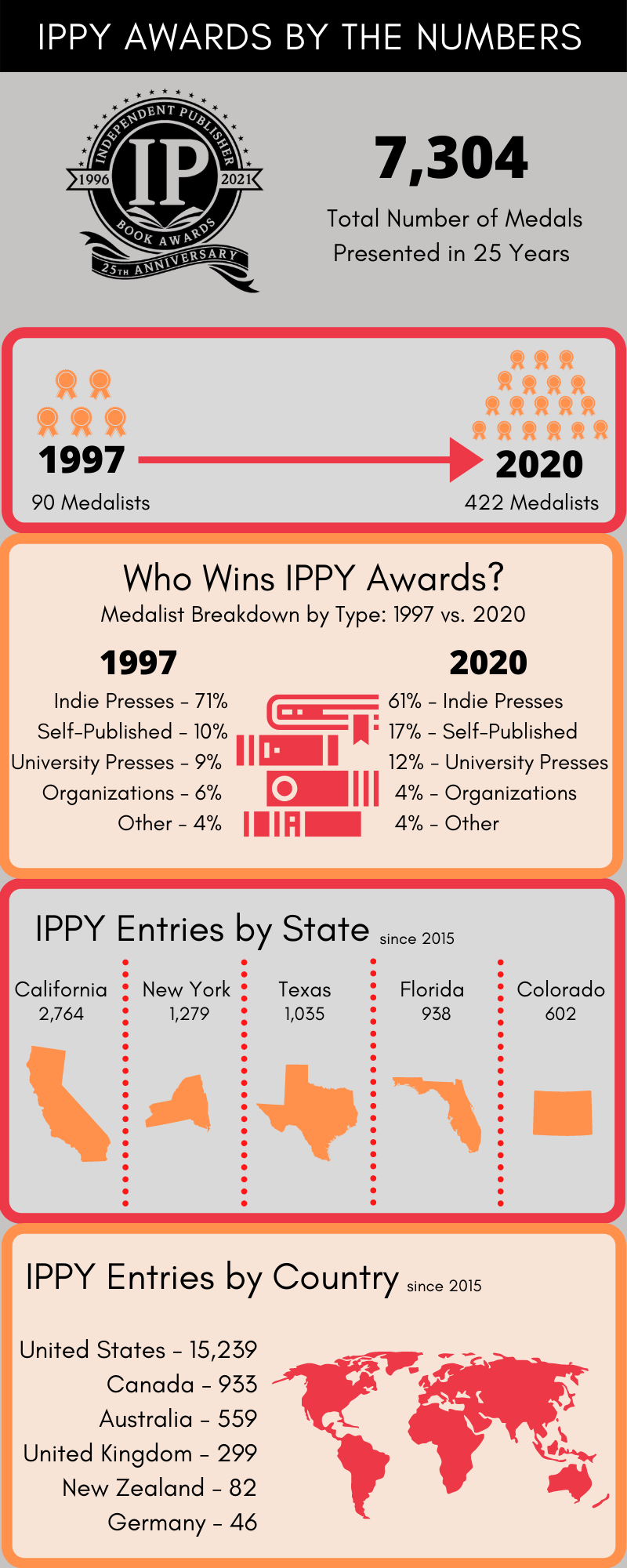 Independent Publisher on Instagram
Feature
The ABCs of Book Marketing
25 Great Tips (and One Stupid One)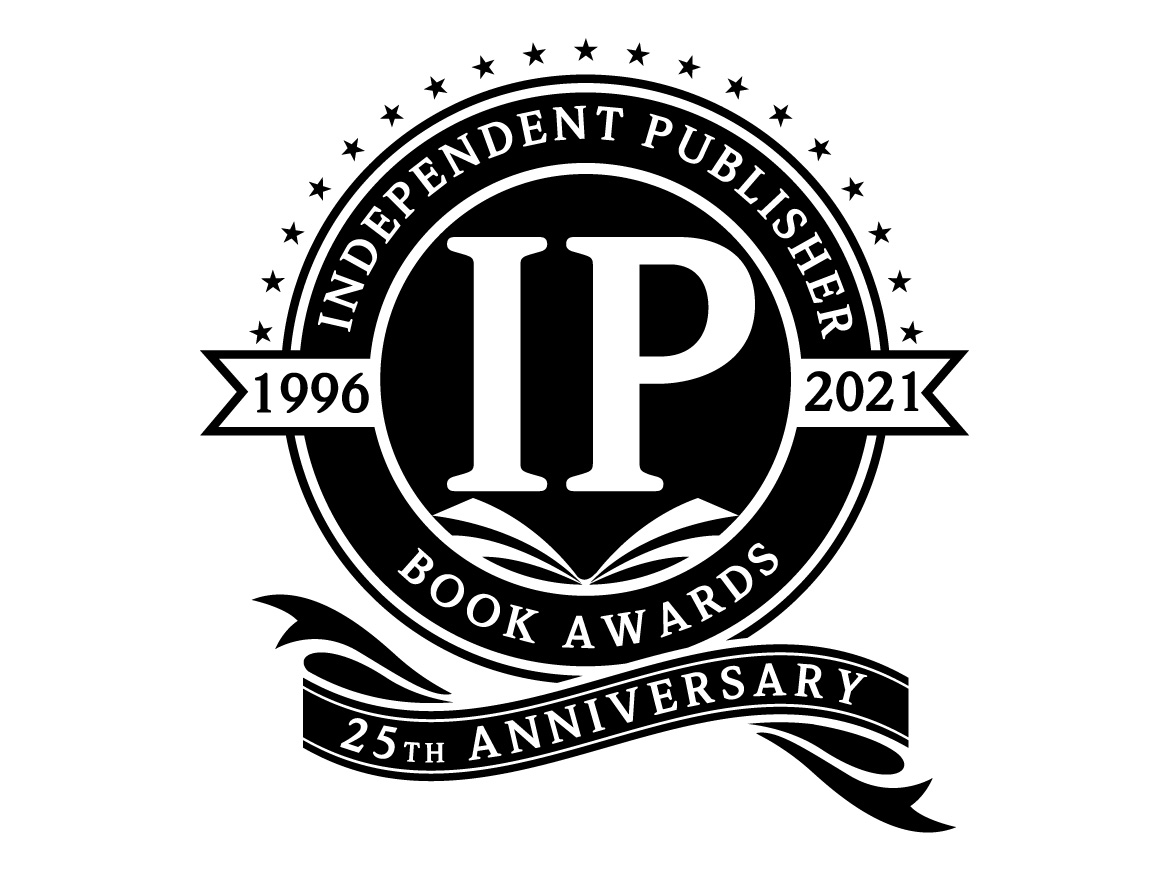 Happy 25th Birthday to IPPY! And more importantly, what we are really celebrating is 25 years of award-winning, independently published books like yours!
We've learned a lot about what makes books successful over the years -- and one big take-away is that writing and publishing a book is the easy part -- promoting it and selling it is where the real work begins. So, here are 25 great marketing tips we've collected, along with one "stupid" one. That's one for each letter of the alphabet -- the ABCs of book marketing that we hope will translate into big sales success!
A lways be promoting.
You are the head of your marketing team, and even if you have a royalty publishing deal, no one can market your book as well as you. Be vigilant at all times for new ways to promote and to reach new customers. Act like the superstar author you are every day when you walk out the door, and be ready to sell the living daylights out of your book, whether it's to the kid making your latte or to the owner of the new bookstore in town.
B logging
is a great way to make a personal connection with your audience, so be yourself, but make sure what you share will be interesting and beneficial to others. Yes, people may want to know a little something about you, but the priority should be on them, so keep your focus on providing relevant info to your readers.
C ommunicate a succinct message.
Whether talking about your book, writing a blurb on a website, blogging, or creating a sell sheet -- make your pitch in as few words as possible. Write it down. Step away for a while. Come back to it and edit, and then edit again! Give your marketing messages the same care and effort you gave writing the book itself.
D iversify your marketing efforts.
Keep coming at your audience in different ways and from different angles. The more ways you can get yourself and your book in front of your target audience, the more you will grab the attention of readers who like your topic and are interested in your book.
E ngage with your readers.
You are your best cheerleader, but your readers are the people coming to your game. Create relationships with them and make them want to come and cheer with you. They will do so if they feel personally connected to you and can feel like they are part of your success story.
F irst Impressions
are hugely important, from your book cover, the opening sentence – even the opening line of every presentation you make, whether it's in front of a crowded bookstore or to one person on the street. Make sure all your written materials are proofread and edited, and that your "elevator speech" is fine-tuned and well-rehearsed. You don't want any typos or grammatical errors to be anyone's introduction to you and your work.
G iveaways work.
Everybody loves getting something for free, right? Send free copies of your book to booksellers, reviewers, librarians and folks who are "centers of influence" on your topic. Keep a few extra copies with you at all times to give away to people who seem enthusiastic about it. Vocal fans generate buzz and reach markets you may not even know exist. Offer free copies as giveaways and prizes on sites like Goodreads and LibraryThing.
H elp other authors.
If you open doors for others, they will open doors for you in return. Look for opportunities to cross-promote, such as sharing display space at trade shows, group mailings or book signings. Exchange ideas and share success stories.
I dentify your audience – and your competition.
Study the data about your most likely customers and determine the how, why and when of their buying trends. Define your competition – all the available books similar to yours -- and identify how your book is different and/or better. Do your customers know why your book is the best use of their limited time and budget? You need to tell them.
J udge your book by its cover.
You often have just one chance to grab a potential customer's attention, so make sure your cover image, book title and/or subtitle, and blurbs are all focused on telling the story of your book. Make it easy for your customer to get your message and want to connect with your story.
K eep It Simple, Stupid.
Keep all aspects of your marketing simple – make it simple to understand your book's message, simple for them to find out more, and especially simple for them to buy your book!
L ove your story.
Love your work, love your brand, and love the hard work it takes to get your message out there, even through the tough times. If you do not love your story, no one else can love it either.
M odesty has no place in marketing.
There's no need for arrogance, but do remember that you have an important message to share, so do it loudly and proudly!
N ewsworthiness is vital.
Unless you are very famous, a new book is not newsworthy on its own. But, a new book that has new and valuable information that will help people is. Do not, under any circumstances, make your PR pitch sound like an ad for your book. What does your book offer to readers?
O utline and track your marketing budget dollars.
Realistically, there is only so much you can afford to invest in your book project. Determine your financial boundaries and track all of your expenses. Successful authors understand the importance of viewing their forays into publishing as serious business ventures.
P ersistence pays off.
Once you become a published author, you are committed to be all in. Try to do something every day that expands the reach of your message and will increase your sales numbers. Reach out to each of your markets multiple times, with a mix of tactics -- using publicity, sales promotions, advertising, and personal interaction.
R eward yourself.
Periodically give yourself something special for the work you have done toward achieving your goals. Some special chocolate. an amazing cup of coffee, or an hour in the hammock with your favorite author (or just taking a nap) – some little gifts you can use to reward yourself for a job well done.
S ocial Media
is today's version of "word of mouth," so use Facebook, Instagram, LinkedIn and Twitter to build your network and keep everything about you and your book front and center. Ask your followers to forward your announcements to 5 or 10 additional people with encouragement to keep passing the message along. Make sure your email contact info is in the announcement so that everyone, no matter how far down the trail, can easily connect with you. Keep it exciting with status updates, giveaways and maybe even a contest – and always follow-up on every contact you receive.
T hank you notes
may seem old-fashioned, but that's what makes them so unexpected and so special. Reward everyone who contributes to your book's success with a heartfelt, hand-written note, and you will have a fan for life. Create a unique piece of stationery that is 90% "thank you" and 10% promotional, so that it might be kept in view and hopefully noticed by others.
U ncover New Sales Channels
by thinking out-of-the-box when it comes to sales possibilities. As the old saying goes, "bookstores are the worst place to sell books" – because there is so much competition on those shelves! Explore non-traditional or "special sales" to corporations, consumer products companies, and other organizations that use books for their own marketing, promotion and education needs. They buy books in bulk, sometimes by the thousands, all non-returnable, AND they pay for the shipping.
V ideo is very effective
and the way many people learn about the world, so produce a short video book trailer that can be uploaded and shared on YouTube. This can be a great way to introduce your book to customers and promoters with an email invitation, "Here's a short video that introduces my book. If you like it, please share it with others."
W ebsites are a must
and should be visually appealing, informative, and just like the rest of your marketing efforts, totally focused on promoting your book. Include a media page to post interviews and reviews, an online press kit that includes both high- and low-res cover images, your author photo, press release, suggested interview questions, a Q&A interview with yourself, an article written about you and/or your book, endorsements and reviews you have received, and a brief author bio. Offer autographed copies of your book on your website – maybe even at a discount -- to entice customers to buy directly from you, where you will realize the greatest profit margins. Put a very visible "Buy this book NOW" button on every page!
eX pertise in your subject area
gives you the opportunity to write articles and share your content in online forums, blogs and newsletters. It positions you as the expert on your topic and helps get you in front of your target audience, build your credibility, and make connections with other experts and influencers. Create a weekly or monthly newsletter that keeps you top-of-mind as an expert in your field and keeps people talking about you and your book. Practice your speaking skills and create a compelling and entertaining speech or classroom presentation. Start locally and strive for referrals to larger groups.
Y ou are the boss of You
and you control your own destiny. Recognize that as an author and publisher, you are a serious entrepreneur who is creating a product requiring consistent promotion to a specific audience. Writing your book was just the beginning of your publishing project! Remember these Three Rules of Success: Think in the long term; don't let today's challenges suspend tomorrow's forward movement. Be persistent; you must be doing something every day to market your book. Be creative in your promotion, your distribution, and your pricing strategies.
Z Z-Z-Z
Take care of yourself, get plenty of sleep, and be proud of your accomplishments. Stay positive and take it easy on yourself. Yes, you will make mistakes and have failures, but you will learn and improve through the challenges.
Life is complicated, especially in our new world of fractured politics, pandemics and protests. The landscape is daunting, but the possibilities are endless! Bold leaders are needed now more than ever, and why shouldn't you be among those who help guide our society into a new age of enlightenment and progress?
* * * * *
Jim "the IPPY Hippie" Barnes has been director of the IPPY Awards since their second year, and editor of this webzine since its inception in 2000, passionately promoting indie books -- and thoroughly enjoying every minute of it. As the grandson of a bookseller and the son of a librarian, you could say books are in his blood.
---
Comments
---