IPPY Awards by the Numbers
"Recognizing Excellence in Independent Publishing" has been our motto from the beginning, and it's the excellence of independent authors, illustrators, photographers, designers, editors and publishers like you that has made the independent publishing movement a smashing success! We celebrate IPPY 25 -- and we celebrate YOU!
Over 25 years and more than 7,000 IPPY medals presented to award-winning books, here's an infographic to help illustrate the "WHO, WHAT & WHEN" of IPPY.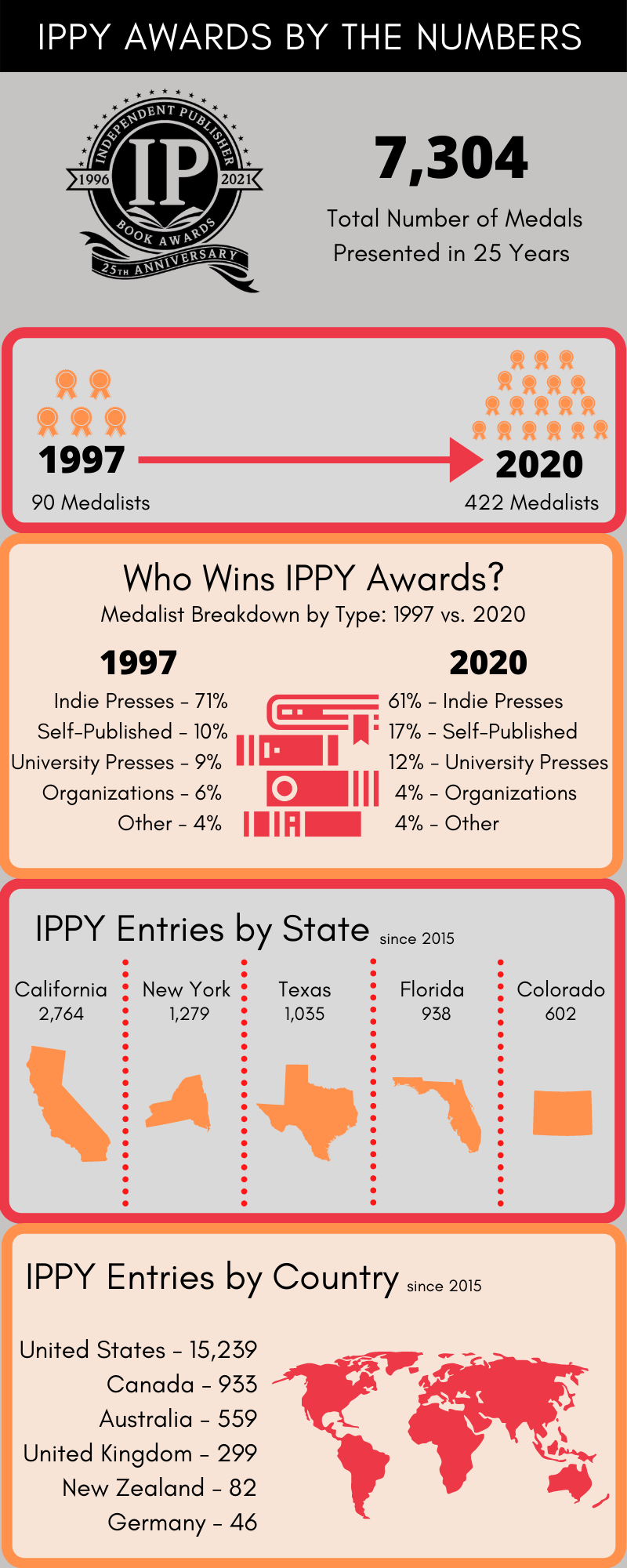 Independent Publisher on Instagram
Feature
Thanks for the 25 Years of Memories
IPPY Award Winner Remembrances & Images
"That magical evening in NY at the Copa is a memory I treasure, and bonus, we made some exceptional new friends." - Pauline Kiely, A Passionate Pen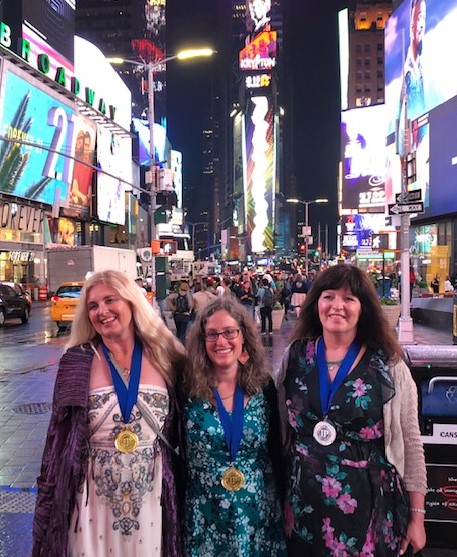 "I have been privileged to receive a couple of IPPY Awards over the years. But my most memorable was the first one: 2009, Bronze Medal for Popular Fiction, The Rhythm of Selby. Although I had been a professional copywriter for several decades, was an established newspaper columnist, and had one published book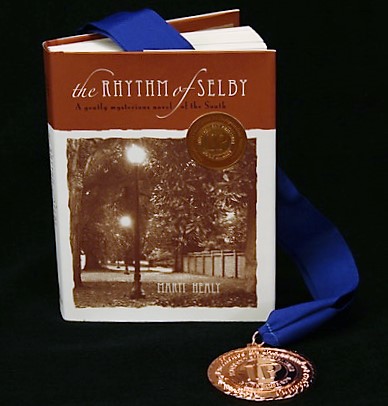 of short essays, this was my first novel. Winning the IPPY that year helped give me the confidence to continue writing 'in my own voice' – the courage to resign from my full-time copywriting position, and devote my time to being a columnist and writing my own books. To date I have published eight books and garnered nearly a dozen industry awards. But one of the most memorable remains my first IPPY. Other writers may feel such awards help primarily with marketing and validation in the marketplace – which they certainly do. But for me, it will always be more about the confidence and courage. Thank you for the courage." - Marti Healy, Author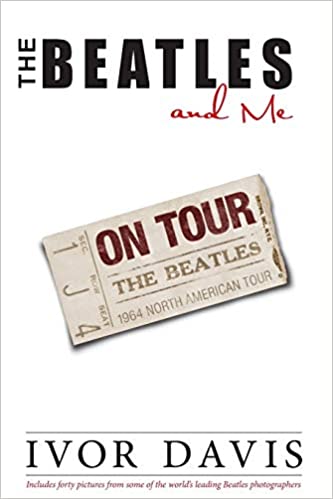 "Getting my IPPY award for The Beatles and Me on Tour turned out to be a fantastic bonus. To start with I could then list myself as 'an award winning writer.' The book is continuing to sell well today. But even more important. Even The Beatles said they were impressed!" - Ivor Davis, Author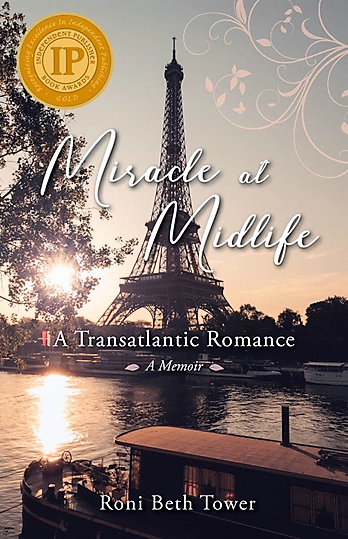 "We were in Paris when a friend - also a 2017 IPPY award winner - emailed me and commented on
Miracle at Midlife: A Transatlantic Romance
having won a gold IPPY in the 2017 awards. Astonished, I began looking for confirmation - and then, there it was in a She Writes Press Facebook post! The IPPY represented external validation of the memoir so dear to my heart, wrapping me in a warm psychic glow, reflecting the heat of the two-year love story of the courtship chronicled in my book. At the time of the award, David and I were 21 years into our mid-life love story, 19 years beyond the end of the book, and realized that a new adventure for us was beginning. The IPPY celebrations ushered in a thriving Third Act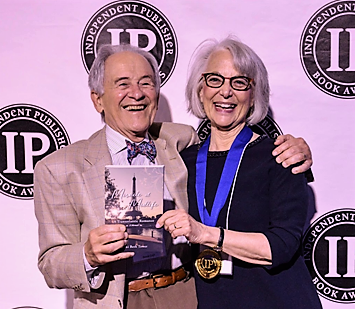 as an author and I could not be more grateful! Wishing you and yours a safe and healthy holiday and 2021. May you have many moments of joy and blessings from having helped so many of us to thrive. - Roni Beth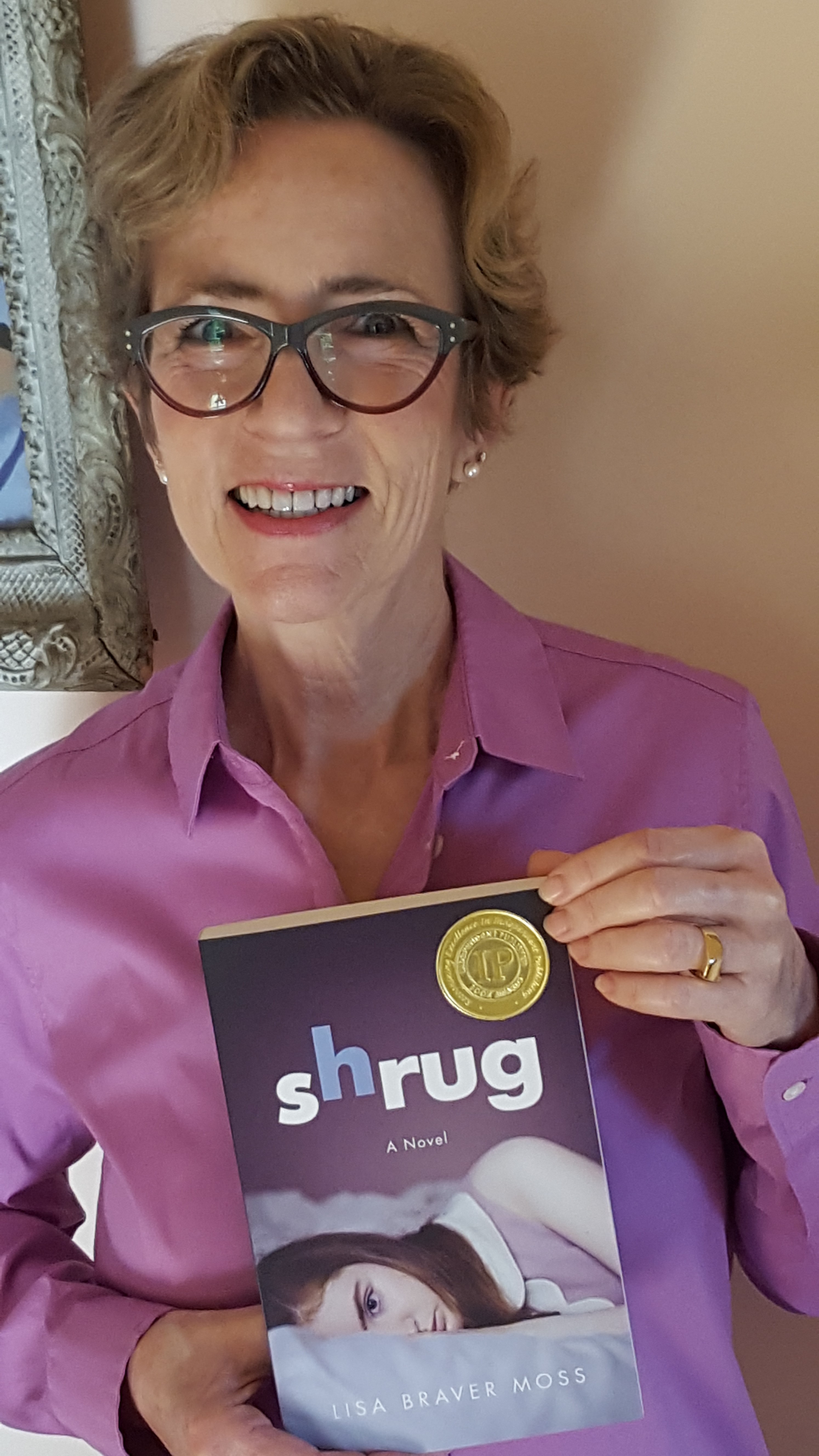 "I won multiple awards for my coming-of-age novel Shrug, but having been awarded the IPPY gold medal for YA fiction, I finally knew which stickers to order for the front cover!" - Lisa Braver Moss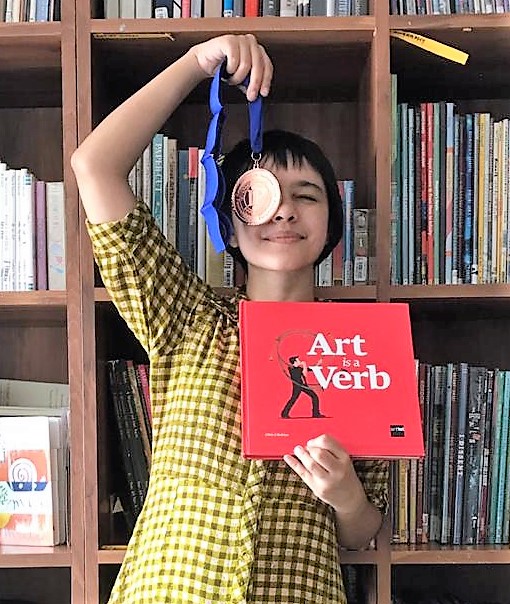 "The other IPPY Award Winners of 2020 were probably as delighted as we were to receive some sparkling news in an otherwise dismal year. Rohina and I found out about our award several weeks after it came out, when it occurred to us to check up on our submission. We'd won an award and didn't even know it! Over six months later, I had a chance to visit the office for the first time. Here's a picture of me with the medal, overjoyed, but incomplete with Rohina working from home in another city. While our celebrations have been virtual, our hearts are full of joy and gratitude to see our work recognised." - Likla, author of Art is Verb on behalf of Likla, Rohina and Art1st Books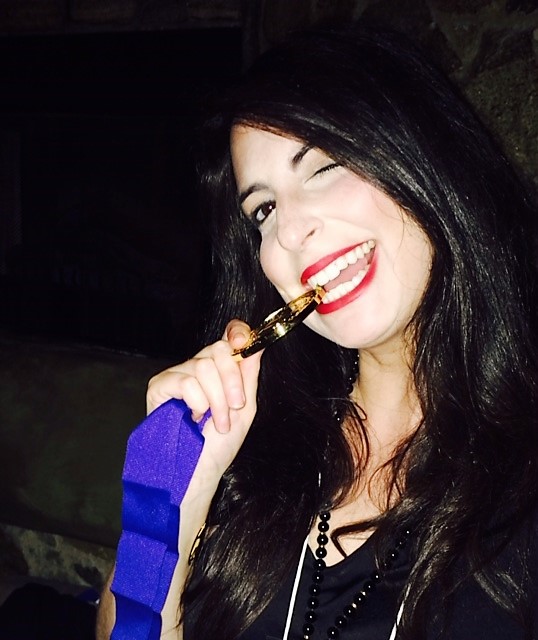 "Here's a great picture of our managing editor Alana Brooker at the 2015 award ceremony in New York. Our title,
Woman; an Anthology
won a gold medal for the 'Independent Spirit Award.'" - Matt Joudrey, Publisher, At Bay Press

Says Alana: "The IPPY awards ceremony was wonderful and memorable. We were thrilled to see our book win a gold medal for Book of the Year!"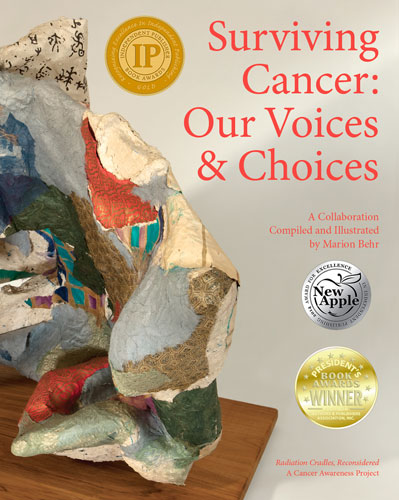 "Dear Jim, Thanks for all you do. An IPPY GOLD SEAL can be compared to the light at the end of a tunnel. For some, it lights up the room filled with exuberant vibrant individuals waiting to hear a voice announce a name, THEIRS, ALONG WITH THE TITLE OF THEIR BOOK. The cameras flash. An image of the award-winning book appears on a screen and everyone hears a description of the words and perhaps illustrations as well, that are held between two covers. The covers are there to protect what lies in between and now, the front cover will hold a time honored, much respected gold seal."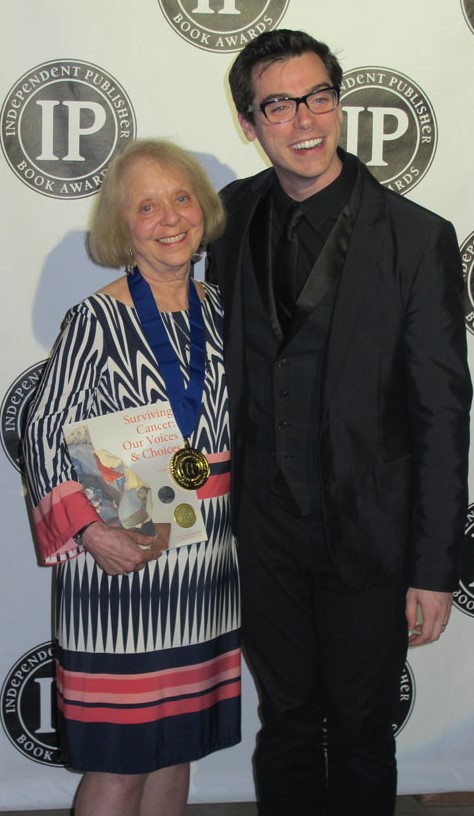 "Late in the afternoon, on the day we received our IPPY GOLD IN HEALTH AND FITNESS, we left our table at the BEA Conference and rushed to the Awards dinner. It was an extremely joyous event. The evening was unforgettable. The following day, the IPPY Gold seal on our cover attracted many new conference visitors who stopped to look, then frequently purchased our book. The award made a difference regarding how others viewed
Surviving Cancer: Our Voices & Choices
. The book contains 70 authors including doctors, oncologists, health care providers, survivors, a Nobel Prize Laureate, and the recipient of The Order of Canada. In-spite of all these impressive features in our cancer guide, it took a gold seal for many to recognize the value of our incredibly special collection. This seal also gave our confidence an extra special boost and has added value to our book to this day. The coronavirus is now in the forefront, but
Surviving Cancer: Our Voices & Choices
is still providing major assistance in helping new cancer patients, their families and friends to travel their special journey. We will always be thankful to IPPY for helping us move forward to help others. Have a wonderful year ahead!" - Marion Behr
"After the disappointment of not being able to join you for the awards ceremony in New York, author Wolfgang Grulke and I got together and made up this image to celebrate the two awards we won with our friends on Zoom! At least we got to share a nice bottle of pink champagne!"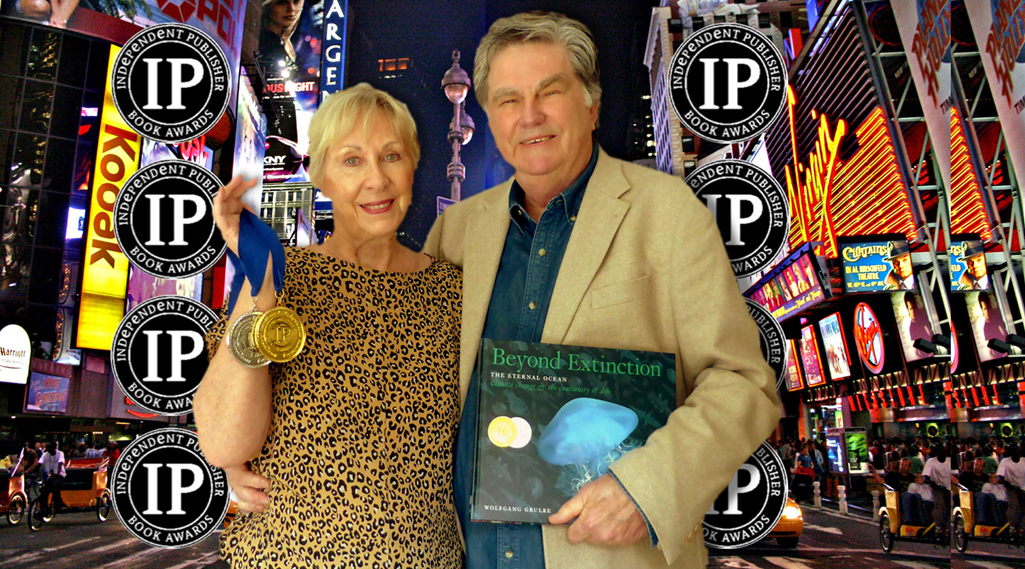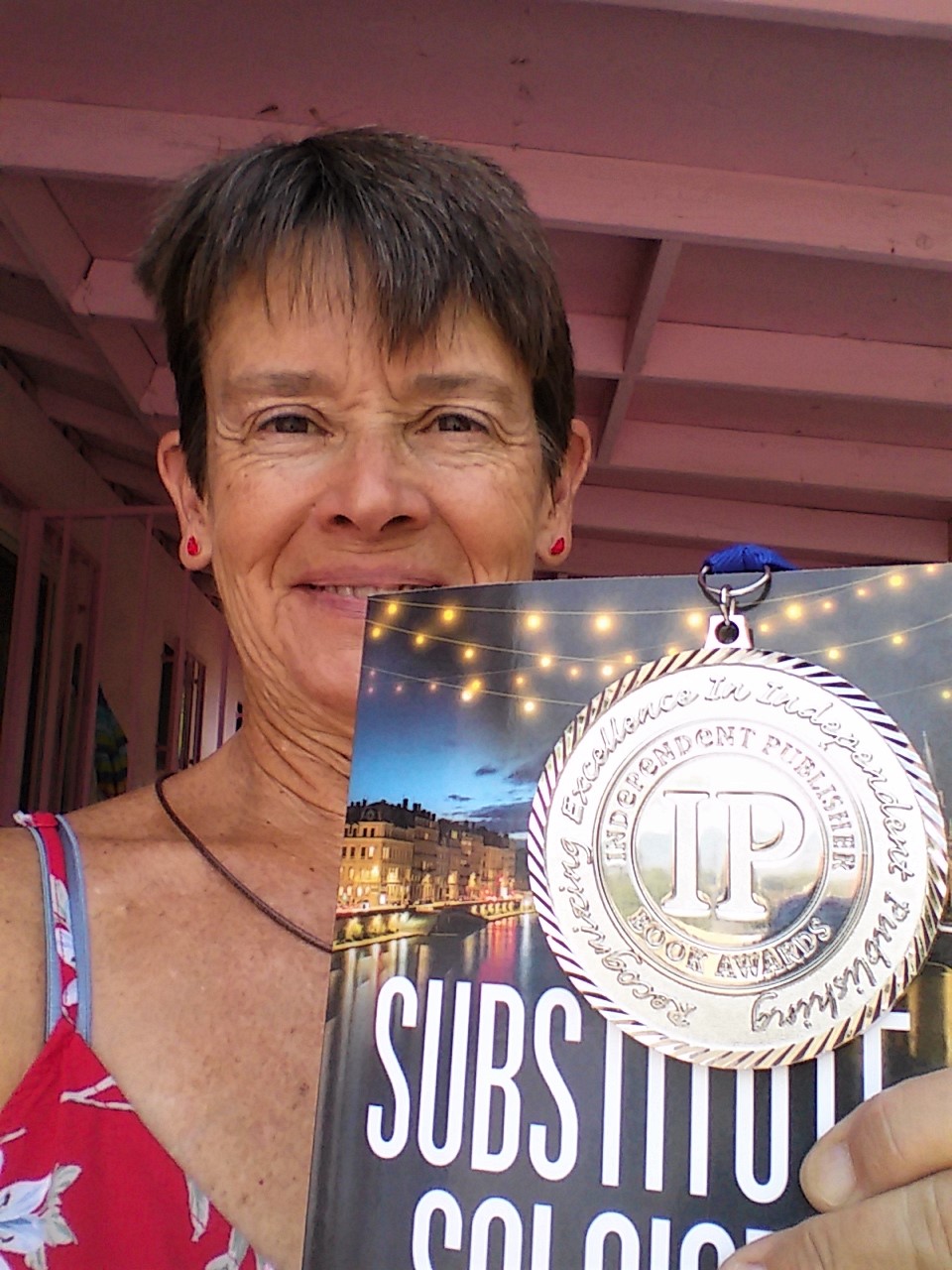 "Winning an IPPY represents progress. The world of writing is dangerous -- full of wrong turns, bad advice, and dead drafts.
Substitute Soloist
is my best novel so far, and it's the result of attending writers' workshops and carefully scrutinizing my work. Knowing that my efforts have paid off is a great motivating force. Although my new novel is going slowly, I'm confident that it, too, might be stronger than my earlier work. It might even win an IPPY!" - D.R.Ransdell, Silver Medalist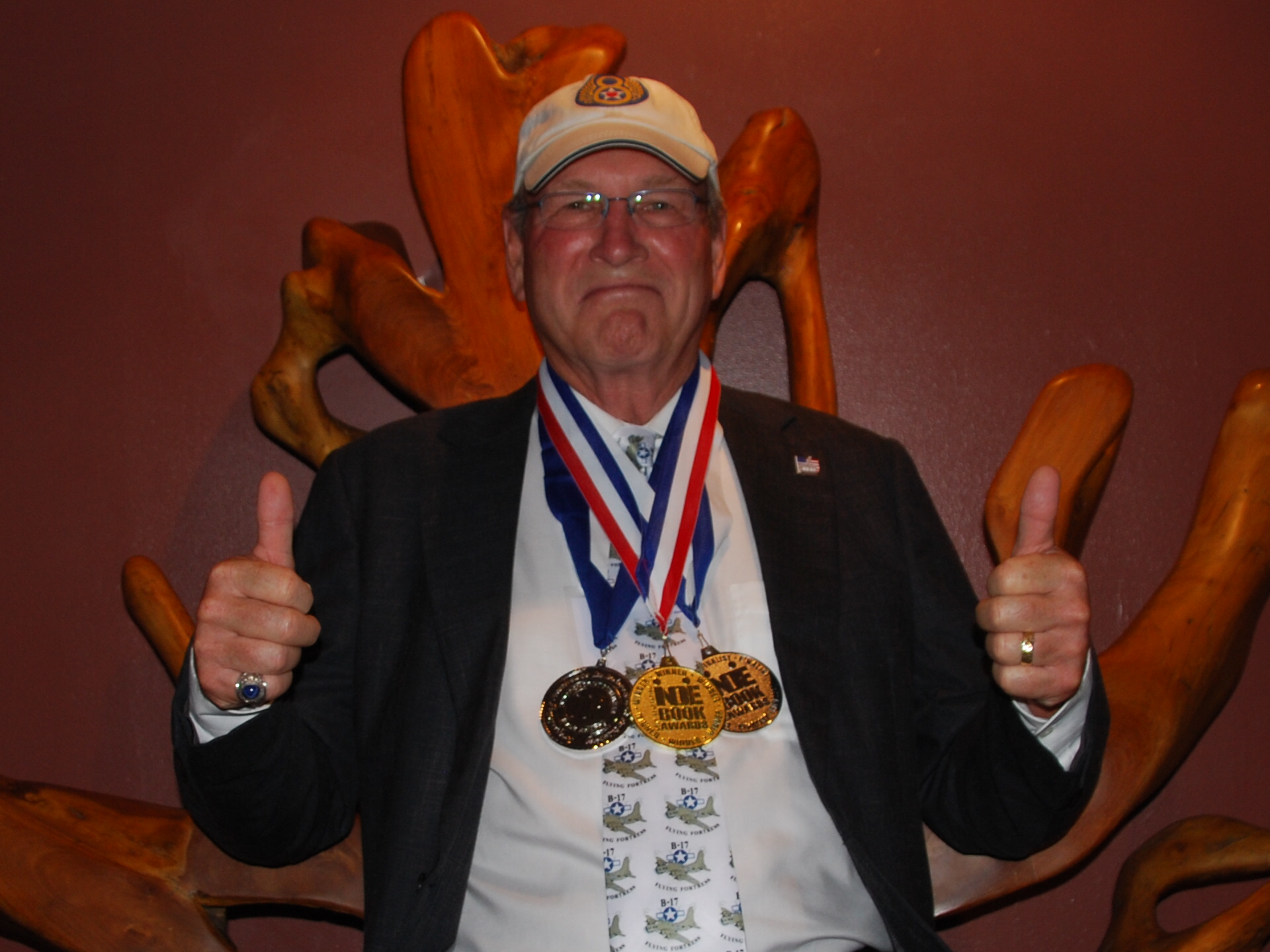 "It was an exciting night for me and my wife Glenda! Prior to the IPPY Awards party that night, we were at the Next Generation Book Awards where my book won two awards, so I actually received three that night. It was thrilling and very gratifying. After the IPPY Party, my wife and I continued celebrating at the King Cole Bar in the St. Regis where I proudly wore my three medallions. My book
Shot Down
went on to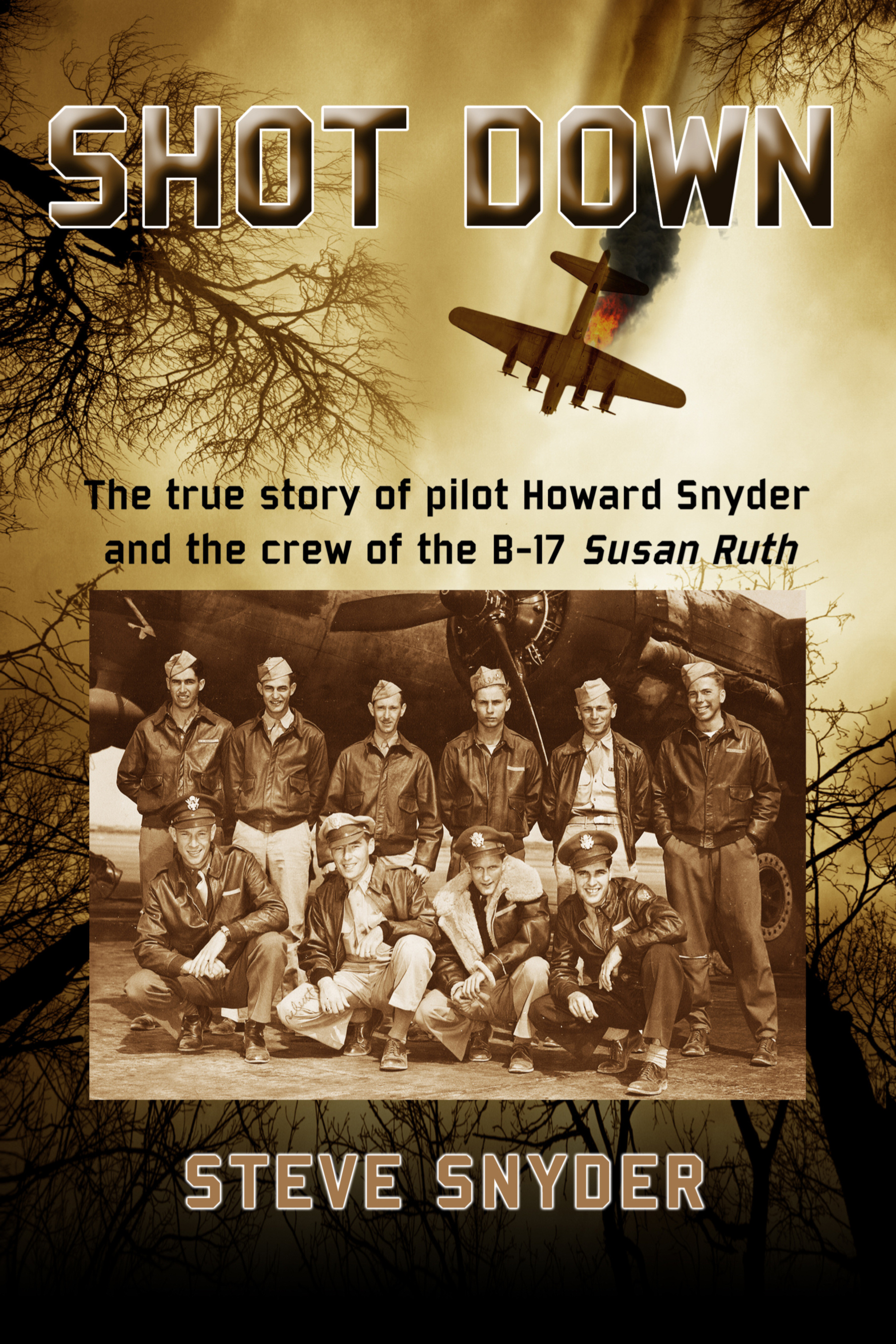 receive many other book awards, which I believe totaled about 30. However the IPPY Awards were extra special because it was one of the very first, was only one of four that held an event, and was held in no better place than New York, The Big Apple. The IPPY party was lots of fun, and we had a great time meeting many lovely people. It was first class all the way, and I'll never forget it. It propelled
Shot Down
to be an Amazon #1 Best Seller, have an Amazon 5-star reader review rating, and has sold well over 25,000 copies." - Steve Snyder
"When Octane Press was founded in 2010, I wanted everything to begin with great books. When you are building a new operation, it's vital that every book is terrific and critical to get your authors and partners to understand that's what you do. Our IPPY awards are a key part of our work, as they are an independent affirmation of our mission. They have helped us gain respect in the industry, with authors and—most critically—with our readership." - Lee Klancher, Octane Press Founder and Publisher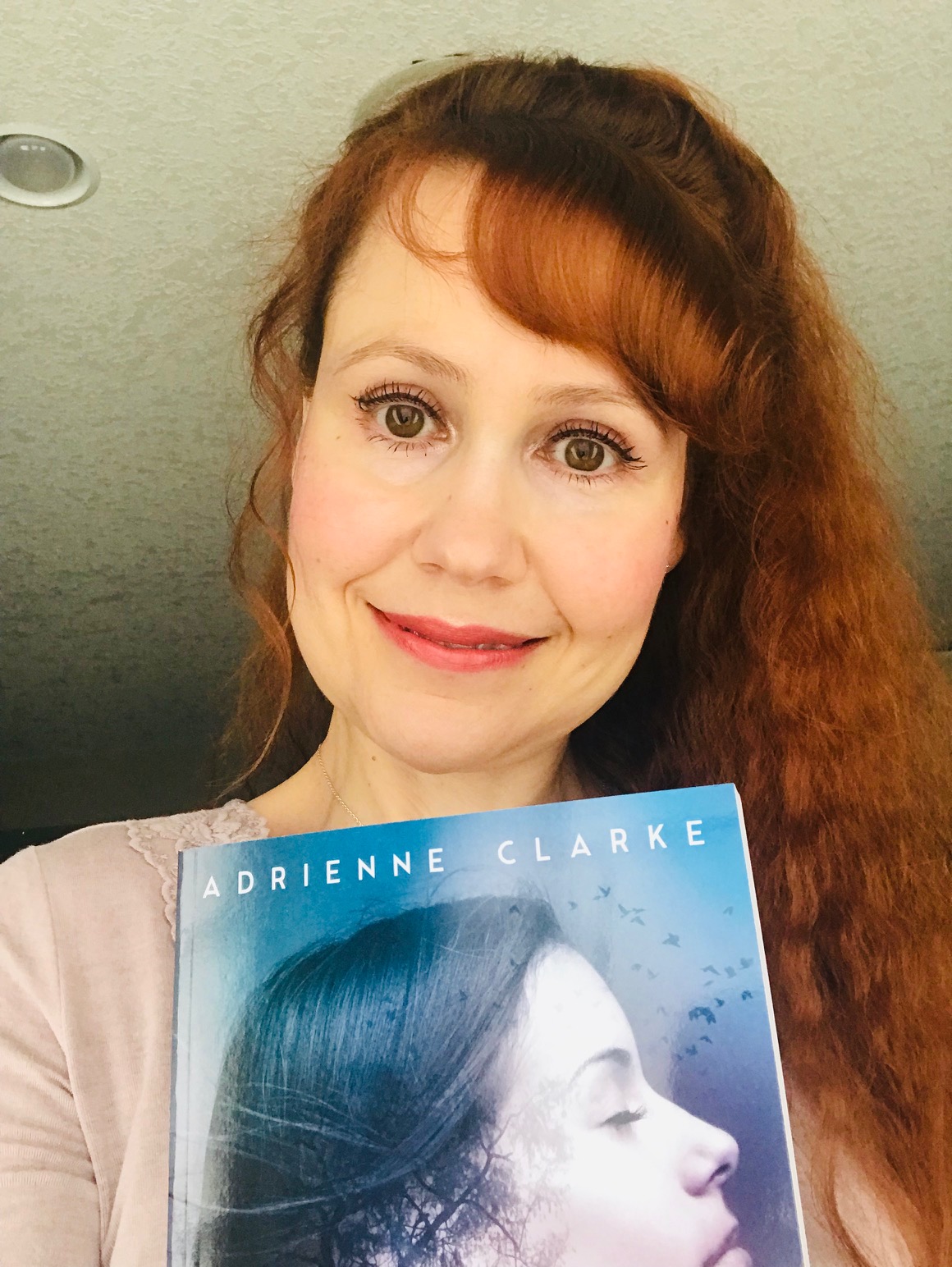 "Happy 25th Anniversary! I'm happy to share a memory. Winning an IPPY award in 2018 gave me a much longed for feeling of validation. I'd worked with a prestigious agent and my novel
Losing Adam
was on the 'maybe list' at three publishing houses before they all passed on the opportuntiy to publish it. The decision to self-publish was a difficult one, and for a while it felt like a failure of faith – like I'd given up on my dream. After so much self-doubt, the news that
Losing Adam
was awarded a sliver medal was hugely affirming. I finally believed that my decsion to put my book out into the universe was the right one. Thank you IPPY AWARDS!" - Adrienne Clarke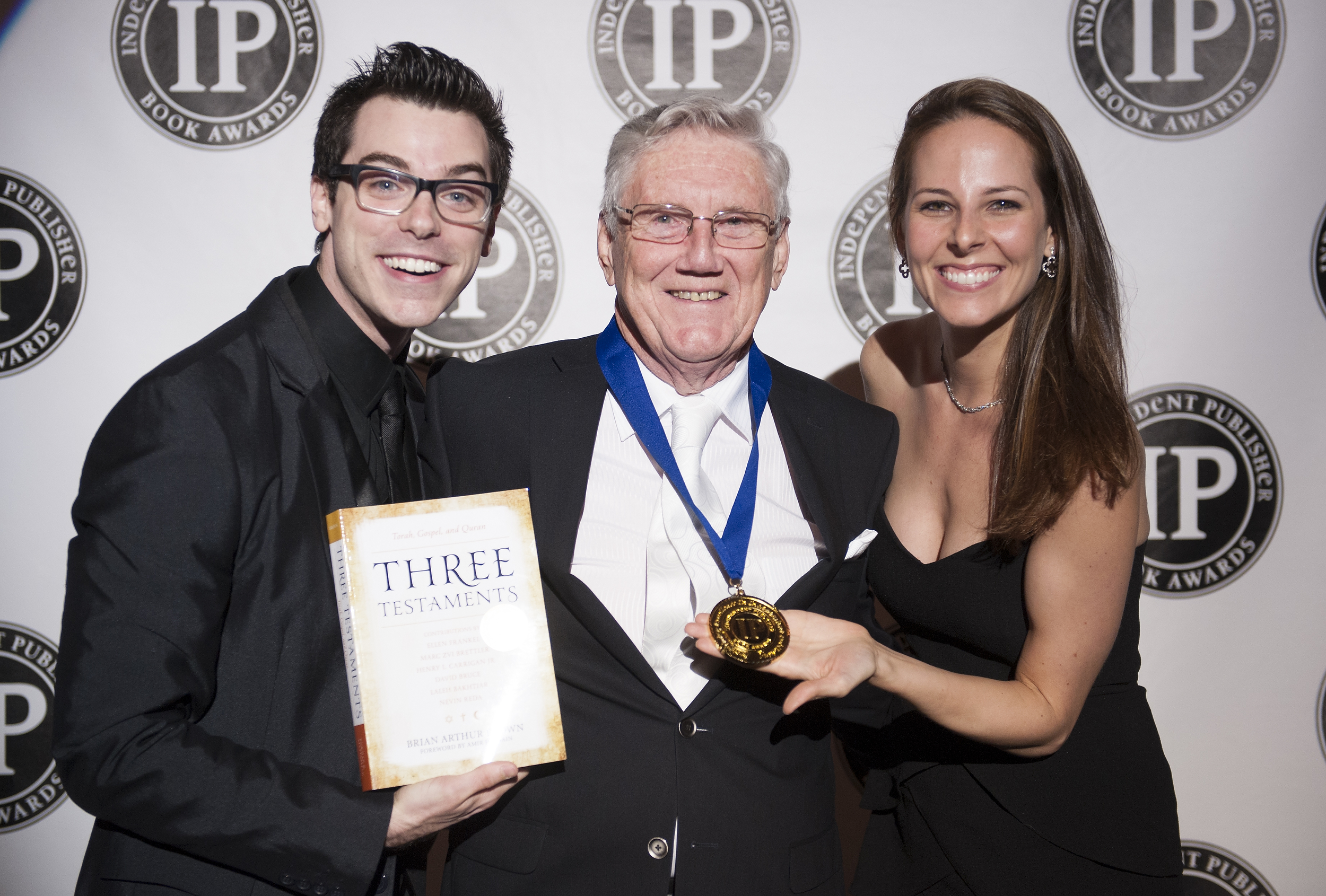 "The IPPYs I have won helped facilitate my switch from other work to a second career in full-time writing. Rowman & Littlefield was impressed as my publisher, and further perks came from them. I framed and hung the attached picture, except that family and friends insisted that nobody was looking at my medal, but at the attributes of the female presenter ... a slightly humorous issue since Canadians tend to be somewhat more modest than our American friends." - Brian Arthur Brown
* * * * *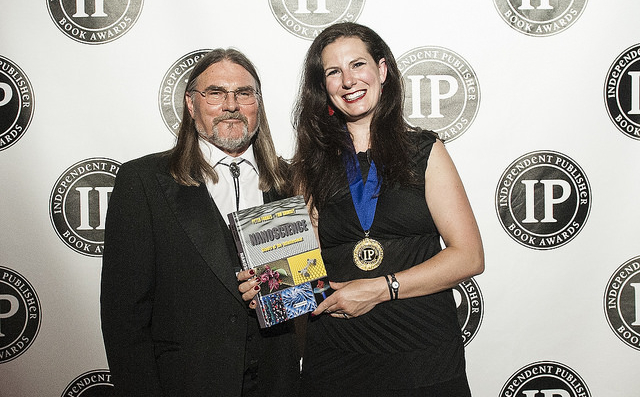 Thanks so much for sharing! It's been a great 25-year adventure as IPPY Awards director, and the best part by far has been sharing the excitement with medalists at our award ceremonies. It's been my favorite night of the year for 20 years! - Jim Barnes, Awards Director
---
Comments
---