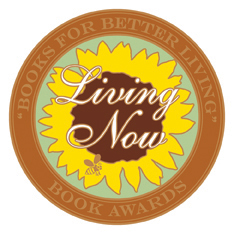 Congratulations to the winners of the Living Now Book Awards! We celebrate these awards on the 40th anniversary of Earth Day as a reminder of the importance of protecting our planet Earth, and of the progress we've made toward a more thoughtful, "green" approach to living. The gold, silver and bronze medalists in this year's Living Now Book Awards offer a list of books that inform readers about enriching their lives in wholesome, Earth-friendly ways. The Living Now Book Awards celebrate the innovation and creativity of newly published books in lifestyle categories from cooking and fitness to parenting and spirituality. In all, 103 medals were awarded in 30 categories, chosen from 428 total entries. "Every day should be treated as Earth Day, and these books will help people to find a balance with the natural world around them," said Awards Director Jim Barnes. "Today's fast-changing world, with all its technological and ecological issues, renews in us the sense of urgency we felt 40 years ago, and good books are necessary to inform and inspire us to keep ourselves and the Earth healthy – today, and for future generations." Entry for the 2011 Living Now Awards is now open. Click here to receive 2011 Living Now entry guidelines. The awards are presented by Jenkins Group of Traverse City, Michigan. Jenkins Group has been involved in book packaging, marketing and distribution since 1988, and is dedicated to promoting books that improve readers' lives, bring families together, and make the world a safer, healthier place.
Feature
Announcing Results of the 2010 Living Now Book Awards
Medalists inform readers about enriching their lives in wholesome, Earth-friendly ways
Jenkins Group is proud to announce the results of this year's contest, recognizing "Books for Better Living."
The Living Now Book Awards are intended to promote newly-published lifestyle books that will help readers enrich their lives in wholesome, Earth-friendly ways.
These second annual awards were announced on Earth Day, April 22, 2010, and a celebration was also held at BookExpo American in New York on May 25th. Here are some of the medalists at that event: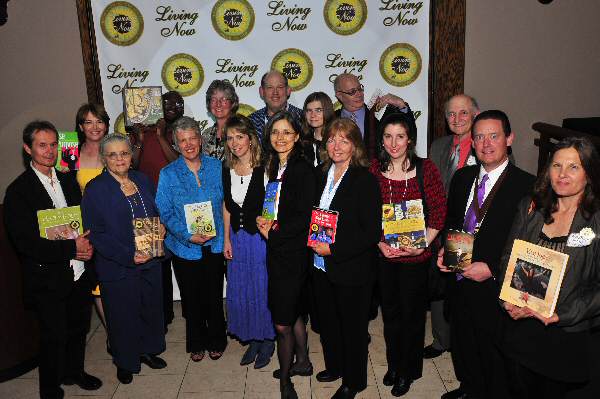 Back in 1970, the first Earth Day was held against the backdrop of a terribly polluted America. Lake Erie was on fire, litter was everywhere, and dirty industries dumped waste into our soil, air and water. Many battles were won: the EPA was formed and Clean Air and Water Acts helped avert environmental disaster. Most importantly, our collective consciousness was raised to let us imagine a better world, and we realized we had the power to bring about change.
That's what great books do -- they help us imagine change, and give us the knowledge we need to make change happen.
Listed below are the 103 gold, silver and bronze Living Now Award medalists, arranged by category.
Click
HERE
to visit the Living Now Awards press page.
Click
HERE
to visit the Living Now Awards event photo page.
Congratulations to all Living Now Book Award winners!
2010 Living Now Book Awards Results1. Cookbooks/General
Gold:
A Well-Seasoned Kitchen: Classic Recipes for Contemporary Living
, by Sally Clayton and Lee Clayton Roper (MLC Publishing LLC)
Silver:
The Flavor of Wisconsin: An Informal History of Food and Eating in the Badger State
, by Harva Hachten and Terese Allen (Wisconsin Historical Society Press)
Bronze:
Symply Too Good To Be True – The American Version
, by Annette Sym (Symply Too Good)
2. Cooking/Natural (Nutrition, Organic, Vegetarian, etc.)
Gold:
The Full Plate Diet: Slim Down, Look Great, Be Healthy!
by Stuart A. Seale, M.D., Teresa Sherard, M.D., and Diana Fleming, Ph.D., LDN (Bard Press)
Silver (tie):
Get Naked Fast!
, by Diana Stobo (Bree Noa Publishing) and
Recipes for Health Bliss: Using NatureFoods & Lifestyle Choices to Rejuvenate Your Body & Life
, by Susan Smith Jones, Ph.D. (Hay House)
Bronze:
Colorado Fit Kitchen
, by James Rouse and Debra Rouse (Be Alive & Well LLC)
3. Cooking/Ethnic/Holiday
Gold:
Chocolate for Breakfast: Entertaining Menus to Start the Day with a Celebration,
by Barbara Passino (Hoberman Collection)
Silver:
Flavors of Friuli: A Culinary Journey through Northeastern Italy
, by Elisabeth Antoine Crawford (Equilibrio)
Bronze:
Forking Fantastic! Put the Party Back in Dinner Party
, by Zora O'Neill and Tamara Reynolds (Gotham Books)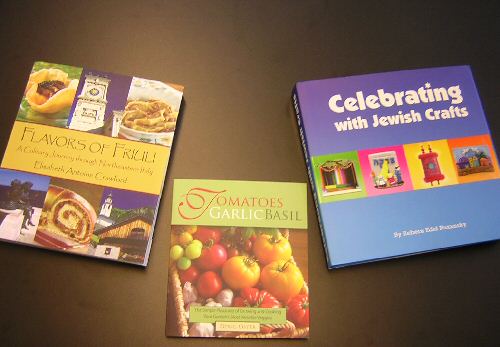 4. Crafts/Hobbies/Collecting
Gold:
Quilts: Unfinished Stories with New Endings
, by Gyleen X. Fitzgerald (FPI Publishing)
Silver:
Celebrating with Jewish Crafts
, by Rebeca Edid Ruzansky (Self-published)
Bronze:
Oh My Stars!
by Marci Baker (Alicia's Attic, Inc.)
5. Gift/Specialty/Keepsake
The Nutshell Guides: Yoga, Astrology, Traditional Chinese Medicine, I-ching
, by Lorie Topey, Susan Hui Auyang, and Ines Laimins (The Nutshell Publications)
Silver:
Everything Happens for a Reason
, by Warren Hanson (TRISTAN Publishing)
Bronze:
My Thoughts
, by Sandra Nascimento (I Journal Publications)
6. Gardening/Farming/Landscaping
Gold:
Tomatoes Garlic Basil: The Simple Pleasures of Growing and Cooking Your Garden's Most Versatile Veggies
, by Doug Oster (St. Lynn's Press)
Silver:
How-to-Grow World Class Giant Pumpkins
, by Don Langevin (Annedawn Publishing)
Bronze:
Minnie Rose Lovgreen's Recipe for Raising Chickens
, by Minnie Rose Lovgreen (NW Trillium Press)
7. Animals/Pets/Livestock
Gold (tie):
Unexpected Miracles: Hope and Holistic Healing for Pets
, by Dr. Shawn Messonnier, D.V.M. (Forge Books) and
Dr. Greg's Dog Dish Diet: Sensible Nutrition for Your Dog's Health
, by Greg Martinez D.V.M. (Riparian Press)
Silver:
The Legacy of Beezer and Boomer: Lessons on Living and Dying from My Canine Brothers
, by Doug Koktavy (B Brothers Press)
Bronze:
The Horse Lover's Guide to Massage
, by Megan Ayrault, LMP (All About Animal Massage)
8. Green Living (Alternative energy, Conservation, Cleaning, etc.)
Gold:
The Big Picture: Reflections on Science, Humanity and a Quickly Changing Planet
, by David Suzuki and Dave Robert Taylor (Greystone Books: an imprint of D&M Publishers, Inc.)
Silver:
A World Without Ice
, by Henry Pollack, Ph.D. (Avery Books)
Bronze:
Tar Sands: Dirty Oil and the Future of a Continent
, by Andrew Nikiforuk (Greystone Books: an imprint of D&M Publishers, Inc.)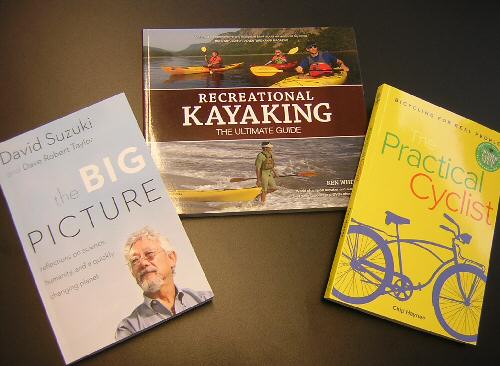 9. Outdoor Recreation (Sports, Camping, Hiking, Paddling, etc.)
Gold:
Recreational Kayaking: The Ultimate Guide
, by Ken Whiting (The Heliconia Press)
Silver (tie):
The Practical Cyclist: Bicycling for Real People
, by Chip Haynes (New Society Publishers) and
Saving Sailing: The Story of Choices, Families, Time Commitments, and How We Can Create a Better Future
, by Nicholas D. Hayes (Crickhollow Books)
Bronze:
A Walk for Sunshine: A 2,160 Mile Expedition for Charity on the Appalachian Trail
, by Jeff Alt (Dreams Shared Publications)
10. Home Building/Remodeling/Decorating
Gold:
Design Rules: The Insider's Guide to Becoming Your Own Decorator
, by Elaine Griffin (Gotham Books)
Silver:
Avoiding the Con in Construction: How to Plan for Hassle-Free Home Building, Renovation and Repair
, by Kia Ricchi (Centerline Production)
Bronze:
Designing Your Own Kitchen, Volume 1 and 2
, by Kathleen Shiloh (The Fourth Addition)
11. Family (Parenting/Health/Safety)
Gold:
Outdoor Parents, Outdoor Kids: A Guide to Getting Your Kids Active in the Great Outdoors
, by Eugene Buchanan (The Heliconia Press)
Silver:
Getting Over It! Wisdom for Divorced Parents
, by Len Stauffenger (MacKenzie Publishing)
Bronze (tie):
The Art of Conscious Parenting
, by Jeffrey L. Fine, Ph.D. and Dalit Fine, M.S. (Inner Traditions/Healing Arts Press/The New Parenting, Inc.) and
The Smarter Preschooler: Unlocking Your Child's Intellectual Potential
, by Renee and Mike Mosiman (Brighter Insights)
12. Family Activities/Travel
Gold:
The Complete Walt Disney World 2010
, by Julie and Mike Neal (Coconut Press)
Silver:
Homefun
, by Miss Oh (Honeyman Enterprises)
Bronze:
My Golfing Day With Dad
, by Carol Abbott (Abbott Golf Photography)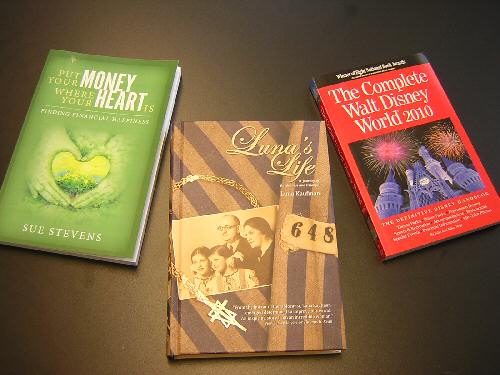 13. Finance/Budgeting
Gold:
Put Your Money Where Your Heart Is: Finding Financial Happiness
, by Sue Stevens (Booksurge)
Silver:
How to Make a Fortune From the Biggest Bailout in U.S. History: A Guide to the 7 Greatest Bargains from Main Street to Wall Street
, by Ron Insana (Avery Books)
Bronze:
A Pocket Guide to Laid-Off Living: Finding Happiness by Reducing Your Monetary Footprint
, by Linda Rohrbaugh and Bradley Neff (RK Wolff, LLC)
14. Social Activism/Charity
Gold:
Social Change 2.0: A Blueprint for Reinventing our World
, by David Gershon (High Point/Chelsea Green)
Silver:
One of Us (Hurricane Katrina)
, by Chris Usher (Bokeh Books)
Bronze:
Luna's Life: A Journey of Forgiveness and Triumph
, by Luna Kaufman (ComteQ Publishing)
15. Personal Growth
Gold:
8 to Great: The Powerful Process for Positive Change
, by MK Mueller (Insight Inc)
Silver (tie):
How to Save Your Own Life
, by Michael Gates Gill (Gotham Books) and
Living Life as a Thank You
, by Nina Lesowitz and Mary Beth Sammons (Viva Editions)
Bronze (tie):
Managing the Worry Circle
, by Ocean Palmer (Airplane Reader Publishing Company) and
How to Forgive When You Can't
, by Dr. Jim Dincalci (The Forgiveness Foundation)
16. Relationships/Marriage
Gold:
Autumn Romance: Stories and Portraits of Love After 50
, by Carol Denker (A-Shirley Publishing)
Silver:
The Conversation
, by Hill Harper (Gotham Books)
Bronze (tie):
What is Love? A Book for Men and the Women Who Love Them
, by James Robinson (Divine Light Publishing House) and
This Path We Share: Reflecting on 60 Years of Marriage
, by Lois Tschetter Hjelmstad (Mulberry Hill Press)
17. Femininity/Sexuality/Style
Gold (tie):
The Body Scoop for Girls: A Straight-Talk Guide to a Healthy, Beautiful You
, by Dr. Jennifer Ashton (Avery Books) and
Ophelia's Oracle
, by Donna DeNomme and Tina Proctor (Inlightened Source Publishing)
Silver:
Moregasm: Babeland's Guide to Mind-Blowing Sex
, by Rachel Venning and Claire Cavanah (Avery Books)
Bronze:
Heart on my Sleeve
, by Jodi Hill (TRISTAN Publishing)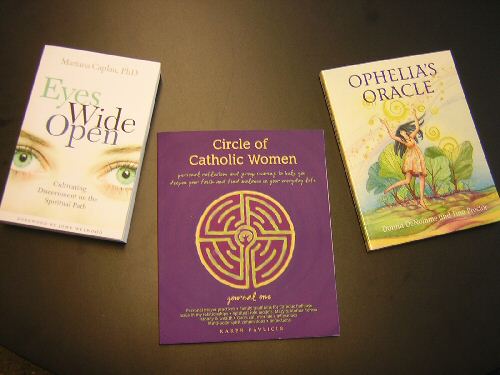 18. Enlightenment/Spirituality
Gold:
Eyes Wide Open: Cultivating Discernment on the Spiritual Path
, by Mariana Caplan, Ph.D. (Sounds True)
Silver:
Circle of Catholic Women - Journal One
, by Karen Pavlicin (Juloya)
Bronze (tie):
Being Here: Modern Day Tales of Enlightenment
, by Ariel and Shya Kane (ASK Productions) and
Pause Now: Handbook for a Spiritual Revolution
, by Lyla Yastion (Hamilton Books)
19. Motivation/Inspirational
Gold:
One: How Many People Does it Take to Make a Difference?
by Dan Zadra and Kobi Yamada (Compendium, Inc.)
Silver (tie):
Get Unstuck & Get Going…on the stuff that matters
, by Michael Bungay Stanier (Box of Crayons Press) and
Beauty Muse: Painting in Communion With Nature
, by Lisa Lipsett (Creative by Nature Books)
Bronze:
Choose on Purpose for Twentysomethings
, by Susan Berg, Ph.D (Neff Mountain Productions)
20. Exercise/Fitness
Gold:
The Happy Body: The Simple Science of Nutrition, Exercise, and Relaxation
, by Aniela and Jerzy Gregorek (Jurania Press)
Silver:
The Art of Hojo Undo: Power Training for Traditional Karate
, by Michael Clarke (YMAA Publication Center, Inc.)
Bronze:
The Body Fat Solution
, by Tom Venuto (Avery Books)
21. Nutrition/Dietary
Gold:
The Dole Nutrition Handbook: What to Eat and How to Live for a Longer, Healthier Life
, by David H. Murdock (Dole Nutrition Institute)
Silver:
Eat What You Love, Love What You Eat
, by Michelle May, M.D. (75 Steps Publishing Company)
Bronze:
Mama's Home Remedies
, by Svetlana Konnikova (Aurora)
22. Health/Wellness
Gold:
Heal Your Mind, Rewire Your Brain
, by Patt Lind-Kyle (Energy Psychology Press)
Silver:
The Subtle Body: An Encyclopedia of Your Energetic Anatomy
, by Cyndi Dale (Sounds True)
Bronze (tie):
How to Use Herbs, Nutrients & Yoga in Mental Health Care
, by Richard P. Brown, M.D., Patricia L. Gerbarg, M.D.
and Philip R. Muskin, M.D. (W.W. Norton) and
Simple Chinese Medicine: A Beginner's Guide to Natural Healing & Well-Being
, by Dr. Aihan Kuhn, C.M.D. DIPL. OBT (YMAA Publication Center Inc.)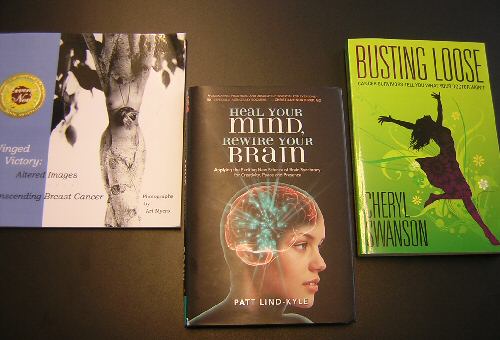 23. Survival/Recovery
Gold:
Winged Victory: Altered Images: Transcending Breast Cancer
, by Art Myers (Photographic Gallery of Fine Art Books)
Silver (tie):
Busting Loose: Cancer Survivors Tell You What Your Doctor Won't
, by Cheryl Swanson (Zumaya Publications LLC) and
Redeeming Our Treasures: Finding Joy in the Shadows of an Abusive Past
, by Linda Settles, M.A. (Edict House Publishing)
Bronze:
Back to Life After a Heart Crisis: Rebuild Your Courage & Feel Strong Again
, by Marc Wallack, M.D. and Jamie Colby (Avery Books)
24. Meditation/Relaxation
Gold:
The Mini-Retreat Solution: How to Relax & Refresh Anytime, Anywhere

, by Julia James (SPARK Publishing)
Silver:
Simple Wisdom for the Not So Simple Business World
, by Lynda Barbaccia (Simple Wisdom Works Publishing)
Bronze:
Romancing Sleep: Methods for Deep Sleep and Profound Dreaming
, by Constantine Darling and Terri Salvatore-Swahn (Living Toolbooks)
25. Yoga/Pilates/Bodywork
Gold:
Vital Yoga: A Sourcebook for Students and Teachers
, by Meta Chaya Hirschl (Prajna Publishing Company)
Silver:
You Don't Have To Stand On Your Head: Creating An Inspired Life Through Yoga
, by Dee Gold (Inner Reaches Press)
Bronze:
Yoga In No Time At All
, by Joel DiGirolamo (PranaPower, LLC)
26. Mature Living/Anti-Aging
Gold:
Harvest the Bounty of Your Career
, by Deborah F. Windrum (Axiom Action)
Silver:
September University: Summoning Passion for an Unfinished Life
, by Charles D. Hayes (Autodidactic Press)
Bronze:
Hesitating at the Gate: Reflections on Aging
, by Ann Tudor (Molten Gold)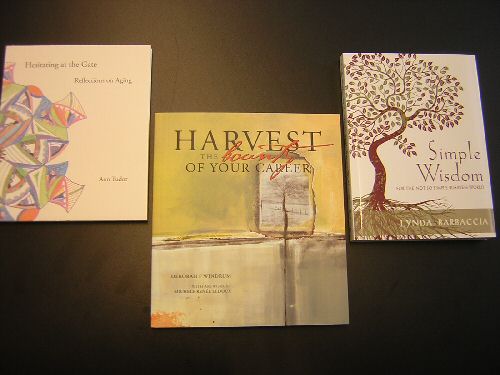 27. Grieving/Death & Dying
Gold:
Living Fully Dying Well: Reflecting on Death to Find Your Life's Meaning
, by Edward W. Bastian and Tina L. Staley (Sounds True)
Silver (tie):
As We Grieve: Discoveries of Grace in Sorrow
, by Jan Groft (Graham House Books) and
Life With Pop: Lessons on Caring for an Aging Parent
, by Janis Spring, Ph.D. with Michael Spring (Avery Books)
Bronze:
Sacred Living, Sacred Dying: A Guide to Embracing Life and Death
, by Sharon Lund (Sacred Life Publishers)
28. Women's Fiction
Gold:
Swallow
, by Tonya Plank (Dark Swan Press)
Silver:
Stressed in Scottsdale
, by Marcia Fine (L'Image Press)
Bronze:
Shaken and Stirred
, by Crystal Black Davis (Hudson Row Publishing)
29. Men's Fiction
Gold:
Quiet Teacher
, by Arthur Rosenfeld (YMAA Fiction)
Silver:
Elijah's Coin
, by Steve O'Brien (A&N Publishing)
Bronze:
Cannabis North
, by Dick Callahan (Harbor Seal Press)
30. GLBT Fiction
Gold:
Stonewall: Stories of Gay Liberation
, by Jack Fritscher (Palm Drive Publishing)
Silver:
Glad Hand Saloon
, by Steve Scott (Smoke Tree Press)
Bronze:
Sazzae
, by J.L. Morin (Harvard Square Editions)
---
Comments
---