Here are some articles from the IndependentPublisher.com archives, describing how book awards can help you promote and sell more books.
The IPPY Effect 2013 (Part 2)
The IPPY Effect I
Book Awards Benefit Publishers in Many Ways
* * * * * *
The IPPY Effect II
Outstanding Book of the Year Winner SKYLIGHT PATHS: Awards Recognize Books that Explore Spirituality and Inspire Youth
* * * * * *
The IPPY Effect III
Wear Your Award Proudly
* * * * * *
The IPPY Effect IV
Turn Over Every Marketing Rock
* * * * * *
The IPPY Effect V
How Book Awards Garner Foreign Rights Sales
* * * * * *
The IPPY Effect VI
A Marketing Conversation with 2008 IPPY Winner Leo Shelton
* * * * * *
The IPPY Effect VII
A Conversation with IPPY Winner Steve Bergman (aka Samuel Shem)
* * * * * *
The IPPY Effect VIII
A Conversation with 2009 IPPY Awards Gold Medalist Janet Horvath
* * * * * *
The IPPY Effect IX
A Conversation with IPPY Award-Winning Novelist Tonya Plank
Feature
The IPPY Effect
Everything you need to know about the Independent Publisher Book Awards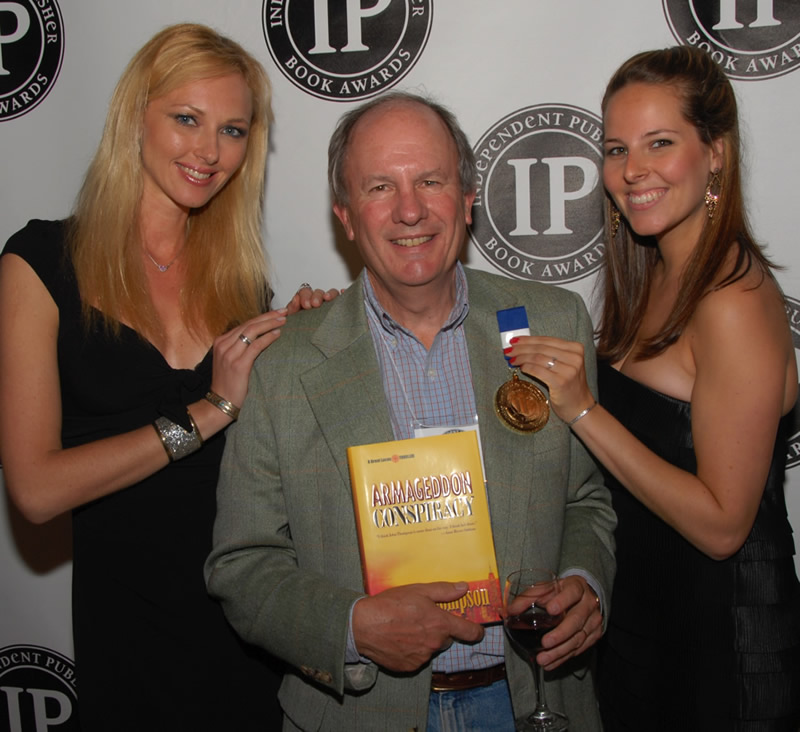 "Recognizing Excellence in Independent Publishing"
Launched in 1996, the Independent Publisher Book Awards are designed to bring increased recognition to the deserving but often unsung titles published by independent authors and publishers. Established as the first unaffiliated awards program open exclusively to independents, the "IPPYs" recognize hundreds of the year's best books, bringing them to the attention of booksellers, buyers, librarians, and book lovers.
The IPPY Awards contest is among the largest and most recognized book awards events in the world, open to all independent, university, small press, and self-publishers who produce books intended for the North American market.
The IPPY Awards reward those who exhibit the courage, innovation, and creativity to bring about change in the world of publishing. Independent spirit and expertise comes from publishers of all sizes and budgets, and books are judged with that in mind. Gold, silver and bronze medals are awarded to winners in 76 fiction and non-fiction subject categories, and to the Best Fiction and Best Non-Fiction Books in eight U.S. regions, two Canadian regions, Australia/New Zealand, and Europe.
E-Book Awards: To acknowledge the growing importance of e-books in our fast-changing business of publishing and bookselling, we've added an e-book division to the IPPY Awards. This year we will accept e-books in all categories, but will also present ten e-book awards. Entry fee is just $55 when adding an ebook entry to a regular print book entry; fees are the same as National category fees when entering an e-book category only.
E-Book categories are: Best Adult Fiction E-Book; Best Romance/Erotica E-Book; Best Mystery/Thriller E-Book; Best Sci-Fi/Fantasy/Horror E-Book; Best Best Non-Fiction Personal E-Book (Self-Help, Memoir, Inspirational, etc.); Best Non-Fiction Informational E-Book (Business, History, Parenting, etc.); Best Juvenile/Young Adult Fiction E-Book; Best Children's Illustrated E-Book; Best
Regional E-Book - East and Best Regional E-Book - West.
See past IPPY Awards medalist results back to 1997 here.

Visit the Amazon.com IPPY Award Winners bookstore.

A short history of IPPY:
http://www.independentpublisher.com/article.php?page=1423

Top Ten Reasons to Enter the IPPY Awards:
http://www.independentpublisher.com/article.php?page=1349

IPPY Awards merchandise:
http://www.jenkinsgroupinc.com/IXXO/index.php?p=catalog&parent=4&pg=1

Download the book awards marketing white paper:
"Using Book Awards to Boost Your Book Sales."
Questions? Contact Jim Barnes, Awards Director, jimb@bookpublishing.com

* * * * *
Read about books awards on the national scene at Salon.com

* * * * *
WHY ENTER BOOK AWARDS?
Entering your book titles in awards programs -- and winning -- brings credibility, publicity, prestige, and personal satisfaction. It can extend your publicity campaign, get you a whole new round of attention from the press, and open new doors with distributors and vendors.
See the recent BeneathTheCover.com blog entry from book PR expert Nettie Hartsock, Your Book Can't Win an Award if You Don't Enter.
Awards do influence reviewers and buyers. A 1999 Cookbook category IPPY finalist was discovered this way, and 187,000 copies were sold to a pharmaceutical company. A cookbook winner in our inaugural 1997 contest has reordered stickers continually and the book keeps on selling, thanks in part to the gold seal on the cover.
Winners are featured prominently in our monthly newsletter, which goes out monthly to over 7,000 subscribers worldwide, many of whom are editors, agents, buyers, booksellers and librarians, and appear indefinitely at www.IndependentPublisher.com. We distribute a results program at BookExpo, and send the results press release to an additional 500 media outlets.
Here's the latest testimonial from a happy award winner: "It's made a huge difference in my sales, and was the key factor in convincing me to go to a second printing. The IPPY gold seal looks great on the new cover, and I think it's opening some doors to publication reviews." - Ed Spivey, author of A Hamster is Missing in Washington D.C., Humor category Gold Medalist.
"Winning the silver award last year (Useppa, a Passage in Time, 2007) improved our ability to market the book in a multitude of ways. It gave us credentials that we used in our public relations and marketing; it made a real difference in our ability to get book signings and presentation opportunities; it enabled us to get radio and TV interviews; and often people selected to purchase the book because of the silver award medallion sticker. We actually had a couple of people return the book because their book did not have the medallion sticker. It also made the author and the artist feel appreciated and honored, and gave us a reason to celebrate their success!" - Chris Ludwig, Passages Press.
"I can't tell you how much I value my initial Bronze IPPY award (2008), and I know it's been instrumental in drawing attention to the The Tao of Rudy! Chronicle Books just made an offer for The Tao of Rudy, and of course I accepted the initial terms a couple of weeks ago, and am currently reviewing the rest of the contract. A lot has happened in the last year, and I appreciate your efforts in making my first book a success!" – Corrine Humphreys, Publisher/Author/Illustrator
"The fact is award stickers help to convince buyers to purchase. I've seen this happen with librarians -- when faced with two competing titles and a limited acquisition budget the librarians will take the one that won an award, any award, over the title that doesn't have an award to its credit. I'm confident that this same phenomena works for bookstore patrons browsing the shelves as well." - Jim Cox, Midwest Book Review
---
Comments
---